Reds prospect Iglesias makes debut in AFL
Cuban right-hander, 24, throws perfect inning in first US appearance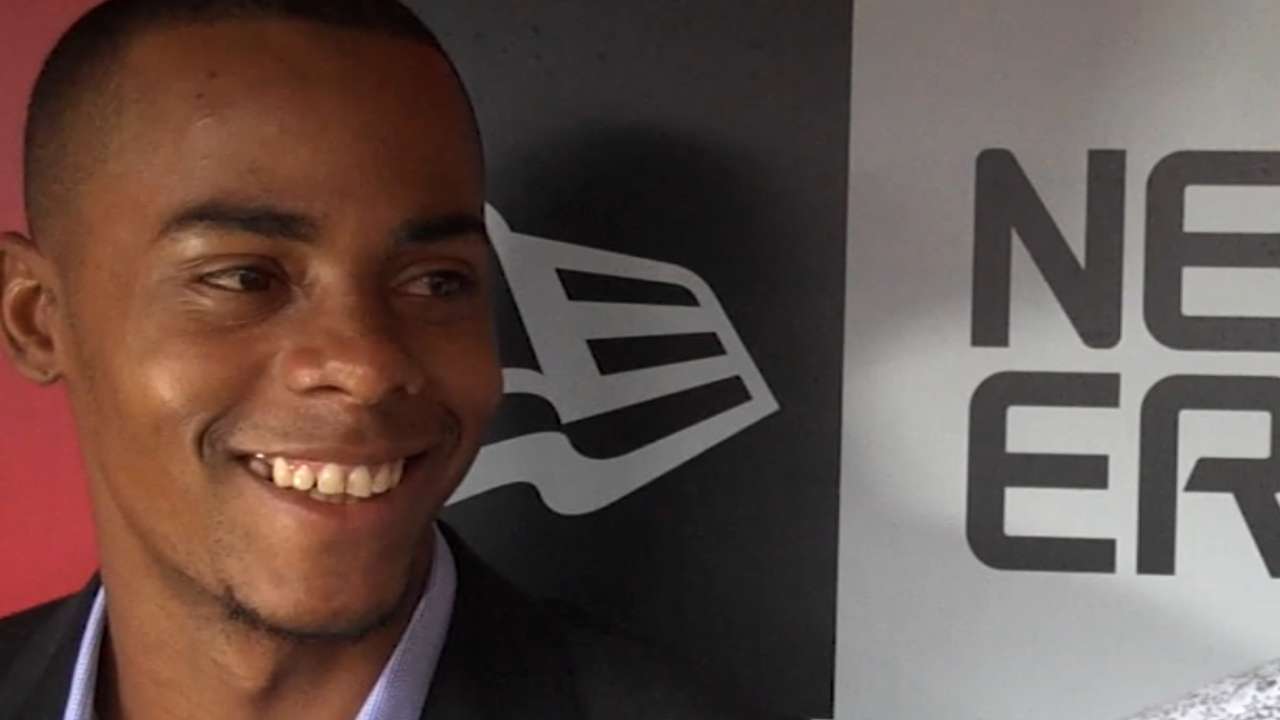 MESA, Ariz. -- Cross one challenge off the list for Raisel Iglesias.
Iglesias, a highly touted Cuban pitcher signed by the Reds in June, made his first appearance stateside Monday when he pitched a scoreless inning in the Arizona Fall League. Iglesias, pitching for the Surprise Saguaros, retired all three batters he faced in a 6-5 win over the Mesa Solar Sox.
The 24-year-old threw 10 pitches -- eight for strikes -- and he's expected to pitch once more for Surprise on Thursday before departing for Winter League action in Puerto Rico. The gregarious right-hander spoke briefly after his appearance with teammate Carlos Gonzalez serving as interpreter.
"I tried to keep my emotions down and under control," said Iglesias. "I was fine."
He may have been fine in his head, but he was even better on the mound. Iglesias got a popup from the first batter he faced, and the second hitter grounded a ball right back to the box. Iglesias fell behind 2-1 on his third batter, but he worked back into the count and closed his outing with a strikeout.
All of that may have been anticlimactic for Iglesias, who signed a seven-year contract worth $27 million with the Reds in the summer. The Cuban native defected from his homeland in November 2013, and he established residency in Haiti before signing with Cincinnati.
Iglesias was able to reunite with family in Miami before coming to Arizona, and his stint in the AFL is short but memorable. Iglesias met all of his teammates for the first time recently, and he said it was a brief adjustment period before he felt comfortable as just another member of the team.
"I was a little shy and timid at first, but now I'm really cool with everybody," he said. "It's good to make adjustments here. Once you start the season, you're more relaxed and you're ready."
Iglesias was wearing No. 47 in the AFL, but he said there was no significance to the number. When he took the mound on Monday, he briefly stood with his back to home plate and surveyed the outfield alignment. And then, after savoring the moment, he got down to business.
Iglesias faced three prospects -- Jacob Hannemann, Boog Powell and Chad Hinshaw -- in his brief outing. He worked the sixth inning, and he took the mound with his team holding a 6-3 lead. Iglesias, who can throw four pitches, didn't get a chance to work out his full arsenal.
"I felt really good," he said. "I took it like a normal game and just went out and did my job. I asked the team for a little rest, I got a little rest, and then I got ready, came out here and felt really good."
Iglesias signed a big league deal with the Reds and may get a chance to pitch at Great American Ball Park in 2015, but he'll always recall his first game at Cubs Park in Mesa. It was brief and uneventful, but it was also a milestone, and he hopes it's the first of many.
"I felt good out here," he said of his outing. "And it's impressive, but I can handle it."
Spencer Fordin is a reporter for MLB.com This story was not subject to the approval of Major League Baseball or its clubs.