Coaching continuity a source of Giant strength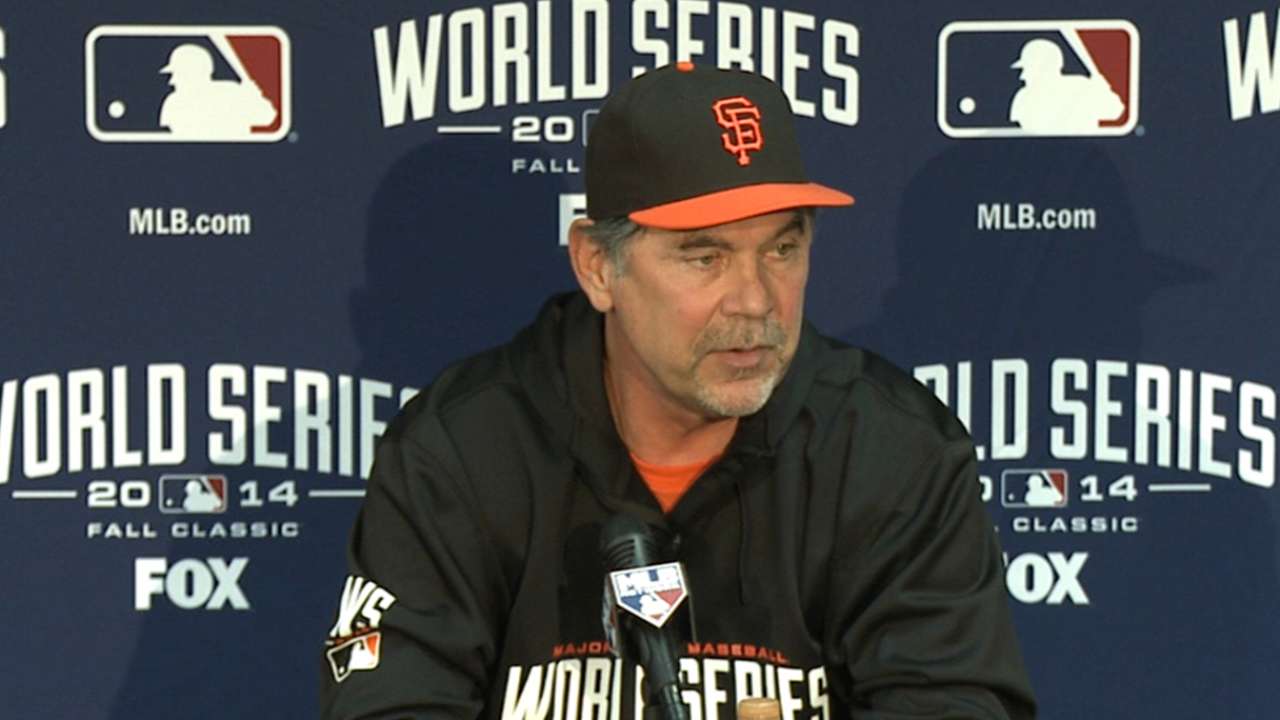 KANSAS CITY -- During his 11 years as a pitcher for the Yankees, Giants pitching coach Dave Righetti saw plenty of men who held his current title come and go.
"I think I had 12 managers and even more pitching coaches in my time in New York," Righetti said. "I think that definitely hurt us over time, because I think after a while the players start to think, 'This poor guy, he's going to be gone next week, how much am I going to listen to him?' That's a tough thing to say, but it's true. When you're talking to a coach and you know he's got some say, some pull, a player might listen a little longer, and I think they do."
When a Giants coach speaks, players listen, because those coaches have pull with manager Bruce Bochy, and chances are they will be around for many years.
The stability of the Giants' coaching staff is truly remarkable, especially when you see other teams cycling through coaches at a sometimes dizzying rate -- including the Royals, who have had six hitting coaches over the last two years.
By contrast, being a Giants coach is a lot like being appointed a U.S. Supreme Court Justice -- you're going to be around for a while.
Bench coach Ron Wotus is the longest-tenured San Francisco coach, having joined the staff in 1998. That followed a managing stint in the team's farm system and a playing career with the organization. In all, Wotus has been a part of things for 26 seasons.
Righetti just finished his 15th season as the team's pitching coach, while bullpen coach Mark Gardner wrapped up his 12th.
Hitting coach Joe Lefebvre is a relative newcomer, having joined the staff in 2012, except he also had a stint with the Giants from 2002-07. So he, too, has logged plenty of years. Bullpen catcher Bill Hayes has been in his current role for 12 years.
"It's great to have that continuity," Bochy said. "They work hard, they work constantly to draw out the best in these players. They're relentless with their work. It's a big reason why we've had this success that we've had, because of how good they are and the continuity that we've had here."
It's hard to argue with the Giants' success, as they open their third World Series in five seasons on Tuesday (4:30 p.m. PT on FOX; 5:07 first pitch).
Young players like second baseman Joe Panik, who has been a key contributor to the team's success, are comfortable with the coaches when they reach the big league level because they've interacted with them during Spring Training.
"You build a relationship with them," Panik said. "They understand you and what you do best and what makes you tick."
That continuity can also allow a coach to follow a player throughout his career and more easily spot mechanical changes or changes in demeanor.
"It helps a lot because they saw me when I first signed and then they've seen me for 12 or 13 years and seen the growth and seen the downs, so they've seen it all," said veteran right-hander Matt Cain, who is out of action following elbow surgery after playing big roles on the 2010 and '12 championship teams.
Giants catcher Buster Posey has developed a symbiotic relationship with Righetti, with each knowing exactly what the other is looking for when it comes to scouting reports.
"I think that's why our relationship has worked well, too, because he's never been one that's just pounded information," Posey said. "He's always kind of said, 'This is what I'm thinking this guy's strengths or weaknesses are' -- whether it's the pitcher or a hitter -- and I feel like I've been able to communicate with him well and understand where he's coming from pretty quickly."
With members of the staff having been together so long, they can read each other's moods easily and know what to expect from each other.
"Obviously, as a group we've been doing something right, because we've had some success," Wotus said.
Given all the winning, it is somewhat surprising that the staff is still together. Righetti said he figured Wotus would have been offered a managerial job somewhere by now. But despite being the right-hand man of Bochy -- regarded by many as the finest manager in the game -- Wotus has come up empty after being interviewed five different times.
"You talk about the undervalued free agent, but he may be the undervalued coach," assistant general manager Bobby Evans said of Wotus. "With all the clubs looking at managerial candidates, I don't know who has a better resume. Without having had Major League managing experience, he's probably got one of the best resumes out there."
Righetti said at one point he harbored a desire to manage, but not as much these days. However, he said he could always change his mind about that.
"If you're doing something and you've got a good core going, to me, you don't mess it up too much unless you have to," Righetti said. "I'm just kind one of those guys, I've always liked being part of a team, and a coaching team also."
Steve Gilbert is a reporter for MLB.com. Read his blog, Inside the D-backs, and follow him on Twitter @SteveGilbertMLB. This story was not subject to the approval of Major League Baseball or its clubs.