Posey faces tough task behind the plate against speedy Royals
Catcher looks to contain Kansas City with help from pitching staff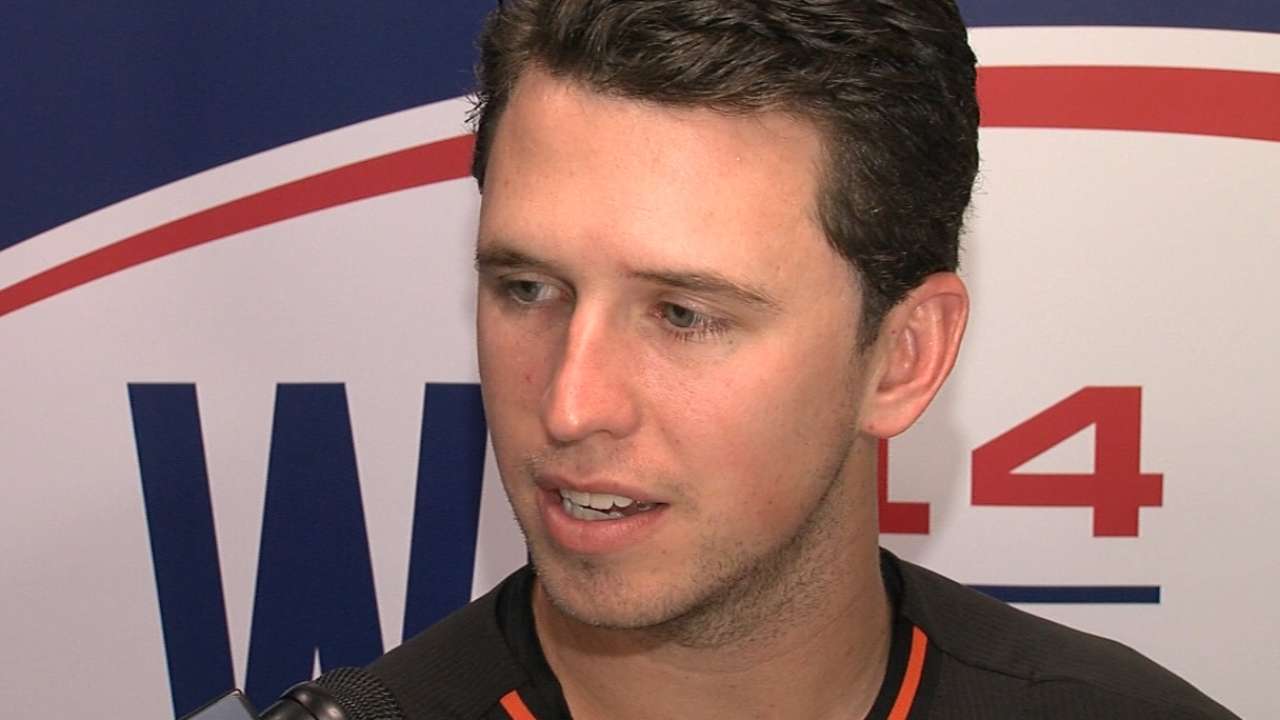 KANSAS CITY -- Buster Posey casts an assertive presence as a hitter, but he could loom even larger in the World Series against the Kansas City Royals when he settles into his catcher's crouch.
You might say that Posey's offense won't mean squat if he struggles defensively against the Royals, who led the Major Leagues this year with 153 stolen bases and have accelerated that pace in the postseason. Kansas City almost surely will attempt to run away from the Giants as Posey's team begins its quest on Tuesday (4:30 p.m. PT airtime/5:07 PT first pitch, FOX) to win its third World Series in five years.
Posey knows what to expect from the Royals, who stole 13 bases while building their 8-0 postseason record. Since eight different players have contributed to that total, Posey must remain constantly alert.
"Watching them for the last month or so, they're obviously very aggressive and have a ton of speed, and I would expect them to try and use that," he said.
The Giants witnessed Kansas City's prowess on the basepaths all too vividly on Aug. 10. The Royals stole seven bases, including three apiece from Nori Aoki and Jarrod Dyson, in a 7-4 Interleague victory. Since the Giants started rookie catcher Andrew Susac that afternoon, they hope that Posey can inhibit the Royals to some degree.
"I'm sure he's going to do something different this time around," Dyson said. "I'm sure our 'bags' are going to be much tougher to take on these guys. But we're not going to stop. They give us an inch, we're going to run a mile."
Posey threw out 29.8 percent (25-of-84) of runners trying to steal this year, essentially duplicating his 30 percent (27-of-90) success rate last season. However, these figures are almost irrelevant, because he'll need plenty of help from Giants pitchers to halt the Royals even partially. Many bases are stolen not on catchers, but on pitchers who pay insufficient attention to baserunners. Whoever's on the mound for the Giants will be obligated to help Posey by stepping off the pitching rubber, varying his rhythm on pitches and pickoff throws, executing an occasional pitchout or simply holding the ball.
"You have to do everything, you know?" Royals catcher Salvador Perez said when asked what ploys he would use if he were opposing his teammates. "They like to run. They never stop."
Whether Giants pitchers can begin to slow down the Royals is questionable. San Francisco allowed 107 stolen bases this year, tied for seventh-most in the Majors. "Any time you get a good basestealer, it's important to do a lot of things to disrupt them," Posey said. "[Pitchers] have to vary holds and mix delivery times, and it's going to be important for me to be ready to make a good throw."
Kansas City's opponents realized this, but three Royals still finished among the American League's top 10 in thefts: Dyson (tied for third, 36 steals), Alcides Escobar (tied for fifth, 31) and Lorenzo Cain (seventh, 28).
Significantly, Kansas City's hitters accumulated the fewest strikeouts in the Majors, maximizing the club's opportunities to distract foes.
"When we put the ball in play, we're giving ourselves a chance," Dyson said. "We've got legs, we're going to use them and when we put it on the ground, we're going to drop the head and run. You put everybody on their toes when speed steps on first base. ... Speed puts a lot of pressure on every team. I'm just glad we're the team that has more speed."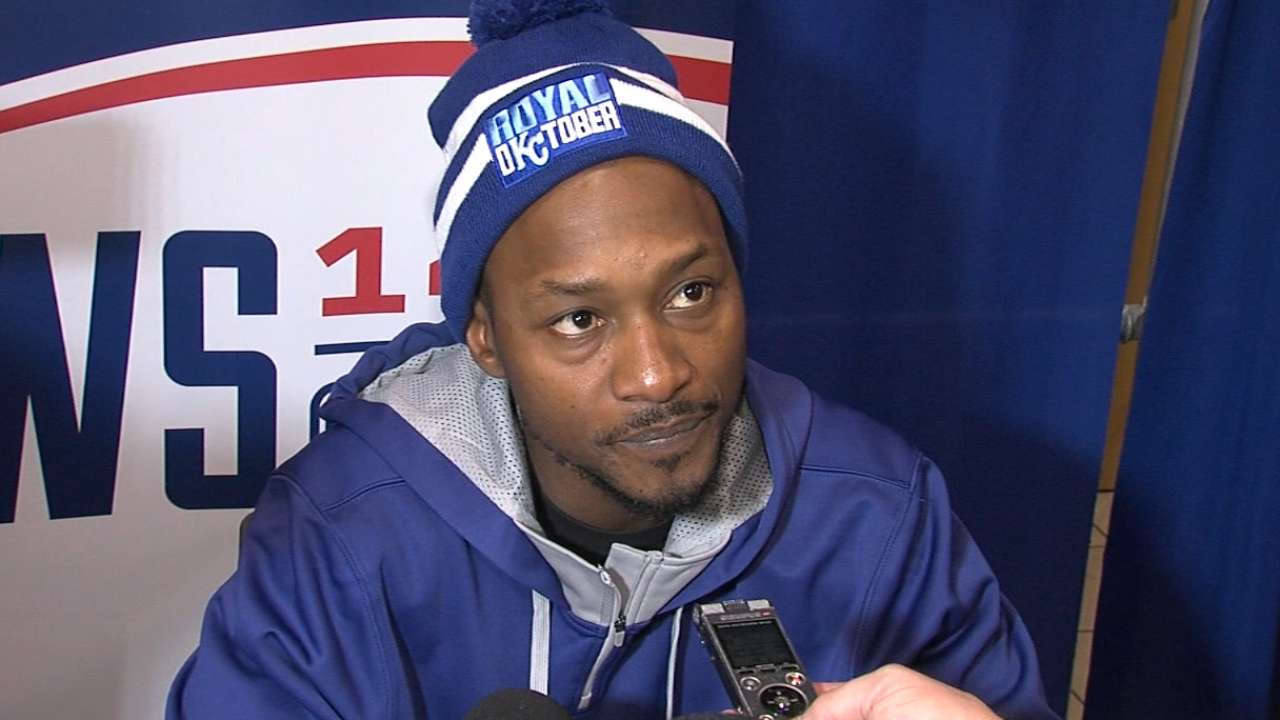 Countered Giants right-hander Tim Hudson, "It's our job as a staff to control that running game, and I think we can do that. They're probably going to try to force us to make mistakes in that area. We just have to keep our composure."
Among the Giants starters, Hudson has actually had the toughest time controlling the running game in recent years. Basestealers have been successful on 22 of 26 attempts over the last two seasons against the scheduled Game 3 starter. Ryan Vogelsong, who is set to take the ball in Game 4, has been a little better, allowing 17 steals in 27 tries in the same time span, while Game 2 starter Jake Peavy has always had a tough time holding runners, allowing a 75 percent success rate over his 13-year career. Game 1 starter Madison Bumgarner has the best recent track record, with runners succeeding just 47 percent of the time the last two years.
Of course, keeping runners off base is the best way to conquer them. This is where Posey's receiving skills emerge as a potential factor. Concluding his fifth season in the Majors, he has become more deft at framing pitches, thus coaxing more called strikes from umpires.
"Something that I take a lot of pride in is trying to get my pitchers strikes," Posey said. "It's one of those things that, unless you're a catcher, you probably don't see. But I don't get much more frustrated than when I feel like I could have [caught] the ball better and maybe gotten a strike call. So that's something I'm constantly trying to improve on. I feel like I've gotten better. I think it's a repetition thing. The more you catch a certain guy, it's easier to -- I don't know if 'cheat' is the right word, but you kind of know the way the ball's going to move. So it might be a little bit easier to catch the ball a certain way that might present it as a strike to the umpire."
Giants manager Bruce Bochy, a former big league catcher, maintains unshakable confidence in Posey. "He takes priority in handling this staff," Bochy said.
It'll be a top priority for the duration of the World Series.
Chris Haft is a reporter for MLB.com. Read his blog, Haft-Baked Ideas, and follow him on Twitter at @sfgiantsbeat. This story was not subject to the approval of Major League Baseball or its clubs.