Royals ham it up during meet and greet
Players dish on fashion, hobbies and more in laid-back setting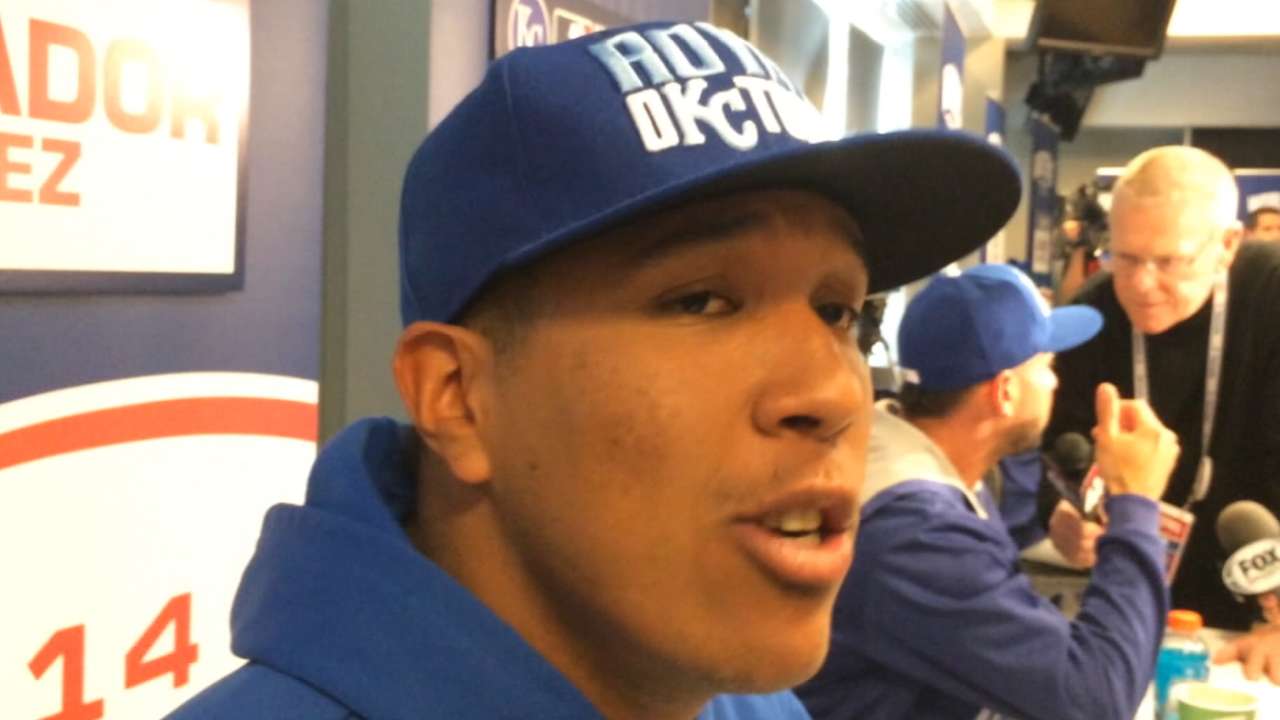 KANSAS CITY -- He's best known as a veteran presence who is currently helping to anchor a World Series rotation, but apparently, that's not James Shields' only redeeming quality.
The guy has style. Lots of it. Just ask his teammates, who almost universally gave the same answer to the same question: who is the best-dressed player on the team?
"James Shields," said Salvador Perez.
"James Shields," said Billy Butler.
"One hundred percent, James Shields," said Danny Duffy.
OK. So that's settled. On travel days -- affectionately known in the industry as "getaway days" -- players are required to wear suits. Apparently, not all suits are created equal, with Shields -- dapper, hip, trendy -- setting himself apart from the rest.
"Ooooh," Perez said with admiration. "He looks clean. He's got everything -- he just looks good."
Shields carries it well, too.
"Dude has more charisma than I've ever seen on anyone," Duffy said. "The dude's got it all together. He's a stud. That's all you can really say."
Well, that's actually not all he can say. Duffy heaped several more accolades on the Royals' World Series Game 1 pitcher, calling him "an ace in every form of the word, in every aspect of life."
And he's got good hair, too.
"He doesn't have the flow that I've got going on," Duffy said, referring to his, ahem, ever deepening hairline. "I'm kind of going about 420 in the power alleys. He's got a good flow going."
"Good flow" is an appropriate term for what's happening to the Royals lately. There's never been a better time -- save for maybe 29 years ago -- to be a baseball player in Kansas City, where the good times are seemingly unending and life within the friendly confines of the Royals' clubhouse is loosey-goosey.
But really, outside of this charming Midwestern town, how many of us really know the Royals? To that end, we took advantage of a 50-minute media session on Monday at Kauffman Stadium -- a free-for-all of sorts -- where players were stationed inside one room at the Royals' Hall of Fame and fielded questions from dozens of media types.
Think Super Bowl media day, without the outrageousness and uncomfortably silly questions. For the most part.
Because Shields is starting Game 1 of the World Series, his media session was scheduled for later in the day, making him exempt from this particular interview exercise. When asked to respond to his teammates' unified admiration as the team's "Most Sharp Dressed Man," Shields took the aw-shucks approach.
"I don't necessarily call it style," he said with a laugh. "But I wear my suit when we go on the road. I mean, I guess that's an honor. I'm not really too prideful in the way I dress. I like to look halfway decent."
Clothing wasn't the only topic of discussion in our quest to get to know the Royals. Off-the-field antics also came up in conversation, with most players agreeing that catcher Perez, a jolly man by nature, wins in the category of "Clubhouse Clown."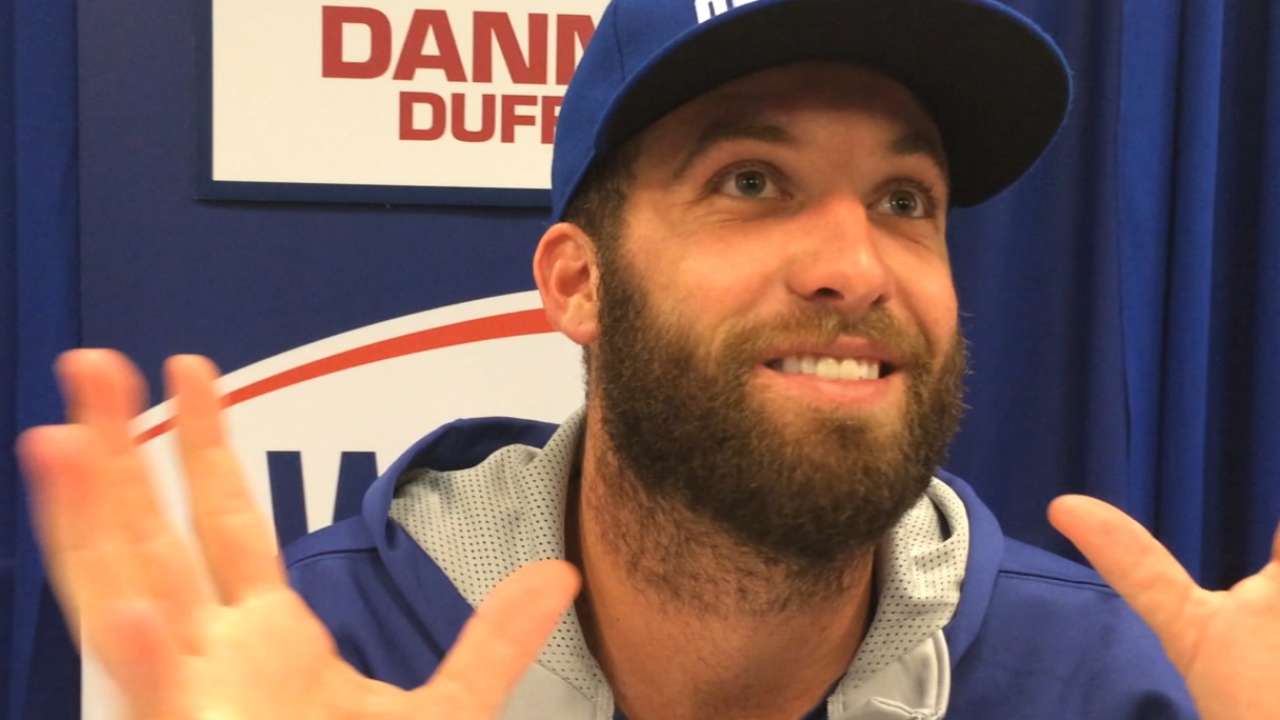 • Video: Who is the goofiest Royal?
Perez, however, picked Duffy.
Any particular reason why?
"He has a big head," Perez said. "He looks like a clown."
Perez said he'd vote for himself as the second-place winner.
"I like to be happy in the clubhouse," he said. "I don't want anyone to be serious. Before the game, we have to enjoy the moment. It's still a game. We'll be happy to play the game hard and enjoy the moment. That's what I like to do every game."
But there is something to be said about Duffy, who credits his left-handedness as the source of his goofiness.
"I just try to keep the guys laughing and on their toes," Duffy said. "We're with each other eight months out of the year, in a row, and we have about 10 days off. You've got enjoy your time with everyone. Whether it's wearing a bear suit, or Raul Ibanez running around in a Spiderman suit."
Wait, what?
Who wore a bear suit?
"Me," Duffy said. "I ordered it a while ago. It was kind of a joke."
One that apparently caught on among the other Royals. Yordano Ventura has also been spotted in an animal suit recently.
"So, we're just costumed out," Duffy said.
In the category of "Most Interesting Hobby," that award would have to go to starting pitcher Jeremy Guthrie, who collects shoes. He started this when he was seven years old, scoring a pair of Air Jordans -- the early model that said "Sky Jordan" with little wings on the sides.
Growing up in Oregon, where Nike was based, helped fuel Guthrie's passion for shoes. Michael Jordan ruling the sports universe at the same time didn't hurt, either.
"I had his rookie card, as most kids did at that age, and he became my favorite player," Guthrie said. "The shoe became associated with him and then I got into shoes."
To date, the 35-year-old Guthrie estimated he has about 430 pairs of kicks. He keeps most in a vault in his home in Utah, as well as in a "shoe room." He also has a large closet at his home in Kansas City that houses around 100 additional pairs. As for actually wearing the shoes, Guthrie said he has a 35-pair rotation.
The next question posed to Royals players involved clubhouse music: Who controls it? Who decides what's played?
Seniority goes to that day's starting pitcher. If he doesn't have a preference, it becomes a bit of a free-for-all, with any number of Royals players giving input as to what they listen to on a game day.
There are a few exceptions, of course -- like players who have horrendous taste in music. For example ...
"Danny Duffy," Butler said.
Why?
"He plays Christmas music in there," Butler said. "In July."
Duffy, listening from the next booth over, agreed.
"Chestnuts roasting on an open fire," he said. "Give it a little shout out."
Alyson Footer is a national correspondent for MLB.com. Follow her on Twitter @alysonfooter. This story was not subject to the approval of Major League Baseball or its clubs.