Sundberg remembers Royals' 1985 championship season
Rangers Hall of Famer spent his only postseason with Kansas City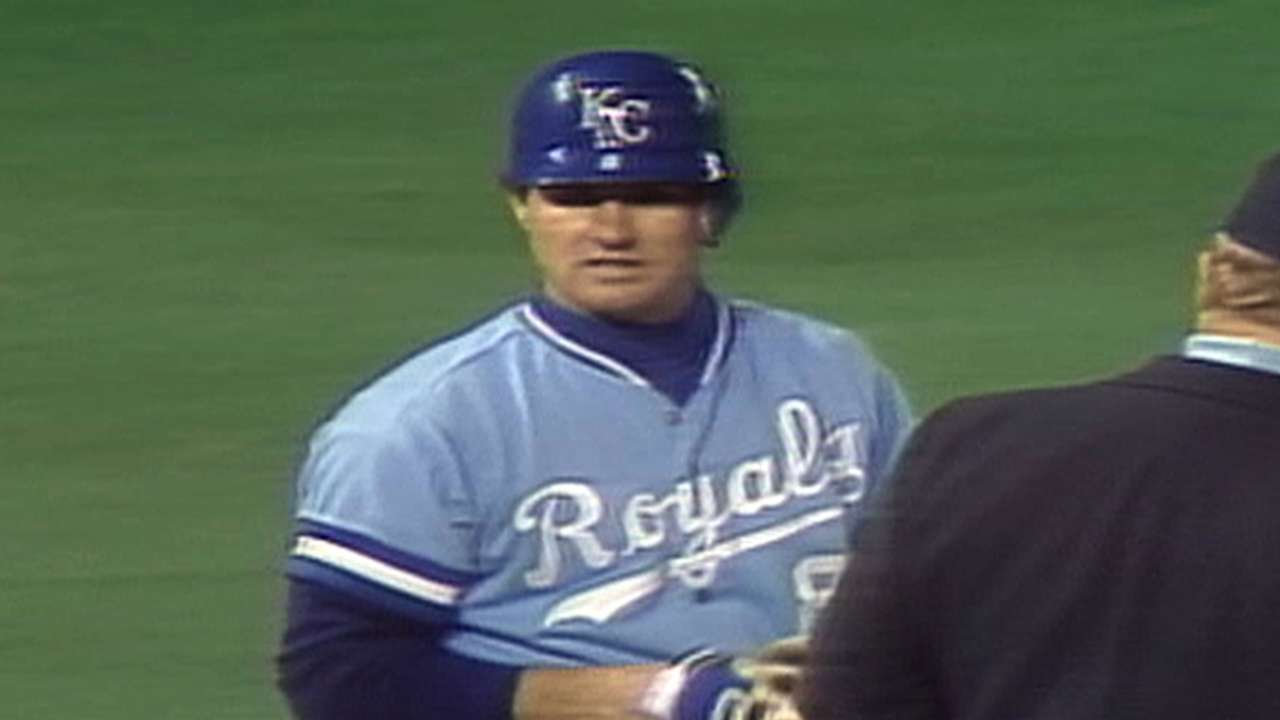 ARLINGTON -- Jim Sundberg used to wear the World Series ring that he earned with the Kansas City Royals in 1985. Now he is not sure where it is.
"I hid it one day because I was going out of the house," Sundberg said. "I think I know where it is, but I never put it back on."
Sundberg's memory of where his World Series ring may be a little hazy, but he still vividly recalls the events of October 1985. That was when the Royals played in their last Fall Classic, and Sundberg played a significant role in bringing home the only World Series championship in club history.
Now, 29 years later, the Royals are back in the World Series and will host the Giants in Game 1 on Tuesday night at Kauffman Stadium.
"There are a lot of similarities," Sundberg said. "Nobody expected us to be there either, but both did it the same way with pitching and defense and key hits. I don't think their rotation was as strong as ours [Bret Saberhagen, Danny Jackson, Mark Gubicza, Danny Jackson, Bud Black], but their bullpen is better, especially their last three guys."
Sundberg played 16 years in the big leagues and 12 were with the Rangers. He is in the Rangers Hall of Fame. But the ride to the 1985 World Series was the only time he ever played in the postseason.
"I didn't experience the pressure of the postseason like I thought would be there," Sundberg said. "We weren't expected to win our division and we won it in the last week. That was where the pressure was."
Sundberg spent the first 10 years of his career with the Rangers but was traded to the Brewers after the 1983 season. After one year with the Brewers, Sundberg was traded Kansas City because Royals manager Dick Howser wanted a veteran catcher to handle a young pitching staff.
Sundberg did just that and the Royals, after being 7 1/2 games out at the All-Star break, rode their young pitching to a division title.
Sundberg only hit .208 in 14 postseason games. But he led the Royals with six RBIs in the seven-game American League Championship Series victory over the Blue Jays and he led them with six runs scored in the World Series.
"I didn't hit for big average, but I did have some key offensive contributions," Sundberg said. "What I did really counted."
No kidding. Sundberg had the biggest hit of the ALCS and scored the biggest run of the World Series.
The Royals had a 2-1 lead in Game 7 of the ALCS when Sundberg came to bat with the bases loaded and two outs in the sixth inning. Facing Blue Jays ace Dave Stieb, Sundberg hit a three-run triple and then scored on a single by Frank White. The Royals won 6-2.
"That was the single biggest moment at the plate in my career," Sundberg said.
Sundberg was also involved in one of the biggest innings in World Series history: the bottom of the ninth in Game 6 against the Cardinals. At the time, the Cards had a 3-2 lead in the Series and a 1-0 lead going into the bottom of the ninth in Kansas City. They were three outs away from winning the World Series.
Jorge Orta, facing reliever Todd Worrell, led off with a chopper to first baseman Jack Clark. Orta appeared out at first base as Clark's toss to Worrell beat him to the bag. But first-base umpire Don Denkinger ruled Orta safe in one of the most crucial calls in World Series history. Steve Balboni followed with a single, only after Clark misplayed his foul pop.
That brought up Sundberg with runners at first and second, and nobody out. Howser had Sundberg bunt, but the ball went back to Worrell, who got the force at third.
"I thought it was a good bunt," Sundberg said. "I don't think Orta got a good jump or a good lead. It was on turf, so the ball rolled quicker too."
With pinch-runner Onix Concepcion at second, Sundberg was now on first base as the winning run.
"I remember wondering why was Dick Howser not pinch-running for me," Sundberg said. "When I realized he wasn't going to pinch-run for me -- I had always been a good baserunner, although not very fast at that point of my career -- I just reminded myself to get a good lead and a good jump."
A passed ball by catcher Darrell Porter moved the runners up to second and third. After Hal McRae was intentionally walked, Dane Iorg blooped a single to right field.
"Get a good lead, get a good jump and cut the corner hard at third," Sundberg said. "When the ball came off the bat, I knew it was a hit, I knew it would be down."
Sundberg went for home, even though Cardinals right fielder Andy Van Slyke had a great arm.
"When I came home, I saw Porter had given up too much of the plate," Sundberg said. "He went out to get the ball. I dove headfirst, getting as far away from Porter, staying low and getting the plate with my hand."
With what broadcaster Jim Palmer said on national television was "a great slide," Sundberg scored the winning run that sent the World Series to Game 7. The Royals won, 11-0.
"The last day of the World Series was the only day that I felt any pressure," Sundberg said. "The Sundberg family went to a Kansas City park for a picnic. We were throwing the Frisbee around, but I was really on edge. But once I got to the ballpark, I was fine."
It was a magical time for Sundberg and the Royals. Now it starts again on Tuesday night in Kansas City.
T.R. Sullivan is a reporter for MLB.com. Read his blog, Postcards from Elysian Fields, and follow him on Twitter @Sullivan_Ranger This story was not subject to the approval of Major League Baseball or its clubs.