Holland has an edge -- and unhittable pitches
Royals closer a big reason why club has returned to the World Series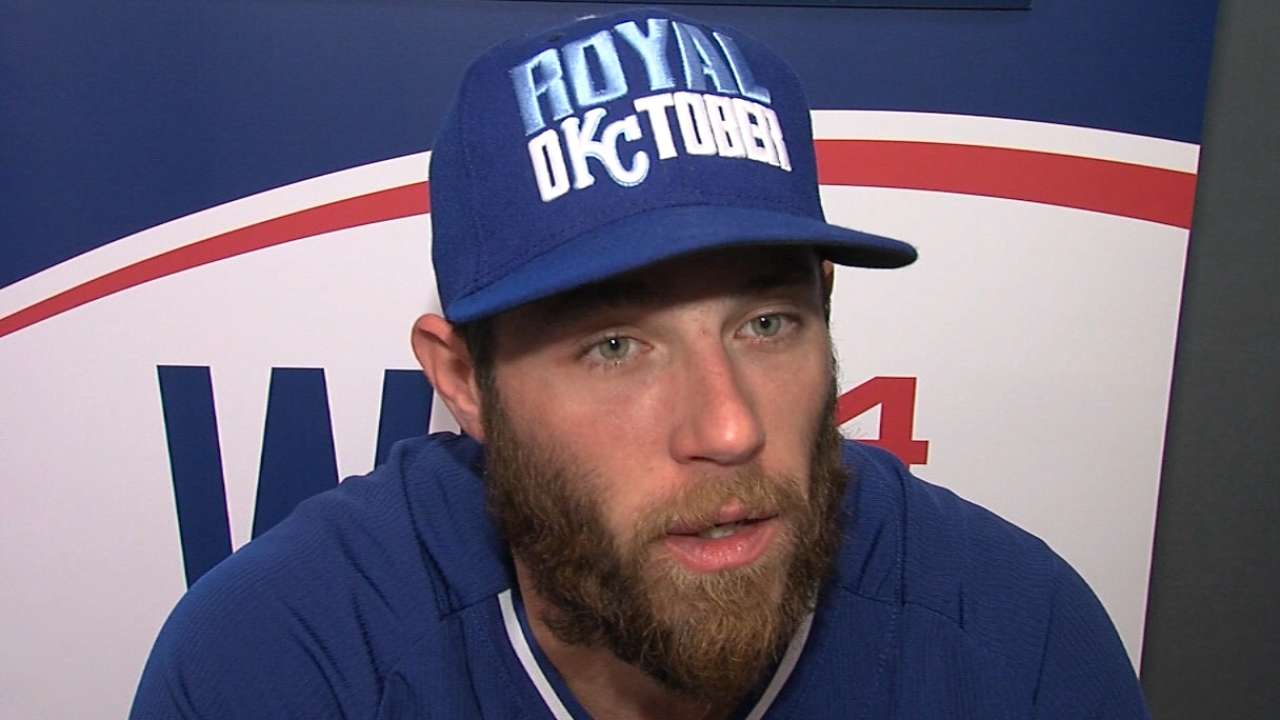 KANSAS CITY -- Royals backup catcher Erik Kratz has a hard time explaining what makes closer Greg Holland's pitches so wickedly effective. Which probably helps explain why they're so wickedly effective.
"There's just something about it," Kratz said Monday at Kauffman Stadium as the Royals prepared for their final workout before Game 1 of the World Series on Tuesday (7:30 p.m. ET airtime/8:07 ET first pitch, FOX). "It's spinning like a slider like other guys throw, and then it doesn't do the same thing. It doesn't act like a slider and it doesn't do the same thing twice."
Whatever it is, it's helped Kansas City advance to the Fall Classic for the first time in 29 years. Along with setup relievers Kelvin Herrera and Wade Davis, the back of the Royals' bullpen has been a bedrock of the team's success. But it's been up to Holland to nail down the wins in the ninth, and over the last two years, he's been wildly successful at it: 93 saves in 98 opportunities.
This season Holland made his second straight American League All-Star team and held opponents to a .170 batting average.
Holland does it by throwing pitches that often seem unhittable, of course, but even that doesn't fully explain his dominance.
"He throws the heck out of it. He throws it hard," Kratz continued. "The whole package goes into it. His motion. He's not as tall as some guys [listed at 5-foot-10], so it's coming out of a different arm angle. It's exciting. I'm glad he's on my team, put it that way."
Added pitching coach Dave Eiland: "I think what he's done the last two years speaks for itself. It's just his makeup, his attitude that separates him from a lot of closers. He comes right at you. He believes in himself. He's very critical of himself, too. He always has that edge. He doesn't allow himself to get too comfortable."
It wasn't always that way, though. "He was a guy whose delivery had to be cleaned up a little bit," Eiland said.
Like any pitcher, it's not enough to have great stuff if it can't be commanded. And as he began his professional career, Holland was averaging more than four walks per nine innings. He knew that wasn't good enough, so he went to the Venezuelan Winter League following the 2010 season. Playing winter ball, he focused on pounding the zone.
"I was wild. I had control issues. I knew that if I wanted to improve and be a reliever at the big league level, I needed to get better," Holland said. "So I went down there and basically just tried to throw strikes. I don't think there was one instance where it clicked. Just that repetition that built on itself and you gradually get better."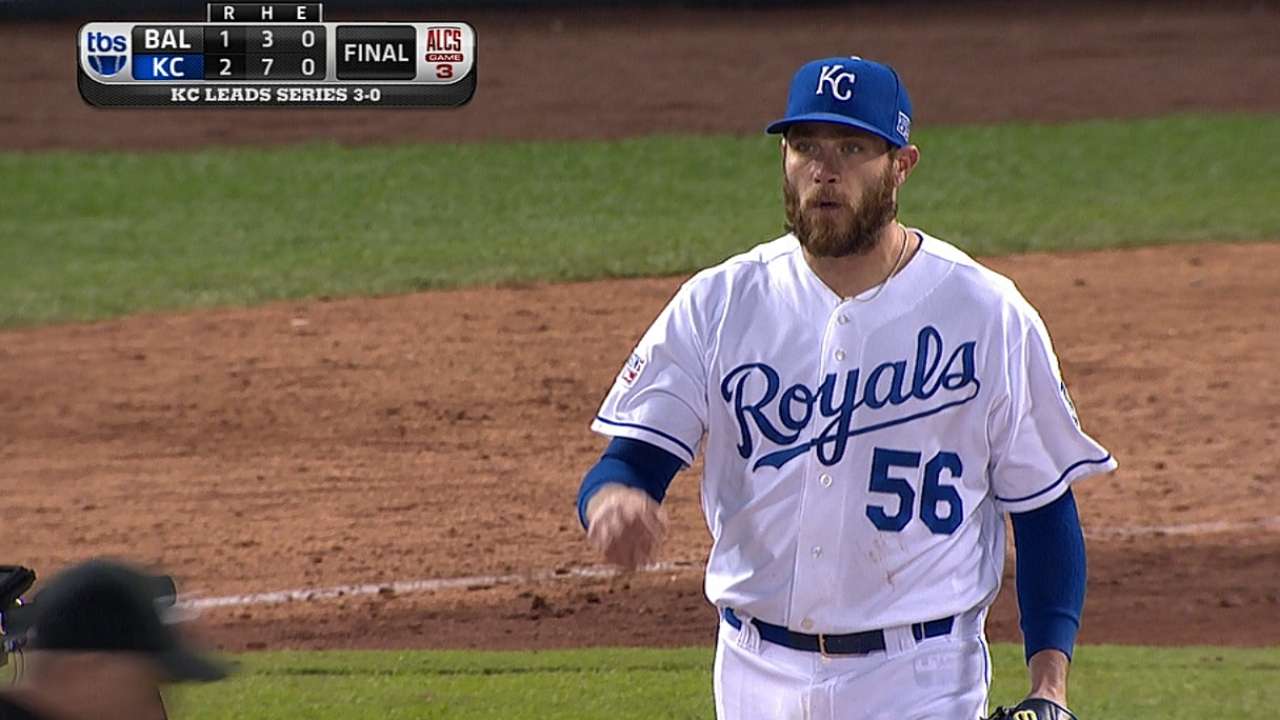 • Holland saves each ALCS victory
Royals bullpen coach Doug Henry, then a Minor League coach, was in Venezuela with Holland.
"It was one of those things where he had seen me in Triple-A," Holland said. "It was good having someone down there who kind of knew when you were getting out of rhythm, kind of got you back on course."
Now Holland is the anchor of one of the best bullpens in baseball, one of the best in recent memory. Royals outfielder Raul Ibanez is 42 years old. He's been there, done that. And even he finds himself shaking his head.
"It's just remarkable to watch," he said. "You get down to the last part of the game here and it's incredible. It really is. Those guys are unbelievable. ... You're talking about some serious thunder coming out of the 'pen. It's the best bullpen I've ever seen."
Knowing what's lurking in the bullpen can subtly change the approach of opposing teams. The opposition feels some pressure to get a lead before the seventh. The Royals' confidence increases because they know if they can just keep the game close they have a great chance to pull out a win.
"There's nothing in this game that's a given. You're hanging on every pitch," Ibanez said. "But you feel good about, 'Let's get this game through the sixth inning.' You feel good about that. Feelings don't win games, but having these guys go out and dominate the way they do is what wins games. And they do it day in and day out."
Holland is quick to acknowledge that having Herrera and Davis ahead of him makes his job easier.
"There's a lot to be said when you've got that two-run lead and your seventh- and eighth-inning guys don't give up any runs and you get to pitch the ninth inning with a two-run lead as opposed to a one-run lead" Holland said. "That's a big deal because a solo home run doesn't tie the game, doesn't beat you. I think they've really helped me out as far as that goes."
These are exciting times for Holland. The Royals are in the World Series and, even better, his wife just gave birth. He said he's trying to relax, slow things down, savor the moment.
"As much as I can. It's a crazy time," he said. "I think good teams have the ability to just stay in the moment."
The Royals have been a very good team this postseason. Holland has had a lot to do with that. And if Kratz can't figure out how to explain what makes him so good, how do you expect the batters to figure out how to hit him?
Paul Hagen is a reporter for MLB.com. This story was not subject to the approval of Major League Baseball or its clubs.