Affeldt stays course to aid Giants' World Series run
Veteran and key cog in bullpen will match up against former club in Fall Classic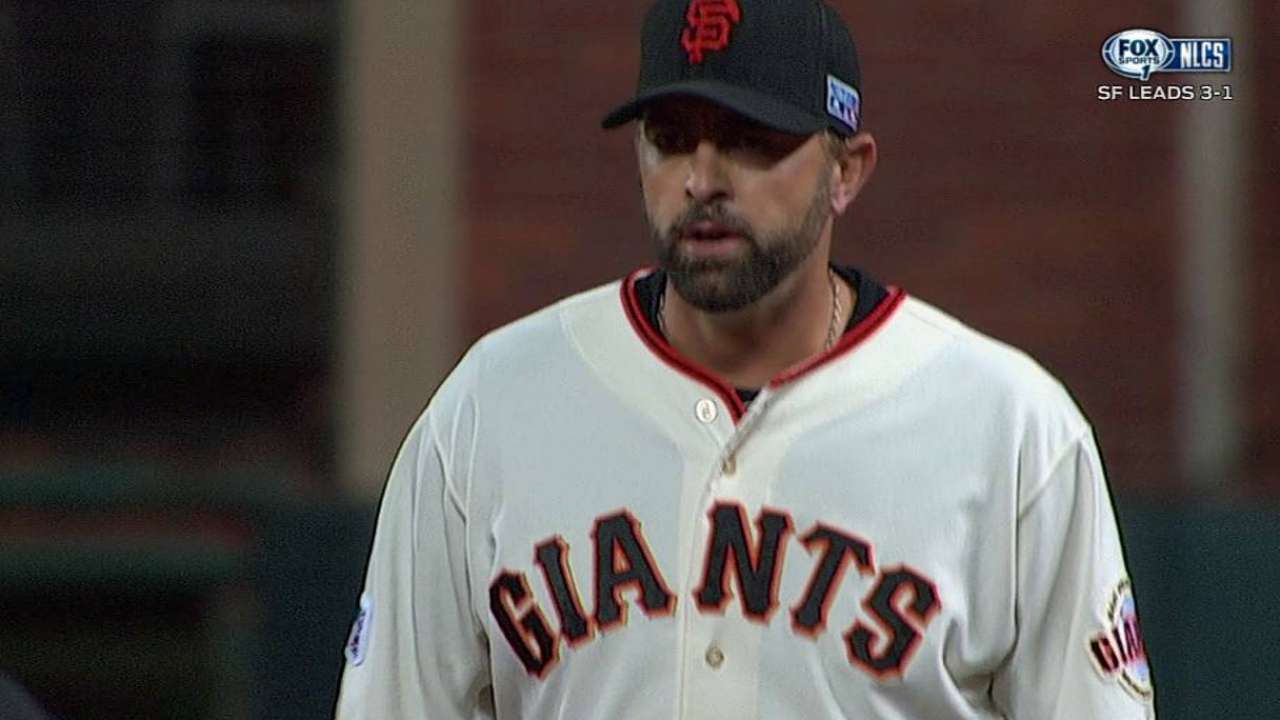 KANSAS CITY -- The letter, handwritten and rather harsh, arrived at the Colorado Rockies' clubhouse, directed to Jeremy Affeldt. Just because the words were difficult to read didn't mean they weren't accurate.
It was a letter from Royals general manager Dayton Moore. It was August 2006, and Moore had just traded Affeldt to the Rockies. But rather than let the trade (Affeldt and right-hander Denny Bautista for righty Scott Dohmann and first baseman Ryan Shealy) speak for itself, Moore took a moment to write Affeldt a note of both admonishment and encouragement.
"I needed to give you an opportunity to succeed," Moore wrote, according to Affeldt's re-telling on the eve of the World Series. "You were at a point where I didn't think you could do that [in Kansas City], because you're not approaching the game with any joy."
Was Moore right? Absolutely.
"I hated the game," Affeldt recalled. "I almost quit. I remember sitting at the counter at my house at 135th and State Line Road, crying and telling my wife, 'I'm done. I don't want to play anymore. I'm tired of failing. I can pitch good and still be bad. I get the same result every night.'"
This is all hard to believe now that Affeldt is such a long-standing key cog in this Giants bullpen. He has a 2.76 ERA in 362 regular season appearances over six regular seasons with San Francisco. More impressively, he has a 0.87 ERA in 20 2/3 innings over the course of their 2010, '12 and '14 postseason runs.
But in 2006, Affeldt had a 5.91 ERA at the time of the July 31 trade, and a career that had begun with the Royals in 2002 appeared to be going nowhere. If not for the words of two people -- Affeldt's wife, Larisa, and Moore -- he might have called it quits. Larisa reminded Affeldt that he'd never be able to look a kid in the eye and tell them not to give up on their dreams if he did just that, and Moore reminded him that a fresh start could do him some good.
Things didn't immediately improve for Affeldt on the mound in Colorado, but his outlook did. And in 2007, he not only had what was, to that point, his best statistical season but was part of a Rockies team that won the NL pennant.
"If I would have been released, I might have taken it as my out and said, 'I'm done,'" Affeldt said. "But [Moore] didn't allow me to do that."
So remember this little story in those late innings of this World Series. If Affeldt gets key outs against this Royals club in the heat of battle, Moore, in a weird way, will be the one to blame.
But in a game that is often about business, Affeldt's personal anecdote suggests that sometimes the game is about people rooting for each other.
"I have a lot of respect for Dayton Moore," Affeldt said. "And I'm happy that the product that he decided to build has paid off and he's put a World Series team into place."
Anthony Castrovince is a reporter for MLB.com. Read his columns and follow him on Twitter at @Castrovince. This story was not subject to the approval of Major League Baseball or its clubs.