MLB.com Columnist
Richard Justice
High-flying Royals set to put dazzling defense on display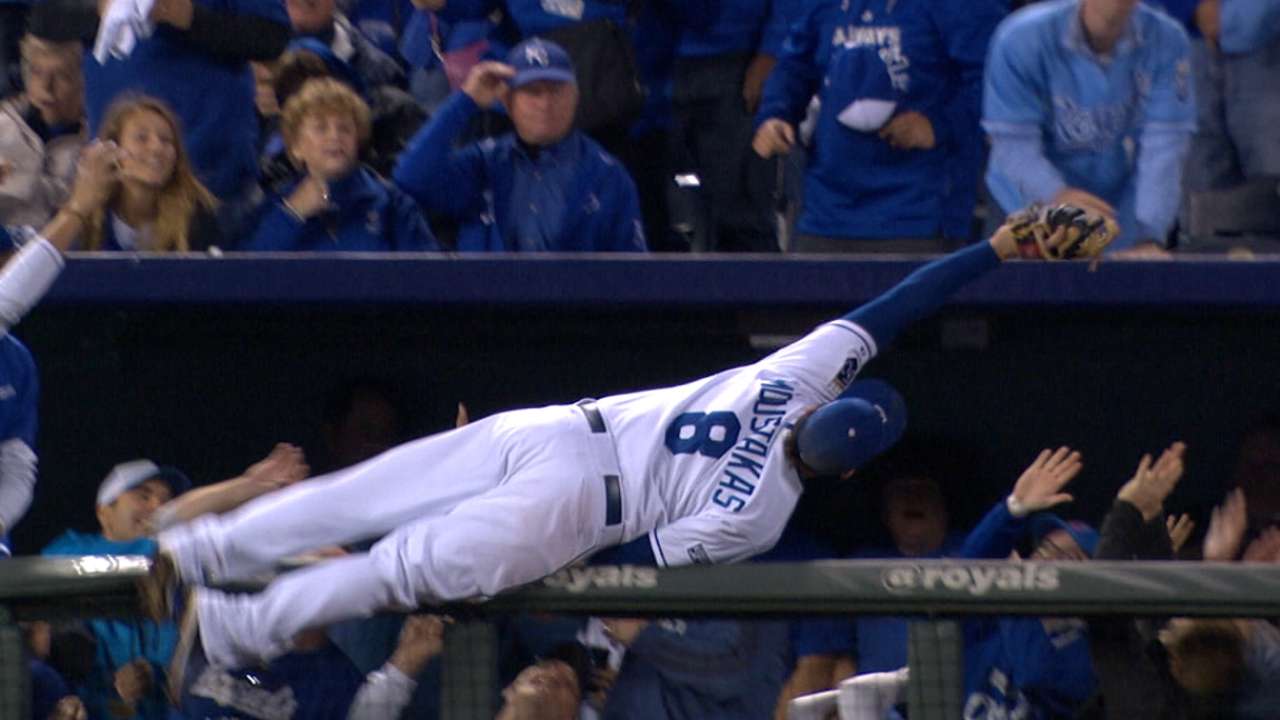 KANSAS CITY -- Prepare to be dazzled. That's because the Kansas City Royals do one thing better than any other baseball team on the planet.
This one thing isn't something you see every day. And you've probably never seen it the way the Royals do it.
The Royals play defense. Actually, the Royals play spectacularly entertaining defense. Chilling, thrilling defense. They play the kind of defense that kills rallies and wins games.
These Royals will do things that make you want to see the replay again and again.
Bodies fly through the air.
Dugout railings are no big obstacle to these Royals.
The Royals do it with flash and confidence, too. They make a play that takes your breath away, and then they top it.
The Royals may make you rethink everything you've ever thought about the importance of defense on a baseball diamond.
"At some point, you just feel like you're not going to see a better play," Royals designated hitter Billy Butler said. "And then you see another one. It's incredible."
Added reliever Wade Davis: They just keep doing stuff. You're like, 'Oh my goodness.' They just don't stop."
Left fielder Alex Gordon said, "Defense changes momentum throughout the game. We know it's the strength of our team. We take pride in it."
The Royals have been at their highlight-reel best during this 8-0 run through the postseason and into Game 1 of the 2014 World Series Tuesday (6:30 p.m. CT airtime/7:07 p.m. first pitch, FOX).
One moment, there's Gordon diving to make an amazing catch. Or there's third baseman Mike Moustakas leaping over the dugout railing to grab a foul pop.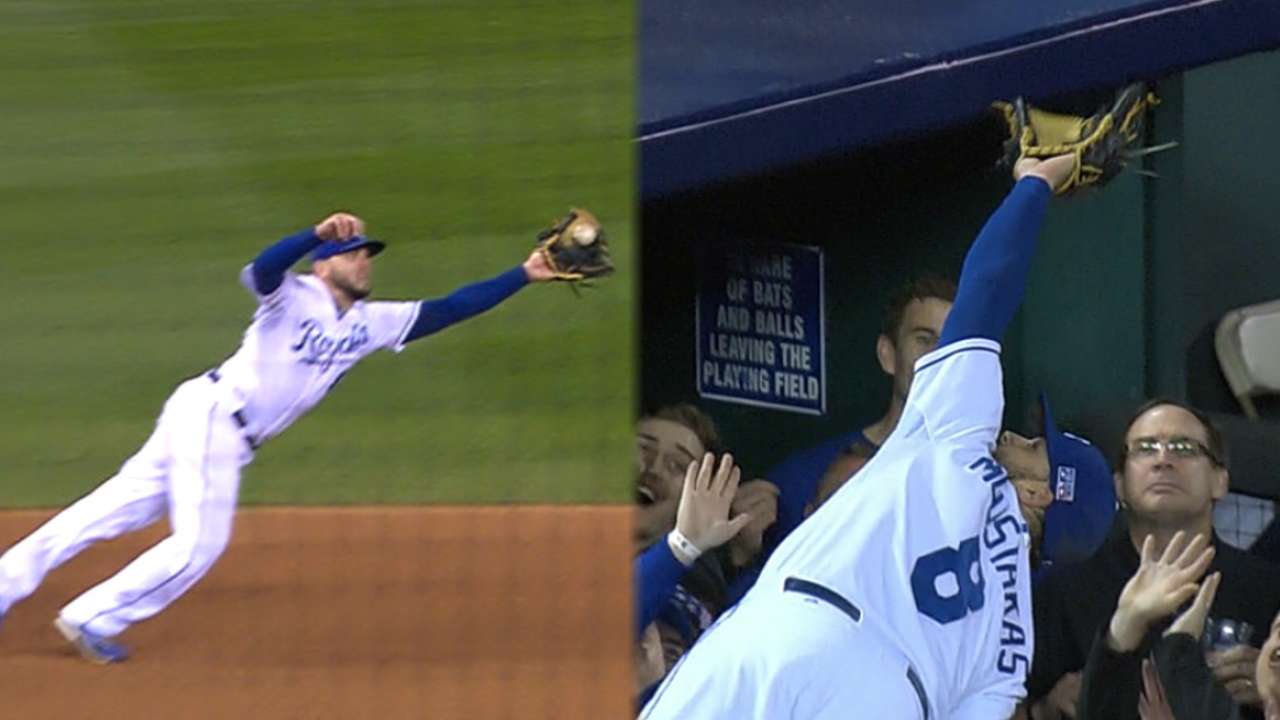 Video: Moose's pair of catches
Along the way, other Royals had their moments, from Lorenzo Cain in center to Alcides Escobar at short to Eric Hosmer at first base.
Oh, and there are two others.
One is catcher Salvador Perez. If he's not the best catcher in all of baseball, he's almost certainly the best catcher not named Yadier Molina.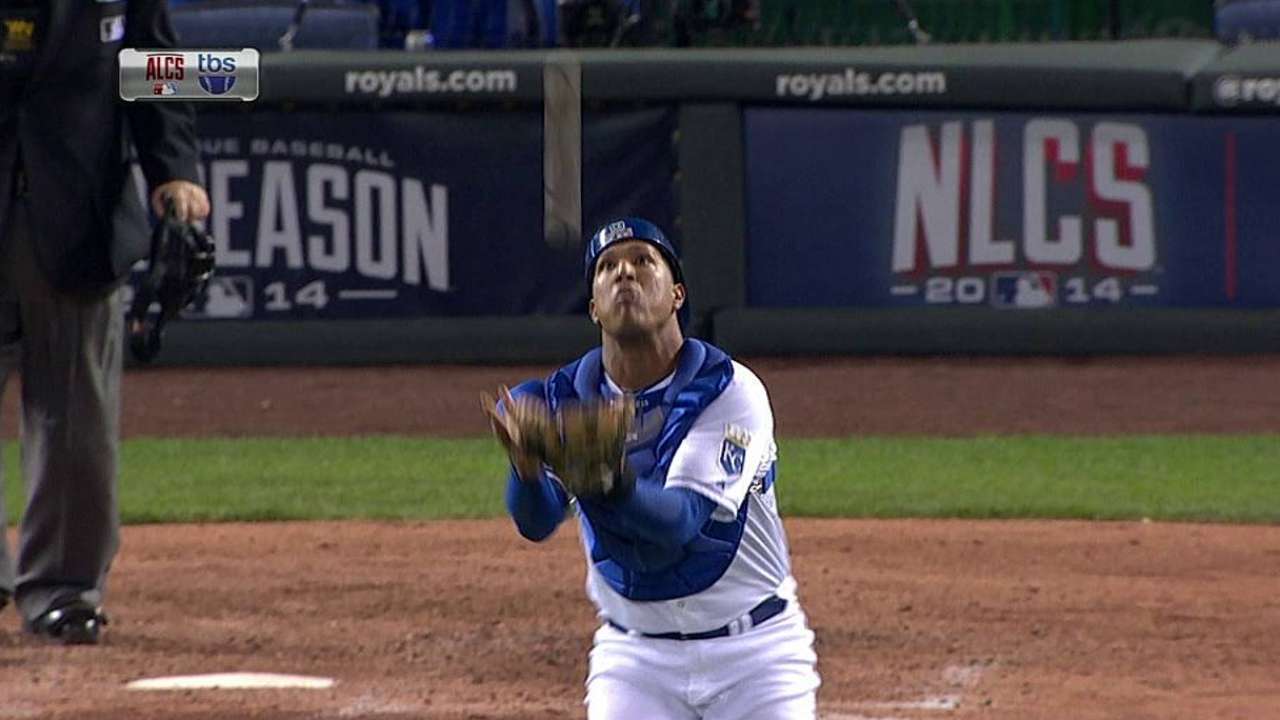 Video: Perez makes tough catch
And Jarrod Dyson might be baseball's best defensive outfielder, but because the Royals want Nori Aoki leading off and playing right, he's a late-inning replacement.
When Royals manager Ned Yost has an outfield of -- left to right -- Gordon, Dyson and Cain in the late innings, especially with all those hard-throwing relievers, the Royals are scary good.
"We're kind of bringing back old-school baseball," Dyson said. "People aren't used to seeing this."
The Royals were the best defensive team in baseball, finishing with MLB's highest ultimate zone rating (UZR), an advanced defensive metric that estimates each fielder's defensive ability vs. an average fielder at his position. The Orioles were second; the Giants 15th.
According to UZR, the Royals were first overall in outfield defense. Gordon was first in left. Cain and Dyson were first in center.
The defensive metrics speak volumes about the importance general manager Dayton Moore placed on defense when he put the Royals together.
Because Kauffman Stadium's outfield is so large, Moore believed defense had to be a priority.
Also, because the Royals might never have a top 10 payroll, he believed defense could make up for a lot of what the Royals didn't have.
The Royals hit 10 fewer home runs than any other team in baseball this season, but they were 16th in runs thanks to leading the Majors in steals and hitting .271 with runners in scoring position (fourth overall).
Their pitching staff was fourth in velocity, averaging 92.6 mph, and so with a defense that saved a ton of runs, and enough offense, the Royals found a formula that works.
"If you watch us practice, you see how hard we work at it," Dyson said. "When it comes to defense, we don't take any shortcuts. We definitely feed off each other. You want to catch every ball. You don't want anything to hit the ground.
The Royals have ridden that defense to within four victories of their first championship in 29 years. With the lights the brightest and the stage the largest, it has never been better.
"If we can get a glove on it, we've been making the play," Dyson said. "That's something special to have."
Richard Justice is a columnist for MLB.com. Read his blog, Justice4U. This story was not subject to the approval of Major League Baseball or its clubs.