Bradley honing his craft in Arizona Fall League
D-backs' No. 1 prospect is aiming to secure a rotation spot in 2015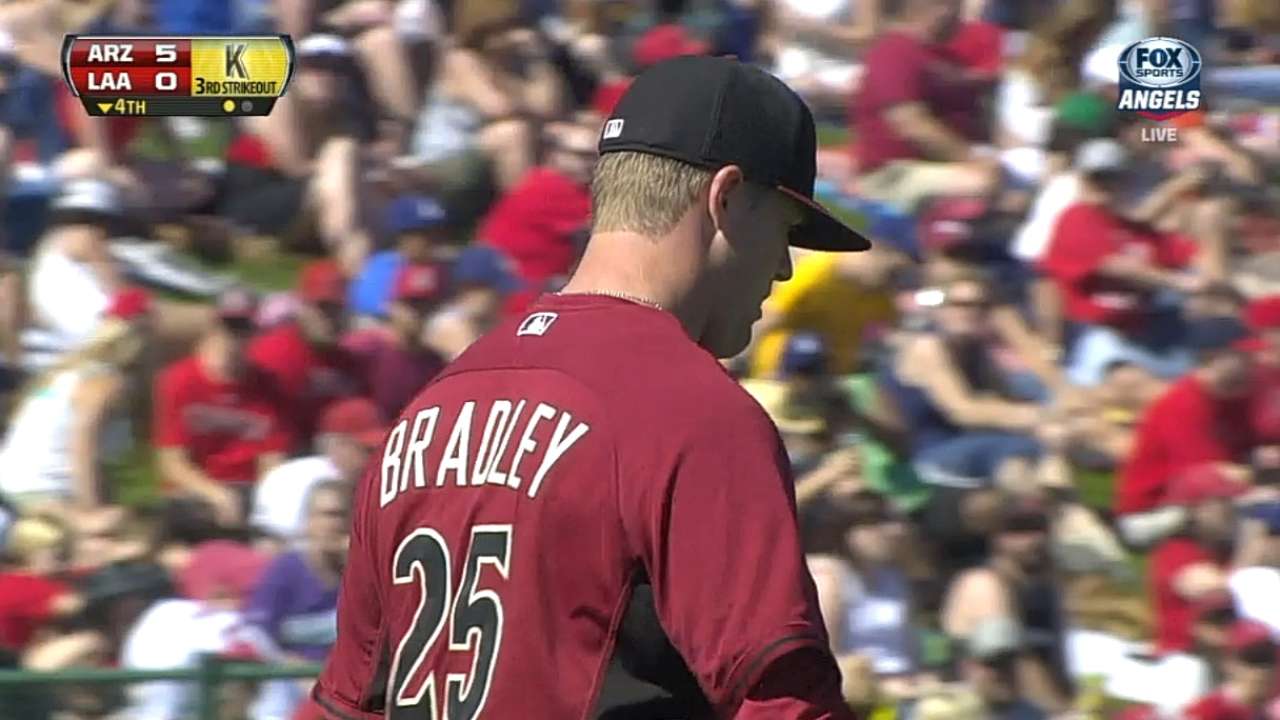 SCOTTSDALE, Ariz. -- Archie Bradley gazed into the distance and took a deep breath. It is football season, and nowhere is that more evident than in Bradley's home state of Oklahoma.
Bradley was a three-sport star at Broken Arrow High School and came oh so tantalizingly close to becoming the quarterback at the University of Oklahoma. But baseball beckoned with a louder call, accompanied by quicker and perhaps even better money than football likely would have brought, and certainly less wear and tear on the body. Still, Bradley wonders ... what it might have been like to play for the Boomer Sooners.
Now, Bradley is in the Arizona Fall League, reserved for Major League Baseball's top prospects. The 6-foot-4, 235-pound right-hander was the No. 1 pick (seventh overall) by the D-backs in the 2011 First-Year Player Draft.
Slowed early in 2014 by an elbow strain, Bradley, ranked as the D-backs' No. 1 prospect by MLB.com, had a solid recovery over the summer and he already has made three starts for the AFL's Salt River Rafters. He is 0-2 with a 10.29 ERA, allowing 12 hits and six walks to go with six strikeouts in seven innings.
Spending a few leisurely moments before a road game on a Saturday afternoon, it was difficult not to think about football.
"Yeah, I think about it all the time. I live vicariously through the Sooners," Bradley said. "I know a few of their players and when I am home, I go to the games."
There is no living vicariously here, however. This is a reality show.
Bradley was with the D-backs' big club in Spring Training and was thought by many to be headed for then-manager Kirk Gibson's starting rotation. Bradley battled fellow right-hander Randall Delgado and others but, in the end, he was sent to the Minor Leagues.
The move by then-general manager Kevin Towers ruffled the feathers of Bradley's agent, Jay Franklin, who felt that the D-backs were keeping Bradley in the Minors in order to prolong the period before the pitcher would be eligible for arbitration and free agency.
Towers said it was a simple matter of not wanting to put any more pressure on Bradley than was necessary. He wanted to avoid putting the "savior" label on Bradley as the team's rotation became stuck in quicksand. The staff never could extricate itself over the full season, contributing to the departures of Towers and Gibson.
Bradley said he went through "a whole range of emotions. I was a young guy and wanted to do everything I could to make the team. Every outing, I felt that I had to make the team. I understood what was going on, but that still didn't make it any easier. I felt at the time and still feel that I can be an important part of the rotation."
The D-backs' roster of decision-makers has undergone big changes in the last month. Towers has been replaced by former Major League pitching star Dave Stewart as general manager, with De Jon Watson serving as a senior vice president of baseball operations and Chip Hale taking over as manager.
"We have many new sets of eyes. It's a fresh start. Everybody starts off the same," Bradley said. "I think all of us, no matter who it is, feel like we have something to prove and that we are going to put the pieces together."
Shortly after the 2014 season began, Bradley sustained a strained elbow flexor mass, but there was no damage to the ligament. He started the season at Triple-A Reno (five starts), had a one-game rehab assignment with the Rookie League club and then finished the season with 12 starts at Double-A Mobile. He had a combined 3-7 record.
"My command got worse and my speed was down," Bradley said. "I finally told them about it because I wasn't helping the team or myself. You'd rather be safe in that situation. I came back and I was still inconsistent, but things started to roll back together.
"I'm feeling good out here and I am humbled to be here. It's a good group of guys and you know what this league has done for the careers of a lot of guys. I'm out here to improve, work on my fastball command and sharpen my secondary pitches to where I feel I can throw them in any count to any player."
Don Ketchum is a contributor to MLB.com. This story was not subject to the approval of Major League Baseball or its clubs.