Cardinals prioritize upgrading bench, bullpen
St. Louis to rely on returning players to fill rotation, everyday spots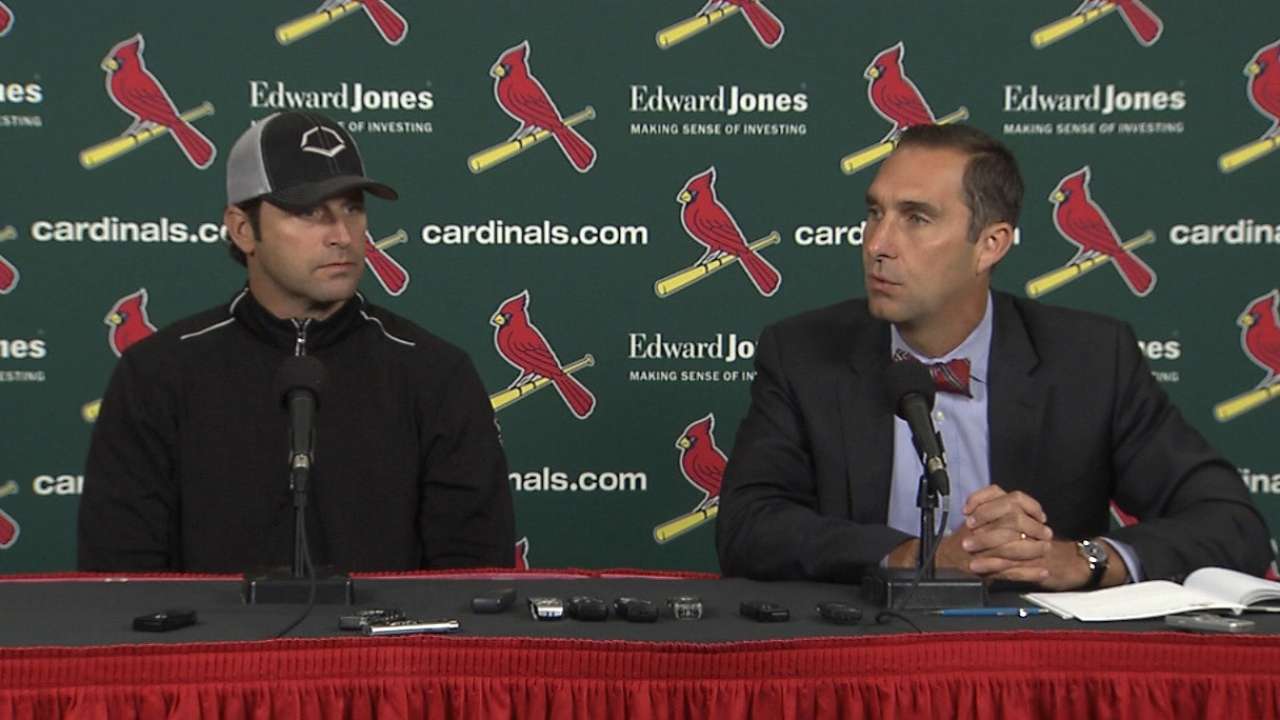 ST. LOUIS -- Describing the organization's offseason strategy as opportunistic, general manager John Mozeliak is expected to seek bullpen and bench depth this offseason, while relying on returning players to fill the rotation and starting position player spots.
"When you look at our overall club for next year, we feel pretty comfortable with where we're at," Mozeliak said. "But we certainly want to make some needed adjustments if possible."
The Cardinals are unlikely to re-sign any of their five free agents -- Mark Ellis, Jason Motte, Pat Neshek, A.J. Pierzynski or Justin Masterson. The loss of Neshek and Motte creates some additional need in the bullpen, and speaking specifically of adding another left-handed option, Mozeliak said, "If we can upgrade there or have an additional arm to choose from, that makes sense."
The Cardinals hit the jackpot with the signing of Neshek last January and may also look to address the issue of bullpen depth with a similar under-the-radar signing later in the offseason. Mozeliak would not speculate as to whether the Cardinals might find more fertile ground for additions via the trade market or free-agent pool.
On the position player end, the Cardinals will look to add a right-handed bat to the bench, possibly one that could also spell Matt Adams at first base against left-handed pitching. Mozeliak downplayed finding Adams a platoon partner as a necessity, but described it as something he'll "definitely explore if we can find something."
Mozeliak's hesitancy in promising an offensive upgrade is couched in the reality that so many teams are looking for offensive help this winter. That will make bats harder to find, particularly if the Cardinals only have part-time jobs to offer.
Mozeliak said he will consider finding ways to add experience to a bench that has trended young in recent years. He also did not rule out exploring the catching market to add another option behind Yadier Molina. Tony Cruz is a first-time arbitration-eligible player.
Worth noting
• While the Cardinals have not ruled out a starting future for Carlos Martinez, the organization is already loosely projecting the right-hander as an eighth-inning setup man next season. Trevor Rosenthal will come to Spring Training with his grip still on the closer's role.
• The Cardinals will have lefty Marco Gonzales report to Spring Training, competing for a job in the starting rotation. But if there is not a spot for Gonzales among the starting five, the club is expected to heavily consider him for a place in the bullpen, given what he showed in a relief role late this year.
• Acknowledging that he has heard much of the criticism following his decision to pitch Michael Wacha in Game 5 of the National League Championship Series, manager Mike Matheny refrained from sharing more specifics about that decision to avoid indicating why he may not have felt comfortable going to other players in that spot.
"Just to cover my decisions and why I did it isn't worth it for the risk it could be for the long-term effect with these guys and what we work all season to build up with them," Matheny said. "You've got to realize, too, when we're talking about why we decided to go with one person over another, these guys follow this stuff, too. If there is a reason why we might lean against one with one particular guy; it's not necessarily something you want to make public."
• Mozeliak indicated that the Cardinals plan to tender Peter Bourjos, who is arbitration-eligible for the second time, a contract this winter. Bourjos won't see too sharp an increase from the $1.2 million he earned in 2014. Mozeliak also said that the organization will discuss ways in which they might better optimize Bourjos' skill set in 2015.
• Rawlings will release its Gold Glove Award finalists (three for each position for each league) on Thursday, the company announced on Monday. Molina has won six straight, though that string is in jeopardy since he missed seven weeks due to injury.
Jenifer Langosch is a reporter for MLB.com. Read her blog, By Gosh, It's Langosch, and follow her on Twitter @LangoschMLB. This story was not subject to the approval of Major League Baseball or its clubs.