Inbox: How will the Yankees upgrade the rotation?
Beat reporter Bryan Hoch answers questions from Yankees fans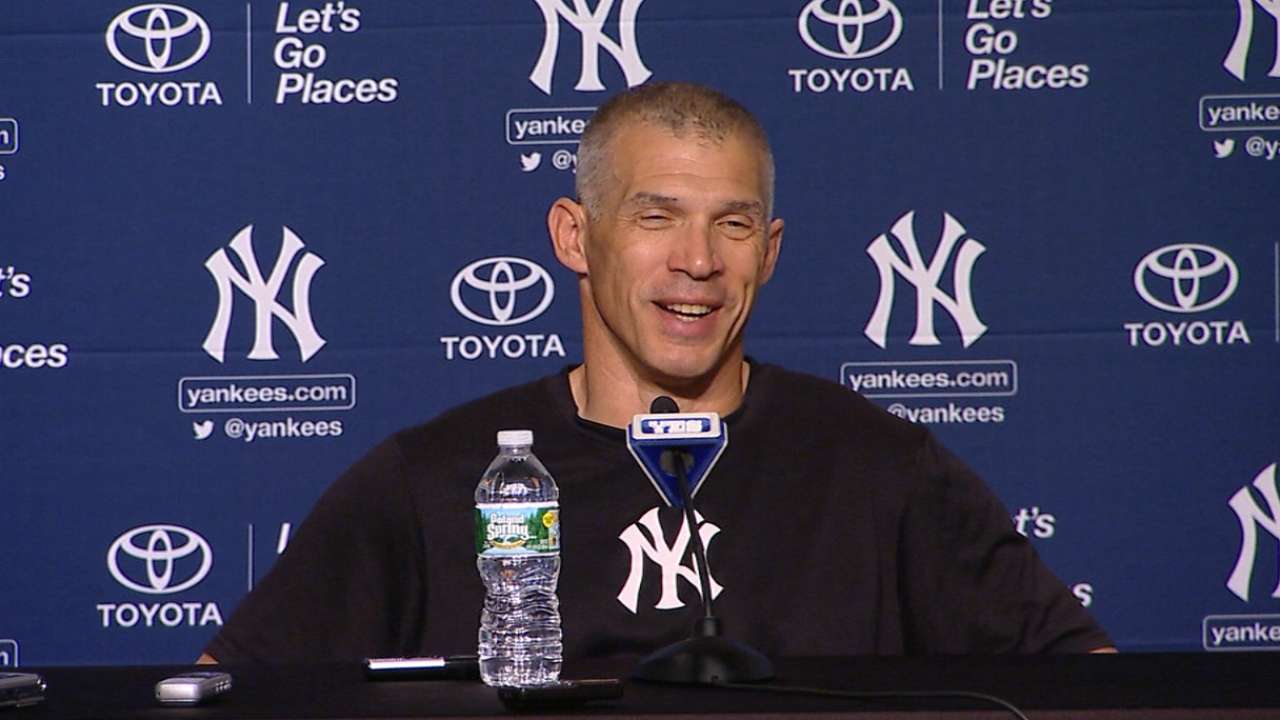 Three weeks have passed since the afternoon that Derek Jeter walked off a big league diamond for the final time, waving his batting helmet and officially entering retirement. His teammates and club brass went into offseason mode a few innings later, and that is where we find them now as we kick off the first Yankees Inbox of the offseason. Click here to submit a question.
How do you think Alex Rodriguez will perform this season?
-- Ricky L., via Twitter
He's back! This is the $61 million question for the Yankees this winter -- that figure, of course, is what remains on Rodriguez's contract through the 2017 season. Coming off a yearlong suspension, having had surgery on both hips and heading into his age-40 season, what can be reasonably expected?
No one knows for certain, but it'd be fun to hazard a guess. Preparation is not going to be an issue for Rodriguez, and he should be expected to show up in as good condition as possible; remember, this was not a rehab year, so in theory he should be rested and ready to go. Certainly, his reflexes looked OK when he nearly was trampled by Tony Romo and the Cowboys on Sunday.
Offensively, let's presume that Rodriguez hasn't deteriorated from 2013 and he can offer close to what he provided in those 44 games, when he hit only .244 but posted a .771 OPS. That's not too far off his .783 OPS in '12, and here's something crazy: that .771 OPS would have topped every Yankees regular in '14.
To put it another way -- Chase Headley had a split line of .243/.328/.372 in 135 combined games with the Padres and Yankees this year, hitting 13 homers and driving in 49 runs (as you know, he improved after the July trade to New York). If Rodriguez stays on the field, could he match or exceed that? I'd venture to answer yes.
Defensively, we already know that Joe Girardi has brought up the idea of having Rodriguez try on a first baseman's glove for part-time duty, an assignment that you wouldn't figure Rodriguez would have too much difficulty taking on.
Ideally, he would still be able to play third base a few times a week, as well as serve as a productive designated hitter -- particularly if Carlos Beltran comes back as an everyday right fielder, as is expected. We're only about two months away from the first stakeouts in Tampa, when all these answers should become clearer.
What are the chances of the Yankees landing a big-name free agent pitcher?
-- Ken T., Myrtle Beach, S.C.
It would not be a shock to see the Yankees connected early in free agency to any of the big names out there: Max Scherzer, Jon Lester and James Shields pacing the way, particularly if Hal Steinbrenner gives the OK to double down after last year's $175 million investment in Masahiro Tanaka.
The Yankees have said that they would prefer to funnel funds toward player development, but there are so many question marks in the rotation. CC Sabathia missed most of the year to injury and his "ace" days are probably over, Ivan Nova isn't expected back until May, Tanaka's elbow is still a blinking caution light and Michael Pineda was either dominant or absent. Shane Greene should get a crack at the back end.
Re-signing Brandon McCarthy would be a solid mid-level move to fill out the rotation, and you could look at Tanaka-Pineda as a strong 1-2 punch, assuming good health. After a second straight dark October, they still might be tempted to land a big name, and there are at least three good ones out there to chase.
Might the Yankees look in-house for their answer at shortstop? Could Jose Pirela be considered?
-- Steve S., Oswego, N.Y.
All indications are that the Yankees are looking externally for their next shortstop, though they would like to consider Pirela and Rob Refsnyder as starting options at second base in 2015. The Yankees bumped Pirela from shortstop after the 2011 season, and he has only played there sparingly since; they look at him more as a second baseman and left fielder.
Which Cuban import will the Yankees try to sign the hardest?
-- Miguel G., Fayetteville, N.C.
The answer to that question may very well be 'none.' The signings of star talents like Orlando Hernandez and Jose Contreras are long in the rearview mirror for the Yankees, who have watched from the sidelines in recent years as players like Yasiel Puig, Yoenis Cespedes, Jose Abreu and Rusney Castillo have found big league homes. They seemed more engaged with Castillo than the others, but the question remains: Why is that?
Part of the reason, as general manager Brian Cashman has explained, is that New York would have been penalized even more on the dollar by the luxury tax on those players. The Yankees did scout those Cuban players, and they've looked closely at outfielder Yasmany Tomas, attending his showcase last month. But Castillo could command as much as $100 million, and the Yankees are trying to figure out how to give enough at-bats to veterans already under contract such as A-Rod and Beltran.
Do you expect Manny Banuelos to be moved to the bullpen like Dellin Betances? He could be a good asset in a relief role.
-- Edgardo R., Vega Baja, P.R.
As of now, the plan is to continue developing Banuelos as a starter, but his quickest route to the big leagues might be as a reliever. He's finally healthy after Tommy John surgery, and he's still just 23. Banuelos could compete for a bullpen role in Spring Training, similar to what the Yankees have done in years past with David Phelps and Adam Warren, and he otherwise might be a starting depth option waiting at Triple-A.
Bryan Hoch is a reporter for MLB.com. Follow him on Twitter @bryanhoch and read his MLBlog, Bombers Beat. This story was not subject to the approval of Major League Baseball or its clubs.