Oct. 20 Madison Bumgarner workout day interview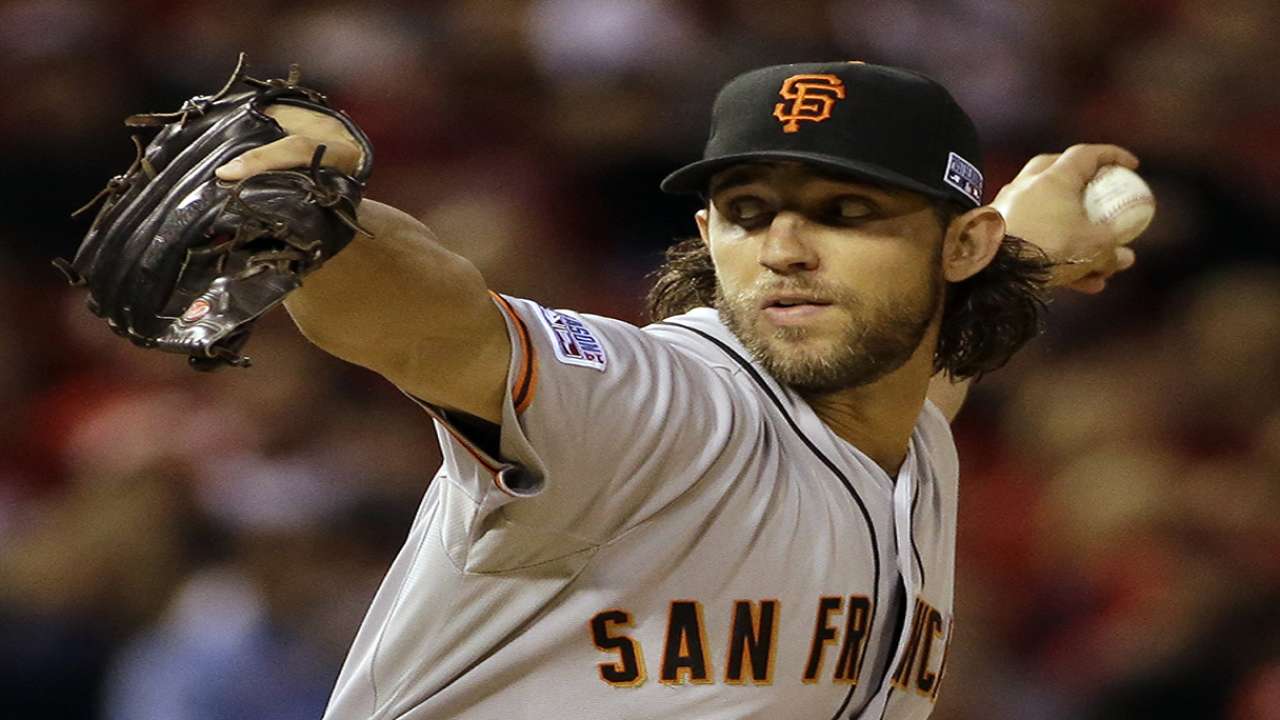 Q. Bochy said that he probably would be insulting you if he asked you how you felt. But 249 innings into the season, everything fine with you? You feel great?
MADISON BUMGARNER: You know, honestly, I feel the best I've felt all year for the last probably two months. I feel really good.
Q. This is going to be your fifth postseason start. Is it just, do you feel comfortable now in the postseason? I mean, you've got experience when you were so young, and now this is your fifth for just this year?
MADISON BUMGARNER: You know, it's tough to say. I mean, you've got to go out there and you've got to be on and you've got to make pitches. I don't think you ever really start feeling comfortable, but it is nice to keep getting ran out there and keep getting the experience.
Q. With the Kansas City lineup, it looks like they in some respects have a similar approach to what you guys do of putting the ball in play a lot. As you scouted them and looked at their video, do you notice some of those similarities?
MADISON BUMGARNER: No, I haven't watched any video. I just watched the I've seen some of the games they've played in the postseason, and obviously played against them earlier in the year.
Yeah, there's a lot of similarities, but in the same way it's a little different, too. It should be a fun series to watch.
Q. You faced the Rangers when you were very young, then the Tigers. What do you draw from those experiences in the World Series that you think will help you now?
MADISON BUMGARNER: Just being out there, just being out there in the atmosphere. That's really it. Obviously you're not hitting, at least not here. But we've had plenty of games where we play an American League team during the year, and it's really nice. You just get to go out there and just concentrate on pitching and that's it. You don't have to worry about anything else. You can keep your mind on making pitches and getting guys out.
Q. If you would you just talk a little bit about what it is that makes your receiver so special in big events, and what allows him to do what he does, something that we don't see with our eyes.
MADISON BUMGARNER: That's tough. He does everything so great. From day one he's been one of the best. He's stayed the same guy. He's always been the same. He just worries about doing his job. He's not worried about anything else. He's not trying to get attention from anybody. He's not trying to be flashy. He's just trying to go out there and do his job the best he can, and be a leader for his teammates, and he has.
He's honestly been a leader in the clubhouse since the first year that he was here. I mean, you can't say that about very many guys.
Q. What's it like to play and pitch for Bruce Bochy?
MADISON BUMGARNER: It's a lot of fun for me. Obviously, he's the only manager I've played for, so it's tough to compare him to someone. But it would be hard to imagine playing for a better manager. I know there are some good ones out there, but I'm really happy with Bochy and the Giants and the whole organization. He's fun to play for. He's got as good a feel for the game as anybody, and that makes for some fun games.
Q. You don't have many guys on base in your starts, but when Kansas City does, they're a threat to run. What are your thoughts on their running game and how it impacts you?
MADISON BUMGARNER: You know, I concentrate on holding runners, no matter who it is. So I'm not going to try to do anything different. You've got to do all the little stuff to try to hold guys on, but you can't let it affect your pitching no matter what you do. There's nothing really any different.
Q. You're taking on a team that's 8 0 in the postseason. First of all, how much do you revel that opportunity? And second of all, when you're preparing, do you look more at their postseason at bats than you would under different circumstances?
MADISON BUMGARNER: You know what, how I get ready for a game is a little bit different than most people, I would say. So I don't really pay a lot of attention to that.
The biggest thing is going out there and making pitches and being able to adjust and read the situation and know how the game's going. So that's kind of how I like to do it.
They're a good team, we're a good team. You don't get to this point without being a good team, so you've just got to go out there and execute and see what happens.
Q. When you were growing up, who were some of the pitchers you looked up to? Was there anybody you remember from growing up that was as good in October as you seem to be right now?
MADISON BUMGARNER: I'm sure there were a lot of guys that were a lot better than me in October. But you know what? I was a little bit of a Braves fan growing up, so obviously Smoltz, Glavine, Maddux, all those guys. But I just liked watching good pitching, really. I remember Randy Johnson, there were a lot of guys, Kevin Brown. The list could go on, but I just like watching good pitching, really.
Q. The talk has been about how you've taken leadership of this staff. Has you felt that as the season has gone along? And how much have guys like Hudson and Peavy helped encourage you as you're the guys getting the ball in Game 1, and that's just the way it is?
MADISON BUMGARNER: I don't pay a lot of attention to it. I feel like we all have a good relationship, but I just come in the same as anybody else, just get my work done and make sure I'm prepared for the start, and just ready to go out there every five days or whatever it may call for, if it's the fourth day or sixth day, whatever.
Q. What do you recall about your start here earlier in the season? Does it help to have pitched here before?
MADISON BUMGARNER: Yeah, just to be a little familiar with the ballpark and the mound. A little bit, you could say that the team it wouldn't be the first time facing them. Granted I've only faced them once.
I felt pretty good throwing here. It's a nice place to pitch. But this is a completely different time of year. So, like I said, you've got to be ready to come out and execute and adjust when you need to. We're looking forward to it.
Q. Considering how much a big part of the team Lincecum has been over the last five years, how do you feel he's handled the situation? Do you guys do anything, talk to him to give him moral support?
MADISON BUMGARNER: Yeah, everybody on this team honestly is like family. Anytime anybody needs anything, everybody's there for them. He's one of the best teammates I've ever had, and it's a pleasure to play with him every day. He's been a huge part of our success.
He's in a tough spot having not pitched in so long, but I know when the time comes he'll be ready. So I'm not worried about it.
Q. How did you pick Fire on a Mountain as your song? You're a little young for that.
MADISON BUMGARNER: Yeah, I listen to that type of music. I listen to a little bit of everything, but I heard it one day, and I thought, we'll go with that one for a little bit and see how it goes.
Q. You have older siblings, did they turn you on to it at all?
MADISON BUMGARNER: No. Yeah, no (laughing).
Q. You said that you hold runners on regardless of who the team is, but when you have a team that comes in with a reputation of running and stealing and trying to distract pitchers, is there an extra memo or is there sort of a reminder that, not just you, but the staff has to sort of remind themselves about certain things?
MADISON BUMGARNER: No, you know, not really. I don't ever want anybody to give them a free base. So anybody, if you don't pay attention to them, they're going to go. But when it comes down to it, you've got to make a pitch. So if they're going to go, they're going to go. You've got to be making pitches. Hopefully, if you're making pitches good enough, it won't matter.
Q. You guys have been through a lot this season and so many ups and downs, but you guys are here in the World Series. What is the excitement level of the clubhouse going into Game 1?
MADISON BUMGARNER: Yeah, everybody's definitely excited to be here. We have had a lot of adversity. We've pushed through and then come out doing pretty good for ourselves.
So everybody's looking forward to it and excited about getting the series started, and it should be a fun one.
Q. If you guys win this World Series, it will be three in five years. And I believe it will be the first team to do this since the Yankees in the late '90s and 2000. What would that mean to you to be a part of team that would be looked upon in that fashion in the history of the game, if you guys are able to do that?
MADISON BUMGARNER: You know what, that's a huge accomplishment. I think that's something that you think more about whenever you're retired and sitting at home looking back on your career. But it would definitely be a very special thing to be a part of.
I think it's been, no matter what happens, it's been a pretty special run we've been on. Like I said, we've got bigger goals in mind. Obviously, that's where you want to be every year, and I think we've got a good group of guys to do it with.
Q. There's been so much attention on the bullpens and on how they've pitched this season. You've gone very deep into games and prevented bullpens from pitching. Is it still a source of pride for you to get a complete game? And two, what is that attributed to? Is it a good game plan for you guys going in or do you make a lot of adjustments during the course of the game to be able to stay out there?
MADISON BUMGARNER: Yeah, that's always the goal for me. I think any pitcher, you don't ever want to get the ball taken away from you, and you want to be out there giving your team a chance to win.
I feel like if you're out there making pitches and throwing strikes, getting ahead of guys and not having to get into hitter's counts and not having to give in, then chances are you're going to be out there for a while. If you're not, chances are you're not.
Q. Several teams are affected with the home field advantage, and all of this postseason you haven't had that. You've been on the road, and the team, you guys have been successful on the road. What is it about it that you've been able to, you personally and just the whole team, has been so dominant and not really worrying about being on the road?
MADISON BUMGARNER: That's tough to explain. It definitely has worked that way for us. I don't know the numbers, but it does seem like we're not really affected much by being on the road.
For whatever reason it's worked out that way. Obviously, you would like to be at home. Home field advantage is a little bit of an advantage. But we're here, and we're playing the cards that we were dealt. So we've got to be ready and play good, fundamentally sound baseball. That's all you can do.
Q. You talked about maybe preparing for games differently than other pitchers. Could you talk about that a little bit, and what you think is different that you do?
MADISON BUMGARNER: I don't watch a whole lot of video. Actually, I don't watch any video on guys. I just get myself prepared and ready to go out and make pitches and try to read the situation and make adjustments when I need to. I don't want to have one game plan and be stuck in that game plan if it's not working.
I just try to prepare myself to be able to move the ball around and get ahead of guys and read the situation on how it's going, and try to read the hitters and all of that. There is a little bit of scouting that goes into it, but I'm not a big video guy.