MLB.com Columnist
Phil Rogers
Following same path as '59 White Sox, KC eyes title
Royals hope to pick up World Series win that eluded 'Go-Go Sox'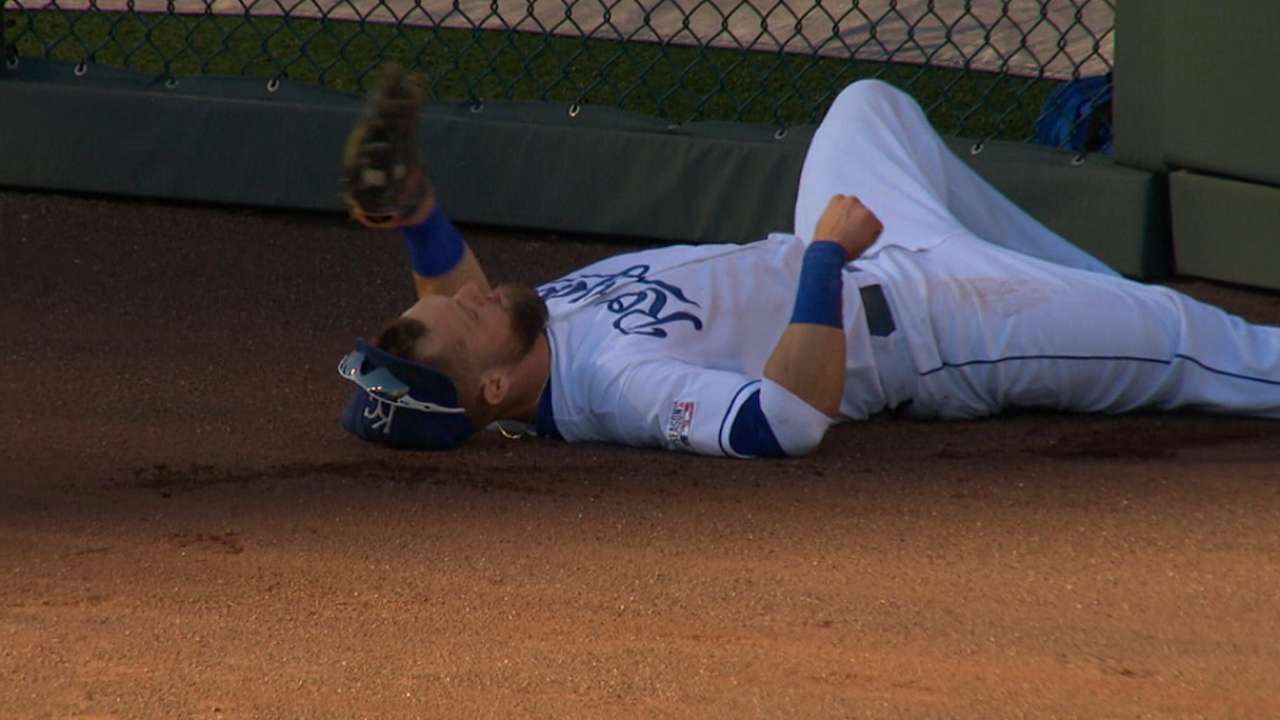 KANSAS CITY -- Fifty-five years have passed since Jim McAnany stepped into the batter's box at Comiskey Park to face Johnny Podres, with the World Series spotlight shining on him. He hasn't forgotten how dry his mouth was as he dug his spikes into the dirt.
"My first time up, my legs were shaking," McAnany said. "But once you get past that, the next time you pretty well settle in and play the game. The only thing I prayed for was not to make a mistake that hurt our team."
McAnany played right field for the 1959 White Sox, who closely resemble this year's Royals.
Like the Royals, who are meeting the Giants in the World Series, the so-called "Go-Go Sox" were built around speed and defense. They had finished 10 games above .500 the year before, exactly like the Royals, and found a winning formula that included a deep starting rotation and the best bullpen in their league.
That recipe for success did not include hitting home runs in volume, as they finished last in the American League in that category. These 2014 Royals are the first American League team since the Go-Go Sox to qualify for the postseason after finishing last in the league in homers.
Billy Pierce, a left-hander whose No. 19 has been retired by the White Sox, was the leader of Al Lopez's pitching staff. He retired in the Chicago area and still attends a lot of games. He was at U.S. Cellular Field on Sept. 26, when Ned Yost's Royals clinched their Wild Card spot with a 3-1 win in typically efficient fashion.
"They did things during the year that you could see they weren't done when they got behind," Pierce said. "That happened with us in '59. It was just one of those things. Good year, things fell right, the ball bounced right. You have to be a little bit fortunate with a round bat and a round ball. Things went right for us; things went right for Kansas City."
Hall of Famers Luis Aparicio and Nellie Fox were the White Sox's double-play combination, and center fielder Jim Landis played Gold Glove defense. They routinely took outs away from their opponents, as do the Royals, whose defensive strength lies in outfielders Alex Gordon, Lorenzo Cain and Jarrod Dyson.
Like Gordon, Landis began his career as a third baseman, but the White Sox had a need in center field and Lopez suggested he give it a try.
McAnany says Landis was "a reindeer out there," covering ground that helped left fielder Al Smith and the right-field platoon of McAnany and "Jungle" Jim Rivera. Landis still marvels at some of the plays that Aparicio made at shortstop.
"I've seen Luis make plays I couldn't believe," said Landis, 80, who lives in Napa, Calif. "I was backing him up, and I'm standing there flabbergasted. 'He got to that ball! My God!' Luis was terrific. I'm not knocking Nellie. They were both terrific."
Landis has been impressed watching the Royals, but believes his team was better defensively. McAnany agrees, but Pierce says it's splitting hairs. He sees a lot of his old team in the Royals.
"Speed, defense, pitching, those three things add up to a pretty good ballclub," said Pierce, 87, who lives in Naperville, Ill. "If you don't lose many games, you're going to win a lot of games. Some teams, you lose the ballgame, it isn't that the other team always wins it. Kansas City didn't make too many errors, played good ball most of the year. We were like that. But they scored more runs than we did. They've come up with some good innings [in the postseason] that have carried them through."
In 1959, the White Sox finished sixth out of eight teams in the AL with 4.3 runs per game, stealing a league-high 113 bases (more than twice the league average) while hitting a league-low 97 home runs. The Royals were ninth in the AL with an average of 4.0 runs per game. They led the league with 153 stolen bases and were last in baseball with 95 home runs.
There's another common thread between the teams. Both did the best job of contact hitting in the league, with their hitters last in the league in strikeouts. Fox, who never struck out more than 18 times in any of his 19 seasons, epitomized that approach.
"If you put the ball in play, good results will happen," Landis said. "That's the key -- put the ball in play. You have to do that."
General Manager Dayton Moore's trades helped Kansas City get here. The biggest may have been the deal that brought Cain and shortstop Alcides Escobar from the Brewers for Zack Greinke, but it was a deal that sent Minor League Player of the Year Wil Myers to Tampa Bay for James Shields that gets the most attention.
Shields was the Royals' workhorse with 227 innings, going 14-8, and will start Game 1 against the Giants on Tuesday (7:30 p.m. ET airtime/8:07 ET first pitch, FOX). The Go-Go Sox had their version of him in Early Wynn, who was acquired from Cleveland along with Smith in a 1958 trade for Minnie Minoso.
While Fox was as the AL's MVP in 1959, Wynn finished third. He was at the end of his Hall of Fame career, straining to reach 300 wins, but went 22-10 and threw 14 complete games for Lopez, replacing Pierce as the most reliable starter.
"When you look at Early's year, he had a fantastic year," Pierce said. "The year before and the year after were so-so. But that year everything went right for Early. … Now Minnie was a great ballplayer for the White Sox for many, many years. But it just so happened that year Early was a key [player]. He turned out to be a very good player for that year, and we got Minnie back a couple years later."
When the World Series starts on Tuesday, the upstart Royals will face a Giants team that has won nine consecutive postseason series, including the 2010 and '12 World Series. The Go-Go Sox were facing an arguably more formidable powerhouse, as the 1959 Dodgers were going to the World Series for the seventh time in a span of 13 seasons.
Like these Royals, the White Sox were a confident group, and that confidence increased greatly when they won Game 1 of the Series, 11-0, with late-season addition Ted Kluszewski hitting two homers. They took a 2-0 lead in the second inning of Game 2, but from that point on were outscored 21-10, with the Dodgers winning the Series in six games.
Walter Alston's pitching staff featured Don Drysdale, Roger Craig and 23-year-old lefty Sandy Koufax, who opened the World Series in the bullpen before starting Game 5, which Bob Shaw won for the White Sox 1-0.
"Oh, man," McAnany, 78, said at the mention of Koufax. "The funniest thing was I had taken the count to 2-2 and he threw me a pitch that was wide of the plate, made it 3-2. All the guys said, 'Look for the fastball, he's not about to throw you a curve.' With that he throws a 3-2 curveball that drops off the table. I went back in the dugout, I said, 'Fastball my rear end.' He was something else. They don't get any better than him."
If the Running Royals are going to succeed against the Giants, according to their soulmates on the '59 Sox, they're going to have to do a good job getting on base. The Go-Go Sox held a speed advantage over the Dodgers, but wound up stealing only two bases while Los Angeles swiped five, including one by rookie shortstop Maury Wills.
"Let me put it this way," Landis said. "No matter how fast you run, you got to get on base. We had a little problem with that, really. Most times it worked, but against the Dodgers we just didn't get on base enough."
Another lesson learned the hard way by the Go-Go Sox: Beware the sneak attack.
While Drysdale, Podres and Koufax were the arms that the White Sox feared, it was pitching depth that carried the day in the Series. Larry Sherry, a 24-year-old right-hander who hadn't yet thrown 100 Major League innings, worked 12 2/3 innings out of the bullpen for the Dodgers, earning two wins and two saves.
"I hate that name," Landis said, laughing. "He was fabulous. He did one heck of a job. He was tough, period. I guess you could say he was their most valuable player, really."
Do the Giants have their own Larry Sherry waiting to cool off the Royals? Maybe Yusmeiro Petit? Maybe the well-rested Tim Lincecum?
Like Landis said, you've got to get on base to use your speed. The Royals have done that well enough to go 8-0 in the postseason. But the biggest challenge lies in getting the next four.
Phil Rogers is a columnist for MLB.com. This story was not subject to the approval of Major League Baseball or its clubs.