MLB.com Columnist
Matthew Leach
Royals' machine built to perform in October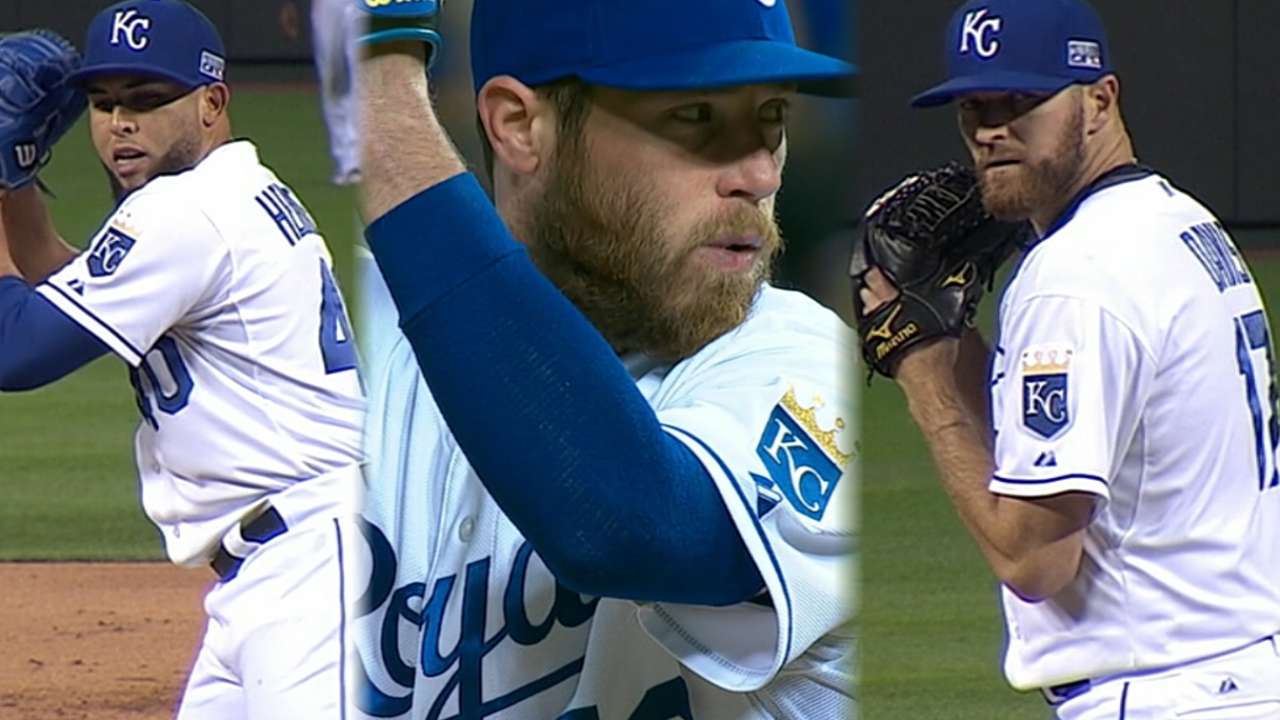 As baseball has changed over the past half-decade or so, it seems that the formula for winning in October may have changed, as well. And if that is in fact the case, then the best example is the American League champion Royals.
Some things are as true as they ever were -- catch the ball and get primo relief work, or you'll be in trouble. But some have changed quite a bit -- or at least it appears that way -- and suddenly general manager Dayton Moore's work looks positively prescient.
Moore's team doesn't hit for a lot of power and it has a good rotation, but not the pair of aces long believed to be key to a deep October run. Instead, it puts the ball in play, runs wild, catches everything and shortens the game to six innings -- at most.
"We've been playing good defense, scoring timely runs, and doing the little things that have gotten us to this point," said third baseman Mike Moustakas. "There's still some plays that I'm sitting back, like, 'Wow, I don't know how Lorenzo Cain got there or how [Alex Gordon] got there.' But it's almost like you expect them to make those plays."
Mind you, defense and relief pitching are nothing new to postseason winners. Even at the peak of Major League Baseball's recent high-offense era, a lockdown back of the bullpen and an airtight defense were keys to winning in the postseason. And the Royals have taken lockdown relief work to another level this month.
The other two aspects? Those weren't exactly in fashion as recently as a few years ago.
But here we are with these 2014 Royals, a team on a roll taking advantage of the way the game is played right now. For all the talk that they are something out of the '80s, they're also awfully reflective of October 2014.
The first thing that jumps out about the Royals is that bullpen -- and more specifically, those last three pitchers. All year, it's gone Kelvin Herrera to Wade Davis to Greg Holland, and now once in a while Herrera comes in before the seventh. If you don't lead the Royals through six, you're almost certainly not going to beat them.
That's a great way to play all year, but especially in the postseason, as extra off-days mean a manager can ride his best relievers game after game.
The Royals' defining offensive trait, meanwhile, is that they put the ball in play in an era where that is less and less common. They ranked second in the Major Leagues in contact rate (a simple ratio of the percentage of at-bats that do not end in a strikeout), and first among postseason teams.
When you can take away the opponent's greatest weapon, you change the game. That's what Kansas City does on offense. Scoring is down in large part because pitchers strike out more batters than ever. The Royals don't strike out, relative to the rest of baseball.
Again and again, that has paid off, as simply putting the ball in play has made good things happen.
When you combine that with speed, you get a potent mix. Without speed on the bases, putting the ball in play is less valuable. And if you don't put the ball in play, it's hard to take advantage of speed. When you do both, it can be maddening to try to stop.
"There's not a night goes by I don't see something on the field, [and think], 'Wow, that's pretty cool,'" said Orioles manager Buck Showalter. "These guys are really good."
Now, let's take note of one important reality. The Royals have, in fact, hit for power this month. They didn't during the regular season, but they have lately.
Kansas City has amassed eight homers in eight games, well ahead of its regular-season pace. But all the rest of it is still in place. The Royals have racked up 13 steals, played their usual brilliant defense, taken the extra base and showcased that absolutely impenetrable bullpen.
When you can do all of those things, you're going to win a lot of games.
Matthew Leach is a writer for MLB.com. Read his blog, Obviously, You're Not a Golfer and follow him on Twitter at @MatthewHLeach. This story was not subject to the approval of Major League Baseball or its clubs.