Expectations of Blue Jays' bullpen left unmet
What was supposed to be strength in 2014 never got on track consistently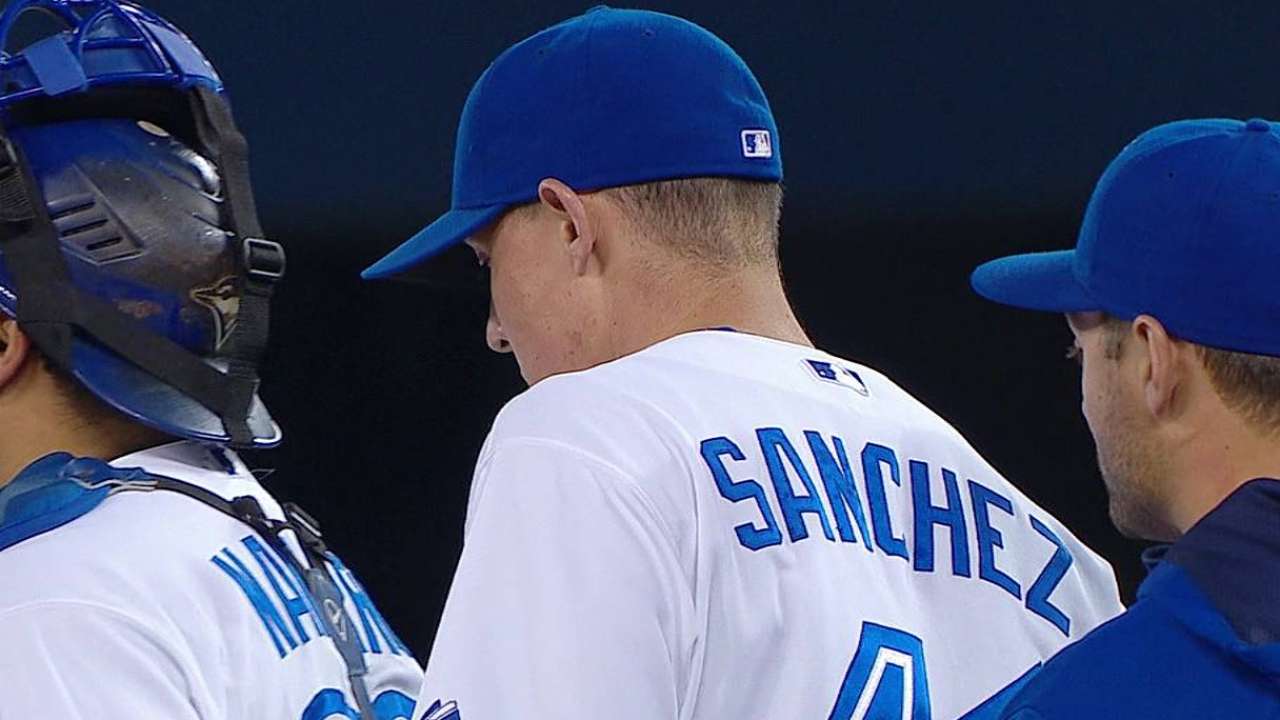 TORONTO -- The performance of relievers is notoriously hard to predict from year to year, and the Blue Jays found that out the hard way in 2014.
The bullpen was expected to be a strength, but instead, it turned into a major weakness. Injuries played a small factor, but a number of quality arms never found a way to get on track.
Baltimore and Kansas City have received praise about the performance of their respective relievers this postseason, and that was supposed to be one of the ways the Blue Jays would compete. Toronto instead saw a lot of leads blown late in games; the group as a whole didn't live up to the lofty expectations.
While we wait for the Hot Stove to heat up, let's take a look back at 2014. This is Part 2 of a four-part series that examines where things went wrong and where things went right for the Blue Jays.
Here's a closer look at the bullpen:
Casey Janssen: Janssen didn't make his season debut until May 12 because of an oblique injury, but he had an almost flawless first half. He allowed three runs over 22 innings with 14 saves in 16 opportunities. After that, it was a different story. He got a severe case of food poisoning over the All-Star break, lost approximately 10 pounds and struggled to regain his form. Janssen allowed nine runs in 8 1/3 innings over a span of 10 games from July 20-Aug.8, and he at least partially lost his closer's job to Aaron Sanchez. He's about to become a free agent; the general consensus is that Janssen won't be back in 2015.
Brett Cecil: Cecil got off to a slow start and battled some control problems at the beginning of the season. In April, he walked nine batters and allowed six runs over 10 1/3 innings before he eventually settled into a groove. After the All-Star break, Cecil allowed four runs on 16 hits and nine walks in 29 appearances. He struck out 39, didn't allow a run after Aug. 2, and his 2.70 ERA was actually lower than the 2.82 mark he set as an All-Star in 2013. Cecil could be an internal candidate to replace Janssen as closer, but he will at least remain in a late-inning setup role.
Dustin McGowan: McGowan was pressed into starting duties at the beginning of the season, but the stint was relatively short-lived. He fatigued early in games and had trouble bouncing back after starts, which prompted a move to the bullpen. McGowan found some success as a reliever and posted a 3.35 ERA in 45 games, but the eight home runs allowed were a concern. Toronto must now decide whether to pick up McGowan's club option of $4 million -- which could be on the expensive side for his role -- or allow him to enter free agency. There's a chance the two sides could work out another deal instead.
Aaron Loup: Loup trailed only Todd Redmond for most innings pitched out of the bullpen this year. He's a reliable and durable reliever who has become a favorite of manager John Gibbons. The one downside to 2014 could be found in the 30 walks over 68 2/3 innings compared to 13 walks in 69 1/3 innings the year before. Other than that, Loup had another strong season and should expect to be in a similar role next year.
Sanchez: Sanchez's first two months in the Major Leagues couldn't have gone much better. He consistently hit upper-90s velocity with his fastball and overpowered many of the hitters he faced. The 22-year-old had a sparkling 1.09 ERA while striking out 27 over 33 innings and received some save opportunities in lieu of Janssen. Toronto now has to make a decision about whether Sanchez will be used as a reliever or a starter. The long-term value for Sanchez is in the rotation and that's the role he should continue in, but considering the lack of bullpen options, it's possible the Blue Jays will go in a different direction. Sanchez is a candidate to take over Janssen's role as a closer unless Toronto adds some veteran arms.
Redmond: Redmond didn't have a guaranteed job going into Spring Training, but he made the team as a long reliever and never looked back. The 29-year-old stuck with the big league roster the entire season and led Toronto with innings pitched out of the bullpen (75). Redmond also posted a respectable 3.24 ERA and came to the rescue on more than one occasion when a starter went down early. As of now, he likely will compete for a similar role on the Blue Jays next year.
Steve Delabar: Delabar entered the season as a big piece of the bullpen, but he allowed 14 runs over 25 2/3 innings and lost his spot on the team by the middle of June. The 19 walks he issued was a big concern, and he spent the second half of the season in Triple-A Buffalo. This wasn't a year to remember, but Delabar was extremely valuable from 2012-13 and should have an opportunity to compete for a job next spring.
Chad Jenkins: Jenkins had the unfortunate role of being constantly shuttled between Toronto and Triple-A Buffalo. Jenkins was optioned to the Minors seven times -- but it never had anything to do with his performance. He posted a 2.56 ERA in 31 2/3 innings and has one Minor League option remaining on his contract, so there's a possibility his situation in 2015 will remain the same.
Areas for improvement: The Blue Jays need to acquire not only a closer but also another power arm from the right side. Even if McGowan returns, there is currently an overall lack of depth. Sanchez could be at least a temporary solution, but the organization would be well served to add a couple of proven relievers. This will be one of general manager Alex Anthopoulos' top priorities.
Gregor Chisholm is a reporter for MLB.com. Read his blog, North of the Border, and follow him on Twitter @gregorMLB. This story was not subject to the approval of Major League Baseball or its clubs.