New WS gear player tested, fan approved
Wear the same hoodies, T-shirts and caps as the Giants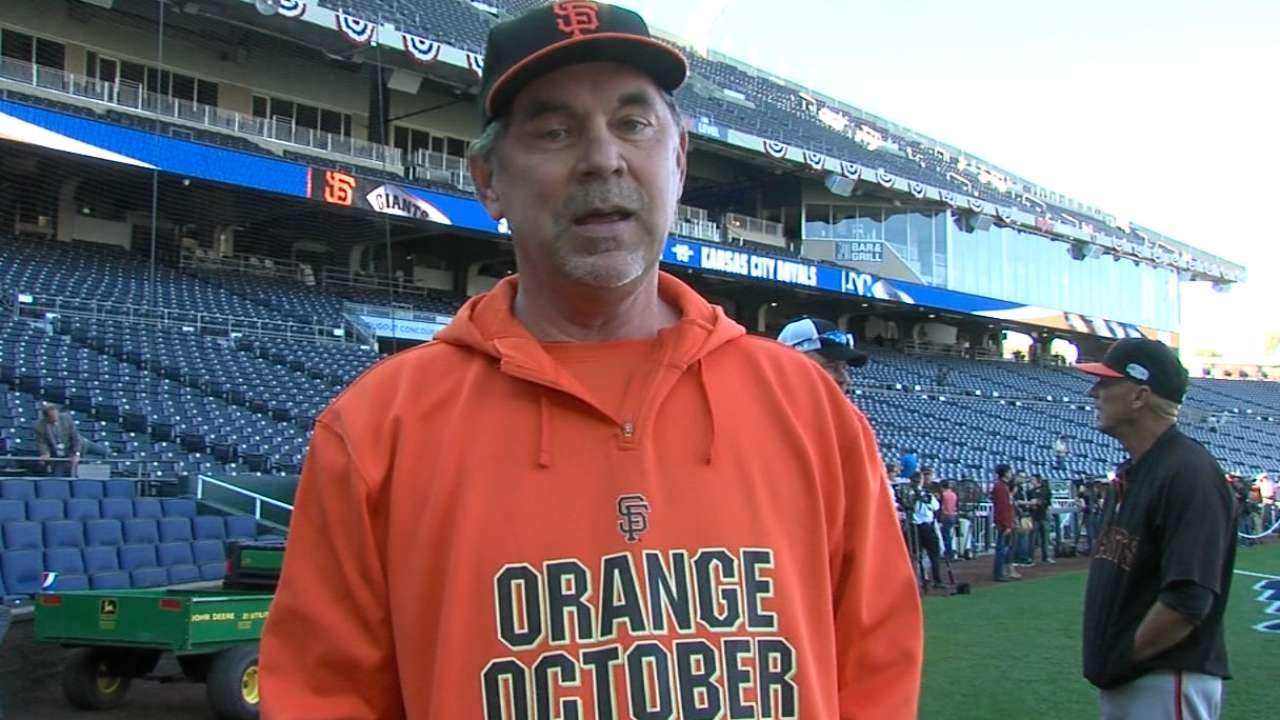 KANSAS CITY -- Welcome to the 110th World Series. Fitting for a first-of-its-kind Fall Classic matchup, there is a fresh and must-have look being modeled by the Giants themselves on the field for Workout Day at Kauffman Stadium, and now it can be yours.
Orders for the new line of Orange October apparel are underway exclusively at the MLB.com Shop and at the Giants Dugout Store.
The Giants are taking aim at their third World Series title in five years, and there is some fresh gear just for the occasion. Order the Orange October quarter-zip hooded fleece right now and get ready for the weekend action at AT&T Park, starting with Game 3 on Friday at 8 p.m. ET on FOX.
Giants catcher Buster Posey sat behind his table at the interview session late in the afternoon and marveled at that same orange hood that teammate Travis Ishikawa -- hero of the National League Championship Series clincher -- was modeling at the table to his right.
"When I see a sweatshirt like that, I think about fans," Posey said, between answers about Madison Bumgarner's success and trying to contain Kansas City on the basepaths. "It makes me proud that I get to play at AT&T Park. Those fans come out strong all year, so it's exciting to us to get to play at this time of the year at AT&T Park."
"They keep changing it up and it never really gets old, getting all the World Series gear," shortstop Brandon Crawford added. "It's always fun to be back here. We definitely have some postseason experience, and the same core group of players have been here for a lot of postseason games. We'll see if it's any kind of advantage. [The Royals] are playing real well right now. They're going to have something to prove also."
Outfielder Gregor Blanco was wearing that same orange hood in the interview session and said it was "a dream come true" when he saw the new gear in his locker.
"To be able to see a World Series in 2014, and all the stuff we have from the World Series -- the hat, the field with the logo -- that's a dream come true for everybody," Blanco said. "To me, 'Orange October' really means the blood, like our faith in the orange and black, you know? Our faith in our team. Instead of red blood, we should have orange, because we really believe in each other and we give everything to the team."
Major League Baseball's line of World Series merchandise is also available right now, including the Women's Half-Zip Wind Jacket from Nike Golf and the Always World Series Hooded Fleece from Majestic Athletic.
Mark Newman is enterprise editor of MLB.com. Read and join other baseball fans on his MLB.com community blog. This story was not subject to the approval of Major League Baseball or its clubs.