Game 7 rout capped historic comeback in '04
Damon led charge with two HRs, six RBIs; Lowe stepped up on mound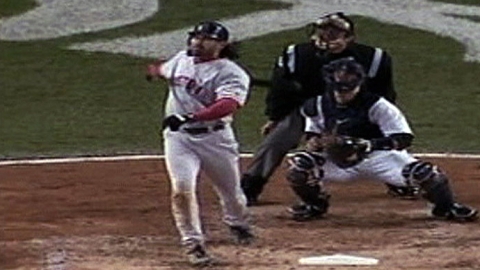 Ten years ago, the Red Sox and their fans were in the midst of an 86-year wait for a World Series championship. And after falling in the deepest of holes -- 3-0 against the Yankees in the American League Championship Series -- everything changed.
Boston would become the first -- and still only -- team in MLB history to win a postseason series after trailing 3-0. And manager Terry Francona's team went on to win the final eight games of that postseason. MLB.com is doing retrospective pieces on the anniversary date of all eight of those wins with remembrances from key voices, continuing today with the 10-3 victory in Game 7 of the ALCS.
When the 2004 postseason started, Red Sox right-hander Derek Lowe was in a severe funk. Due to a wildly inconsistent season and a horrific month of September, the sinkerballer was left out of the rotation for October and was rather perturbed about it. But things can change in a hurry.
Knuckleballer Tim Wakefield had selflessly given up his start in Game 4 of the ALCS to save the bullpen by performing mop-up work in Game 3. And that created the opportunity for Lowe to resurface as a starter. Lowe turned in a solid effort in Game 4, and Francona, who didn't have a lot of options, tabbed him as the Game 7 starter. Lowe would pitch one of the biggest games in Red Sox history on just two days of rest.
"Even going through your whole career [with the] Red Sox, at that time of year, you just kind of pitch when needed," said Lowe. "That's how we got to Game 7. Guys like Wakefield were stepping in. Guys were just raising their hand."
And as it turned out, Lowe pitched with a lead for the entirety of his Game 7 start.
David Ortiz provided a first-inning salvo against Kevin Brown, belting a two-run homer over the fence in right, putting Yankee Stadium in a somber mood.
Lowe then went on the attack, working with catcher Jason Varitek to completely change his usual arsenal to prey on the overanxious Yankees hitters.
"It's the beauty of Jason," said Lowe. "I bet we threw 80-something breaking balls. Because at that point, they started getting a little more aggressive. And as every game went on, they started getting ultra-, ultra-aggressive. We threw almost exclusively breaking balls to try to take advantage of their over-aggressiveness."
The strategy paid quick dividends, when Gary Sheffield was way out in front of a breaking ball for a strikeout that ended Lowe's 1-2-3 first. By the time Lowe came out for the second, his Red Sox had basically taken control of the game.
For as much as Lowe thrived in that moment of pitching Game 7, Brown shrunk under the spotlight. He gave up a single and two straight walks to load the bases in the second, and Yankees manager Joe Torre didn't take any chances, removing Brown in favor of Javier Vazquez.
As Johnny Damon stepped to the plate for that at-bat, he was 4-for-30 in the ALCS with just one RBI. With one swing, on the first pitch by Vazquez, Damon reversed his slump and put the Red Sox on the cusp of the World Series with a grand slam over the wall in right. At that moment, virtually all you could hear at Yankee Stadium were the shouts of the Red Sox players as Damon reached the dugout.
"Pretty incredible," said Damon. "That's definitely going to be the defining moment of my career. Yes, there are other great things, but the fact that you helped get the franchise a chance to win a World Series, that didn't come around too often in Boston."
In the fourth inning, there would be another Damon-Vazquez matchup. And Damon won it again, this time hitting a towering two-run shot into the upper deck that made it an 8-1 game.
"Johnny Damon goes ape crazy," said Trot Nixon. "We didn't need Manny [Ramirez] that night. We had Johnny Damon hitting jacks left and right."
And they had Lowe throwing up one zero after another. In all, Lowe went six innings of one-hit, one-run ball, needing just 69 pitches.
Francona inadvertently brought life back into Yankee Stadium by calling on Pedro Martinez of all people to pitch the seventh. A frustrated Martinez, after getting beaten by New York in September at Fenway, infamously said, "I guess I just have to tip my cap and call the Yankees my daddy."
Throughout Martinez's Game 2 start, there were 55,000 fans roaring "Who's Your Daddy?" And it happened again in the seventh inning of Game 7, propelling the Yankees to a pair of doubles to start the frame, and two runs, to make it an 8-3 game. It turned out to be just a blip in an otherwise stress-free romp for Boston.
Mark Bellhorn put one off the right-field foul pole for a two-run shot in the eighth, and the Red Sox had a seven-run lead.
Alan Embree threw the final pitch of the 2004 ALCS, and Ruben Sierra grounded out to second baseman Pokey Reese. The Red Sox had not only completed their miracle from down 3-0, but they had avenged a devastating loss in Game 7 at Yankee Stadium one year earlier that left several players in tears. A year later, there were tears for a different reason.
"It was the greatest joy ever," said Martinez.
Ian Browne is a reporter for MLB.com. Read his blog, Brownie Points, and follow him on Twitter @IanMBrowne. This story was not subject to the approval of Major League Baseball or its clubs.