Young awarded Sporting News' AL Comeback Player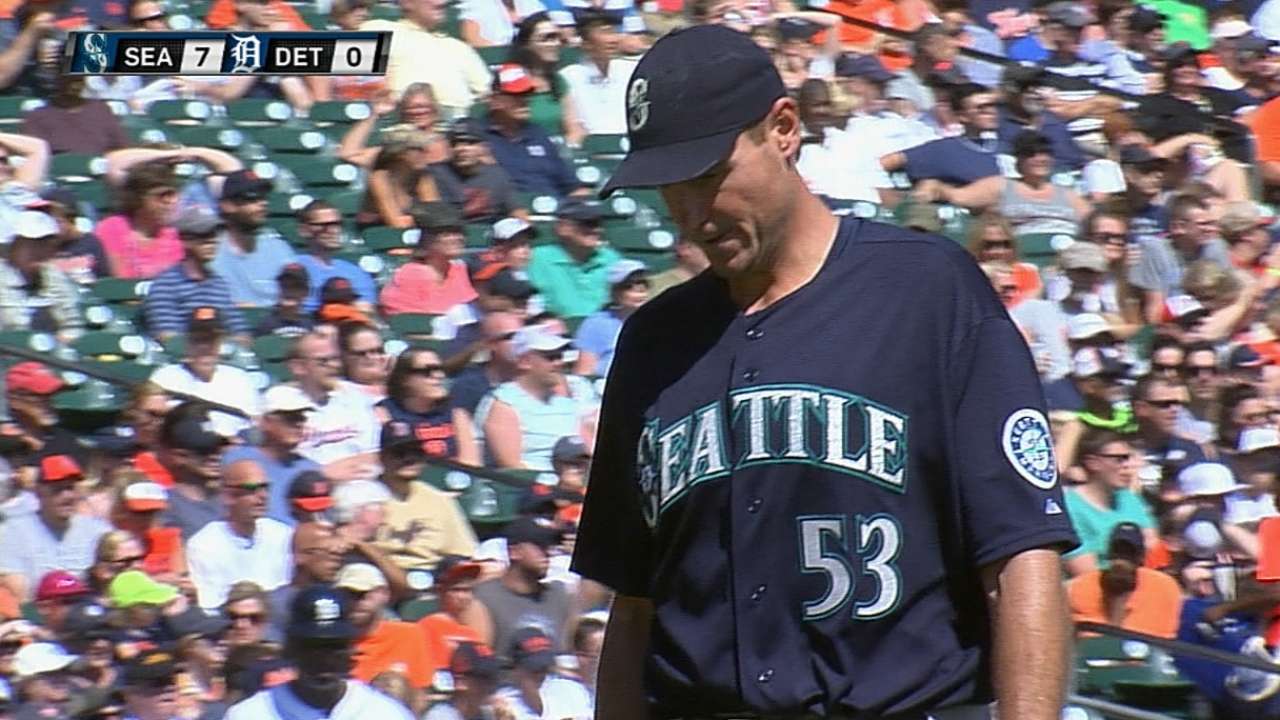 SEATTLE -- Believing he'd finally overcome a series of shoulder issues that had hindered much of his career, Chris Young just wanted a chance to pitch every fifth day and be part of a Major League rotation again after being released by the Nationals at the end of Spring Training.
But the 35-year-old right-hander did far more than that, putting together a strong 2014 season for the Mariners that resulted in Young being named Sporting News' American League Comeback Player of the Year on Monday.
"This means more than I can say right now," Young said on a conference call with reporters from his home in San Diego. "To be voted by my peers, to have the respect of them, we all understand how hard this game can be and the challenges it presents. To go through and find out what my underlying problem was and then come back and be part of a special season in Seattle, it was truly an honor and a team effort."
Young went 12-9 with a 3.65 ERA in 30 games (29 starts) after not pitching in the Majors in 2013 following his third surgery to deal with a troublesome right shoulder. After doctors diagnosed a nerve blockage called thoracic outlet syndrome and repaired that issue in June of 2013, the 6-foot-10 right-hander said he finally felt right after years of trying to fix his shoulder.
"In Spring Training, when I got into the routine of starting every fifth day, I knew at that point," Young said. "It was just such a different feel than years past. My arm was bouncing back, recovering. I knew at that point the nerve issues were gone and I felt like I did seven or eight years ago before I'd had any type of injury, and I could just focus on doing what I needed to do to be successful."
Young is the fifth Mariners player to earn the award and the first since pitcher Gil Meche in 2003. Previous Seattle winners were Gorman Thomas (1985), Richie Zisk ('81) and Willie Horton ('79). The Sporting News has been selecting AL and NL Comeback Players since '65.
MLB and the Players Choice Awards also name a Comeback Player of the Year, but those honors haven't been announced yet for the 2014 season.
Young provided a classic comeback story, having not pitched in the Majors at all in 2013 and finally solving shoulder issues that prevented him from pitching a full season since '07, when he was an NL All-Star with the Padres.
"Chris was a big part of our success in 2014, really solidifying our rotation," said manager Lloyd McClendon. "To think he won as many games as he did, and made 29 starts, coming off the type of surgery and the injuries that he had, I think it's just tremendous. He is a tireless worker and showed his determination with his performance. This is a very deserving award for him in every way possible."
Young went 1-2 with a 6.81 ERA in nine Minor League starts for the Nationals in 2013, then was released by that club on the final roster cut this spring.
But the Mariners signed him to a one-year, $1.5 million base deal just four days before the start of the regular season, and he wound up earning another $2.975 million in incentive bonuses by staying healthy and performing so well through the year.
Young had the eighth-lowest opponents' batting average in the AL at .234, was 21st in the league in WHIP at 1.23 and his 165 innings pitched were his most since 2007.
When healthy, Young has always been an effective Major League pitcher, owning a 65-52 record and 3.77 ERA over 10 seasons. But his shoulder problems have led to three surgeries and allowed him to make just 28 starts over the previous four seasons combined.
Young exceeded that number for Seattle this year alone with his 29 starts, helping solidify the rotation for a club that finished first in the AL in ERA and improved by 16 wins to 87-75 in McClendon's first season at the helm.
Though the increased workload finally seemed to catch up with Young at the end of the season when he went 0-3 with an 8.35 ERA over his last five outings, the 35-year-old finished third on the Mariners in wins and innings pitched behind Felix Hernandez and Hisashi Iwakuma and his 12 victories equaled his career high set in 2005 with the Padres.
Young will become a free agent at the conclusion of the World Series. He said he's talked with general manager Jack Zduriencik, and McClendon and would love to return to Seattle, but doesn't know how things will play out this winter.
"I feel like I put myself in a good situation, but I'm not worried about that right now," Young said. "That will play out in time. Right now, we're not allowed to speak to other teams. I'm technically still under contract with the Mariners. I've had good conversations with Lloyd and Jack.
"I understand this is a business. I would love to be back. This was [the] most fulfilling, gratifying season of my career. I'd love to be part of finishing what we've started here. That being said, I understand it's a business and they've got a lot of great arms and it might not be in the best interest of the Mariners or vice versa."
Wherever he winds up, Young feels he'll be even stronger in 2015 as the result of being able to spend an offseason improving his overall strength and conditioning rather than having to focus on rehabbing his shoulder for the first time in years. He's taking a yoga class with his wife to work on his flexibility and will begin his offseason throwing program at full strength instead of in recovery mode for a change.
"I feel I'm a little ahead of the game instead of behind the eight ball, as in years past," Young said. "I'm super excited about that."
Young earned 49 votes from AL players to easily beat runner-up J.D. Martinez of the Tigers for the honor. Martinez had 22 votes, Scott Kazmir of the A's was third with 14, followed by the Yankees' Derek Jeter (11) and Toronto's Melky Cabrera (6).
Miami third baseman Casey McGehee was voted NL Comeback Player of the Year after hitting .287 with 76 RBIs in 160 games after spending 2013 playing in Japan.
Greg Johns is a reporter for MLB.com. Follow him on Twitter @GregJohnsMLB as well as his Mariners Musings blog. This story was not subject to the approval of Major League Baseball or its clubs.