Surprising contributors led unheralded club to first place
O's bid for World Series boosted by reserves, acquisitions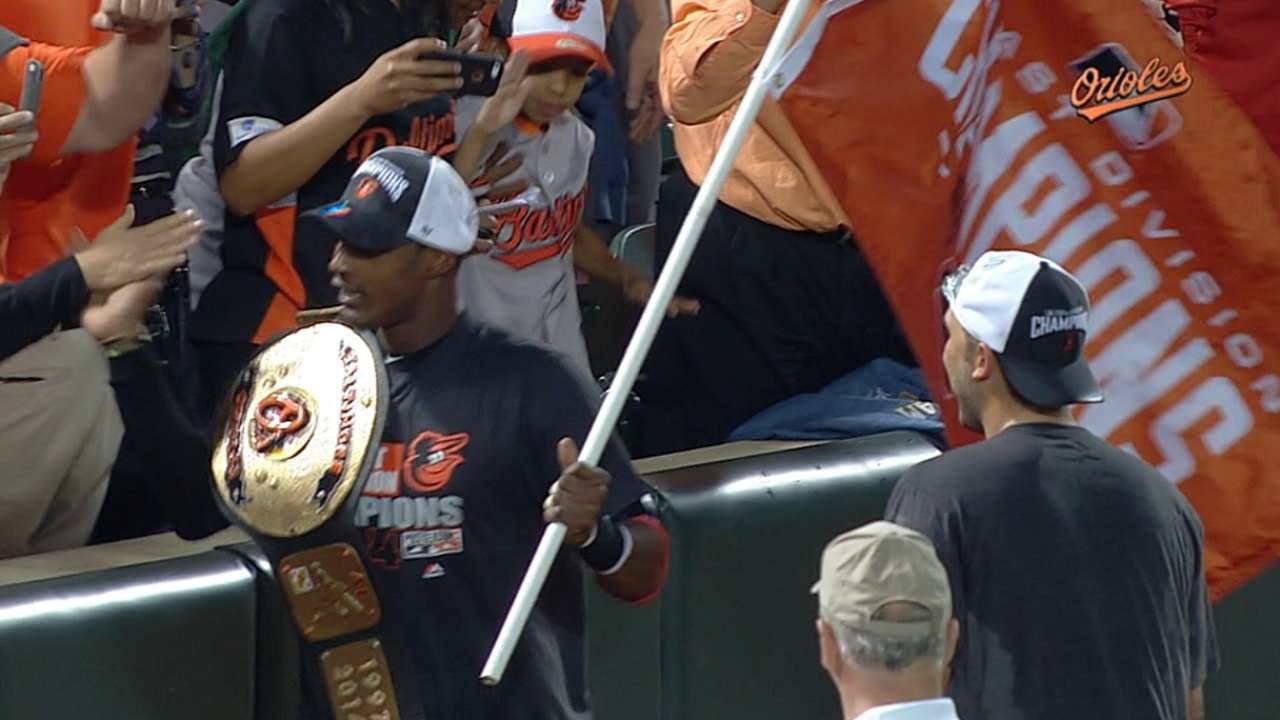 BALTIMORE -- It was clear when the Orioles' season officially ended Wednesday night that the typically stoic manager Buck Showalter was trying to keep his emotions in check. He wasn't alone. Baltimore's surprising run to its first American League East pennant since 1997 and subsequent AL Division Series sweep had the team -- and its fans -- riding high before the Royals turned the tables with a four-game sweep in the AL Championship Series.
The end, as Showalter had often warned reporters, would be heartbreaking for every club but the last one standing. But for this group in particular, an Orioles team that had weathered the loss of a trio of All-Stars in Matt Wieters, Manny Machado and Chris Davis, it was devastatingly quick.
"I mean, this is ... like I said, there's going to be 29 disappointed teams when this season is over. And that's what makes it ... the emotion is there, like you all saw," said a misty-eyed Showalter following his team's elimination game. "I didn't wait around to see [the Royals' celebration]. I knew what it was going to be for them to accomplish a team, a city, a group of fans and an organization's hopes.
"It's just a testament to what a group of young men can do when everybody is pulling on the same rope. But my support and my love of our guys is unconditional. They didn't have to win a World Series for me to feel differently about them."
Yes, despite the painful end, there was a lot to like about this year's Orioles team. Predicted by many media outlets to finish last in the division and -- as Adam Jones pointed out -- by Sports Illustrated to be out of the race by June, the O's enjoyed defying the odds. So, before the 2014 season officially comes to a close with the World Series, let's look back one more time on how the Orioles got here.
Record: 96-66, first place in AL East
Defining moment: At 52-42, the Orioles opened the second half of the season with a daunting three-city, West Coast trip. And, after losing two of three to the A's, the O's took five of the remaining seven games with series wins over the Angels and Mariners. The impressive finish on an extra-innings win not only showed their character, but also helped them hold serve as the top team in the AL East. Baltimore went 17-8 in July, its best winning percentage of any month with at least five games, and followed that up with a 19-9 August to help outdistance the rest of the division.
What went right:The reserves. Despite key injuries, players such as Steve Pearce proved that the Orioles could get the job done anyway. Pearce had a career year, but he wasn't the only guy that helped, as rookie catcher Caleb Joseph and Nick Hundley did an impressive job filling in for Wieters, and late-August trade acquisitions Alejandro De Aza and Kelly Johnson also added a boost ... Zach Britton went from fighting for a roster spot to becoming the team's closer, filling a void and preventing the ninth inning from becoming a source of worry during the regular season ... Right-hander Darren O'Day also had an All-Star regular season, carrying an ERA under 1.00 for most of the way ... Nelson Cruz became one of the biggest bargains in baseball, hitting 40 home runs and at times keeping the offense afloat ... The starting rotation after June 30, with help from new pitching coach Dave Wallace and bullpen coach Dom Chit, turned things around and was among the best in the league the rest of the year ... Trade Deadline acquisition Andrew Miller, who will make big money this winter as a potential closer, was the dominant lefty the O's needed and he formed a formidable relief corps to help get the O's to the playoffs ... The Orioles locked up a key piece during the postseason run, signing shortstop J.J. Hardy to a three-run extension ... Injured for the 2012 postseason, longest-tenured Oriole Nick Markakis played in 155 regular-season games, posting a .342 on-base percentage out of the leadoff spot.
What went wrong: The Orioles were dealt their first big injury blow of the season in Wieters, who played in just 26 games before he was shut down and, after trying the rest-and-rehab route, elected to undergo season-ending Tommy John surgery ... Machado, who missed the first month of the season rehabbing from offseason left knee surgery, underwent the same procedure on his right knee in late August, ending his season ... The Orioles lost their third All-Star in Davis, who was suspended for 25 games in mid-September for violating Major League Baseball's drug program ... Ubaldo Jimenez, who signed the organization's largest contract ever for a free-agent pitcher, went 6-9 with a 4.81 ERA and was taken out of the starting rotation in August. Jimenez was also not on the ALCS roster.
Biggest surprise: Pearce. An inspirational story, Pearce made the team out of Spring Training, only to be designated for assignment on April 22 as the club needed to add a pitcher. Pearce turned down a waiver claim to become a free agent, re-signing with the O's in a move that paid off huge. Inserted into the starting lineup immediately, given an injury to Davis, Pearce had career highs in games played, home runs, RBIs and nearly every other offensive statistic. He was also named co-AL Player of the Week with Jones in June.
Hitter of the Year: Cruz. The slugger easily won the Most Valuable Oriole award by local media this season, and he continued his impressive run in the postseason. Cruz fit in immediately with teammates and hit a career high in home runs.
Pitcher of the Year: Britton. You can make quite the case for Opening Day starter Chris Tillman, who eclipsed the 200-inning mark, or Miller had he been with the team all year. Even setup man O'Day had quite the All-Star season. But perhaps no one exceeded expectations more than Britton, who was just trying to make the team this spring. When Tommy Hunter had some trouble in the ninth inning, Britton took over in May and was magnificent as the sinkerballer frequently induced inning-ending double plays and weak contact off of what opposing pitching coaches referred to as the "turbo sinker." Where would the Orioles have been without him this season?
Rookie of the Year: Jonathan Schoop. Sure, at times, it was a learning curve. But Schoop -- after an impressive spring -- consistently played good defense and that, along with Machado's injury, kept him in the lineup early on. The 23-year-old hit some big home runs and will only get better, an encouraging thought for Orioles fans.
Brittany Ghiroli is a reporter for MLB.com. Read her blog, Britt's Bird Watch, and follow her on Facebook and Twitter @britt_ghiroli. This story was not subject to the approval of Major League Baseball or its clubs.