Casilla's cool demeanor belies competitive fire within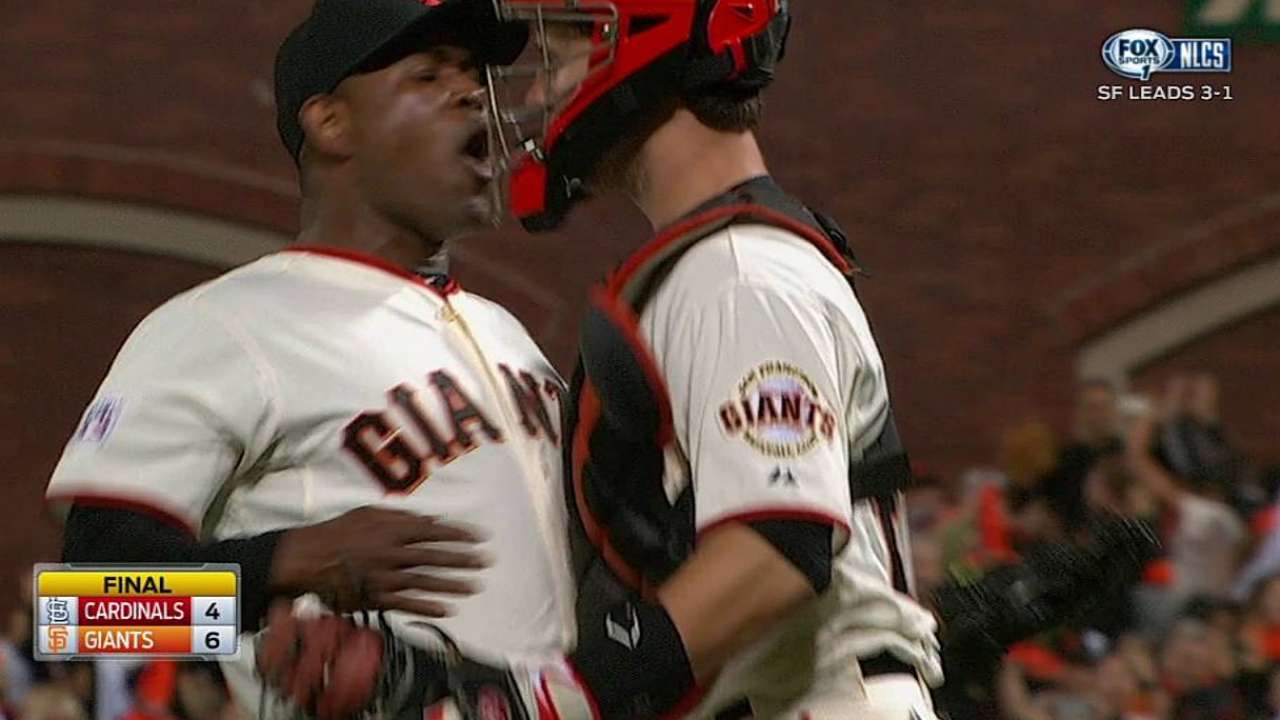 KANSAS CITY -- Being a man of mystery agrees with Giants closer Santiago Casilla. Hitters have no idea what pitch the right-hander will throw them -- or, as often happens, throw past them.
"He's a starter in the bullpen," Giants right-hander George Kontos said, citing Casilla's ability to throw cut fastballs, sliders, curveballs and changeups with equal effectiveness. Most relievers command one or two pitches, but Casilla diversified himself early in his career by being a starting pitcher extensively in the Minor Leagues.
Casilla also keeps his emotions mainly to himself, unlike a large percentage of his counterparts, who favor gesticulations, primal screams or both when they're on the mound.
"My comfort level -- it works out, you know?" Casilla said.
This sets Casilla apart from his Giants predecessors who coped with the high-profile role by frequently engaging in demonstrative behavior. Brian Wilson grew a beard, gestured to the heavens to honor his deceased father after every save, and advanced to the mound for each home appearance to the tune of House of Pain's "Jump Around." Sergio Romo grew a beard (before Wilson did, actually) and, since becoming San Francisco's top setup man in an exchange of roles with Casilla in late June, still bellows cathartically after recording important outs and has kept the catchy "El Mechon" as his entry music.
Casilla, 34, is clean shaven, avoids histrionics and brushed aside a request from Giants officials to assign himself an anthem that would excite the AT&T Park crowd when he appears in games.
"I am emotional, but I try to keep that inside," Casilla said. "It depends on how I feel. I'm not going to show it just so people can see it, but I really am amped up."
Casilla has a chance to repeat a different custom that Wilson and Romo established -- registering a save in the Giants' World Series-clinching game. Wilson struck out Texas' Nelson Cruz to end the 2010 Fall Classic. Romo concluded the '12 Series by freezing Detroit's Miguel Cabrera with an unexpected fastball. With the Giants having reached their third Series in five seasons, which begins Tuesday against the Kansas City Royals (4:30 p.m. PT air time on FOX, 5:07 first pitch), Casilla hopes to join Wilson and Romo in recording the season's final out.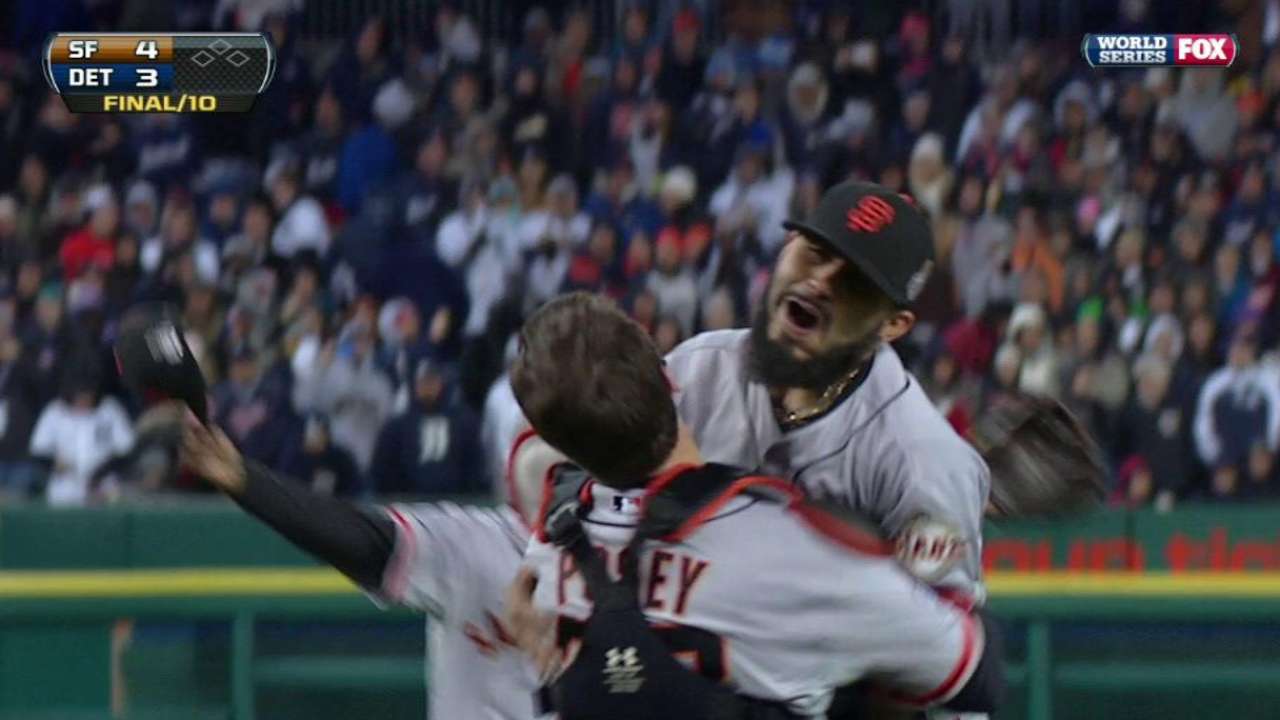 • Video: Romo seals 2012 World Series title
Casilla has primed himself for this opportunity. After Romo's bout of ineffectivness in late June prompted manager Bruce Bochy to revamp the back end of the bullpen, Casilla notched 17 saves in 18 chances. His career-best 1.70 ERA ranked fifth among National League relievers, he tied for fifth in WHIP (0.86), and held opponents to the league's sixth-lowest batting average (.177).
Casilla has sustained his excellence in the postseason, earning all four of the team's saves. He went unscored upon in four appearances, spanning 3 2/3 innings, against St. Louis in the NL Championship Series, which the Giants captured in five games.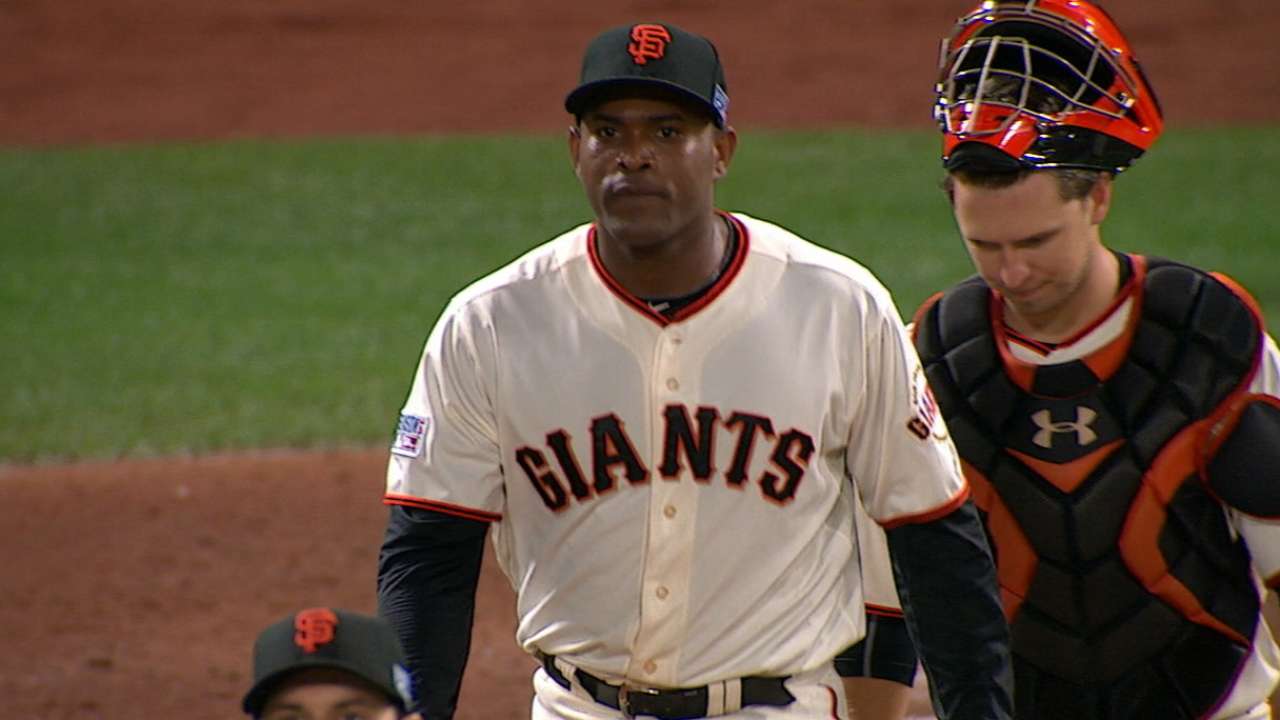 • Video: Casilla closes out Cards
On a bullpen staff that routinely works hard by performing extra conditioning drills daily with strength coach Carl Kochan, Casilla distinguishes himself.
"He's always doing stuff," Kontos said. "He's in the weight room doing shoulder exercises. Or he's working on his core. He's always doing something to get himself better. He thinks doing more is going to produce more on the field."
Yet 10 seasons passed before Casilla developed consistency. Signed by the Oakland A's in 2000, Casilla posted a 5.11 ERA in 152 relief appearances from 2004-09.
"He had all the potential in the world -- a live arm and unbelievable stuff," said Giants right-hander Tim Hudson, who was with the A's when Casilla made his Major League debut in 2004.
Following the misguided example of many young pitchers, Casilla tried to strike out adversity instead of analyzing its challenges.
"The hitters killed me in 2009," Casilla said. "In Oakland, I tried throwing with more velocity, but Dallas [Braden] told me all my pitches were straight."
Fellow pitcher Ricardo Rodriguez delivered Casilla some advice that offseason while they performed for Escogido in the Dominican Winter League. Rodriguez urged him to develop his curveball.
"That pitch has helped me a lot," said Casilla, who mixes it shrewdly with his harder deliveries.
The Giants signed Casilla on Christmas Eve in 2009. He proved to be quite a gift by posting a 7-2 record with a 1.95 ERA in 52 games the next season. Casilla has continued to improve since then.
"He's a complete pitcher," Hudson said. "He gets out there and commands the mound. Obviously, his stuff has only gotten better."
Casilla also has remained strong mentally. He's mostly immune to the pressure that comes with performing late in the game.
"The eighth and ninth innings are the same for me," said Casilla, who converted a personal-high 25 saves in 2012 after succeeding an injured Wilson. Romo finished that season as the closer in a reversal of this season's switch.
Casilla doesn't dwell on whether he serves as closer or setup man.
"I just like winning," said Casilla, whose three-year, $15 million contract extends through next season and includes a club option for 2016. "I'm just a pitcher who works for the San Francisco Giants. I told that to Sergio and told him not to feel bad. I just want to do my job in whichever inning is necessary."
Chris Haft is a reporter for MLB.com. Read his blog, Haft-Baked Ideas, and follow him on Twitter at @sfgiantsbeat. This story was not subject to the approval of Major League Baseball or its clubs.