Back to the start: Affeldt comes full circle
Giants reliever was drafted by Royals, made his big league debut with club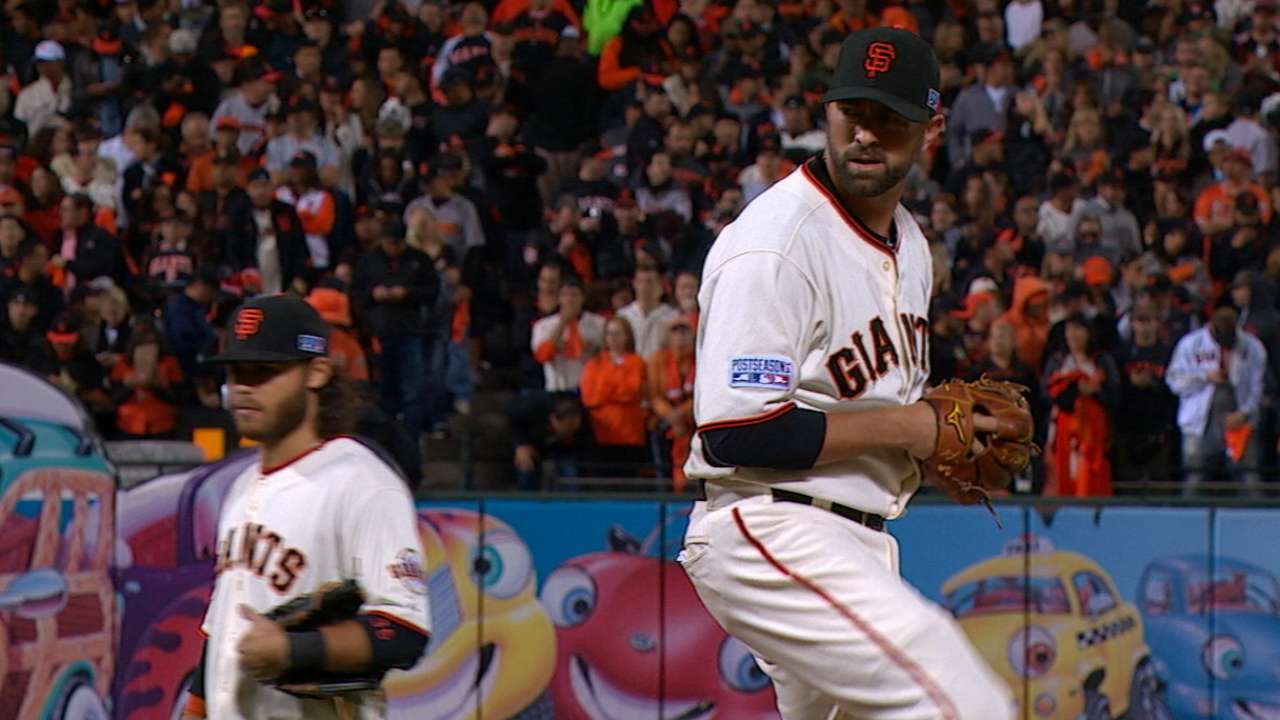 So much has happened for Jeremy Affeldt since he landed in San Francisco, it's as though his days of being signed, developed and brought to the Major Leagues by the Royals are a whole different career. And in a way, they are. It has been more than eight years since a trade from Kansas City sent his baseball life on a new path, and now Affeldt is headed to a third World Series in five seasons with the Giants, and his fourth overall since leaving the Royals.
That Affeldt is traveling to Kansas City with the Giants for Game 1 of the 2014 World Series (4:30 p.m. PT air time on FOX, 5:07 p.m. PT first pitch) is nothing short of a full-circle experience for the 35-year-old reliever. The veteran lefty looks back on his Royals tenure with fondness in many ways, but painful moments from several injury-plagued years linger in his mind, too.
"I had a lot of pain going on there, too -- some injuries, some weird injuries -- but I also had some frustrations," said Affeldt, who battled chronic blister issues and other injuries, never quite finding a foothold in starting or relief for the Royals. "I had some feelings of wanting to quit and not play baseball anymore. I have a lot of emotions that go on in that city from playing there.
"That being said, they were the team that gave me my first shot in the big leagues at a very, very young age and allowed me to start my journey as a Major League athlete."
Affeldt, a third-round pick in the 1997 First-Year Player Draft out of Northwest Christian High School in Spokane, Wash., was 22 years old when he arrived with the Royals on the 2002 Opening Day roster, and he had just turned 27 when Kansas City dealt him to the Rockies in a Trade Deadline deal in 2006 -- one of the first big deals made by current Royals general manager Dayton Moore, hired only a couple of months earlier.
Affeldt's final numbers with the Royals reveal his relatively rocky journey there: 17-22, a 4.77 ERA in 42 starts, 142 relief appearances with 17 saves. He made five trips to the disabled list over four seasons, totaling more than 180 days -- or about the equivalent of a full season -- first with the blisters, then oblique and groin injuries.
Fully in relief mode ever since, Affeldt went to the World Series with Colorado in 2007 before heading to Cincinnati for a year and finally signing a free-agent contract with San Francisco prior to the 2009 season. Since joining the Giants, he has been part of a core of relievers that has remained intact through what has become three runs to the World Series.
Affeldt isn't the only uniformed member of the Giants who played in Kansas City. Outfielder Gregor Blanco spent part of 2010 with the Royals and was in their Minor League system to start '11, and Giants bullpen coach Mark Gardner spent the 1993 season with Kansas City during his 13-year pitching career.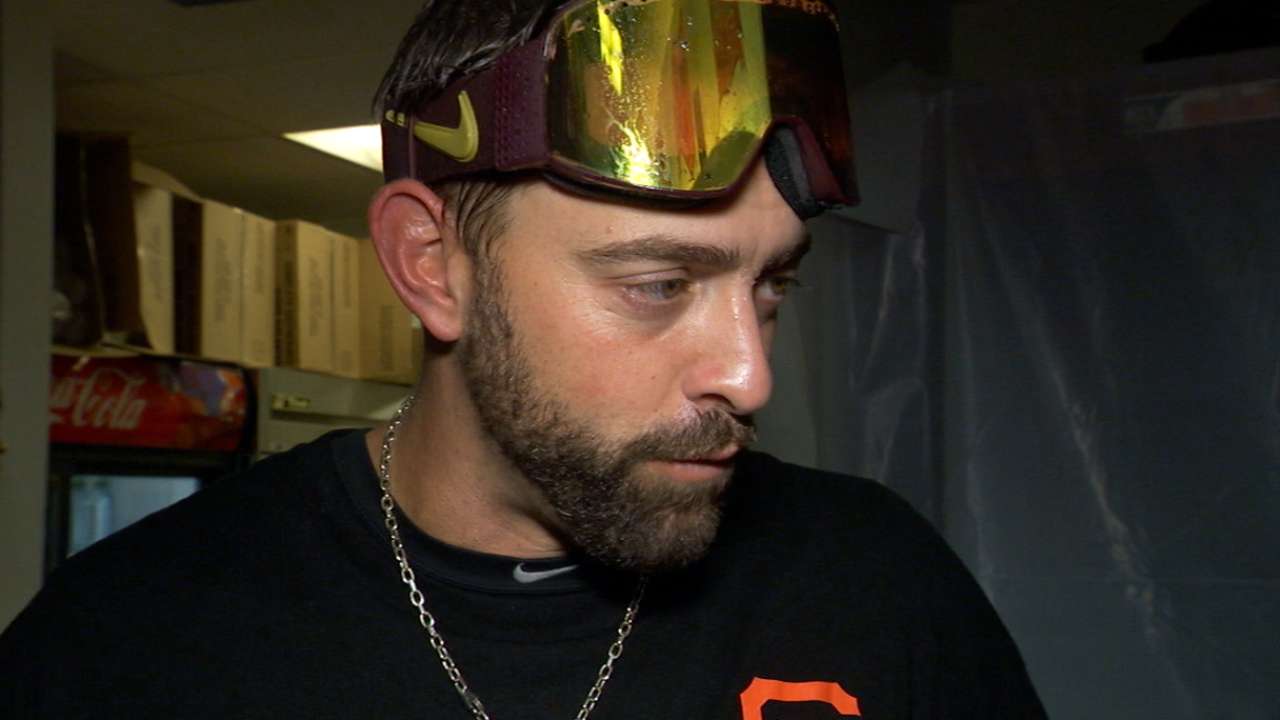 Affeldt counts Mike Sweeney, the former Royals star who is now a member of the team's front office, and third-base coach Mike Jirschele among his close friends, crediting Jirschele for helping shape him into who he is today. Having lived in Kansas City for his formative years as not only a Major Leaguer but as an adult, Affeldt certainly has a sense for how much that city is bursting with joy.
"I have a high respect for that team. I have a high respect for the people that live in that city," Affeldt said. "I have a high respect for Dayton Moore, the GM who traded me to give me a fresh start. I'm obviously happy for him and the success they've had over there."
The painful memories, the struggles that became part of his Major League upbringing, they're in the past now. Affeldt has gone on to find a niche on a World Series powerhouse club, and he has expanded on some of the efforts he began in Kansas City that go beyond the field. Through his youth ministry, Generation Alive, Affeldt supports Not For Sale, an organization dedicated to fighting human trafficking, and he strives to help the hungry, thirsty and disadvantaged by partnering with organizations such as Something to Eat, the Global Orphan Project, Living Water International and One World Futbol. He has written a book and is working on another.
Yes, so very much has happened since Affeldt moved on from Kansas City, the place where he spent his formative big league years. For a man who admittedly wears his emotions on his sleeve, pregame introductions for Game 1 could be interesting.
"There's a lot of good. There's some bad. There's a mix of emotions going there," Affeldt said. "But I'm very happy to go back there. Obviously, I hope the end is better than the beginning for me this time around."
John Schlegel is a national reporter for MLB.com. You can follow him on Twitter @JohnSchlegelMLB. This story was not subject to the approval of Major League Baseball or its clubs.