Hurdle doesn't think long layoff will affect Royals
Pirates manager traveled similar road while in charge of Rockies in 2007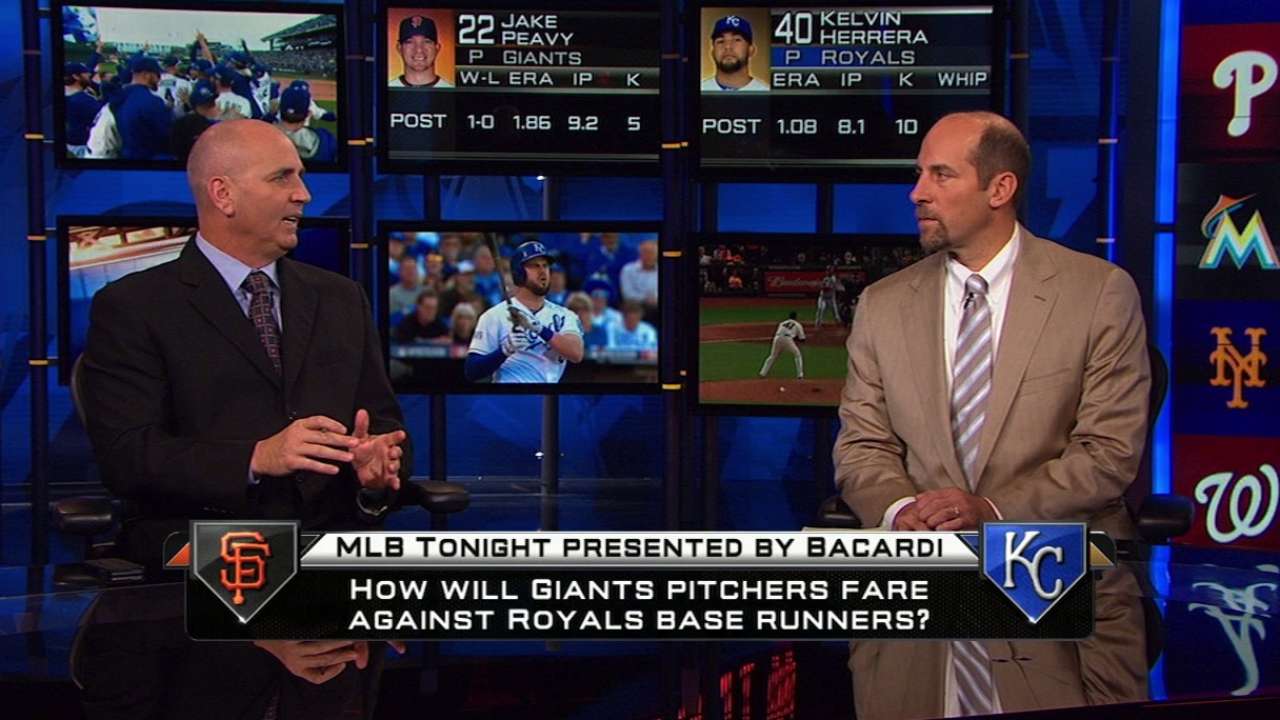 SCOTTSDALE, Ariz. -- By the time James Shields delivers the first pitch of the 2014 World Series on Tuesday night (6:30 p.m. CT air time on FOX, 7:07 p.m. first pitch), his Kansas City Royals will have had five full days of rest since Greg Holland delivered the final pitch of the American League Championship Series.
Five days of rest for the red-hot Royals, and as manager Ned Yost tries to rally his troops to prolong an 8-0 postseason, only one other big league manager can possibly relate to the challenges he faces.
Pirates skipper Clint Hurdle travelled an amazingly similar road in 2007 as manager of the Colorado Rockies, who paid for their postseason perfection by showing up flat after a long layoff for the World Series, where they were swept by the Red Sox.
Similar, but not the same. No team has faced those Rockies' test: They had eight days off between finishing off Arizona in the National League Championship Series on Oct. 15, 2007, and opening the World Series in Boston on Oct. 24; in the interim, the Red Sox played four games, outlasting the Indians in a seven-game ALCS.
"I remember watching when Cleveland was up 3-1, and if they closed it out, it would have been a much easier transition," Hurdle said. "It didn't work out that way. That was hard. It's not an excuse, but we faced a challenge that doesn't come up any other time."
This time, the Giants closed out their NLCS victory one day behind the Royals. That levels the playing field for a World Series matching the two hottest postseason teams. There hasn't been a World Series played between two teams with records better than the combined 16-2 mark of these Royals (8-0) and Giants (8-2). The only ones close were the 1995 Indians (7-2) and Braves (7-1), a World Series that Atlanta won in six games, and the aforementioned 2007 Rockies (7-0) and Red Sox (7-3).
Another huge difference is the Royals getting to start at home -- compared to the Rockies' 1,800-mile trek to Fenway Park.
"Time will tell, but I do think that's an advantage," Hurdle said. "It's nice to get to stay at home. It's a much different factor. You get to work out at home, in familiar surroundings, then you're back at work in front of your crowd. And they've both been off a while. At eight days, we had way more than the Red Sox. Once we got to Boston, we ran into a really good team that was really hot, and they stayed on a roll."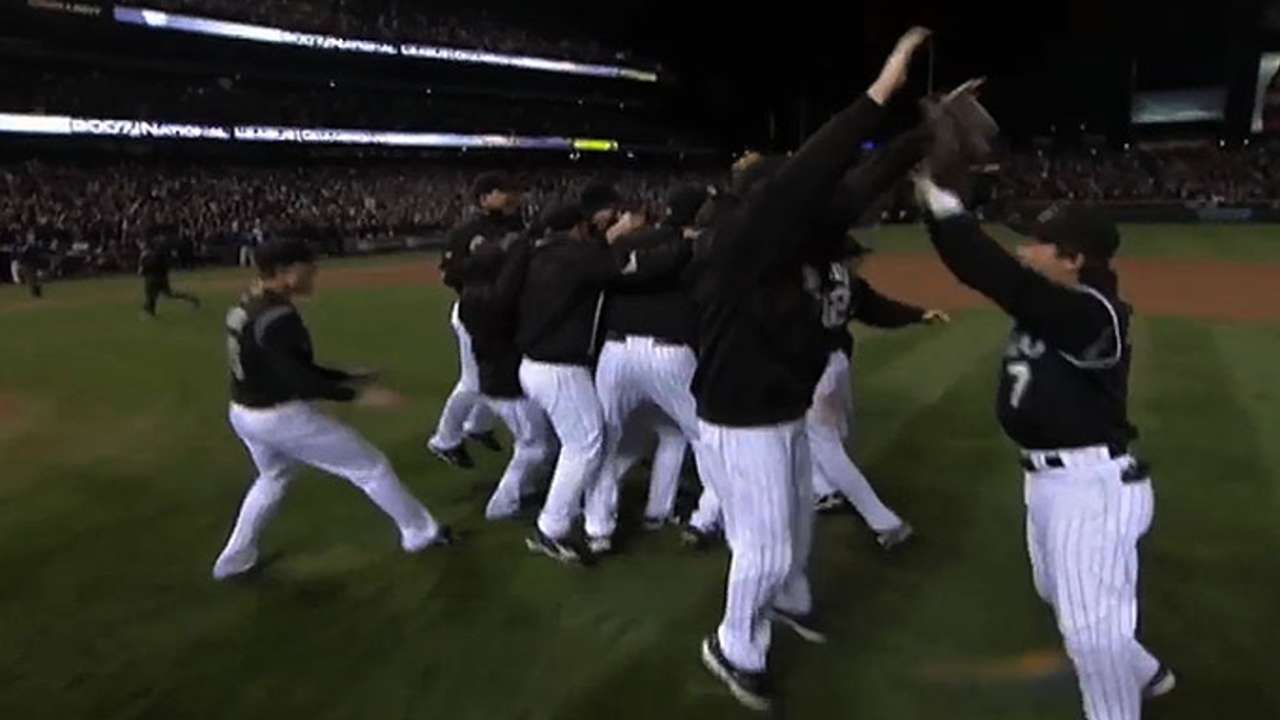 • Video: Rockies win 2007 NLCS
The same could be said of these Royals, who have played at a higher level for a longer stretch than any team in baseball with a 41-23 sprint from July 22 to the regular-season wire. In contrast, the Rockies were barely above .500 (76-72) in mid-September before catching fire. Those Rockies entered the Fall Classic with 21 wins in their last 22 games, having outscored the Cubs and D-backs 34-16 in sweeping the NLDS and NLCS. They were outscored by the Red Sox in the Fall Classic, 29-10, as their run turned out to be a flash, not a fire.
"It was a challenge we weren't ready to handle -- and we tried everything," Hurdle said. "We didn't apologize for sweeping [the NL playoff series], but it led to way more time off than we needed. It was almost like a mini-Spring Training. We tried everything: We played simulated games, actual squad games with umpires and everything, did the whole thing."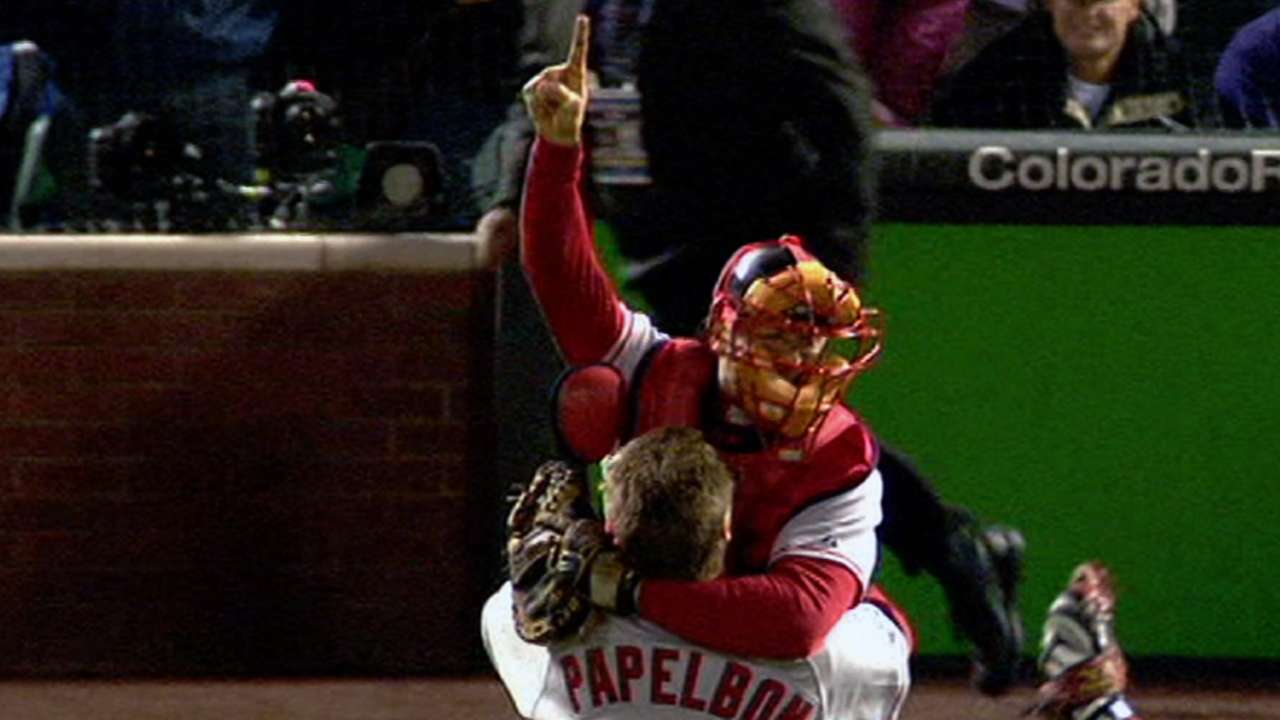 • Video: Red Sox win 2007 World Series
Hurdle was asked, paradoxically of course, what he would do differently if he had a do-over on the once-in-a-lifetime experience.
"Jam the park full of people for those simulated games, because the one thing we couldn't simulate was 48,000 people screaming," he said.
Hurdle remains close to the Royals -- the team that made him a first-round Draft choice in 1975, and with which he spent the first half of his 10-year playing career. The Pirates' manager has been somewhat preoccupied with the early stages of rehabbing from Oct. 6 hip replacement surgery.
Hurdle, however, has grooved on the Royals' ride.
"Each passing step they have taken has reminded me so much of what we went through," Hurdle said. "It's a great story, and when you dig deeper, other things come up to illustrate the similarities."
It starts at the very beginning, in a 163rd game to advance to the meat of the playoffs. The only difference is that for the Royals, it was the AL Wild Card Game; for the Rockies, it was a tiebreaker game for the one NL Wild Card spot in effect at the time.
Both teams pulled out extra-inning wins by the same 9-8 score in identical fashion: Colorado had to score three runs in the bottom of the 13th to beat San Diego, and Kansas City had to score two in the bottom of the 12th to beat Oakland.
"You're only the second person to become aware of that commonality, after me," said Hurdle, a strong link between the two chapters. "The first time it happened, I was involved. And now, I'm a big fan of the Royals."
That's not bandwagon stuff: Hurdle made his Major League debut with the Royals in 1977, and he remains close to former Royals teammates.
When the Pirates clinched their postseason spot last month, George Brett called with congratulations and Hurdle countered with "Come on, let's go" as the Royals were still chasing their berth.
The Royals will be going again, after nearly a week of rest. A big piece of Hurdle hopes it won't be their bye-bye, as it was for his Rockies.
"They have a chance to finish what we didn't. It's a great story," Hurdle said.
Tom Singer is a reporter for MLB.com and writes an MLBlog Change for a Nickel. He can also be found on Twitter @Tom_Singer. This story was not subject to the approval of Major League Baseball or its clubs.