Several Royals have strong ties to Brewers
Cain, Escobar, Aoki and Yost called Miller Park home before heading to KC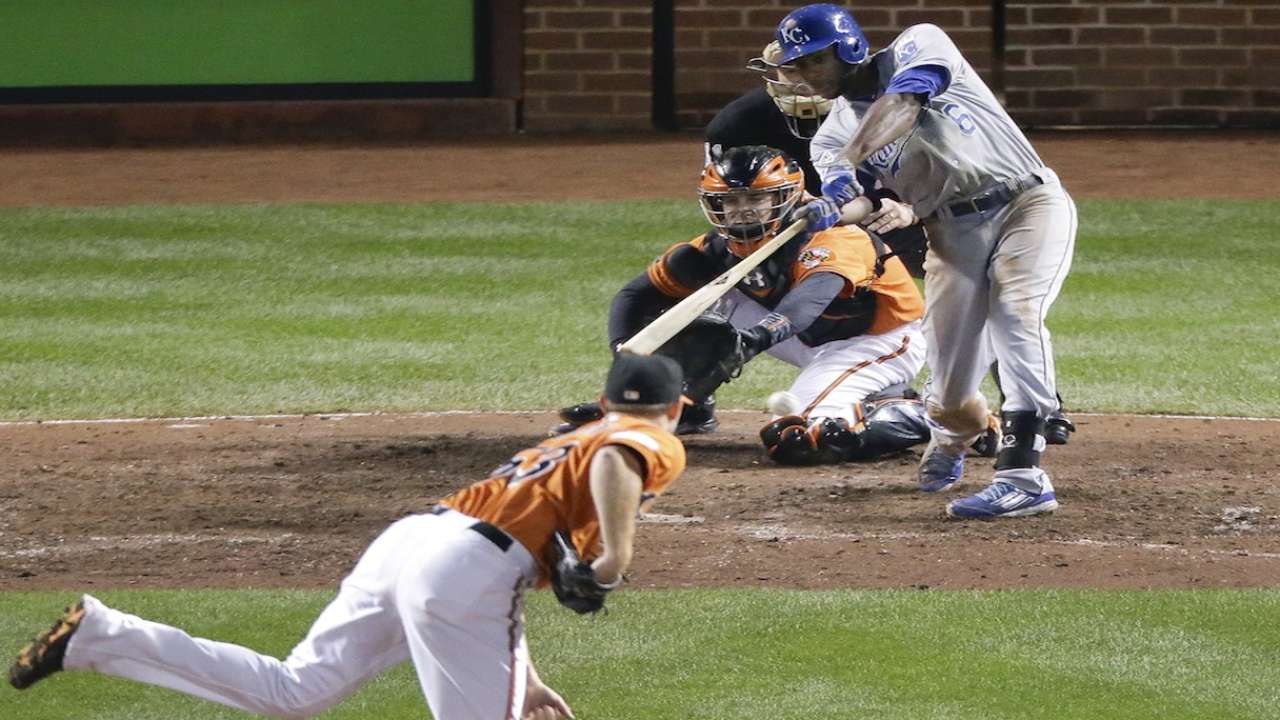 MILWAUKEE -- The Twitterverse is a perilous source for these matters, but it shows there exists a segment of local fans who regret that the World Series -- which begins Tuesday (7:30 p.m. ET air time on FOX, first pitch at 8:07) -- will be dotted with former Brewers. Some expressed annoyance when it was Travis Ishikawa, briefly a Brewer in 2012, who hit the National League pennant-winning home run for the Giants on Thursday night. Others lament that a full third of the Royals' starting lineup once called Miller Park home, not to mention former manager Ned Yost.
Those 140-character takes conveniently ignore that Ishikawa is on his fourth team since he left Milwaukee, and that the trades which sent players to Kansas City produced positive results. Or that Yost was never particularly popular in Milwaukee in the first place.
Brewers president of baseball operations and general manager Doug Melvin does not share the negative outlook. To the contrary, when the Royals finished their sweep of the Orioles in the American League Championship Series, Melvin was glued to the game as a fan.
"I've been rooting for them," Melvin said. "I think it's just a credit to our farm system and player development, when you take two raw kids like [Alcides] Escobar and [Lorenzo] Cain and they spend most of their time in our system. It shows that it can be done. Those are the stories that I love to see."
Melvin has played a part in both World Series teams' stories. As Yankees farm director, Melvin gave Brian Sabean his first job in baseball. Sabean is now the Giants' senior vice president and GM, with a team that is in the World Series for the third time in five seasons.
But Melvin's stronger ties are to the Royals. He made the trades that sent outfielder Cain and shortstop Escobar in a package for Zack Greinke in 2010 that also included right-hander Jake Odorizzi, whom the Royals flipped in a later trade with the Rays for World Series Game 1 starter James Shields and lights-out setup man Wade Davis.
Three years after the Grienke swap, Melvin and Royals senior vice president of baseball operations and GM Dayton Moore came together again for a swap that sent outfielder Nori Aoki to Kansas City for left-hander Will Smith last winter.
"Us and Kansas City, we kind of mirrored each other," Melvin said. "We were just a few years ahead of them at the time. They traded Greinke for young players, and then they traded young players for Shields. I think they looked at what we did and said, 'When you have an opportunity, you have to try to capitalize on it.'
"I don't think we would [second-guess] any of those trades, and I don't think they should look back on trading Wil Myers and Odorizzi [for Shields and Davis], either. It's very similar. I'm happy for them."
Melvin is particularly happy for Cain and Escobar, who were unproven commodities at the time of the Greinke trade.
Escobar has started at least 155 regular-season games in four straight years with the Royals, and Cain broke through this season, batting .301 with 28 stolen bases during the regular season before winning the ALCS MVP Award.
"They weren't on anybody's prospect lists their first couple of years," Melvin said. "I don't know if Cain ever hit the lists, really. I think Escobar did once he got to Triple-A.
"But I look at them, and then I look at [the Indians' Michael] Brantley getting 200 hits and I look at Brett Lawrie and the way he's played for Toronto, and Odorizzi and the way he's pitched for Tampa. Our farm system -- we've got a very talented player development staff. We've put a couple players every year on our big league club. As much as anything, I think it's proof that we can identify talent and we can develop it. It's just that some of them will play for other teams, because of our philosophy that we want to win [now]. Once we [made the playoffs] in '08, it kind of spoiled you and made you want to do it the next few years.
"That's the challenge of small-market teams -- sustaining it."
Melvin is equally pleased for Yost, who managed the Brewers to the brink of the 2008 postseason but was dismissed with 12 regular-season games to go and the team fighting an early-September slump. He was replaced by Dale Sveum, who saw the Brewers clinch the NL Wild Card on the final day of the season, snapping Milwaukee's 26-year playoff drought.
Sveum is now Yost's hitting coach in Kansas City. Together, they helped snap the Royals' 29-year playoff drought.
"The comment [from Yost] that stood out for me and will always stand out for me was when Rickie [Weeks] was making errors and J.J. [Hardy] wasn't hitting, and we were getting fan letters and emails demanding we send guys back to the Minor Leagues, Ned told me, 'I'll take losses on my back right now so those kids can win in the future.'
"I don't even know if those players know he said that. That comment was pretty strong, because J.J. was hitting about .170 at one time, and Ned said, 'No, if they're our future, they're going to make their mistakes here. If they're our future, I'm fine with it. I'll take the losses on my back for their wins in the future.' Not too many first-year managers would say that.
"Now it's sort of the same thing there [in Kansas City]. I know they've had [Mike] Moustakas sent down, and Cain had injuries, and Ned had to have a world of patience there, too. I think Ned saw it in Atlanta with players like David Justice and Chipper Jones, all the younger players, and had a vision and a patience. He didn't have patience with writers, I don't think, but he sure had it with players."
The patience will pay off Tuesday, when the World Series gets underway.
Adam McCalvy is a reporter for MLB.com. Read his blog, Brew Beat, and follow him on Twitter at @AdamMcCalvy. This story was not subject to the approval of Major League Baseball or its clubs.