Replay reviews and reversals down thus far in postseason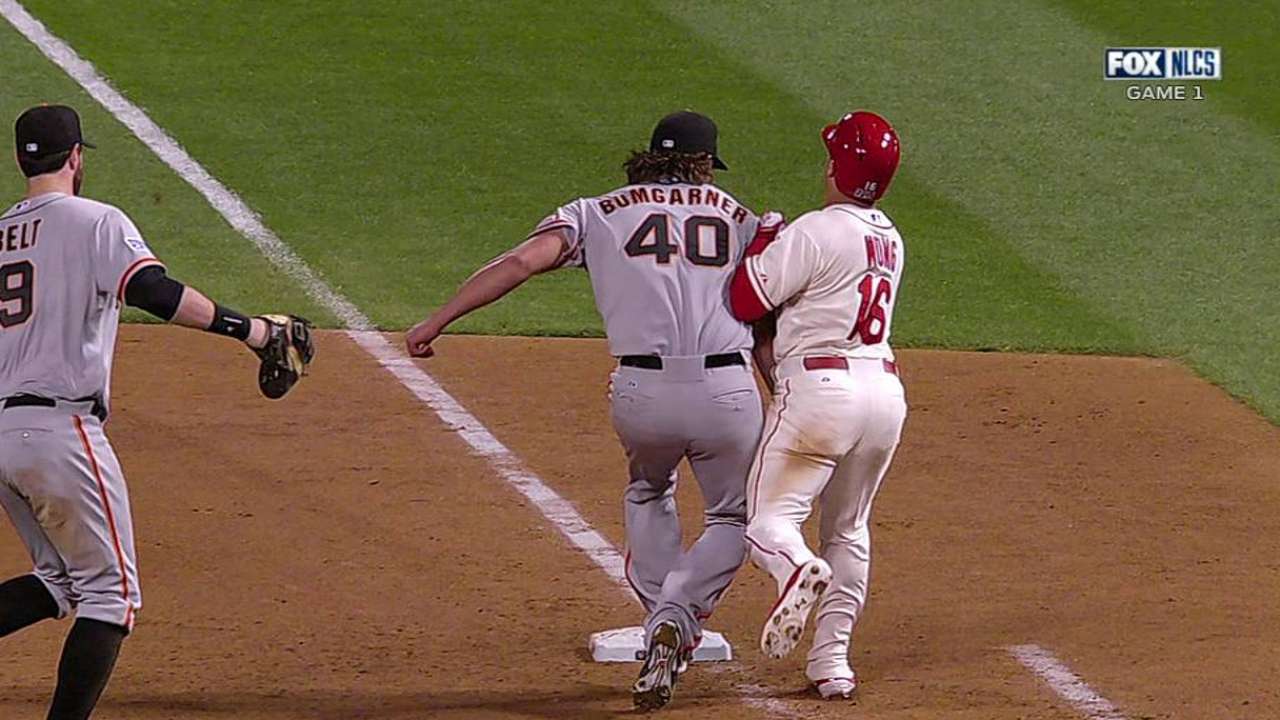 When Major League Baseball's 162-game endurance test gives way to the do-or-die madness of October, the dynamics of a single game change. In the regular season, there is almost always a tomorrow; in the postseason, there often isn't.
But with the Giants and Royals set to meet in the World Series starting on Tuesday in Kansas City (7:30 p.m. ET air time on FOX, first pitch at 8:07), that unavoidable sense of urgency hasn't translated into an increased use of instant replay. It would have been easy to assume that the number of reviews would increase in October during replay's inaugural season, but through the first three rounds of the playoffs, both the number of reviews per game and the percentage of reviews leading to overturned calls have dropped in comparison to the regular season.
Certainly, the first 25 postseason games of the expanded replay era represent a tiny sample, dwarfed by the more than 2,000 games played from April through September. While no definitive conclusions can be drawn, there might be reason to believe the trend will stick. Umpires are given postseason assignments based on regular-season performance, and that should lead to fewer missed calls and reviews.
"Umpiring has been really, really good," said Royals manager Ned Yost, whose club has not yet been involved in a review this postseason. "Even on the questionable plays, they're on it."
During MLB's first regular season of expanded replay, 1,275 plays were reviewed -- either through a manager challenge or crew chief decision. That works out to one every 1.9 games, with 47 percent of reviewed calls overturned. By comparison, there have been nine reviews during the playoffs, or one every 2.8 games, with one-third reversed.
Reviews became even less common during League Championship Series play, with only two in nine games. Neither ruling was overturned. Coincidentally or not, only two of the 14 umpires working those two series were among the 19 officials who had at least 10 calls overturned during the regular season, according to MLB.com's data.
Of course, there is still time for replay to make its mark on the playoffs. As the Fall Classic unfolds, Yost and his staff will continue to scrutinize every questionable play and decide whether to take advantage of the right to challenge.
"I've become much more focused on those plays, because before, you had no recourse," Yost said. "If you thought he was safe, you could run out there and scream 'til your head fell off and you weren't going to get anywhere. Now, you've got recourse.
"I think the system's worked good in its first year."
Andrew Simon is a reporter for MLB.com. Follow him on Twitter @AndrewSimonMLB. This story was not subject to the approval of Major League Baseball or its clubs.