Royals owner Glass sharing KC's pride, joy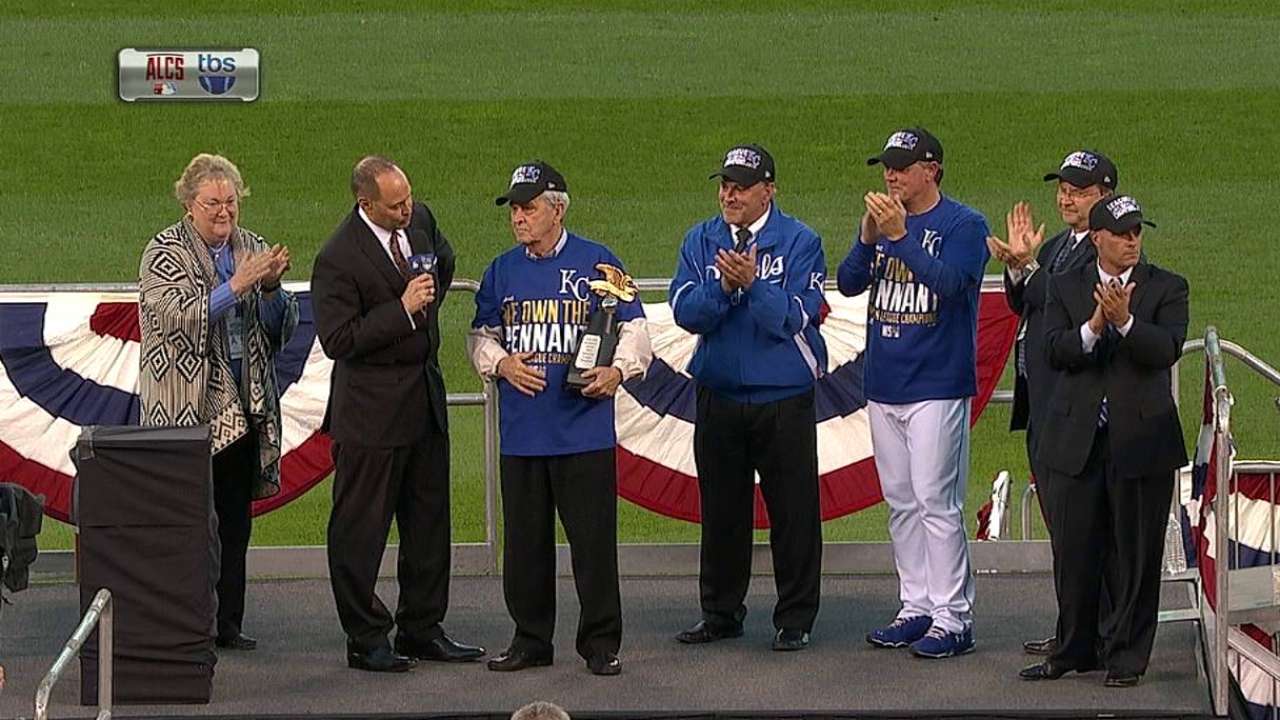 KANSAS CITY -- Back in 1946, Royals owner David Glass was taken to a Major League Baseball game for the first time. It was at old Sportsman's Park in St. Louis, and the Cardinals were playing the Brooklyn Dodgers.
"For a kid that lived in a small town and going to see a big league park for the first time, I was more impressed with the park than anything else," Glass said.
"That was in 1946, and in '47 when I saw them play, Jackie Robinson was with the Dodgers at that point, and he was unbelievable. If you're an 11-, 12-year-old kid and seeing that stuff, you get hooked for life."
Another unforgettable moment happened for Glass on Wednesday at Kansas City's jam-packed Kauffman Stadium, where his Royals won the American League Championship Series -- the AL pennant.
Has that reality hit Glass yet?
"Probably not," he said. "It is so much fun. I don't know how to describe it. We'll wake up and retrospectively we'll look back on it and say, 'You know what? That was really a lot of fun.'"
Especially when you're accepting the title trophy with a sellout crowd of blue-clad fans roaring their approval. Probably very few of them expected to see this -- not quite yet. But there it was.
Glass had waited a long time. He became interim chairman of the franchise upon founder Ewing Kauffman's passing in 1993, and he purchased the club in 2000. Glass dedicated the championship to the fans, but his wife, Ruth, and their three children -- team president Dan Glass and board members Don Glass and Dayna Martz -- were deeply involved, too.
"They've watched every pitch of every inning, and it's really been a lot of fun for them -- exciting," Glass said. "They haven't experienced it before and so it's really been special."
With success has come the inevitable calls and good wishes.
"I have more friends than I ever dreamed I had," Glass said with a chuckle. "That goes with it."
Glass' fellow MLB owners, even those of teams the Royals bested, have chimed in.
"They've been really kind. I've heard from a lot of the owners, congratulating us and telling us that they're happy for us," Glass said. "Everybody has been really nice. I haven't had any negative comments from the owners and lots of support."
Glass also talked to Commissioner Bud Selig.
"He's going to be there sometime Tuesday. So I'll get together with him then," Glass said. "And he has a relationship with [Royals manager] Ned [Yost]. Ned was a player for Bud on the Milwaukee team that went to the World Series."
Indeed, Yost was a backup catcher for the 1982 Brewers team that lost to the Cardinals in the World Series.
Glass has heard stories about how the Royals' players are being toasted publicly all over Kansas City and Yost getting a rousing reception at The Capital Grille after eliminating the Orioles.
"Things like that are really fun and really exciting," Glass said. "If this group isn't pumped up, I don't know what it'll take to get 'em going. The city is really supportive.
"I was impressed in Baltimore by the fans, and they were really good, really supportive of their team. And then I came back to Kansas City, and I was really proud of our fans. I'm undoubtedly prejudiced, but our fans are the best fans that I've seen. You talk about supportive of the team and loud and hanging in there, they really are great. It's just a fun thing to see."
The Glass family is quietly arranging a trip for the work force, the associates in the Royals' office, for the middle three games of the World Series in San Francisco.
"These people really work hard and they really care about this team, so it's getting tickets for them and fixing it so they can go -- it's just a good thing to do," Glass said.
Now the Glass family is just one step away from their unheralded Royals team winning baseball's big bundle.
Dick Kaegel is a reporter for MLB.com. This story was not subject to the approval of Major League Baseball or its clubs.