Giants' do-everything man Petit ready for any task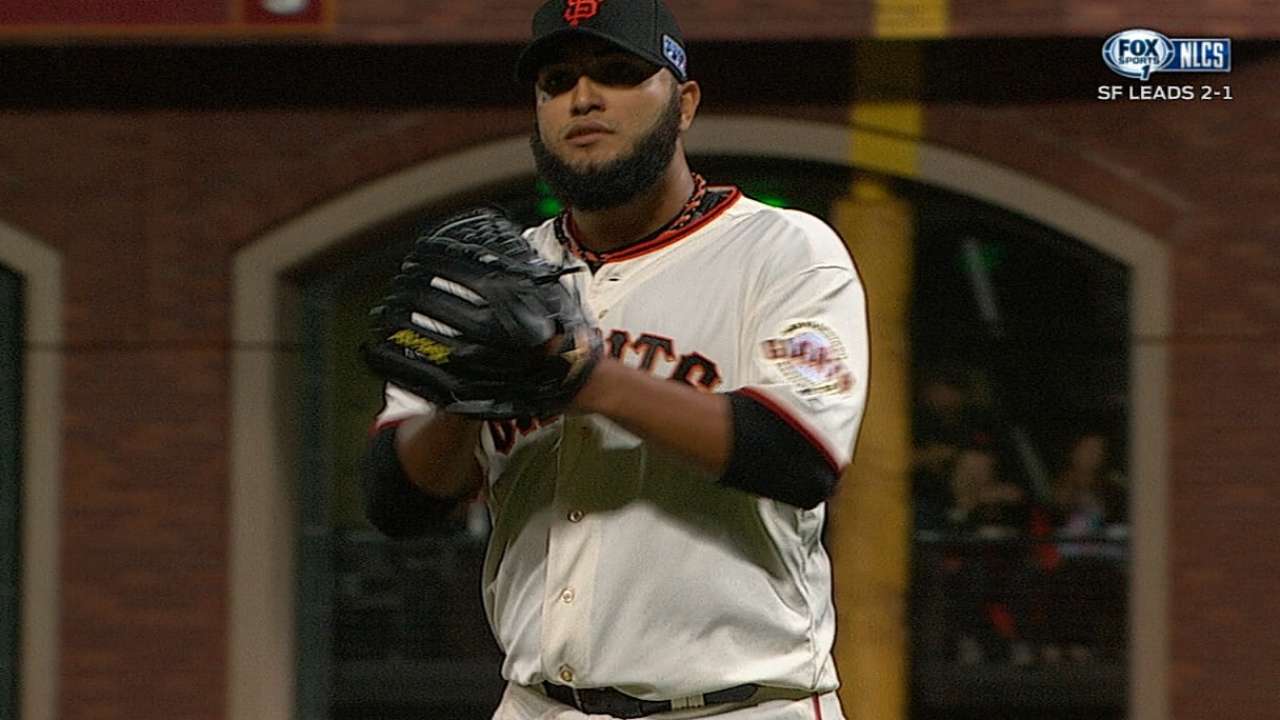 SAN FRANCISCO -- Taped to the door inside the Giants' clubhouse at AT&T Park is a white sheet of paper with a simple message scribbled in Sharpie. "Nunquam Non Paratus," it reads. "Never unprepared."
The sign, though deliberately minimalistic, seems to be missing just one thing: a picture of Yusmeiro Petit, San Francisco's do-it-all right-hander who has become a poster child for preparedness this October.
Petit has made two crucial playoff appearances, each in a situation totally unexpected but critically important. In Game 2 of the National League Division Series in Washington, he pitched six shutout innings -- the 12th through the 17th -- before the Giants won in the 18th. In Game 4 of the NL Championship Series against St. Louis on Wednesday, Petit relieved Ryan Vogelsong in the fourth and tossed three flawless frames, setting the stage for a comeback victory.
Now, just three years removed from a stint with the Oaxaca Warriors of the Mexican League, Petit is headed to the World Series. Without him, San Francisco might not have made it this far.
"We can say that about a lot of the guys here," said Sergio Romo, "but he's one of those ones that comes to mind first."
Petit's performance this postseason -- nine innings, no runs, two hits -- has led some to question whether he deserves a spot in the World Series rotation, particularly after Vogelsong's recent subpar outing. But manager Bruce Bochy would rather keep Petit in the bullpen, where he will be ready to enter a game at any time.
"I kind of like Petit and the job he's done in that role that we've had him in," Bochy said before Saturday's team workout. "You go back to Washington, without Petit, hard to say what would have happened. And of course with St. Louis, he went out there and gave us three big innings. He's a great swingman."
During the regular season, Petit made 12 starts and 27 relief appearances, quietly breaking a Major League record along the way by retiring 46 consecutive batters over an eight-game stretch in July and August.
"You ask any pitcher how hard that is, they will tell you that might be one of the hardest records to ever get," said Javier Lopez. "And he has it."
"He's been a big deal for us all year," Jeremy Affeldt said. "The weapon that he can bring to a 'pen, in the playoffs especially, is one that a lot of teams don't necessarily have."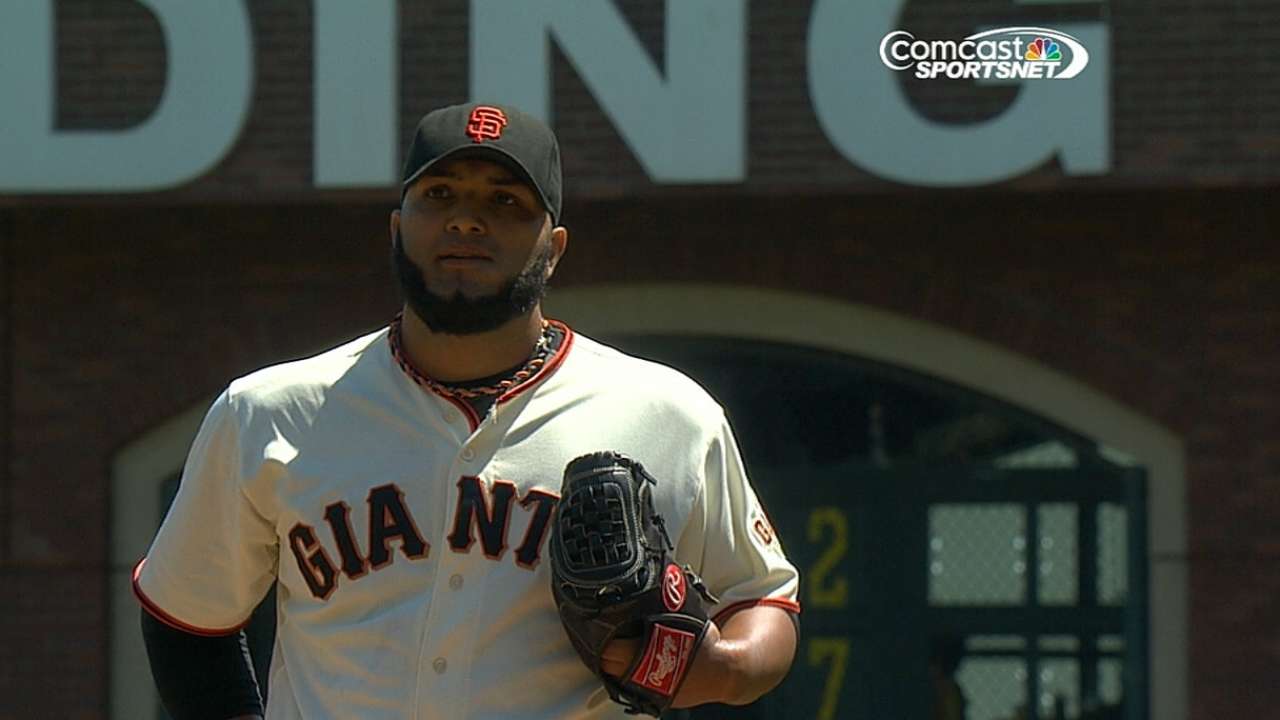 • Video: Petit's consecutive outs record
The fact that Petit, who hails from Maracaibo, Venezuela, is contributing for a big league team at all -- let alone pushing one through the playoffs -- is a wonder in itself. Over his 11-year career, the 29-year-old has been around the baseball world and back.
Once a prized prospect for the Mets, Petit was involved in a trade with the Marlins for Carlos Delgado in 2005. He struggled in Florida and was sent to Arizona, where he went 9-19 with a 5.05 ERA in three seasons. Then came the serious toil -- first in the Mariners' Minor League system, and then, after getting cut by Seattle, in the Mexican League in 2011.
"When I was in Mexico, I always said to myself, 'This is going to be my goal, to go back to the United States and be successful,'" said Petit, through a translator. "I always knew that this could happen. I didn't know how it was going to happen, but I knew this could happen."
After Mexico, Petit played winter ball in Venezuela, where he shined in front of Giants coaches Hensley Meulens and Jose Alguacil. That November, San Francisco signed Petit to a Minor League deal.
Petit has shown flashes of brilliance with the Giants, most notably on Sept. 6, 2013, when he came within one strike of a perfect game against Arizona. But he has never been more valuable to his club than he is right now.
What changed?
"I've changed a lot, both personally and mentally," said Petit. "As a pitcher, I think I concentrate a lot more on the strike zone. Since I came back from Mexico, I have been able to do that a lot, concentrating more on the strike zone."
It sounds simple enough -- but what Petit is doing is anything but simple. His niche role is not very sexy, but his mastery of it has won him the admiration of his teammates.
"He's ready to start a game," said Romo, "then long relief, then get an out, then sit for 10 days, then throw six, then sit for another 10 days, then throw three shutout. I don't know how he's ready every day."
Though Petit stands 6-foot-1, 250 pounds, his fastball typically sits below 90 mph. To have success, he mixes and matches with a fastball, curveball, slider and changeup.
"Having that kind of four-pitch command without regular reps is, again, something you can ask every pitcher, they'll tell you that's really hard to do," Lopez said. "Just the ability to go the long innings, set up a couple innings, do whatever it takes just to help us out, has really been a godsend for this club."
Petit has made some of his greatest strides with his curveball since coming to San Francisco. He threw it 24 percent of the time this past regular season and 20 percent of the time in 2013. In '09, Petit threw 17 curveballs total.
"The curveball has been very important for me," he said. "I know I can throw it in any count. Before, I didn't have that much confidence in it. It was a slow pitch and they could hit it easily, but not now. Now, I have a lot of confidence in that pitch."
Watching Petit go about his business, his demeanor does not exactly scream confidence. Romo described him as a "very quiet, under-the-radar man," while Travis Ishikawa, the NLCS hero who knows a thing or two about improbable journeys, called him "humble" and "reserved."
"He knows how good he is," Ishikawa said, "but he also knows that he doesn't need to preach it, either. He just kind of goes out and lets his arm do the talking."
Still, make no mistake: Petit is having the time of his life. Going to the World Series, he said, is a dream come true.
"It's fun to watch him be happy," said Romo, smiling wide. "That's one of the cool parts about it. You can definitely tell how happy he is."
Aaron Leibowitz is an associate reporter for MLB.com. This story was not subject to the approval of Major League Baseball or its clubs.