Tigers' outfield prospect Moya slugs homer
Orioles' righty Davies collects 7 K's over four innings in win for Glendale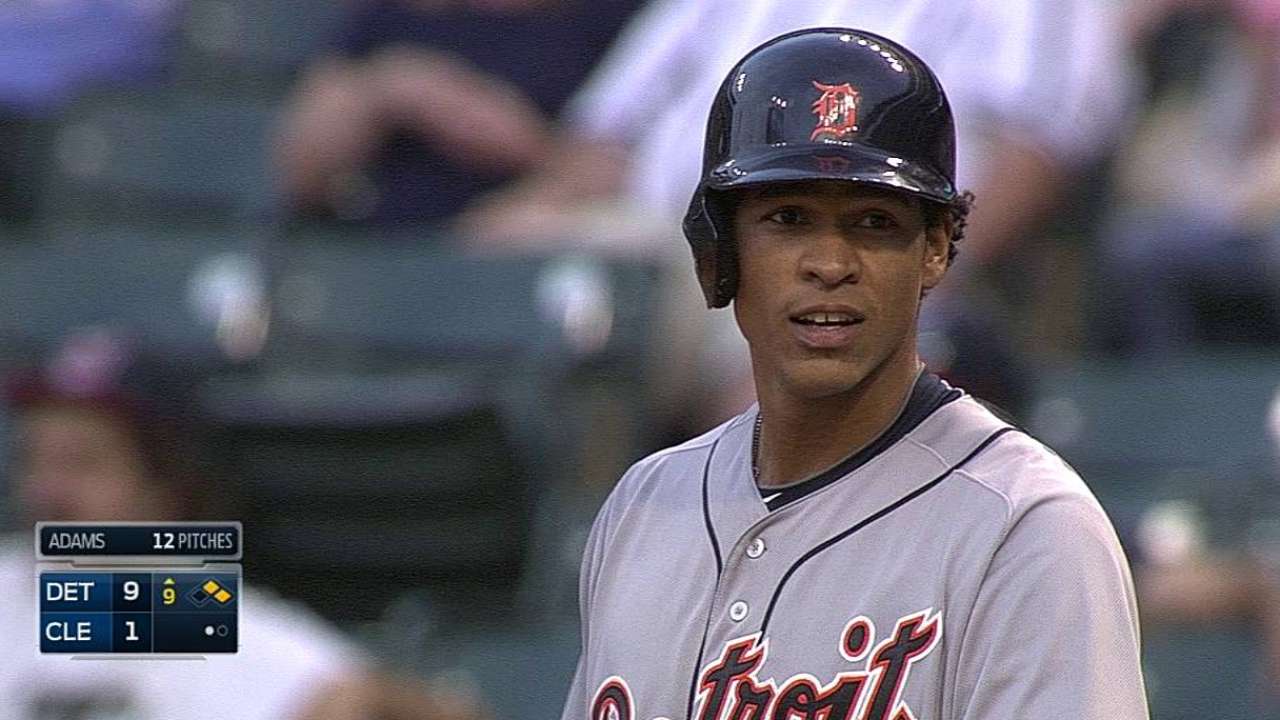 A few more games like the ones Steven Moya has been having in the Arizona Fall League, and the young right fielder just may find himself helping solve some of his big league club's problems.
The Tigers, potentially in need of outfield help -- particularly of the left-handed-hitting variety -- are surely liking what they've seen from the 23-year-old Moya, who stayed hot on Saturday night with a 2-for-4 performance for Glendale.
Moya, who hit his first home run of the Arizona Fall League in the third inning, scored three runs in the Desert Dogs' 9-4 victory. He is batting .303 this fall, with four multi-hit games in the eight he's played.
"It feels good," said Moya, who is considered by MLB.com's Prospect Watch to be the Tigers' No. 7 prospect. "I'm not really not trying to hit home runs, but it still feels good. The first one feels really good."
Zach Davies (Orioles No. 8 prospect) -- who scattered two hits across four innings, striking out seven and walking two -- earned the victory. Glendale's Scott Schebler (Dodgers No. 9) went 3-for-3 with two runs and two RBIs, while Surprise's Jesse Winker (Reds No. 2) went 3-for-4 with a run and an RBI in the losing effort, all while improving his average in Arizona to .417.
Moya spent all 133 games of his 2014 Minor League season with the Tigers' Double-A affiliate in Erie, where he hit .276 with 33 doubles, 35 home runs and 105 RBIs. He had his first Major League stint late in the season with the Tigers, appearing in 11 games and batting .375 (3-for-8) with two strikeouts.
The strikeouts, Moya said, are something he's focusing on this fall.
"Just recognizing pitches and getting better at recognition of the strike zone is what I'm working on right now," Moya said. "Just cutting down on strikeouts. That's about it."
Moya said he's confident he can make a prolonged stay with the Tigers as early as next season, saying "for sure" he can help the big league club as soon as 2015.
If his performances against some of the game's best young talent in Arizona is any indication, he may be right.
"Everybody here is good, every pitcher is good," Moya said. "This is the best staff from every team. And it's good because everybody out there in the big leagues is good, too. So if I'm facing the best staffs here, I should be able to do it there, too."
Joey Nowak is a reporter for MLB.com. Follow him on Twitter at @joeynowak. This story was not subject to the approval of Major League Baseball or its clubs.