Bradley encouraged by challenge of fall ball
D-backs' top prospect working on pitch repertoire at AFL, not focused on stats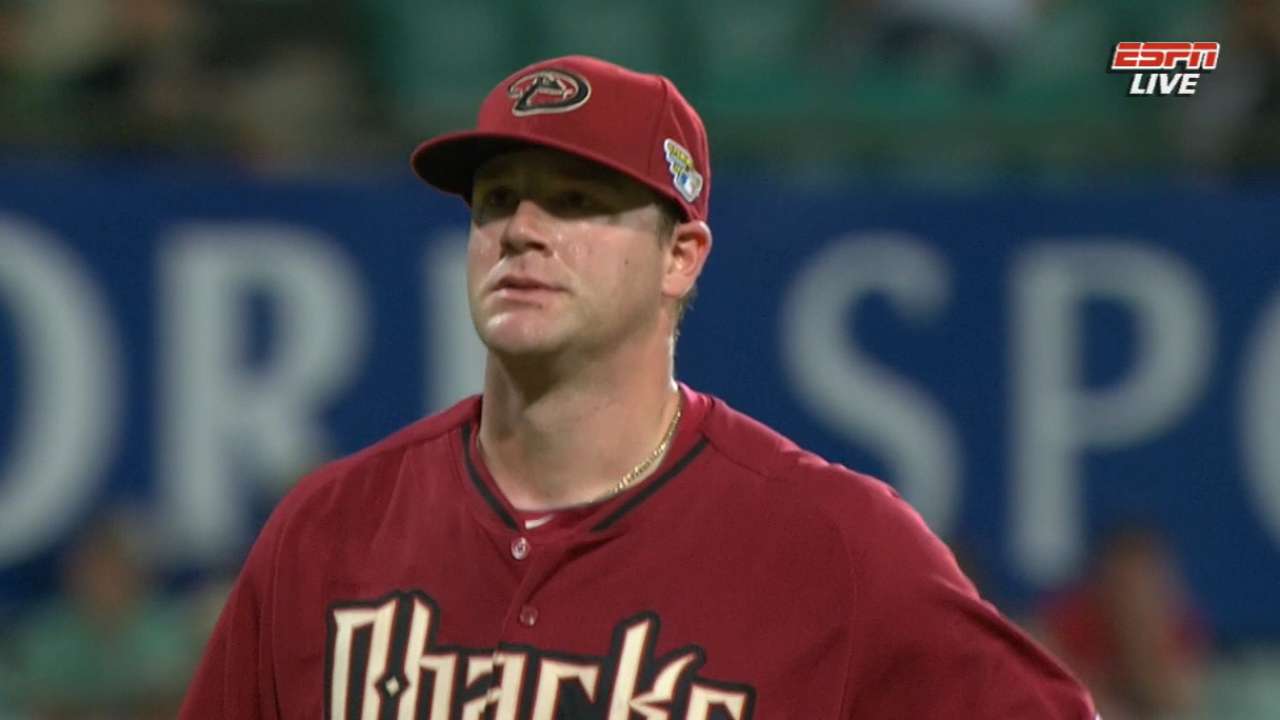 Archie Bradley could get used to pitching in Arizona.
The D-backs' top prospect -- rated No. 9 overall in baseball by MLB.com's Prospect Watch -- has been spending his fall in the desert, where he's pitching for the Salt River Rafters. Soon enough, he hopes to be spending more time in the area, but with the big league club.
"It's great," Bradley said of his Arizona Fall League tenure. "Obviously, this is a big experience. There's a lot of good talent in this league. It's just another key to getting better."
Bradley, 22, split time this season between Double-A Mobile and Triple-A Reno. With one Rookie ball start mixed in, he compiled a 4.45 ERA and 3-7 record in 18 starts. He has made three starts for Salt River, posting a 10.29 ERA, but said he's not discouraged by the on-paper results.
"I felt good," Bradley said Saturday night after surrendering four earned runs in two innings while walking four and striking out two against Mesa. "Just didn't throw strikes, that's really about it. I feel like my stuff is sharp. It's just about filling up the zone and making better pitches."
Mesa's Felipe Rivero (Nationals No. 16 prospect) earned the winning decision in the 8-4 victory on Saturday while Derek Self (Nationals) logged 2 1/3 innings of shutout ball to lower his ERA to 1.23. Bijan Rademacher (Cubs) and Eric Stamets (Angels) each recorded two hits for the Solar Sox while Chris O'Dowd (Rockies) went 2-for-4 with a home run for the Rafters.
Bradley said he threw a slider for the first time on Saturday night and is making a concerted effort to get his changeup into the mix. And he knows if he can execute those pitches against the talent in the Fall League, the big leagues shouldn't be too far off.
"It's kind of what you're going to get when you get to the big leagues," Bradley said. "One through nine, you're facing quality hitters who give you quality at-bats and challenge you.
"You're constantly thinking and constantly being challenged because every player you face has the potential to get to the big leagues and most likely will."
Joey Nowak is a reporter for MLB.com. Follow him on Twitter at @joeynowak. This story was not subject to the approval of Major League Baseball or its clubs.