Giants have firsthand knowledge of Royals' proficiency
Swept by KC in August, San Francisco playing with much more confidence in October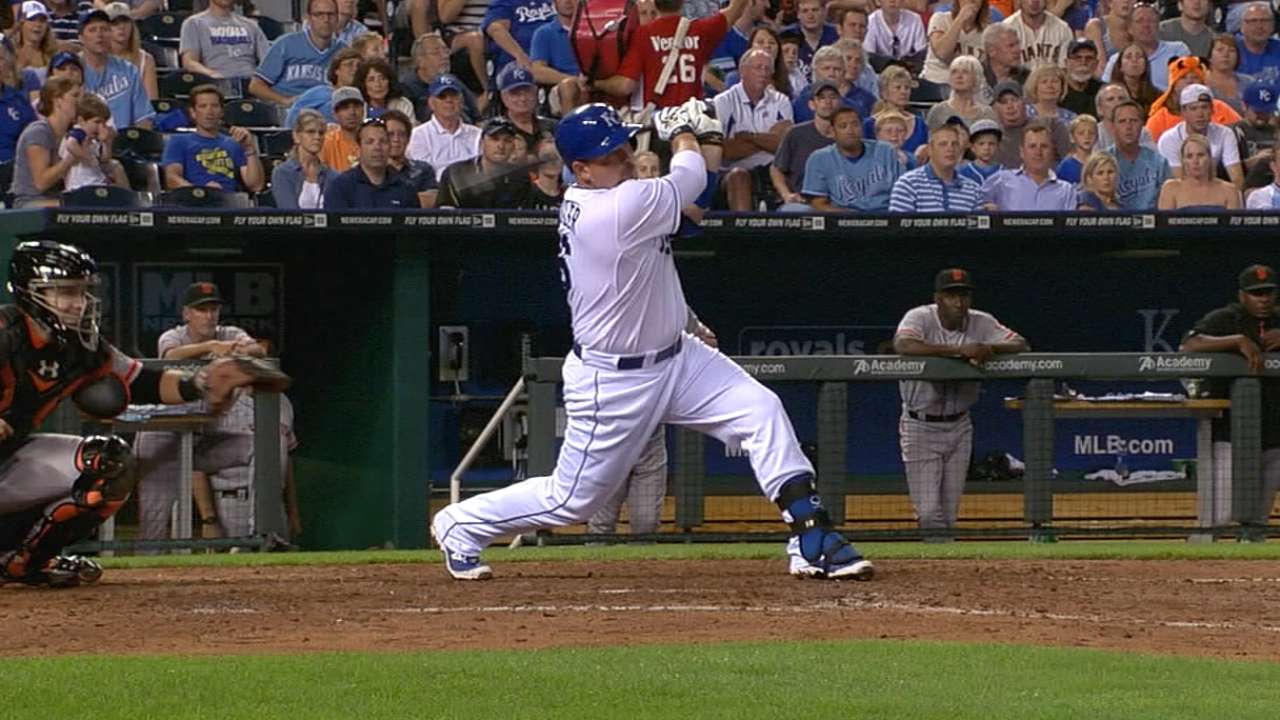 SAN FRANCISCO -- Sergio Romo expects plenty of intensity from the Kansas City Royals when they face Giants in the World Series that begins Tuesday (4:30 p.m. PT airtime, 5:07 first pitch).
"They're going to put their fists up and fight with their best," said Romo, San Francisco's right-handed setup reliever, on Saturday.
Fortunately for the Giants, they bear no visible scars from their first bout of the year against the Royals.
Kansas City swept San Francisco in a three-game Interleague series Aug. 8-10 at Kauffman Stadium. It ranked among the Giants' worst series of the season. Madison Bumgarner pitched a complete game in the opener as the Giants outhit the Royals, 12-7, but committed three errors in a 4-2 loss. Royals ace James Shields dominated the second game with a four-hit shutout as Kansas City cruised, 5-0. The Royals' running highlighted the finale as they stole seven bases, including three apiece from Jarrod Dyson and Nori Aoki, in a 7-4 triumph.
Of course, timing is everything. That series concluded a long three-city trip for the Giants, who also lost to the White Sox in their first game after that series. That left the Giants six games above .500 (63-57), matching their lowest point of the season's final five months. San Francisco then regained the flair it displayed while roaring to a 43-21 start, winning 19 of its next 27 games while reviving its status as a contender.
Thus, the Giants aren't even fathoming the possibility that they'll stumble just as badly in their rematch against Kansas City. Winning eight of 10 postseason games has elevated San Francisco's spirit.
During that previous encounter with the Royals, left-hander Jeremy Affeldt said, "I don't think we were playing with a ton of confidence. We're in a different scenario now. I definitely don't look [back] to August. We got beat by a lot of people in August."
As shortstop Brandon Crawford said, "We also didn't play well against the Pirates or Nationals this year."
The Giants, 2-4 against the Pirates during the regular season, thrashed the Bucs, 8-0, in the National League Wild Card Game before capturing the Division Series against the Nationals, who beat them five times in seven regular-season games.
That said, Kansas City impressed the Giants with its overall speed, superior outfield coverage and dominating bullpen anchored by closer Greg Holland.
"They were stealing bases at will and running down everything in the outfield, it seemed like," Crawford said.
"They're a team a lot like ourselves," Romo said. "They're going to pitch and they're going to defend. Oh, by the way, they can run, too."
"We saw their bullpen in its full glory," left-hander Javier Lopez said, mindful of Holland's two saves in the series. "They made almost every play; any ball that was in the gap was caught. That just showed the kind of athletes they have."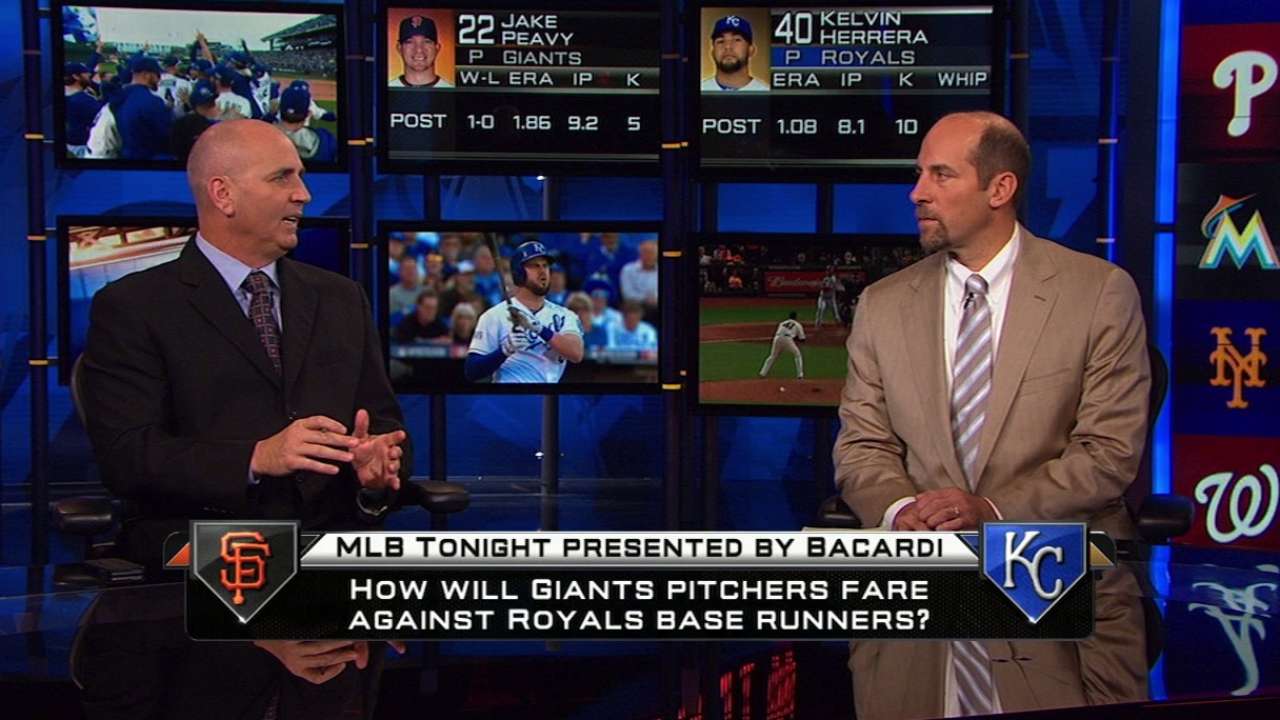 • Video: MLB Tonight on Royals' sweep
Kansas City's Major League-leading 153 stolen bases best reflected that athleticism. Right-hander Tim Hudson, the Giants' Game 3 starter for the World Series, jokingly proposed a solution: "Just don't let them on base. That's easy."
Turning serious, Hudson acknowledged that Giants pitchers must take steps to decelerate Kansas City's offense.
"We have to make sure that we're quick to the plate and make sure that we give our catchers an opportunity to throw these guys out," Hudson said. "We can't let them take second and third whenever they want. It's our job as a staff to control that running game, and I think we can do that. They're probably going to try to force us to make mistakes in that area. We just have to keep our composure."
The presence of Giants catcher Buster Posey could make a difference. Rookie Andrew Susac caught the Aug. 10 game when Kansas City stole seven bases. Posey, San Francisco's designated hitter that afternoon, is likely to catch each World Series game.
Chris Haft is a reporter for MLB.com. Read his blog, Haft-Baked Ideas, and follow him on Twitter at @sfgiantsbeat. This story was not subject to the approval of Major League Baseball or its clubs.