Gore a game-changer -- even on the bench
Speedster wreaks havoc when on base, while mere availability causes managers to think twice
KANSAS CITY -- Terrance Gore has not done much besides pinch-run during the Royals' unprecedented 8-0 run to start the postseason, but his spot on their roster for the World Series is not in jeopardy.
"He's still a necessity," manager Ned Yost said as the Royals prepped for the Giants with a workout Saturday. "What he does is he brings an element with him even sitting on the bench. I think opposing managers think of him as a bit of a game-changer."
For the first time in Kansas City's three postseason series, Gore, a pint-sized outfielder used exclusively as a pinch-runner, did not swipe a bag in the Royals' American League Championship Series sweep of the Orioles.
But Yost did not limit Gore's effect on the opposition to his number of steals.
"Even Baltimore, as good as they were at containing the running game -- every time we put Gore in the game, we couldn't run ... because they were so quick to the plate, their catchers so quick to second base -- but still, as soon as he got in the game, the pitchers took focus off of getting the hitter out and were focusing on him," Yost said.
"And that's what you want. You want guys that take the pitchers' focus off of doing what he's supposed to do first, which is get that hitter, and put the focus on him. ... He's a big advantage having on this bench."
Gore appreciated the vote of confidence from his manager.
"It's amazing, I'm just glad to be on this team," Gore said. "I'm glad he's got a lot of confidence in me stealing bases and trying to cause more trouble on the basepaths."
The Royals called up Gore on Sept. 2 to contribute to the team's postseason push in a strictly pinch-run capacity. He entered as a pinch-runner nine times and stolen five bags without being caught.
Gore made both the AL Wild Card and the AL Division Series roster, swiping three bases. Although he did not steal a base in the ALCS, he did score his first postseason run in Game 2.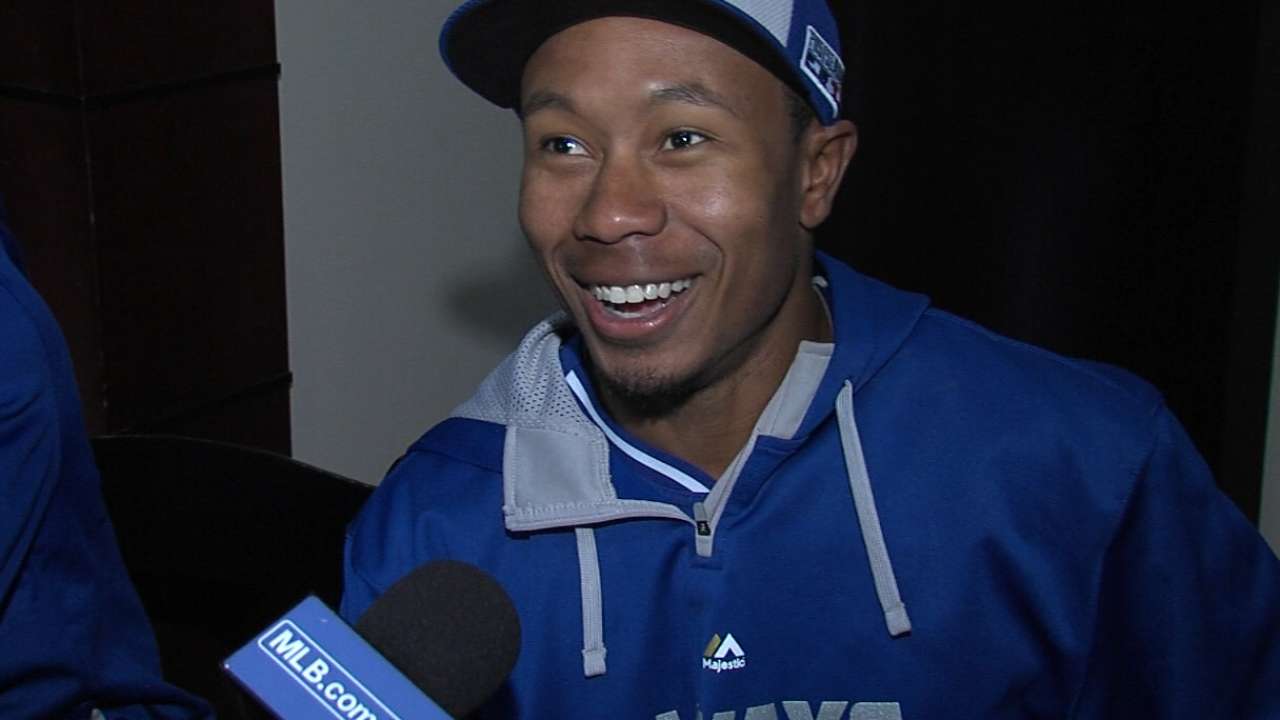 • Video: Gore on rise through farm system
His meteoric, unpredictable rise through the farm system to his current standing is one of the best stories in baseball this season.
Gore hit .215 in the Minors in 2013, then .221 before his callup this season, and he has not hit a home run in 1,050 professional plate appearances. His lack of power makes him a fringe prospect, with speed his main asset.
But suddenly, Gore finds himself three days away from the World Series, a reality he's still struggling to come to grips with.
"It honestly hasn't even hit me that I'm in the big leagues running my butt off right now," Gore said. "Hopefully we get this ring, then once I actually have that ring in my hand, then it's like, 'OK, it's gotta hit me hard.'
"Right now, I'm just having fun and doing whatever they ask me to."
Jackson Alexander is an associate reporter for MLB.com. This story was not subject to the approval of Major League Baseball or its clubs.