Dodgers announce dedication of two new Dreamfields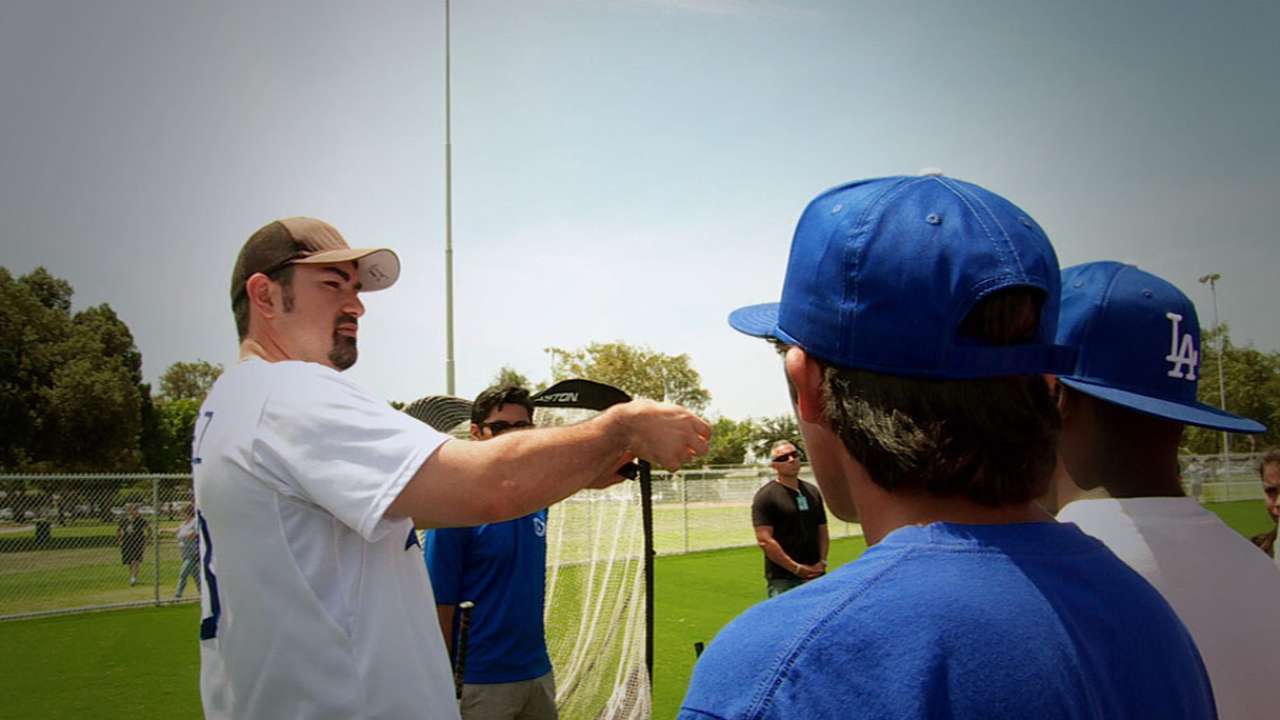 The Dodgers dedicated their 35th and 36th Dodgers Dreamfields, the club announced Saturday.
The Los Angeles Dodgers Foundation, in partnership with the LA84 Foundation, the Los Angeles County Department of Parks and Recreation and Security Benefit, dedicated its 35th and 36th Dodgers Dreamfields at Franklin D. Roosevelt Park in Los Angeles.
Dodgers Dream Foundation director Nichol Whiteman, Los Angeles County Supervisor Mark Ridley-Thomas, Director of County of Los Angeles Department of Parks and Recreation Russ Guiney, president of LA84 Foundation Anita L. DeFrantz, and regional vice president of Southern California, Security Benefit Korie Henry attended the event. Dodger alumni Billy Ashley, Al Downing, Al Ferrara, Kenny Landreaux, Tim Leary, Matt Luke, Wes Parker and Dennis Powell also led a youth baseball clinic following the brief program emceed by SportsNet LA broadcaster John Hartung.
"We were thrilled to start the offseason by dedicating our 35th and 36th Dreamfields," Whiteman said. "We are grateful to our partners for their support and today's event emphasizes the club's dedication to the community year-round by continuing to provide a safe place for youngsters in our community to play and learn. The Dodgers Dreamfields at Franklin D. Roosevelt Park will also be one of our Los Angeles County Department of Parks and Recreation sites for our Dodgers RBI program in 2015."
"As one of the oldest parks in Los Angeles County dating back to the 1930s, Roosevelt Park has a long tradition of meeting the needs of the communities it serves," said DeFrantz. "The LA84 Foundation is pleased to have partnered with the Los Angeles Dodgers Foundation and Los Angeles County Parks and Recreation to further enhance the facilities the park offers. Youngsters using the fields will be able to hone their baseball/softball skills under the watchful eye of their coaches and parents, while having fun."
The two Dreamfields at Franklin D. Roosevelt Park include newly installed side and outfield fencing, newly replaced and refurbished backstop mesh and posts, newly installed metal dugout roofs, new laser leveled infield surface including new infield mix and bases, new turf infield and watering system, new laser-leveled outfield surface including new sprinkler heads and new sod, new remote controlled solar powered scoreboard and field signage.
Rhett Bollinger is a reporter for MLB.com. Read his blog, Bollinger Beat, and follow him on Twitter @RhettBollinger. This story was not subject to the approval of Major League Baseball or its clubs.