Managing expectations: Yost develops winner's mindset
Surrounded by trusted staff, KC manager has grown into a championship-minded approach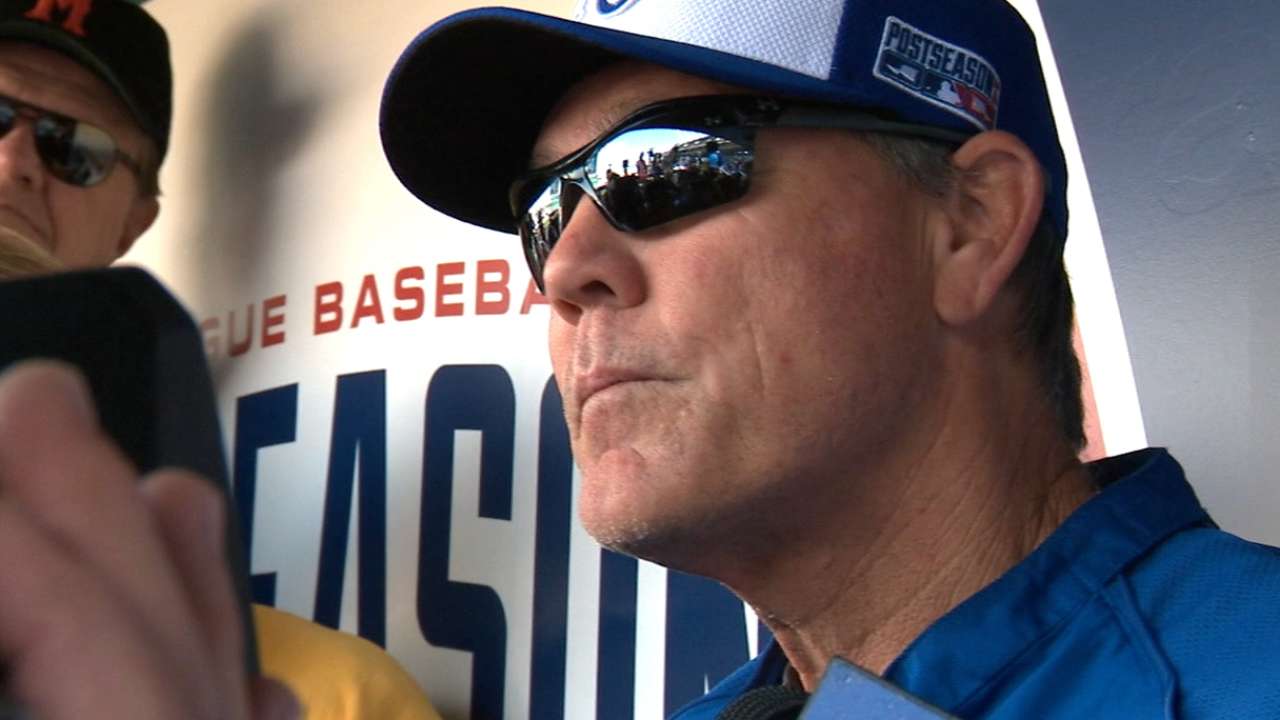 KANSAS CITY -- Despite winning eight straight postseason games, despite being in the World Series for the first time as a manager, Ned Yost is still waking up at 3 o'clock in the morning.
"I was vacuuming my condo at 4:30 this morning, cleaning the place up. I go to bed at 9, so by 3 o'clock that's six hours. That's all I need," Yost said in the Royals' dugout on Saturday. "It hasn't been vacuumed all summer long, and I thought with my grandbaby coming and he's crawling all over the floor, we'd better clean some stuff up."
Yost was at Kauffman Stadium to direct his Royals through a workout in preparation for Tuesday night's Game 1 of the 110th World Series against the San Francisco Giants (6:30 p.m. CT on FOX, with first pitch at 7:07). But he spent several minutes being as expansive and introspective as he's been during his five years as Kansas City's skipper.
Much of his preparation for his six years as Milwaukee Brewers manager and his tenure in Kansas City came during 12 seasons as a Braves coach for Atlanta's Hall of Fame manager, Bobby Cox. So they talk often.
Yost asked Cox about those sleep-deprived nights: "Bobby, when you went through this for 14 straight years, you're up at 3 o'clock in the morning, you're not getting any sleep. You're dead tired every time you come to the ballpark, and everything that goes with it just wears you out. Bobby goes, 'Yeah, ain't it the greatest feeling in the world?' "
Under close scrutiny and often belittled for perceived shortcomings in his managerial strategies, Yost admitted his approach has improved in this championship year.
"Mostly where I've grown is I listen a lot more, I think," Yost said. "Earlier years, I was pretty steadfast on what I wanted to do and what I thought was right. Now I've got tremendous coaches on the bench, and I utilize them 100 times a game. All of us are talking every situation that comes up, and I get their opinion and I listen, because they're smart guys."
Yost noted that bench coach Don Wakamatsu and hitting coach Dale Sveum have managed Major League clubs and that third-base coach Mike Jirschele managed Omaha to Triple-A championships. Pitching coach Dave Eiland, first-base coach Rusty Kuntz, catching coach Pedro Grifol and bullpen coach Doug Henry are all highly regarded.
"Listening is huge, because these guys are extremely smart guys, and there have been numerous times where I've wanted to go one way and they all wanted to go another. And I have gone their way, and it's worked out great," Yost said.
"I've never done that before. It's always: I know what I want to do and I'm going to do it. But they've helped me tremendously."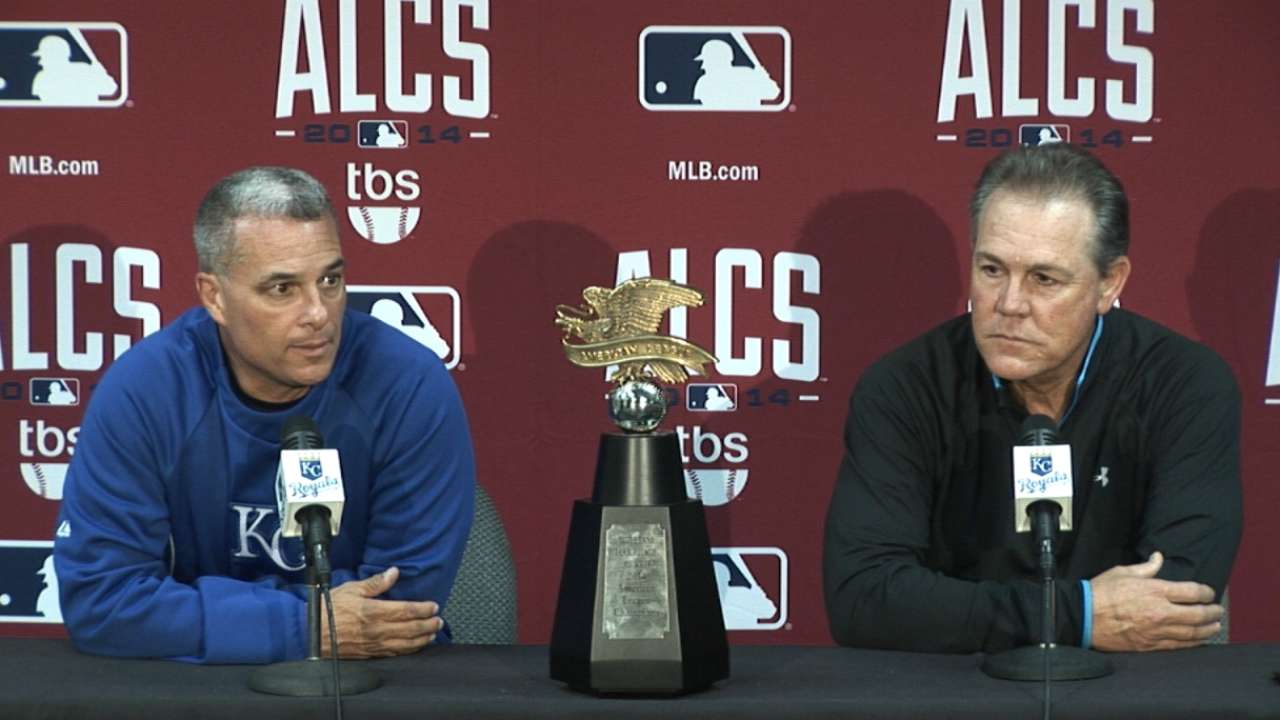 • Video: Yost, Moore prepare for World Series
Yost was dismissed by the Brewers in September 2008 with just 12 games remaining and the club struggling while in a dogfight for a National League Wild Card. Sveum, then a Brewers coach, took over and the club reached the postseason. That provided a lesson learned, too.
Yost realized that he had done the job of developing a young Milwaukee club, but he continued to stay in that mode even though his players had reached the point of being able to contend.
"I was still developing when I should have gone into a winner's mindset. I developed too long, and that was one mistake I wasn't going to make here," Yost said. "So when we came here, we were in the same mode. These young kids were coming up, we were having patience and we were developing them and developing them.
"Guys were screaming: 'Why aren't you pinch-hitting for [Mike] Moustakas, why aren't you pinch-hitting for [Alcides] Escobar?' Because I wanted them in those situations so when we got to that point where we could compete, they'd have that experience."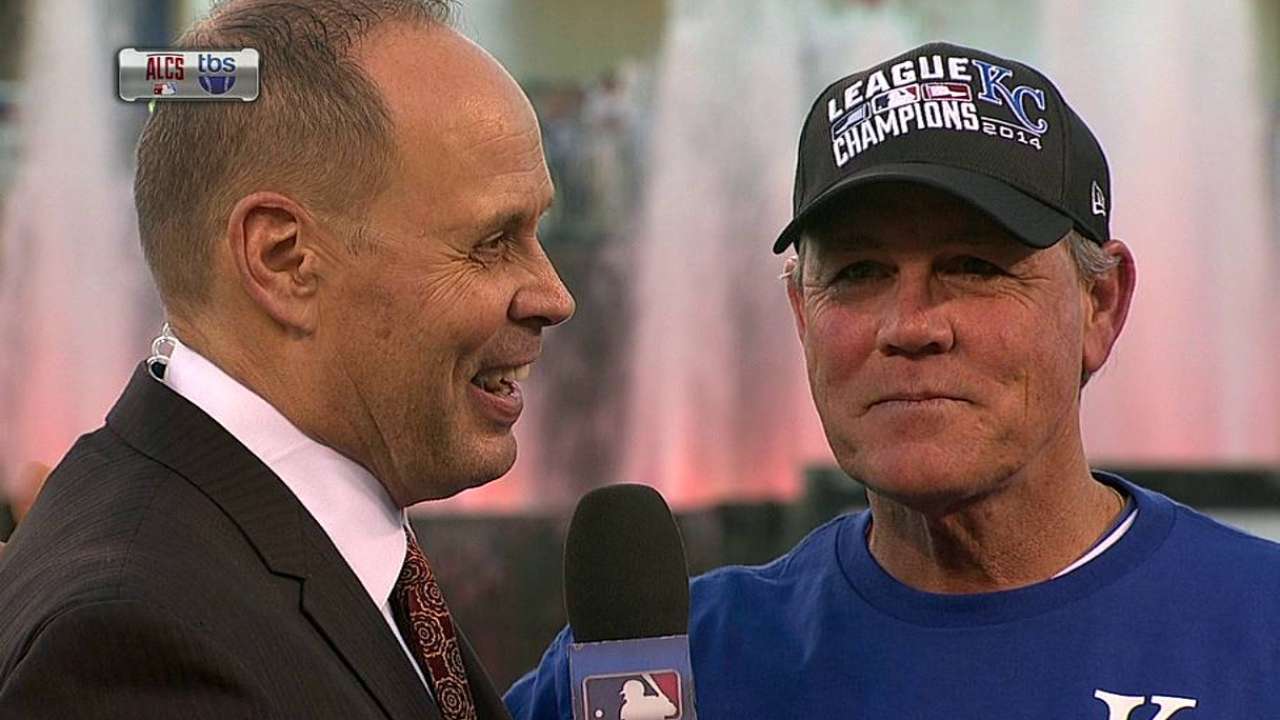 When the Royals came out of the 2013 All-Star break on fire and surged into Wild Card contention down the stretch, Yost realized things had changed.
"I knew coming in this year that development was over and we were going to compete. Especially in the last six weeks, it's been a total win-every-game mode," he said.
No more developing.
"That's been a little bit difficult for me because I'm a really good developer. Ask anybody in the world: You get to these points, is Ned Yost going to be able to get his team over the hump?" he said. "Well, I knew with these [coaches] and with their experience, I was going to lean heavily on them, and that's exactly what's happened.
"I've leaned on them, I've been able to adapt, I've been able to apply and I've been able to be flexible with everything they bring to the table. I mean, look where we're at."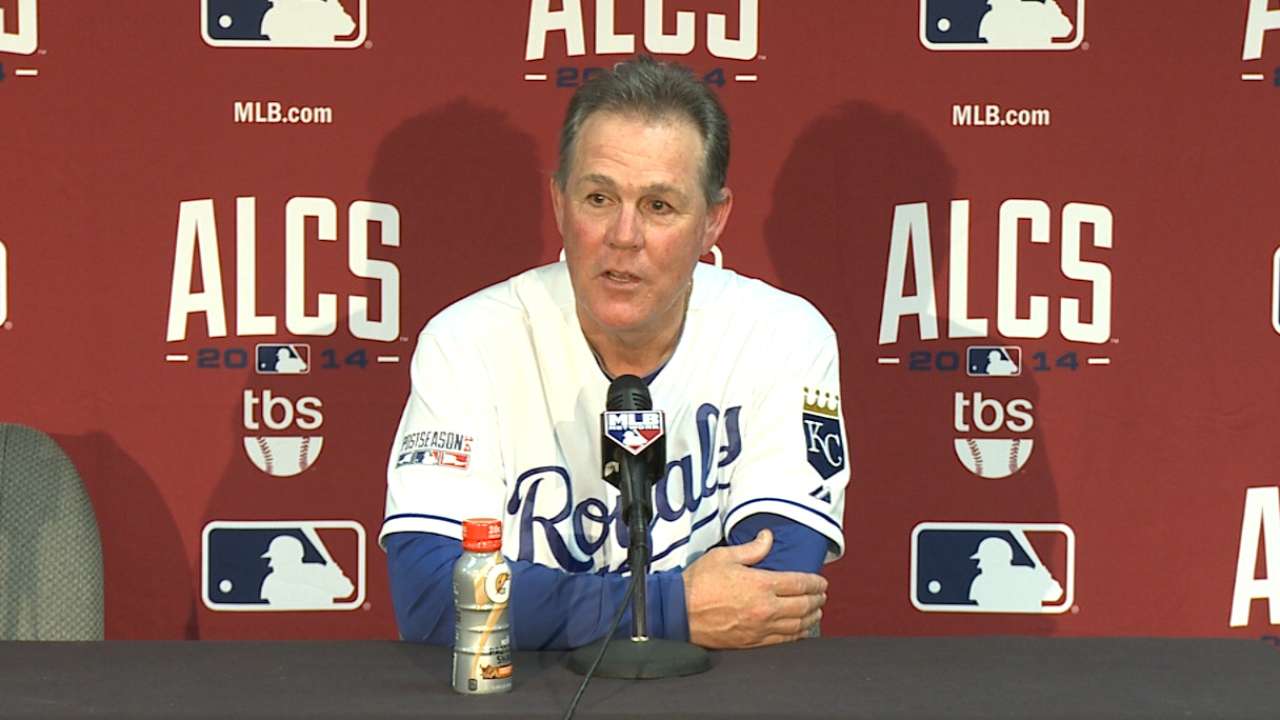 • Video: Yost on Royals' ALCS sweep
Yost feels that he's grown and adjusted and learned to relax more.
"As manager you think you can control everything, you can control the outcome when you really can't. And I've learned what I can control and what I can't control," he said. "If I put a starter on the mound and he goes out and gives up four runs in the first inning, I can't control that, but it used to drive me absolutely crazy, and I felt like I shouldn't have let that happen.
"I learned to let all that stuff go. I just control what I can control. Once the game starts, I have to adapt to the game, I have to react to the game, but I can't control what happens on that field. It's made the game a lot easier on me."
Even so, Yost still finds himself waking up at 3 o'clock in the morning, but ...
"I wake up excited, I wake up happy, I wake up anticipating Tuesday ... it's fun," he said.
Dick Kaegel is a reporter for MLB.com. This story was not subject to the approval of Major League Baseball or its clubs.