MLB.com Columnist
Lyle Spencer
October Giants: KC to see foe of a different color
Ten things to know about San Francisco, entering its third World Series in five seasons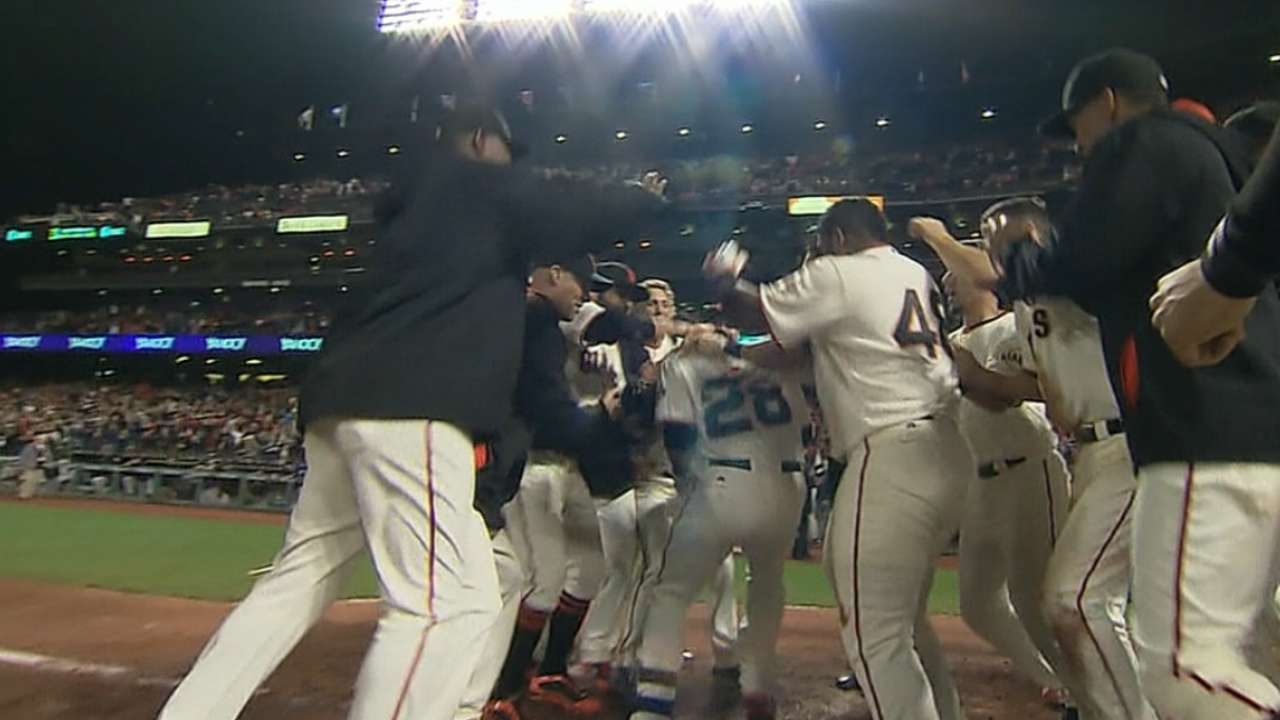 The euphoria in Kansas City is wonderful to behold. When you wait three decades to party like it's 1985, you don't want it to end. And this is one serious party, starting with the American League Wild Card Game conquest of the A's and riding right through playoff sweeps of the favored Angels and Orioles.
Now here come the Giants in the World Series, bringing a sobering reminder. While the soaring confidence of the K.C. faithful in these dashing young Royals is fully justified, they haven't seen anything yet quite like this troupe from San Francisco.
The Giants' track record is beyond impressive, with World Series championships in 2010 and '12. They have acquired a deeply rooted belief that October belongs to them. Something will break their way and they'll eventually prevail, no matter how bleak it might appear.
Thirty wins in the past 41 postseason games will do that.
Here are 10 things to know about the team that plans to crash the big party:
1. The Giants are tougher than they might look
San Francisco doesn't run out a band of hulking, menacing figures. When you get past ace Madison Bumgarner and outfielder/pinch-hitter Michael Morse, you find a collection of normal-sized Giants, and one not so normal in shape. Pablo Sandoval, playful as a baby panda, might not look like an elite athlete, but looks can be deceiving. Like his team, Sandoval thrives on pressure.
The Giants do have a size advantage at one position: manager. Bruce Bochy is a big dude, with inches and pounds on Royals manager Ned Yost. There is no better leader in the sport than Bochy, but physical intimidation has nothing to do with it.
Bochy imposes his will in ways so subtle hardly anyone even notices. He walks slowly and carries no stick, but his athletes will run through walls for him -- not that he'd ever make that request, being much too cool and smart.
The Giants' toughness on the field springs from Bochy's faith in their ability to handle themselves in any situation. If push comes to shove, they'll shove back. But their toughness is on the inside. Last time they were in the big show on the grand stage, two Octobers back, they swept a Tigers outfit that looked like it could have competed in the NFL. Size doesn't matter in this sport -- unless you're talking about the organ in the chest.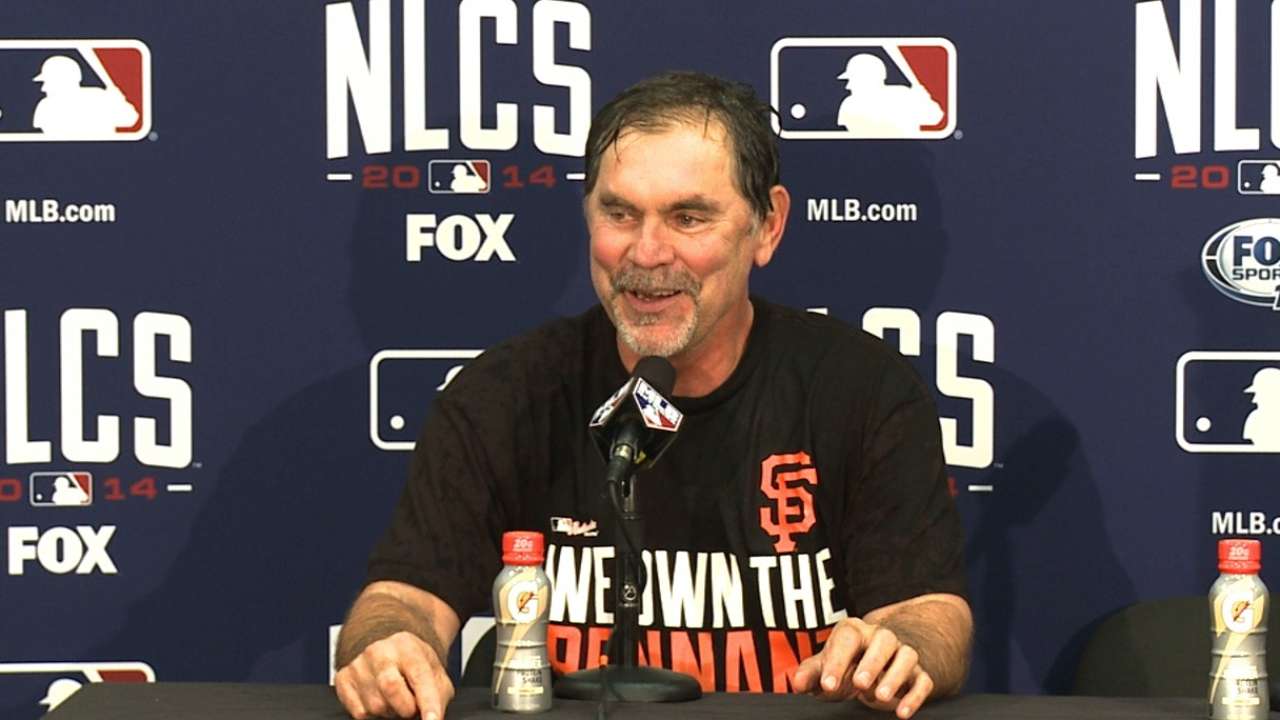 • Video: Bochy on Giants' continuity
2. This isn't the Olympics
These Royals are breathtaking. We've seen relay teams in the Summer Olympic Games that aren't much swifter. The Giants can run, but not like these guys. On the track, it would look like Jamaica matched against a Bay Area high school team in the sprint relay.
Speed kills -- the Royals' athleticism has separated them -- but you shouldn't get overconfident about running circles around the Giants. What speed they do have, they put to use at just the right moment.
Young bench guy Matt Duffy scored from second on a wild pitch at a critical moment in the National League Championship Series against the Cardinals. The Giants pressure teams into lapses and mistakes, changing games. They might not steal a lot of bases -- or any bases -- but they'll take the extra base and they rarely run into an out. Their outfielders can't fly like Lorenzo Cain and Jarrod Dyson, but they get there and catch almost everything.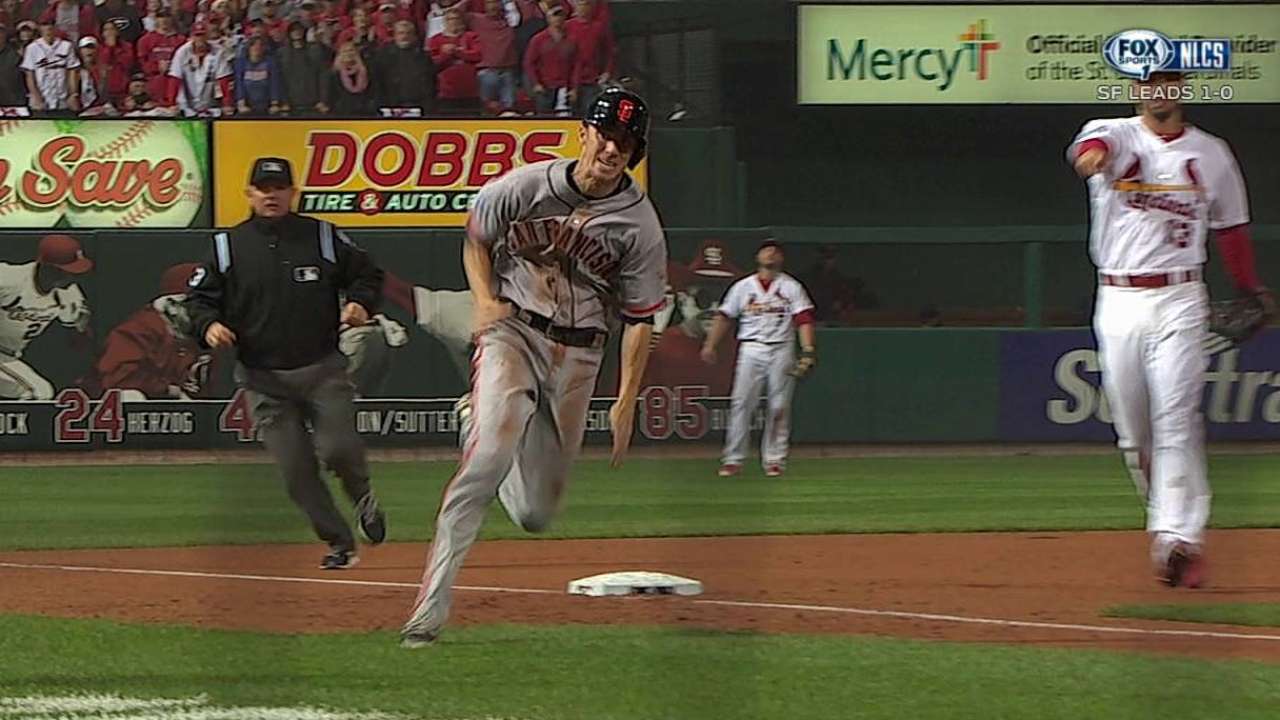 • Video: Duffy scores on wild pitch
3. MadBum stands alone in October
Bumgarner has emerged as a 6-foot-5, 235-pound security blanket. When it comes to delivering the goods in postseason play, the Giants' 25-year-old lefty from North Carolina takes a back seat to nobody in the game.
Two months past his 21st birthday, when he made his postseason debut in 2010 with the championship-bound Giants, Bumgarner is 5-3 with a 2.67 ERA in 11 postseason appearances, 10 as a starter. His first gem came in Game 4 of the World Series that October, when he shut out the Rangers on three hits across eight innings in Texas. The Giants won it the following night behind Tim Lincecum.
Bumgarner's only subpar outings came in the NL playoffs in 2012 against the Reds and Cards, but he got it together again in the World Series with seven scoreless innings against the Tigers, holding them to two hits while striking out eight in Game 2.
Calling on that experience, MadBum has been MadBomb in 2014. In 31 2/3 innings against the Pirates, Nationals and Cards, he has yielded five earned runs and 19 hits, striking out 28 while walking five. His ERA in the four starts is 1.42. He is on one of the great postseason runs in history, mixing quality breaking stuff and premium heat with that deceptive cross-firing delivery.
Royals ace James Shields has earned his "Big Game James" designation over the years, but he has not had an October comparable to Bumgarner's.
"We've got a lot of guys that [have] been through this," Bumgarner said. "They know what to expect, and they are not afraid of the moment, by no means. And I think the young guys that we have that have not been through it, they feed off of that, and they know that they don't have to be afraid either. They are stepping up and making some big plays for us and getting some big hits.
"I really like the group of guys that we have here. It's going to be a fun Series against Kansas City."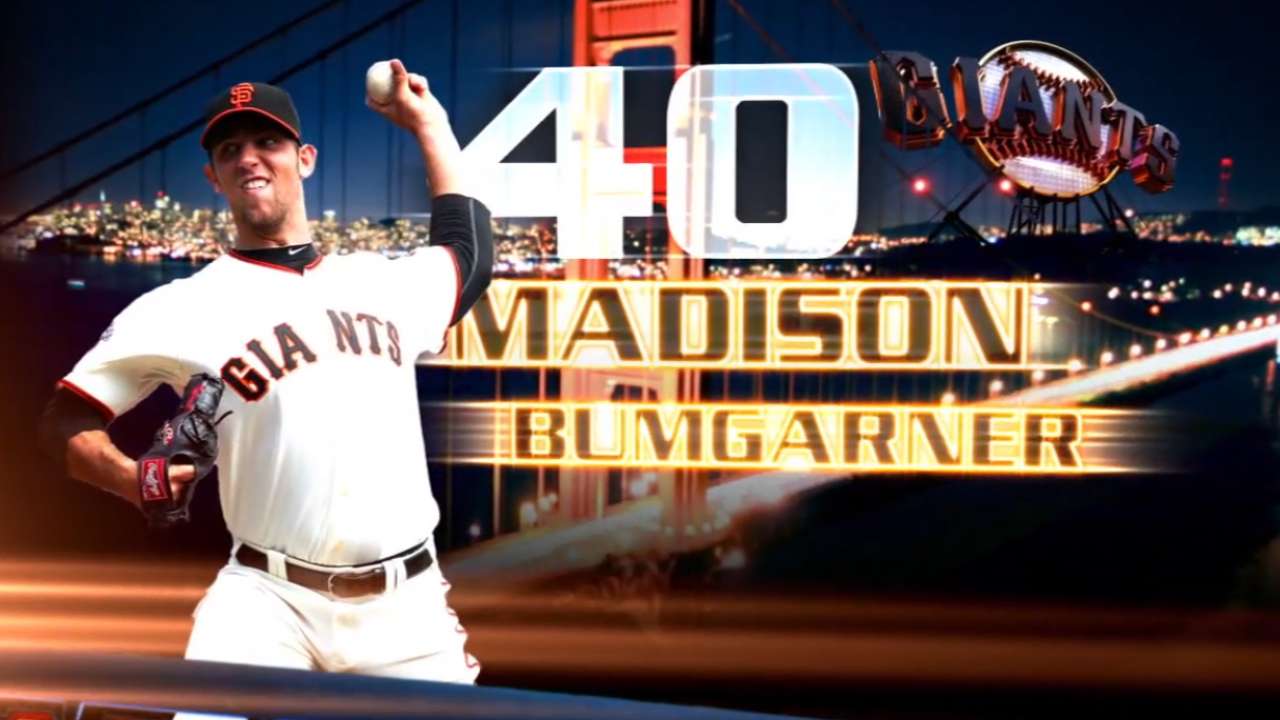 • Video: MLB Tonight analyzes Bumgarner
4. Aging starters won't scare
Behind Bumgarner, their horse, Bochy lines up three righties -- Jake Peavy, Tim Hudson and Ryan Vogelsong -- who haven't heated up radar guns in a long time. But these are tough-minded, battle-tested vets who love the moment, bringing wisdom and guile to their starts.
Experience in a World Series, with everything so magnified, can be an asset. The Giants have it in large volume.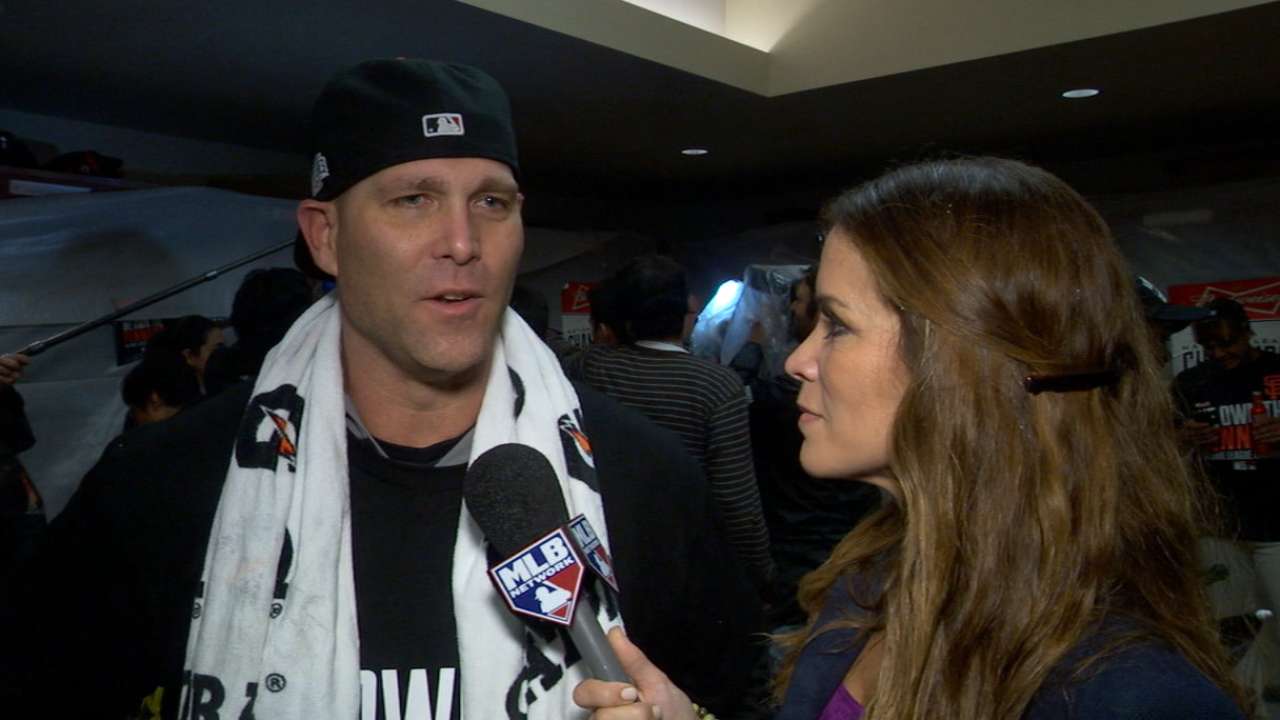 • Video: Hudson on Giants winning NLCS
5. The bullpen gets it done
They don't blow teams away in the fashion of the Royals' three flamethrowers, but the Giants' relievers have a history of getting outs when it counts. Santiago Casilla is their third closer in the three October runs, and he is ably complemented by lefties Jeremy Affeldt and Javier Lopez, along with Yusmeiro Petit and Sergio Romo from the right side.
You don't get a steady diet of 97-100 mph heat from these guys, but they are smart and tough in that Giants way. This might not be the slam-dunk Royals advantage everyone assumes it is.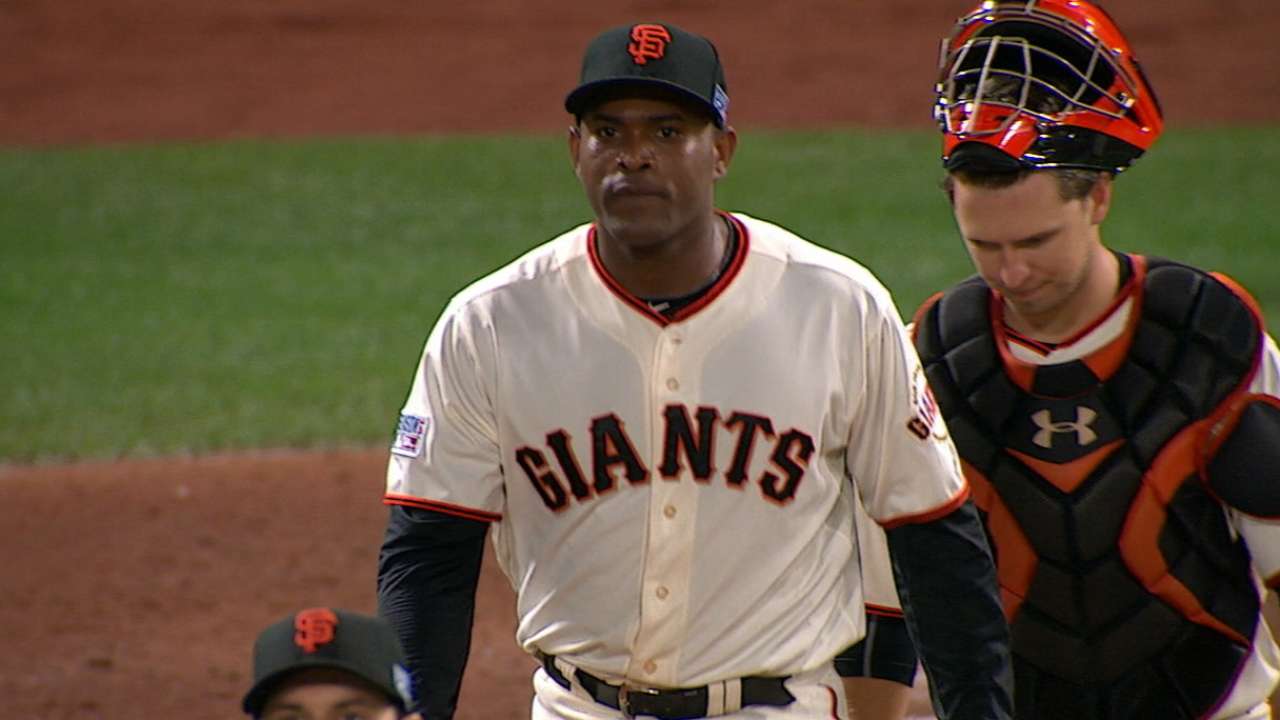 • Video: Casilla shuts door on Cards in Game 4
6. Buster Posey is the new standard for winning
Mild-mannered and soft-spoken, with no hint of bravado, Posey is the game's premier winner in Derek Jeter's wake. Posey has caught every game in the Giants' three postseason runs, starting as a rookie in 2010. They are 30-11 in October -- think about that for a second -- with Buster calling, blocking and hitting pitches. It's no accident.
Adopting the demeanor of his manager, Posey delivers in subtle ways. Nobody will call him Mr. October with all those singles, but that's who he is.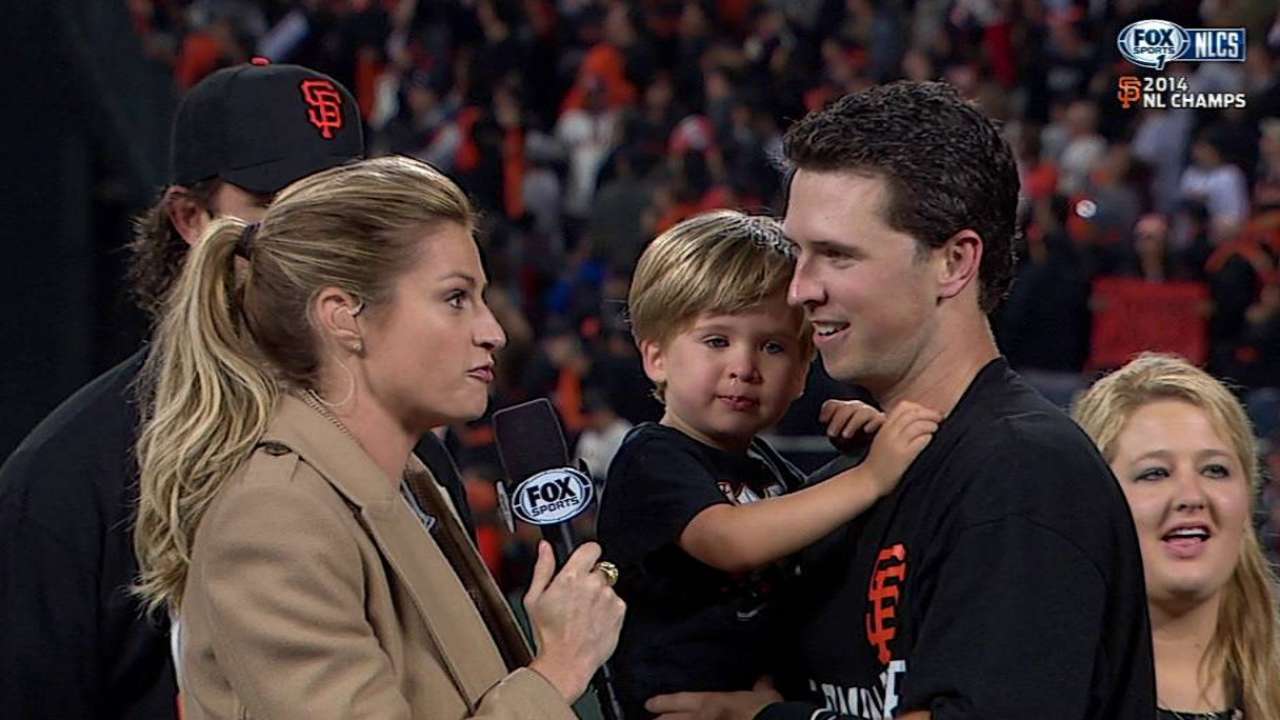 • Video: Posey on third trip to World Series
7. They make themselves right at home on the road
Kauffman Stadium will feel like a college football crowd for Games 1, 2 and, if necessary, 6 and 7. The Giants might have a hard time hearing each other, but they are so finely tuned, verbal communication is not always necessary.
This is one of the great road clubs in postseason history. Since 2010, the Giants are 16-5 in hostile environments -- even better than their 14-6 record at home. This speaks to character, mental toughness and chemistry, the intangibles that drive this amazing team.
8. They have rediscovered the long ball
Through their first nine postseason games, the Giants had been outhomered 10-2. They were scoring in creative ways -- errors, outs, wild pitches, walks -- but rarely with loud noises off the bat.
That changed in Game 5 of the NLCS against the Cards. Rookie Joe Panik ended the team's homerless drought at 242 at-bats with a two-run shot, Morse tied it with his eighth-inning blast, and Travis Ishikawa struck the decisive blow. During the regular season, the Giants hit 37 more homers than the Royals. Kansas City stole 97 more bags. This could make for a fascinating contrast of styles.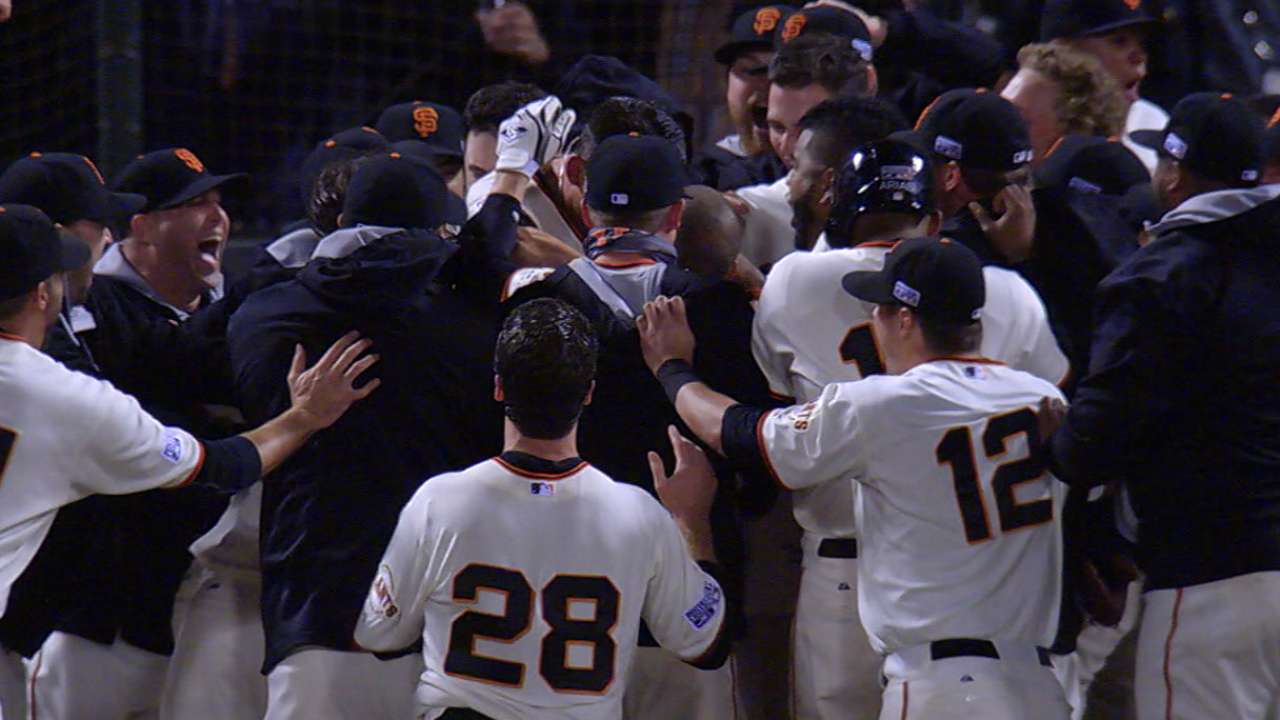 • Video: Ishikawa's homer sends Giants to World Series
9. They keep things loose to manage stress
The team personality is even-keel, but the Giants have imported some high-energy performers in recent years to lighten and brighten the atmosphere. Hunter Pence is an original, arguably the most interesting individual in baseball. Peavy, Hudson and Morse are live wires.
The Giants are all business between the lines with Posey, Bumgarner, Brandon Crawford and Co. But they know when and how to have a good time. Balance is everything.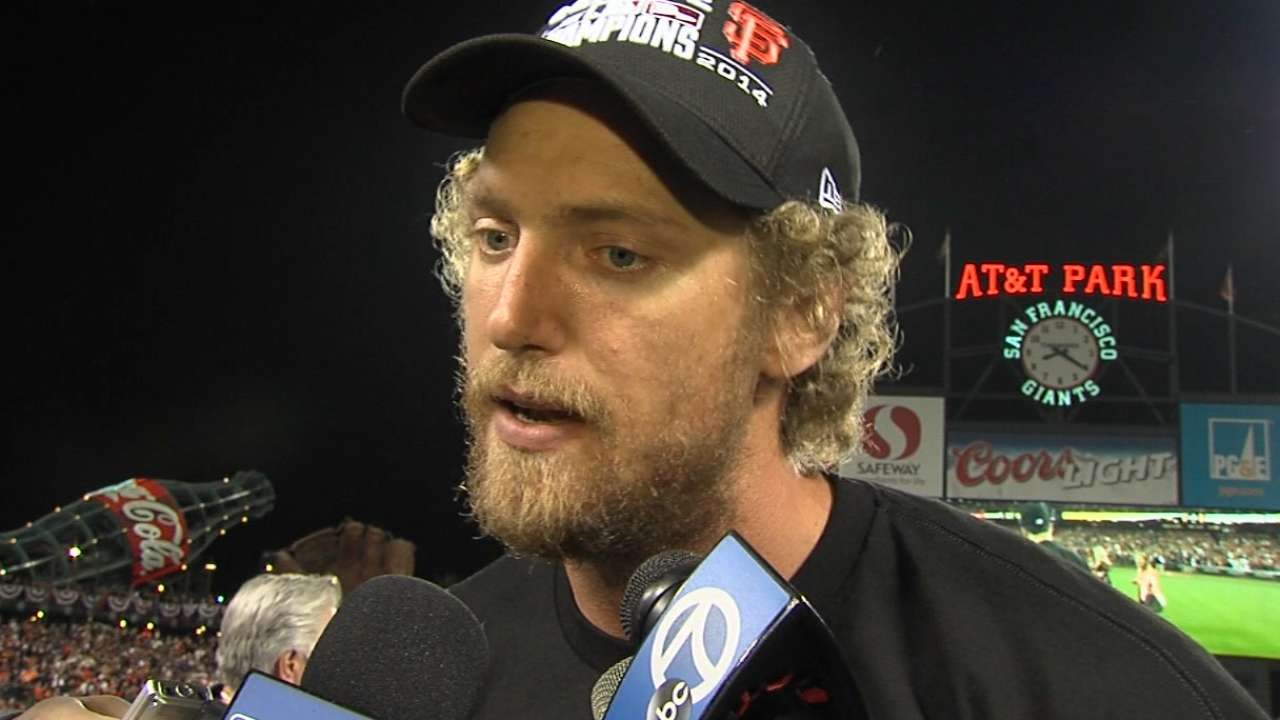 • Video: Pence on winning NLCS at home
10. Pence, Panda love the moment
Sandoval already has his place in postseason history with his three-homer performance in Game 1 of the 2012 Fall Classic in San Francisco. "The Panda" is not one to change his style in the postseason, hacking away at anything that looks good -- which is pretty much anything from his toes to his nose. He's a .325 career postseason hitter in 32 games, with six homers and 16 RBIs, and his glove is pure gold. Beware the Panda.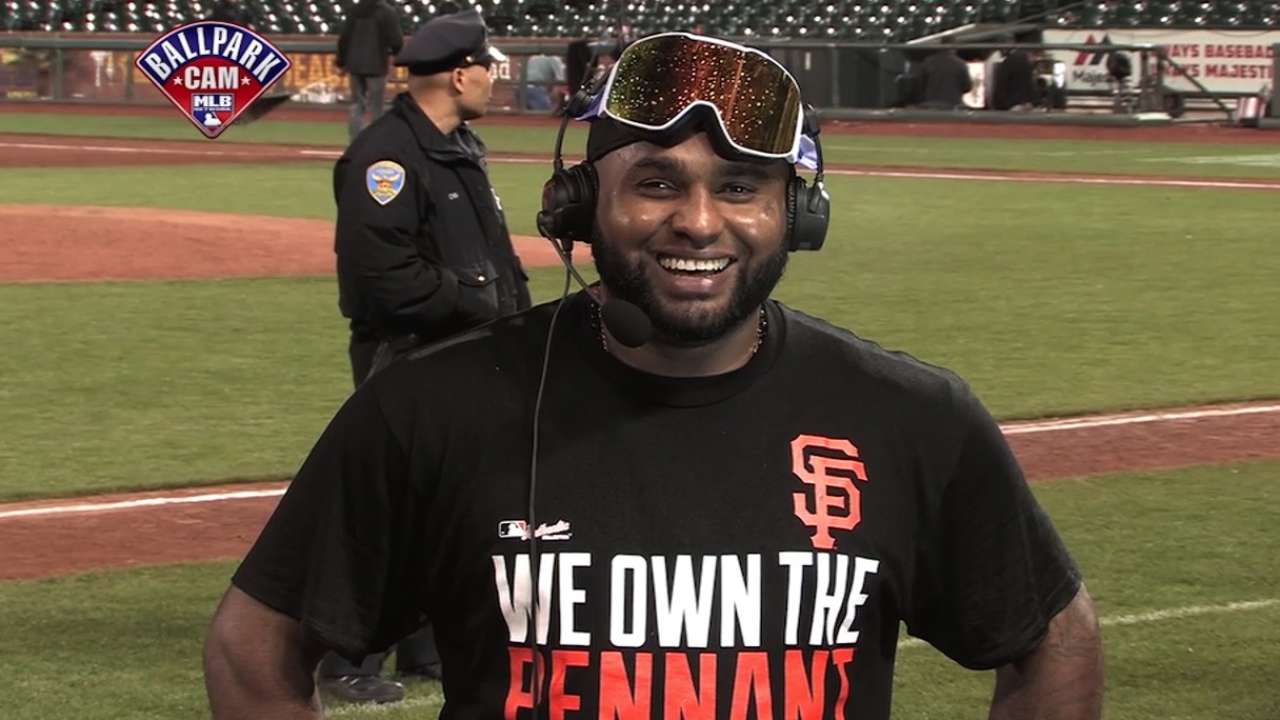 • Video: Sandoval joins MLB Tonight
Like Sandoval, Pence plays with a heightened spirit reflecting his love of the game and the challenge it presents every day. He plays every day with the same passion, and it clearly spreads through the ranks. Everything he does looks unconventional, but the results are all that matter. An All-Star this season with 29 doubles, 10 triples and 20 homers, Pence has been held to three doubles and three RBIs this postseason. He's due to break out.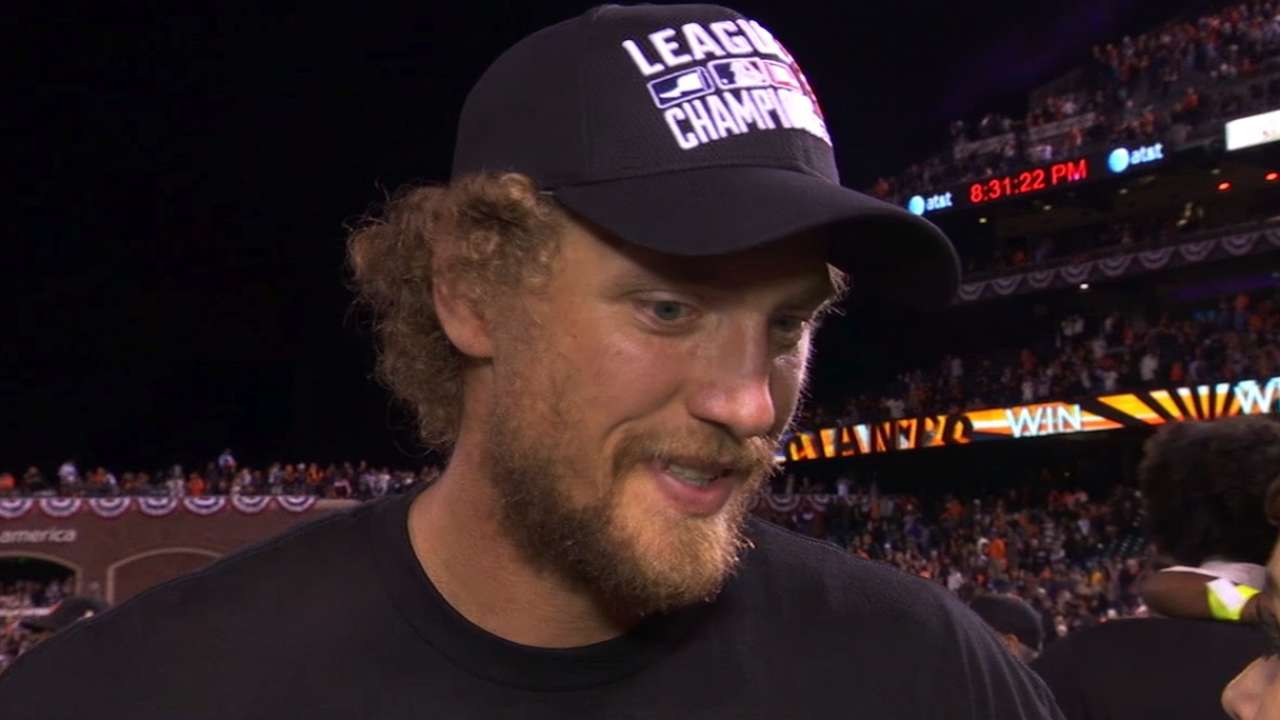 Lyle Spencer is a national reporter for MLB.com. This story was not subject to the approval of Major League Baseball or its clubs.