Royals tab Shields, Ventura for Games 1 and 2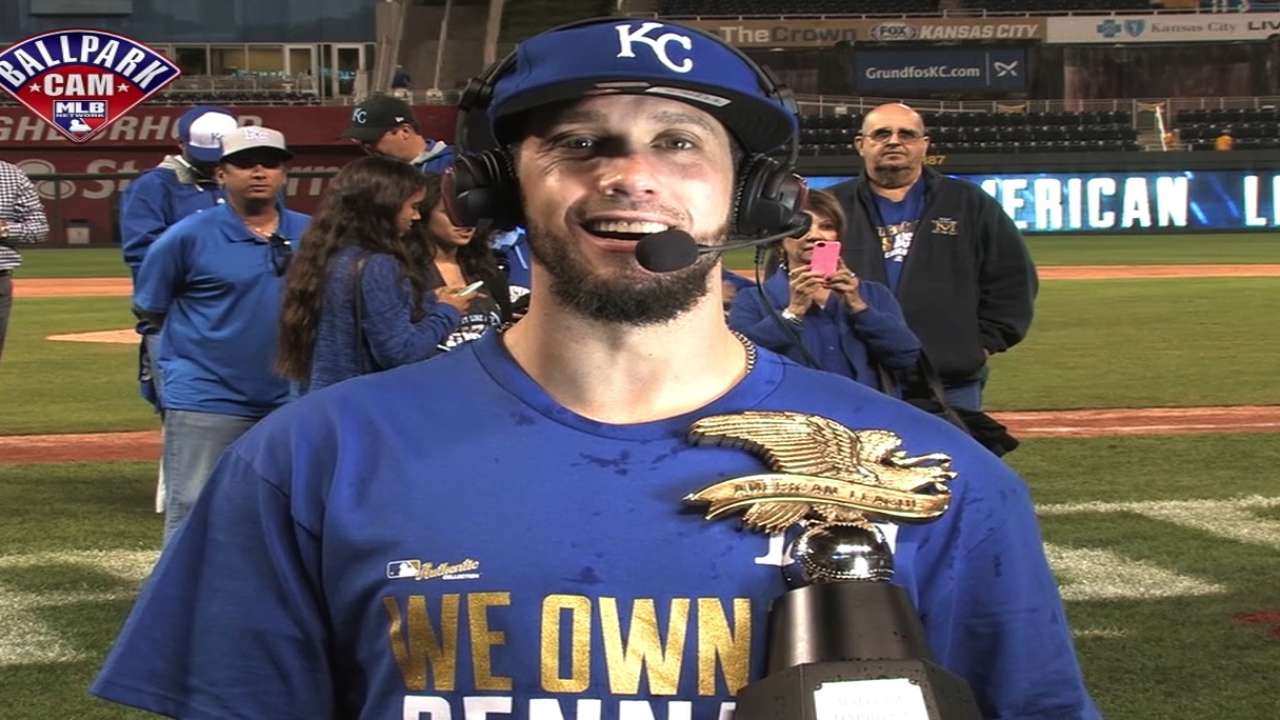 KANSAS CITY -- Royals manager Ned Yost was asked on Saturday if there was still a question mark about his starting pitcher against the Giants in Game 1 of the World Series.
"There's never been a question mark," Yost said. "We'll go James Shields in Game 1, [Yordano] Ventura in Game 2. That's as far as I'm going."
Shields, the guy who was brought into Kansas City precisely for this reason, was never really in doubt as the starter for Tuesday night's game at Kauffman Stadium. Yost had just not made it public.
Obtained from Tampa Bay in a trade before the 2013 season, Shields this season was 14-8 with a 3.21 ERA in 34 starts. Among those victories was a four-hit shutout of San Francisco.
He's pitched in three postseason games so far. He went five innings and gave up four runs in the Wild Card Game victory over Oakland and went six innings against the Angels, yielding two runs, in winning Game 3 of the American League Division Series. In Game 1 of the AL Championship Series, he gave up four runs in five innings in a victory over Baltimore.
He'll square off against Giants ace Madison Bumgarner.
Shields is the only pitcher on the Royals' staff to pitch in a World Series. On Oct. 23, 2008, he worked seven shutout innings in Tampa Bay's only victory over Philadelphia that year.
Ventura was 14-10 with a 3.20 ERA in 31 games (30 starts) in his rookie season. He did not pitch in the Royals' three-game sweep of the Giants in August. He'll pitch opposite Jake Peavy in Game 2.
"He's a good matchup against those guys, we like him in this park and that's what we decided," Yost said.
Actually, Ventura had a better record on the road (8-3, 3.18 ERA) than at home (6-7, 3.21 ERA) this season. He's appeared in three postseason games, including one brief relief outing and two starts.
In ALDS Game 2, he allowed the Angels just one run in seven innings and in ALCS Game 3, he went 5 2/3 innings against Baltimore and gave up four runs before departing with a stiff shoulder, now deemed OK.
"I'm excited, Ned has a lot of confidence in me," Ventura said. "I'll pitch it like a normal game and throw strikes."
Ventura indicated there are no more problems with his shoulder.
"My shoulder is awesome right now," he said.
Yost indicated he'd stick with the same batting order that's gotten the Royals through eight straight postseason victories with no changes on Tuesday night.
"Not for the American League games," Yost said. "For the National League games, of course, we're going to have to have a different lineup because we won't have Billy [Butler] in there. But for the first two American League games, we'll keep the same lineup."
His 25-man roster isn't due until Tuesday.
"We're still not set on the roster, we're still debating some things," he said.
Dick Kaegel is a reporter for MLB.com. This story was not subject to the approval of Major League Baseball or its clubs.