MLB.com Columnist
Richard Justice
Pence and San Francisco are a perfect fit
Veteran has become fan favorite, clubhouse leader in 2 1/2 seasons with Giants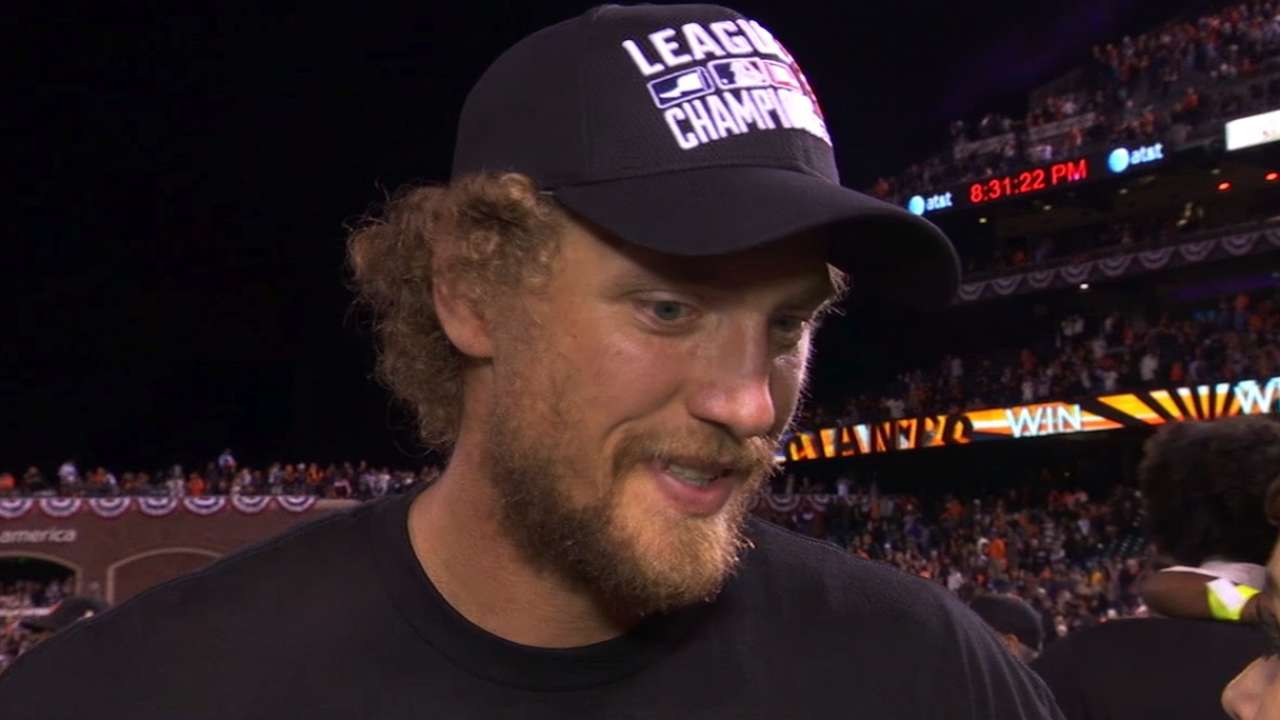 Maybe all you need to know about Hunter Pence is something that happened early in the 2010 season, when he was with the Astros. He was hitting .214 on May 10 of that year, and it was the first time in his first four big league seasons that he'd struggled. The next night, after Pence got three hits in a game against the Padres, I asked if there was a reason for his problems.
"I read a book on relaxation during the offseason," Pence said.
And?
"I tried to relax."
And?
"I've played this game one way my whole life. I've got to swing hard and play angry. That's what got me here."
To the people who followed the Astros as Pence was establishing himself, that was no surprise. He'd been summoned to the big leagues in 2007 and was an impact player from the beginning.
You could write Pence down for 25 home runs and 30 doubles every season. You could also count on him playing hard every game. He also played with a certain joy and enthusiasm, an attitude that made him a fan favorite from the beginning.
Right there at the start, long before he became something of a cult hero with the Giants, some of Pence's veteran teammates with the Astros -- Brad Ausmus, Lance Berkman, Craig Biggio -- were struck by this energy.
There was the night Pence dived for a warmup throw from his center fielder. Yes, right there between innings, he did a headfirst dive for a warmup throw. His teammates cracked up.
Another time, after a bad game, Pence was visibly upset at the way he was swinging the bat.
"Hey, look," Biggio told him, "don't go home feeling bad. Go in the [batting] cage and take some swings until you feel it click back in."
Around a half-hour later, Pence went back to the clubhouse drenched in sweat and smiling.
"I got it back," he said.
Ausmus rolled his eyes.
"You got it?" Ausmus asked. "Just like that? OK, I went to see two hits tomorrow night."
Pence had three.
In about 100 ways, Pence is the guy we'd like every professional athlete to be. He's an all-out-effort guy. He works his tail off in the weight room and the cage, and attempts to know the game inside and out.
• Video: Pence robs Werth with leaping catch
Pence also cares deeply about his teammates and his team, and is completely comfortable on the big stage. Two weeks ago, when the Giants and Pirates were about to play the National League Wild Card Game, I mentioned to Pence that it didn't seem right that six months of hard work could end with one bad game.
"No, that's exactly how it's supposed to be," Pence said. "We weren't good enough to win our division, and now we have this chance to keep playing. If you're a competitor, this is exactly what you want."
Perhaps that's why Pence has become something of a cult figure with the Giants. In a city where the ballpark is packed and the crowd is roaring every single night, he is at his best.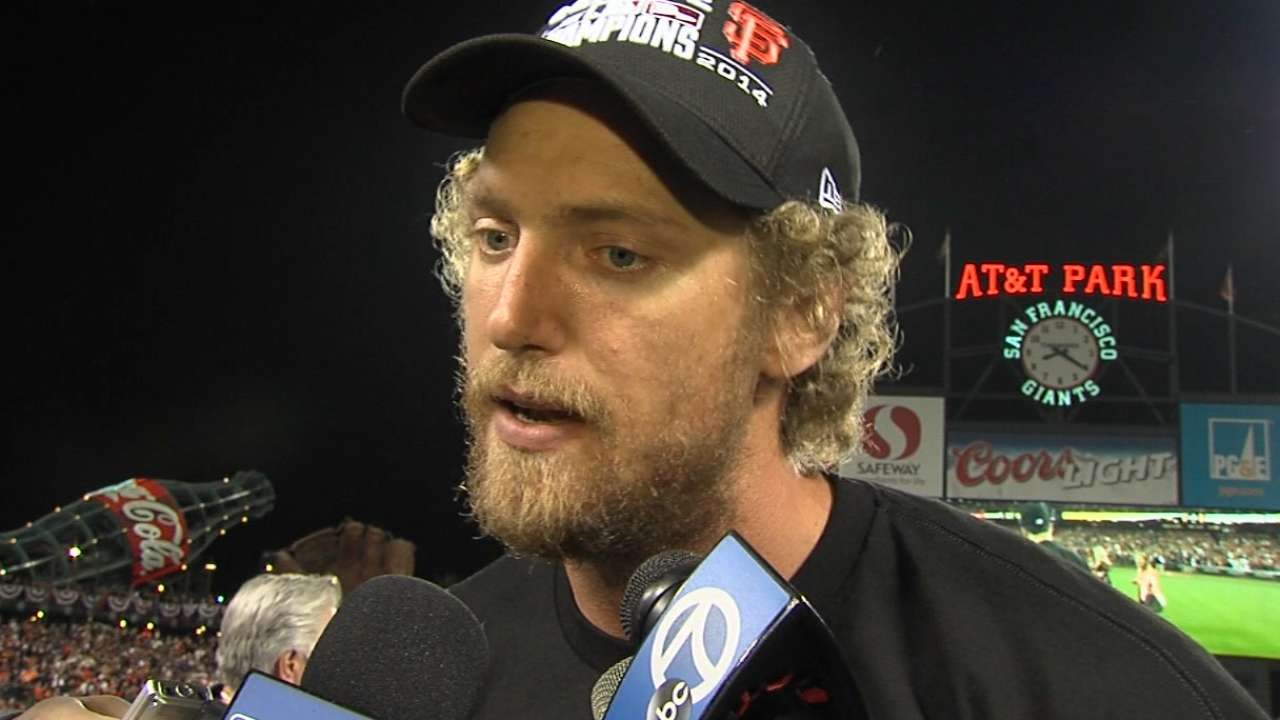 • Video: Pence on clinching pennant at home
And so, here Pence is again, helping the Giants win the NL pennant for the second time in three seasons. They'll begin their quest to win a third World Series in five seasons on Tuesday, with Game 1 of the 2014 Fall Classic in Kansas City (4:30 p.m. PT air time on FOX, first pitch at 5:07 p.m.).
Pence first caught the eye of Giants manager Bruce Bochy at the 2011 All-Star Game, at Chase Field. Bochy managed the NL squad; Pence played.
Bochy knew that Pence was a terrific player, that he could hit with power and steal bases and all that. What he didn't know, what he couldn't have known, is what Pence was like in the clubhouse.
Bochy was struck by the fact that Pence was bigger and stronger than he thought, but what really impressed him was his energy and enthusiasm, and how he interacted with his teammates.
Bochy left Phoenix thinking that Pence might be one of those guys who means more to a club than numbers -- although the numbers were solid, too. He told Giants general manager Brian Sabean that Pence might be a good fit.
And that he has been, a perfect fit.
Sabean acquired Pence from the Phillies at the 2012 non-waiver Trade Deadline, and three months later, Pence helped the Giants win the World Series for the second time in three seasons.
Thus was born a perfect marriage. The Giants have had 383 regular-season games since Pence arrived, and he has played in all of them. The Giants will tell you that they feed off Pence's enthusiasm and his impromptu pep talks, that his sheer joy for the game is infectious.
Bochy calls Pence "the most low-maintenance player" he has ever had. How low-maintenance?
Pence has visited Bochy's office only twice in their three seasons together. Once was to ask why he wasn't in the lineup.
"You're playing, Hunter," Bochy told him. "You're always going to be playing."
And that's all Pence asks.
"It would hurt my feelings if he didn't start me a game," Pence said.
And the other conversation?
That happened near the end of last season, as Pence approached free agency. Pence wanted Bochy to pass the word to his bosses that he didn't want to be a free agent, that he'd found everything he could ever want in being part of the Giants. He was willing to give the Giants a hometown discount to get the deal done quickly.
Pence signed a five-year, $90 million extension a couple of days later.
Rusty Pendergrass, who was a scout for the Astros in 2004, fell in love with Pence when Pence played for the University of Texas-Arlington. Some scouts couldn't overlook certain things -- a little hitch in his swing; how he ran kind of funny; how he just didn't look natural doing the things really good players have to do.
Instead of focusing on the negatives, Pendergrass, who now works for the D-backs, looked at the other side of Pence. He was extremely productive. Pence had power and a quick bat. He also worked relentlessly.
Pendergrass didn't know how good Pence was going to be, but he was absolutely certain that he would take advantage of every last ounce of talent he had. No scout has ever made a more accurate assessment of a player.
These days, Pence has become so popular that fans have turned #HunterPenceSigns into a Twitter hashtag.
For instance:
Hunter Pence thinks even numbers are odd.
Hunter Pence likes pumpkin spice lattes.
Hunter Pence is all about the treble not the bass.
Hunter Pence's Supreme Court amicus briefs are 9001 words long.
Cool, huh?
Pence has laughed about the signs and even made one of his own, one that speaks volumes about these next few days.
Hunter Pence will work for ring.
Indeed.
Richard Justice is a columnist for MLB.com. Read his blog, Justice4U. This story was not subject to the approval of Major League Baseball or its clubs.