Royals' relief trio makes claim as best ever
Herrera, Davis, Holland extend historically dominant season into World Series run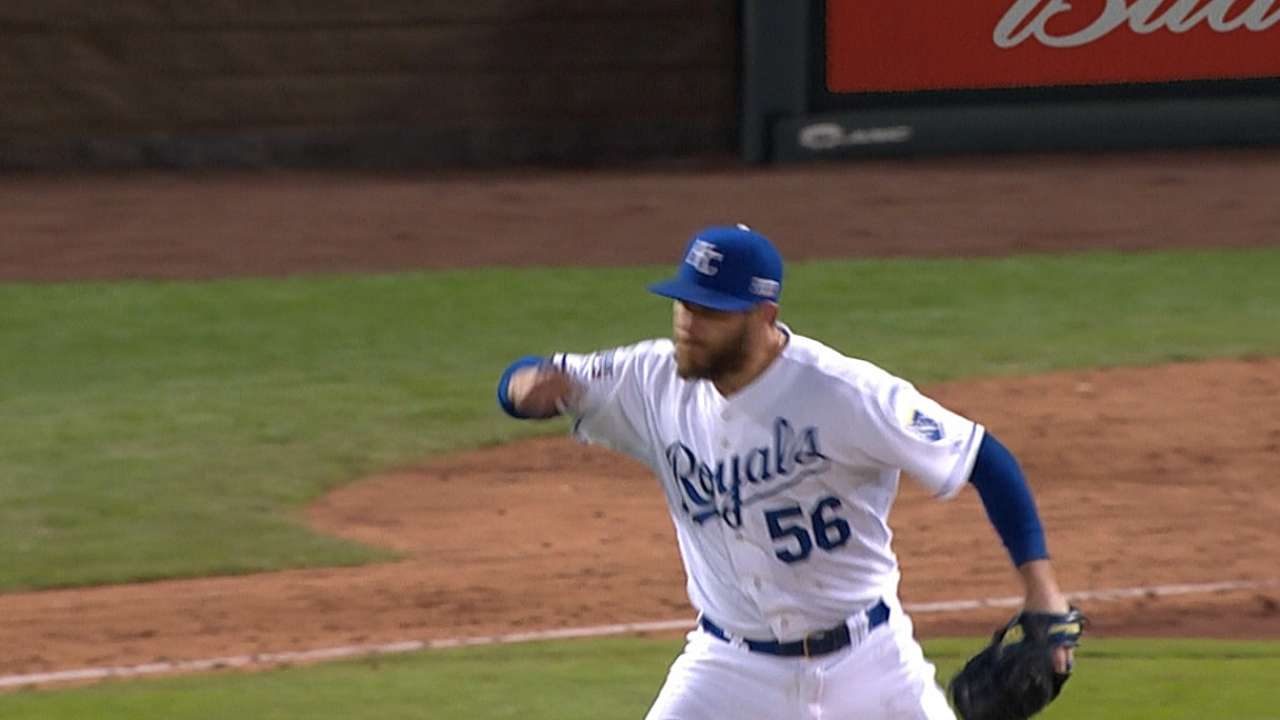 Given the modern-day setup, managers often talk about an elite bullpen's ability to shorten a game. One could argue that no bullpen has ever done that more than the 2014 Kansas City Royals.
The specialized bullpen era has produced a number of formidable relief trios, with the latest being Kelvin Herrera, Wade Davis and Greg Holland of the upstart Royals.
When considering all-time great bullpens, one could make a case for teams such as the 1990 Reds, 1996-98 Yankees, 2003 Astros and '03 Dodgers. Yet the collective numbers put up by Herrera, Davis and Holland have never been seen before, and the case could be made that the Royals' trio from this year is the most dominant of all-time.
Davis, Herrera and Holland each posted a sub-1.50 ERA, while making 71, 70 and 65 appearances, respectively. No other team has ever had even two relievers, let alone three, post sub-1.50 ERAs with more than 60-plus appearances.
They were also the only trio with sub-1.50 ERAs and at least 50 strikeouts each. Only the 2013 Rangers had even two relievers (Neal Cotts and Joe Nathan) reach those plateaus.
"All three of them have been dynamite all year long," Royals manager Ned Yost said during the club's American League Championship Series victory over the Orioles. "And for a team to have three knockout relievers like we've got, it's pretty special. There's not a lot of teams that have three guys that you can count on to come in and close the door and turn a nine-inning game into a six-inning game."
The Royals have no doubt taken advantage of that fact, using their starters for no more than six innings in seven of their eight games so far this postseason, all of them victories. Yordano Ventura's seven-inning outing in Game 2 of the AL Division Series has been the longest by a Royals starter this postseason.
Most recently, Kansas City became just the second team during the Wild Card era to win the ALCS without a single starter completing six innings in the process. Only the 2011 Rangers had done so previously.
"You know, for me, the whole focus is just get through the sixth inning tied or with the lead so that we could get to those guys," Yost said. "If we have the lead, I feel like the game is over. If we're tied, I feel like they're going to hold us there until we score a run."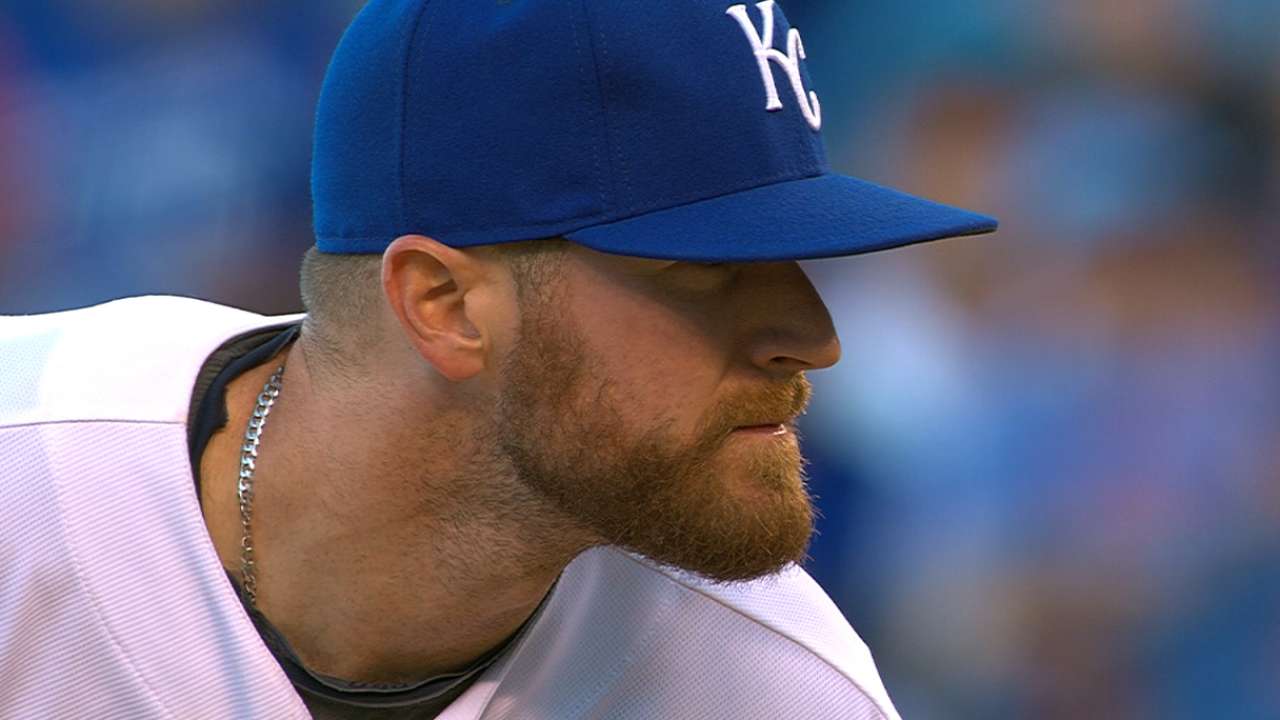 • Video: Davis' scoreless outing
Some of the other history made by Herrera, Davis and Holland this year suggests it's not the least bit unreasonable to operate by that train of thought. They are only the second relief trio -- joining the 2013 Braves -- to each pitch at least 60 innings and allow fewer than 15 earned runs. In fact, the most earned runs allowed by any of those three Royals relievers was Herrera's 11. If the qualifiers are lowered to 60-plus innings and 11 or fewer earned runs, this Royals' trio again stands alone.
A big key to their success is keeping the ball in the park. Holland allowed just three homers this season, and Davis and Herrera are the first relief duo to each pitch at least 70 innings during the regular season without giving up a single home run. That's been key for Herrera, who allowed nine homers in 2013 while posting a 3.86 ERA in 58 1/3 innings.
"Kelvin figured out how to become a complete pitcher and how to think about situations, and it's really clicked for him this year," Holland said. "I always knew Wade had good stuff, and you never really know how that's going to transition going from a starter to a reliever, so it's been a lot of fun to watch those two guys work."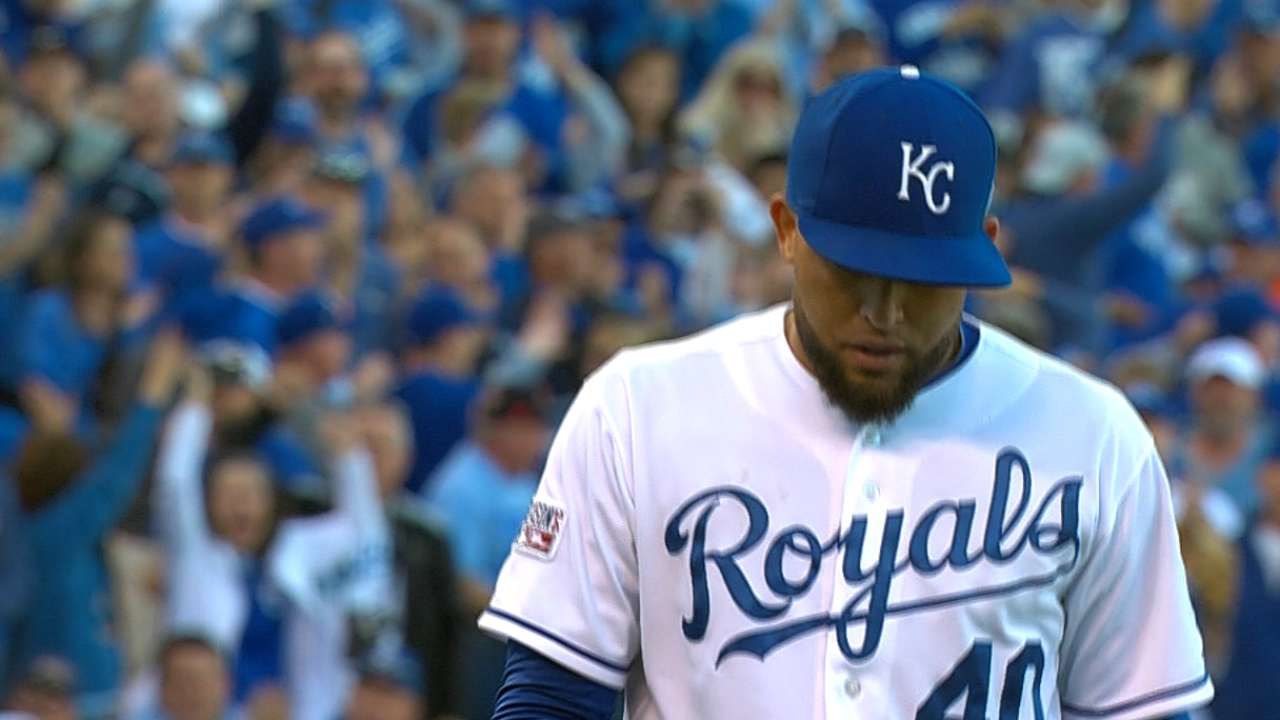 • Video: Herrera shuts down O's
In Game 4 of the ALCS, the Royals became the first team to have four relievers (with Jason Frasor joining the mix) each pitch at least one full inning in a postseason game without any allowing a single baserunner.
When the Royals did find themselves in seventh-inning trouble this year before turning it over to Herrera, he usually helped them escape it. He allowed just nine of his 43 inherited runners (20.93 percent) to score this season.
Late-game lockdown
Most saves in one postseason
| Player | Team | Year | IP | SV |
| --- | --- | --- | --- | --- |
| Koji Uehara | Bos. | 2013 | 13 2/3 | 7 |
| Brad Lidge | Phi. | 2008 | 9 1/3 | 7 |
| Troy Percival | Ana. | 2002 | 9 2/3 | 7 |
| Robb Nen | S.F. | 2002 | 9 | 7 |
| John Wetteland | NYY | 1996 | 12 1/3 | 7 |
| Greg Holland | K.C. | 2014 | 8 | 6 |
| Neftali Feliz | Tex. | 2011 | 11 1/3 | 6 |
| Brian Wilson | S.F. | 2010 | 11 2/3 | 6 |
| Mariano Rivera | NYY | 2000 | 15 2/3 | 6 |
| Mariano Rivera | NYY | 1999 | 12 1/3 | 6 |
| Mariano Rivera | NYY | 1998 | 13 1/3 | 6 |
| Rich Gossage | NYY | 1981 | 14 1/3 | 6 |
"Well, he means a lot to this team," Yost said of Herrera. "There were years that our whole focus was to get to the eighth inning and let them get the ball to Greg Holland. And this year it's been, 'OK, let's get through six and get the ball to Greg Holland.'"
Holland has been rather electric himself. He locked down the save in all four ALCS victories, joining Dennis Eckersley in 1988 as the only relievers to save four games in the ALCS. Holland has saves in six of the Royals' eight games already this postseason, leaving him just one shy of the all-time record for a single postseason.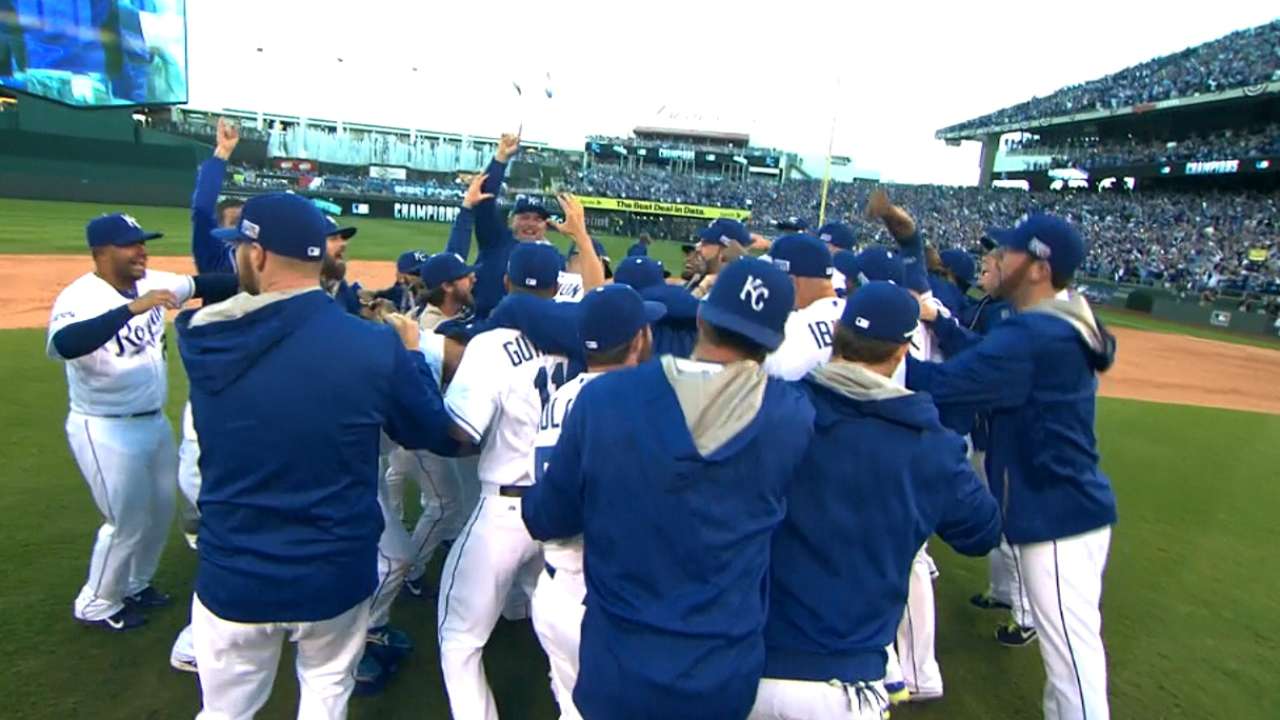 • Video: Holland seals trip to Series
All told, this Royals trio could be four wins away from cementing its place among the league's all-time great bullpens. The numbers already support the claim, but adding a World Series title certainly wouldn't hurt.
Paul Casella is a reporter for MLB.com. Follow him on Twitter @paul_casella. This story was not subject to the approval of Major League Baseball or its clubs.