Ortiz's heroics, Nixon's grab kept '04 WS in sight
Red Sox rally to beat Yankees in 14 innings in Game 5 of ALCS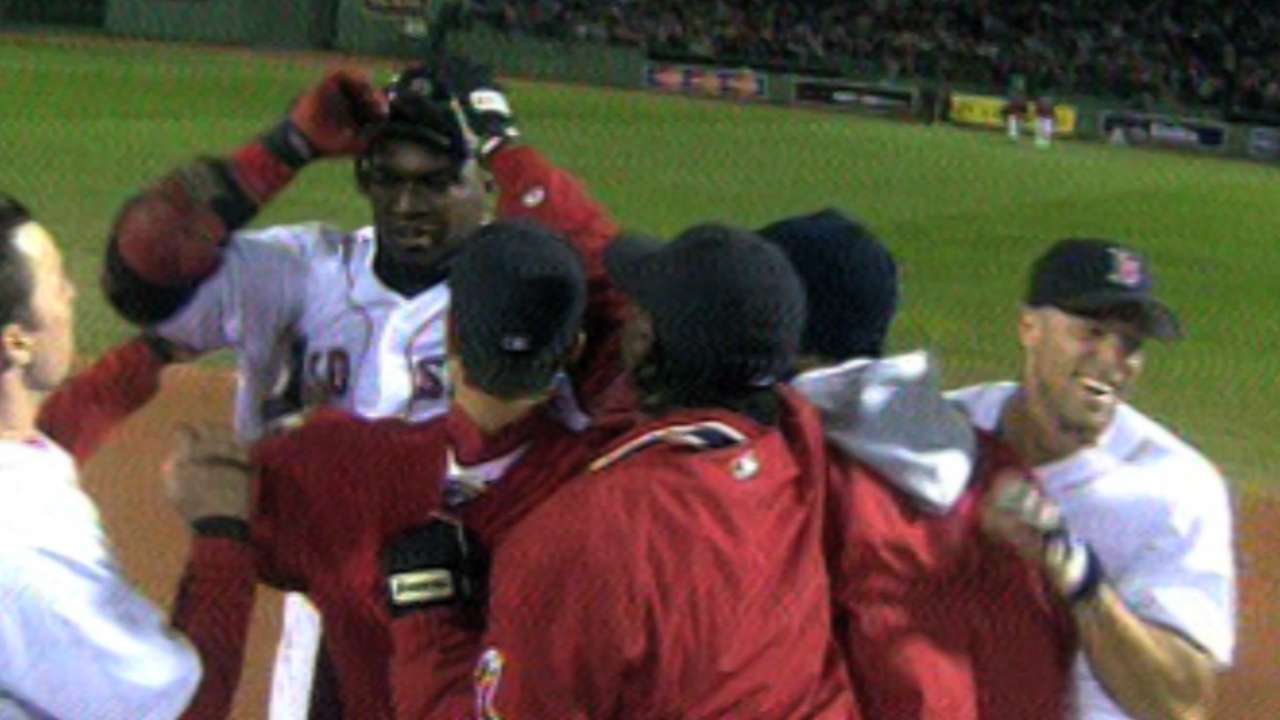 Ten years ago, the Red Sox and their fans were in the midst of an 86-year wait for a World Series championship. And after falling in the deepest of holes -- 3-0 against the Yankees in the American League Championship Series -- everything changed.
Boston would become the first -- and still only -- team in history to win a postseason series after trailing 3-0. And manager Terry Francona's team went on to win the final eight games of that postseason. MLB.com is doing retrospective pieces on the anniversary date of all eight of those wins with remembrances from key voices, continuing today with the 5-4, 14-inning victory in Game 5 of the ALCS.
If the image of Dave Roberts getting his hand just under the tag in Game 4 of the ALCS remains the most indelible memory of the 2004 postseason, the best game during the epic joyride was, without question, Game 5.
It is easy to forget now that the Red Sox almost lost the series several times during that 14-inning struggle which started on a Monday afternoon and ended well into the evening.
David Ortiz again ended the day with one swing, but Boston had literally been hanging on by a thread for much of a contest that took a whopping five hours and 49 minutes to play.
If one thing was clear, however, it's that the euphoria provided from Game 4 had given the Red Sox a new attitude the next day.
Hideki Matsui had been taking batting practice against Boston pitchers in the first four games of the series and Pedro Martinez basically said "enough" with one purpose pitch.
In the top of the fifth, with his team clinging to a 2-1 lead, Martinez buzzed Matsui with a high and tight pitch. Mind you, the pitch didn't hit Matsui, but it was a message that he should no longer be so comfortable at the plate. Before that at-bat, Matsui was 12-for-22 and seemingly on his way to ALCS MVP honors. After Martinez went up and in on him, Matsui would go 2-for-12.
"We had to do it," Martinez said. "He was leaning and hitting everything out over the plate. He was feeling too comfortable. He needed to go back and I made a statement. 'I'm going to pitch you inside, and you need to move back', so that I could get back to what I need to do. So I just busted him in and busted him again and busted him again. Then the next day, everybody that saw what I did went on to do the same thing, so I cooled him off. We cooled him off that day."
Still, the Yankees very nearly put Martinez and the Red Sox on ice in the very next inning.
With the bases loaded and one out, Derek Jeter produced another Jeter moment, fighting off Martinez's pitch and punching it into the corner in right for a double that cleared the bases to make it 4-2, Yankees. As Jeter motored to third on the throw home, he triumphantly pumped his fist -- a sight seen many times during the Yankees' dynasty that produced six American League pennants and four World Series titles between 1996-03.
After the Jeter double, Martinez hit Alex Rodriguez and walked Gary Sheffield, again loading the bases. And then came another moment that hasn't fully been appreciated over time. Matsui lined one into right, and Trot Nixon corralled it with a sliding catch to end the inning. If the play isn't made, the Yankees are up, 6-2.
"I didn't remember it until somebody brought it up [recently]," said Nixon. "I think I have a picture of making that play, in my basement. I know Mr. [Joe] Torre said something about it at one point. To me, I was just trying to do my job. At the time, I didn't realize the significance of it."
The Red Sox made it significant by turning the tables again in the late innings. Ortiz delivered the first blow, walloping a towering blast off a sign beyond the Green Monster to lead off the eighth against Tom Gordon, and the deficit was 4-3, the same as it was before the Roberts steal the day before.
If you want to talk about deja vu, how about Kevin Millar starting a new rally after the Ortiz homer by drawing a walk, only this time against Gordon instead of Mariano Rivera? And Roberts again bolted off the bench to run for Millar. Gordon's stomach churned as Roberts took a huge lead on every pitch. Nixon worked the count to 3-1 and ripped a 93-mph heater for a single into right. Roberts bolted for second on the pitch and easily made it to third. Runners at the corners, nobody out.
"Dee [Gordon], Flash's son, has said that he's never seen his dad so nervous as when I was on first base," said Roberts. "You could see it. He was way quicker than he likes to be with his delivery. He's a guy that likes to get loaded, deliver it. He was uncomfortable. For me, I was ready to run and steal, but I wasn't going to try to run into an out. I was just hoping he would make a mistake to Trot."
A trip to the World Series still within sight, Torre called on Rivera to try to get out of the first-and-third, nobody-out jam. But Jason Varitek's sacrifice fly was just deep enough, as Roberts again would easily beat the throw home from the weak arm of Bernie Williams to tie it up.
The teams would trade haymakers for another few innings. Tony Clark belted a double to deep right against Keith Foulke in the ninth that was about to give New York the lead. But the ball took a fortuitous bounce into the stands, and Ruben Sierra had to stop at third. Foulke would emerge from the jam unscathed.
Another kind of drama would unfold in the 13th inning, when Varitek looked like he was trying to swat butterflies. In reality, he was trying to catch Tim Wakefield's knuckleball, something that was usually Doug Mirabelli's job. Varitek would have no fewer than three passed balls in the inning. But with the go-ahead run on third, he somehow hung on to the strikeout of Sierra that ended the high-wire act of an inning.
By the 14th inning, Manny Ramirez on first, Johnny Damon on second and Ortiz at the plate, a sense of inevitability had probably hit the Yankees. Esteban Loaiza tried to retire Ortiz over and over. But by the 10th pitch of the at-bat, Ortiz finally found one he could put somewhere, and he looped it into center field. There was no way Williams was going to throw out Damon.
"I'll tell you what I remember," said former Red Sox outfielder Gabe Kapler, who now works for FOX. "With all due respect to Loaiza, I thought, 'This guy has nothing to get David out with'. That was the sentiment. And that wasn't unique to that at-bat. It's just because that was what was going on for David at that time."
Ian Browne is a reporter for MLB.com. Read his blog, Brownie Points, and follow him on Twitter @IanMBrowne. This story was not subject to the approval of Major League Baseball or its clubs.