MLB.com Columnist
Jim Callis
Red Sox Arizona Fall League overview
Tremendous with glove, shortstop prospect Marrero aims to improve bat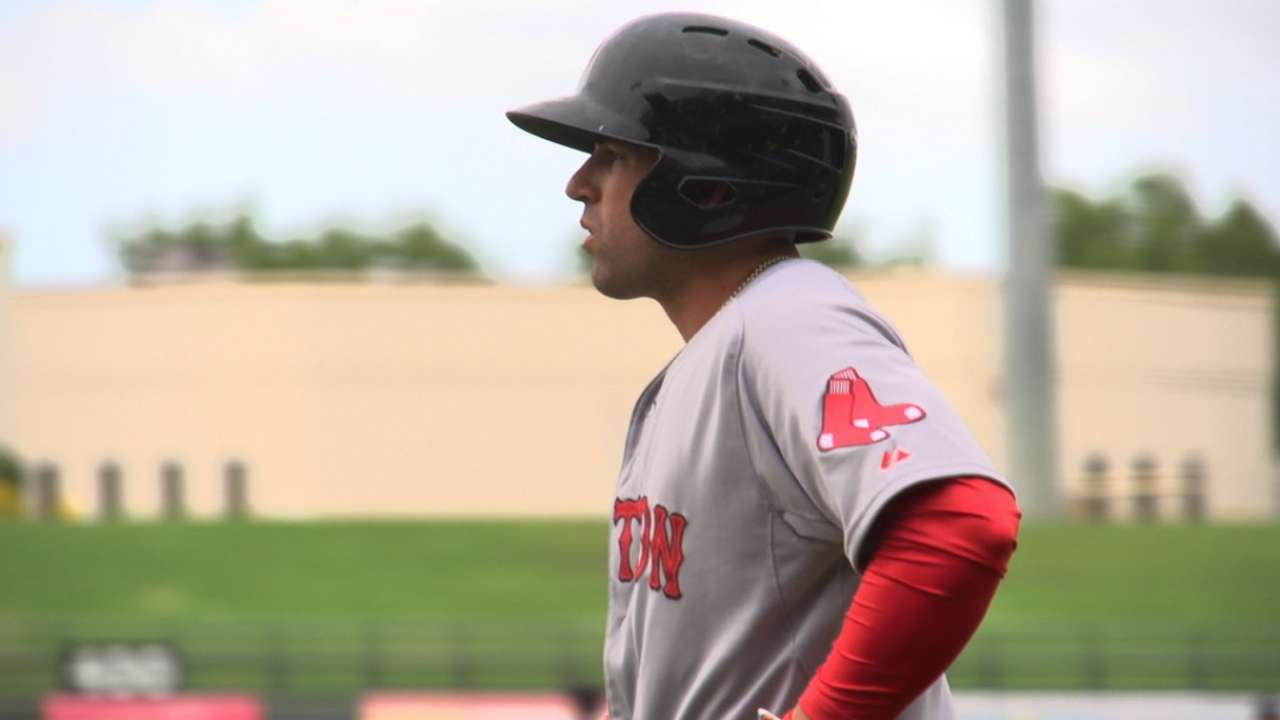 Scouts have raved about Deven Marrero's defense for years. If he hadn't been so strongly committed to Arizona State, he might have been a first-round pick in 2009 out of American Heritage High in Plantation, Fla. His glovework with the Sun Devils made him a candidate for the No. 1 overall choice heading into '12, and still garnered him a $2.05 million bonus from the Red Sox when he slid to the 25th pick after slumping at the plate.
Marrero has continued to flash the leather in pro ball, showing excellent agility, range to both sides and the arm strength to make any throw from any angle. Managers rated him as having the strongest infield arm in the high Class A Carolina League in a 2013 Baseball America survey, and the Red Sox gave him their Minor League defensive player of the year award this season. He's sure-handed, too, having committed just 27 errors in 249 pro games, and he would have led the Carolina League last season and the Double-A Eastern League this year in fielding percentage if late-season promotions hadn't kept him from qualifying.
"That's definitely something I've worked on my whole life," Marrero said. "Rey Ordonez taught me, and my father taught me how to play defense. I take pride in that, because shortstop is the captain of the infield, and I need to have that pitcher's trust. That's kind of what I pride myself on, knowing that pitcher can trust me whenever that ball is hit on the ground, it's an out."
Ordonez, a family friend, won three Gold Glove Awards with the Mets in the late 1990s but lasted only six years as a big league regular because he couldn't produce at the plate. Marrero knows he'll have to complement his superlative defense with enough offense in order to stick in a Major League lineup. He said improving at the plate is his primary goal with the Arizona Fall League's Surprise Saguaros.
"Definitely my hitting," Marrero said. "Staying consistent with that and staying with my approach, kind of finding my approach a little bit and tweaking that."
Marrero has the tools to contribute offensively. A 6-foot-1, 195-pounder, he's stronger than most shortstops and has a quick right-handed bat. While his speed is just a tick above average, he has stolen 67 bases in 83 pro attempts, succeeding at an 81 percent rate.
However, Marrero lacks consistency at the plate, in part because he gets too aggressive and pull-happy. After hitting .258/.345/.338 in his first two pro seasons, he appeared to take a giant step forward when he batted .291/.371/.433 in Double-A this season. But he regressed after a promotion to Triple-A, hitting just .210/.260/.285 during the final two months.
If Marrero hits, he could get an opportunity in Boston in the near future. Xander Bogaerts obviously will be a big part of the Red Sox's long-range plans, but he ranked second in the American League this year with 20 errors and might be better suited to plug the team's hole at third base.
Marrero said he's not worrying about when he'll get the call to Fenway Park. He's focusing on improving in all facets of the game so he'll be prepared when the Red Sox need him.
"You really can't worry about all that stuff, because you never know when that call's going to be," Marrero said. "But you've got to be ready for when it happens. All I worry about is being ready and just going about my business, and when that time comes, it'll come."
Red Sox hitters in the AFL
• A Cuban defector signed to a seven-year, $72.5 million contract in late August, the 5-foot-8 Rusney Castillo is best known for his well above-average speed, but he also has surprising power. Boston's likely starting center fielder in 2015, Castillo homered twice and stole three bases in 10 big league games in September.
• Inconsistency and injuries stymied Sean Coyle in his first three full pro seasons after signing for $1.3 million as a 2010 third-round pick out of a Pennsylvania high school. But he finally broke out this year, batting .295/.371/.512 with 16 homers and 13 steals in 96 Double-A games. His power and speed are solid tools, and though he has primarily played second base, he could be Boston's long-term answer at the hot corner.
Red Sox pitchers in the AFL
• A 13th-round choice from Adelphi in 2010, right-hander Keith Couch went 8-2, 2.96 with a 72/22 K/BB ratio in 100 1/3 Double-A innings this year. He doesn't have a true plus pitch, but he's a sinker/slider guy who fills the strike zone.
• A teammate of Bryce Harper's at the JC of Southern Nevada in 2010, right-hander Aaron Kurcz went to the Cubs in the 10th round that June and came to the Red Sox two years later as part of the compensation package for general manager Theo Epstein. Kurcz has bounced back from Tommy John surgery to regain his 92-95 mph fastball in 2014, posting a 2.14 ERA and striking out 54 in 42 innings as a Double-A reliever.
• Purchased by the Red Sox from the independent Yuma Desert Rats (North American League) in 2011, Robby Scott is a lefty reliever who relies on command and the deception he generates with a crossfire delivery. He has three fringy pitches (89-92 mph fastball, three-quarters breaking ball, changeup) and compiled a 1.96 ERA and a 51/15 K/BB ratio in 59 2/3 Double-A innings this season.
• Boston paid right-hander Madison Younginer $975,000 to sign as seventh-rounder out of a South Carolina high school in 2009, when he touched 97 mph and drew some comparisons to Justin Verlander. Younginer still can light up radar guns, but he lacks reliable secondary pitches and command. He had a 4.08 ERA and 55 strikeouts in 57 1/3 innings as a high Class A reliever in '14.
Jim Callis is a reporter for MLB.com and writes a blog, Callis' Corner. Follow @jimcallisMLB on Twitter. This story was not subject to the approval of Major League Baseball or its clubs.