Dodgers OF prospect Schebler locates HR stroke
Glendale surges ahead with four-run second, holds off Scottsdale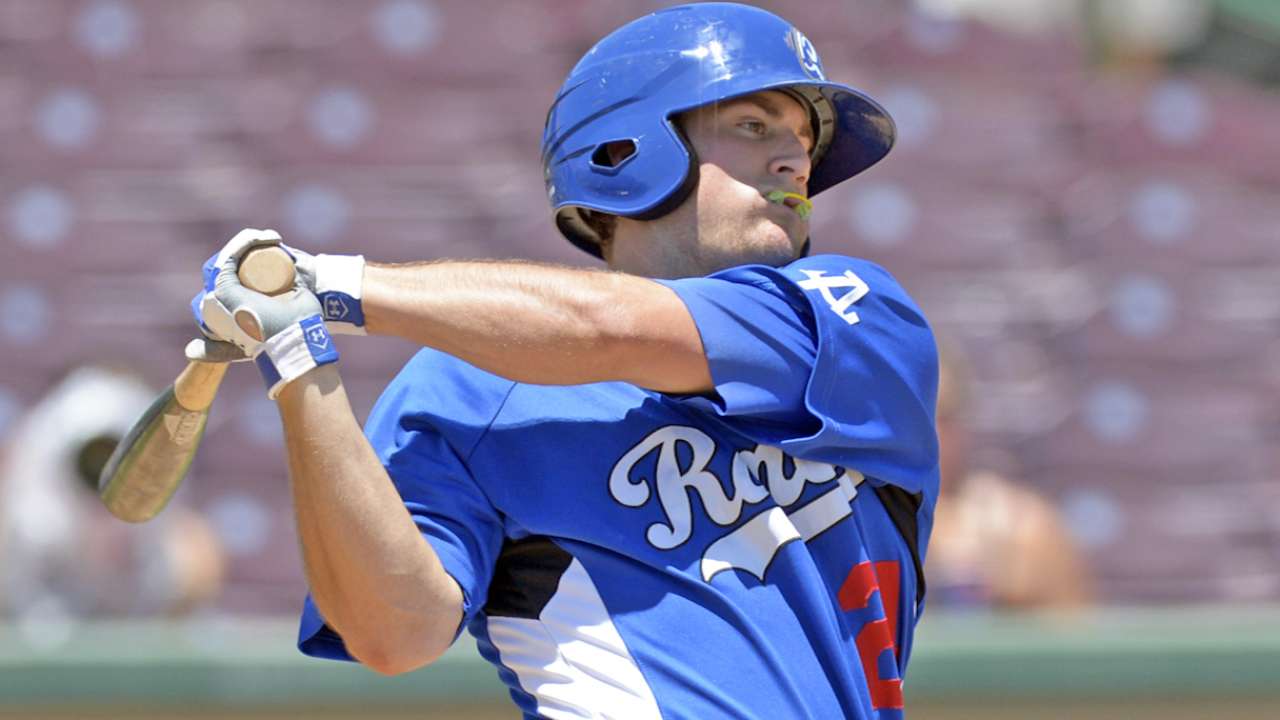 Outfielder Scott Schebler has come into his own as a power hitter in the last two years, slugging 27 home runs for Class A Advanced Rancho Cucamonga in 2013 and topping the Southern League leaderboard with 28 homers for Double-A Chattanooga this year.
Friday night, Schebler connected for his first home run in the Arizona Fall League and helped Glendale defeat Scottsdale, 6-5.
Schebler, the Dodgers' No. 9 prospect, started slowly in the AFL and entered Friday hitting 3-for-19 without an extra-base hit in five games. After going 1-for-3 with a homer, a walk and two runs against Scottsdale, Schebler said he is hopeful his home run is enough to kickstart him.
"Sometimes you just need one swing to turn it around," Schebler said. "But there are a lot of good arms out here, and I'm just trying to put good swings on the ball and take good at-bats."
It wasn't just Schebler getting things going for Glendale. The Desert Dogs' offense quickly went to work, scoring four runs in the second inning off Scorpions starter Rob Whalen. The rally began when Whalen walked three batters -- including Schebler -- to load the bases. Catcher Kevan Smith followed with a three-run triple and scored two batters later, knocking Whalen out of the game.
Schebler said the Desert Dogs got some momentum in the inning and were able to capitalize on it.
"He started walking a couple people, and then he got back in the zone and Kevan was ready for it," Schebler said. "Hitting is contagious, you always hear it, but it's definitely true."
Schebler homered in the third to extend the lead and Glendale added a final run in the sixth.
Smith finished the game 1-for-3 with three RBIs and a run. Shortstop Darnell Sweeney, the Dodgers' No. 13 prospect, added two hits and an RBI.
After falling behind early, the Scorpions fought back and brought the potential tying run to the plate in the eighth inning. Right-hander Blake Smith came out of the bullpen to get the final out and end that threat, but Scottsdale wasn't done. The Scorpions scored twice in the ninth and had runners on first and second when Smith struck out third baseman Dan Gamache to escape again and end the game.
Right fielder Aaron Judge, the Yankees' No. 5 prospect, went 2-for-4 with a walk and two runs. First baseman Josh Bell, the Pirates' No. 3 prospect, added two hits and an RBI.
Schebler said the victory would make the bus ride back to Glendale a bit happier. Winning also will help ease a few of the growing pains of the AFL.
After playing nearly every day during the regular season, Schebler said he has had to adjust to sporadic playing time in the AFL. The level of pitching has also impressed him.
"The arms are great," Schebler said. "Every guy is [throwing] 95-96 [mph] with good put-away stuff. Every time you go to the plate, you better be ready, otherwise you might be sitting on the bench pretty quick."
Schebler didn't have much problem with the pitching in the Southern League this season. He hit .280/.365/.556 with 28 home runs and 10 stolen bases in 135 games for Chattanooga and led the league in slugging percentage, triples (14) and extra-base hits (65).
Schebler has also made strides as a defender. He said he has been focused on his breaks in the outfield and has worked on throwing for the last year and a half. Now, he wants to use the fall to continue to improve in those areas.
"I went to [instructional league] early to work on defense," Schebler said. "Hopefully I'll get some payoffs from that."
Teddy Cahill is a reporter for MLB.com. Follow him on Twitter at @tedcahill. This story was not subject to the approval of Major League Baseball or its clubs.