Former GM Smith named senior advisor, baseball operations
23-year Padres vet to focus on scouting; changes made to Minor League staff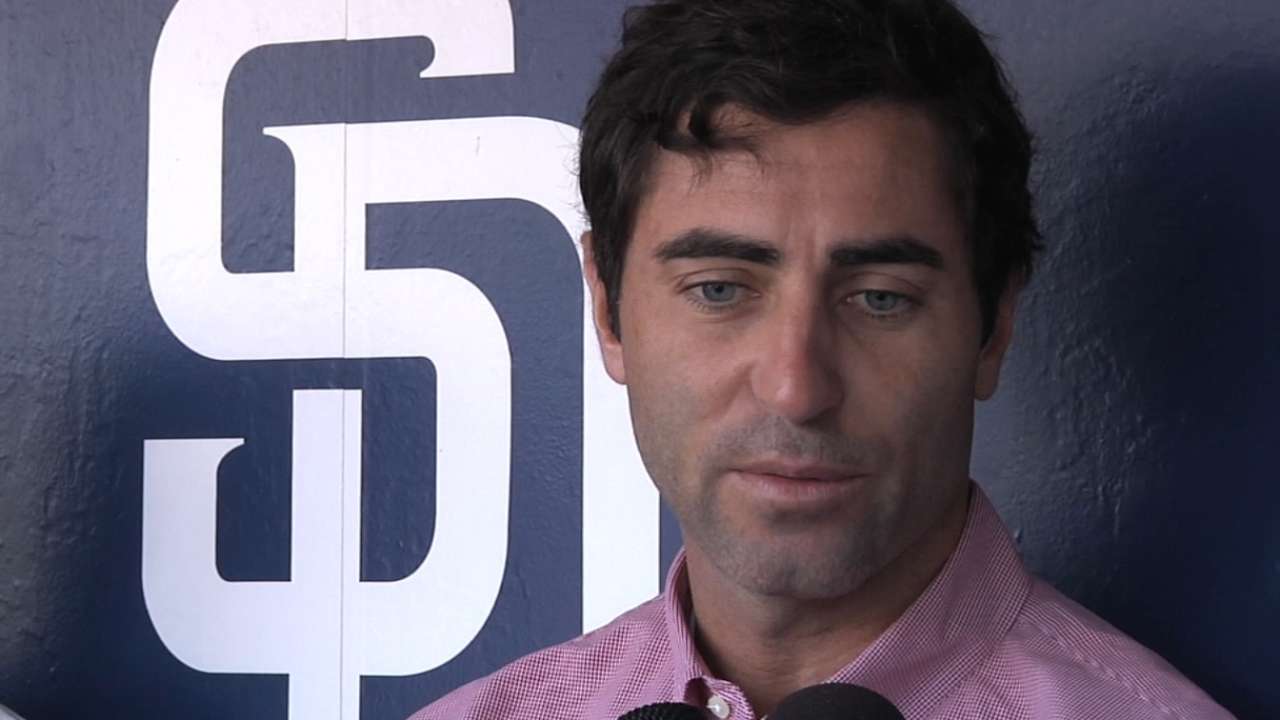 SAN DIEGO -- Randy Smith, who first joined a Major League front office in 1985, likes to joke that he has held just about every title there is to be held in the front office.
On Friday, he earned another one.
The Padres announced a handful of changes to their player development staff, headed by the news that Smith -- a former two-time Major League general manager -- will move from the position of vice president of player development to senior advisor, baseball operations, with a focus on scouting.
The team also announced that Minor League field coordinator Randy Johnson, hitting coordinator Sean Berry and outfield and baserunning coordinator Glen Barker won't return for 2015.
As for Smith, this is a new role for him, one he's ready to embrace.
"This title is a new one. I've had all the director jobs," Smith said. "It's nice to continue to get exposure to do different things. I like new challenges."
Smith, who since 2010 had overseen player development, will assist new general manager A.J. Preller in a different area.
"It will be having a chance to impact the Major League team with Major League scouting and whatever else A.J. wants me to do," Smith said. "I've been in the organization for 23 years and feel like I have a perspective of what's been successful and what hasn't over the years."
Smith was the Padres' general manager from 1993-95 and served in that same role with the Tigers from 1996-2001. He returned to the Padres in 2003 as a special assistant to the general manager.
During his career, Smith has been a general manager, assistant general manager, director of player development, scouting director, director of international scouting and director of professional scouting.
"He's a guy that has a lot of experience in a lot of different areas in the game; he started off scouting, he's been a GM, the farm, and now he's moving back into a scouting role," Preller said. "Randy's also got a chance to bring is international experience to the role.
"I think any chance you have to cross different departments and combining that with his evaluation skills, it made it an attractive move."
In the last four years, seven members of the Padres player development staff have moved on to jobs at the Major League level -- Phil Plantier (hitting coach, Padres), Doug Dascenzo (first-base coach, Cubs), Gary Jones (third-base coach, Cubs), John Gibbons (manager, Blue Jays), Willie Blair (bullpen coach, Padres) and Jose Valentin (first-base coach, Padres).
Preller said one of his next hires will be a director of player development, who will then have a say in the hiring of the coordinators.
Regarding the Minor League changes, Preller said it was time to a new perspective and direction.
"I didn't think that we were lacking anything, it's just getting a different vision, a fresh start," Preller said. "We're looking to put some new faces in those positions. It's a chance to get others in the organization involved. We felt that was the way to go."
Corey Brock is a reporter for MLB.com. Keep track of @FollowThePadres on Twitter. This story was not subject to the approval of Major League Baseball or its clubs.