Davis rewrites story, becomes potent force from 'pen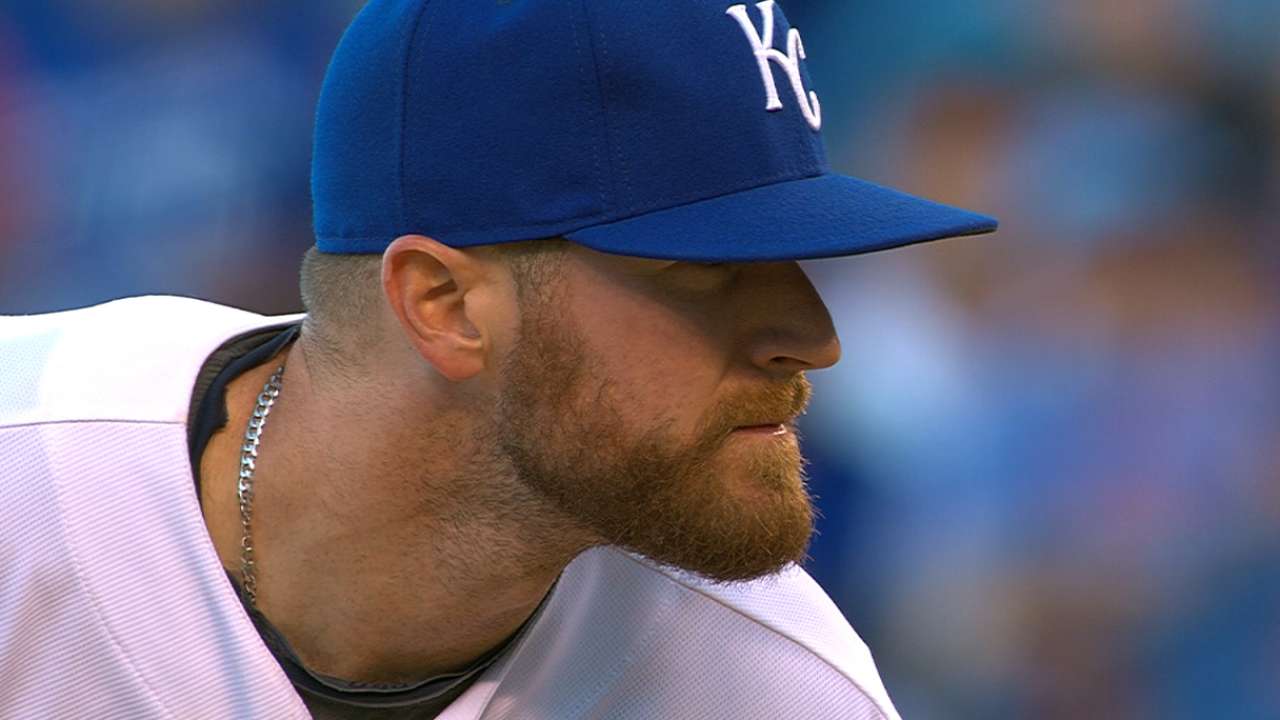 KANSAS CITY -- Reliever Wade Davis focuses in on catcher Salvador Perez in the bottom of the ninth inning of Game 1 of the American League Championship Series. He knows that the man at the plate, Orioles slugger Adam Jones, could end the game, tied at 5-5, with one swing.
Ahead in the count, 0-2, Davis reaches into his glove and searches for his most lethal weapon.
He finds the grip on his cutter -- a pitch he holds the same exact way as his four-seam fastball, but with one extra rotation of the baseball, so the seams are inverted -- and unleashes perhaps his most devastating pitch.
What occurs is predictable, inevitable even, with the free-swinging Jones batting and the strikeout-machine Davis pitching.
Davis starts the pitch belt-high on the outer half of the plate. But by the time it reaches Perez's mitt, it has traveled into the opposite batter's box, scraping the dirt along the way.
Still, Jones cannot resist.
"His cutter is dynamic," manager Ned Yost said. "Comes in, looks like a fastball and then just darts away."
Davis learned the cutter from fellow pitchers and has perfected it to the extent that opposing hitters batted .110 with no extra-base hits against it this season. This pitch, along with a sizzling four-seamer and a knee-buckling curve, this season made Davis one of the most dominant relievers in MLB history.
He finished the regular season with 72 innings pitched, a 1.00 ERA and 109 strikeouts. That ERA was the fifth lowest ever by a reliever with at least 70 innings. His 13.63 strikeout-per-nine ratio ranks 10th all-time under the same guidelines.
In addition to his phenomenal regular season, Davis has thrown 9 1/3 innings in the postseason with a 0.96 ERA and 10 strikeouts. He pitched five scoreless frames in the ALCS, allowed just two hits and struck out six.
The cutter he used to fan Jones in that 8-6 Game 1 win might be his most effective pitch, but hitters must also deal with a four-seam fastball that can reach 98 mph, not to mention a sweeping curveball.
"With his combination of three pitches -- dynamite," Yost said.
All this from someone who, just a season ago, was widely considered a disappointment.
Kansas City acquired Davis from the Rays in the 2012 offseason trade that brought them James Shields, and the expectation was that he would develop into a quality starter for the middle of the rotation. But by Aug. 24, 2013, he had made 24 starts and amassed a 5.67 ERA.
"When we put him in the bullpen last year, it was in August, and we were going to send him down to throw two innings. And he asked me, 'Can I throw one inning?' " Yost said. "And I said, 'Well, yeah, but why do you want to do that?' He says, 'Because when I get in bullpen mode, I blow it out. I don't have to worry about saving anything for five or six or seven innings. I can come in on the attack and blow it out.'"
Davis assumed the new relief role on Sept. 4, 2013, and he finished the season with 10 innings of one-run ball and much improved stuff.
"When he came back, his first time out on the mound, 97, 96 [mph] -- compared with 91, 92 -- with a dynamic cutter, dynamic breaking ball," Yost said.
An interesting wrinkle in the story occurred this past March. At the onset of Spring Training, the Royals planned on putting Davis back in the rotation for the 2014 season, but an injury to reliever Luke Hochevar derailed those plans.
So Yost approached Davis: "I called Wade in and I said, 'Wade, look, we've got to have you back in the 'pen. Hoch is out, and we've just got to have your stuff coming out of the 'pen in the eighth inning.' And he looked at me, and he said, 'Skip, I don't care what I do. I don't care if I start or if I'm a reliever, I just want to be really good at something. That's my goal.'"
Davis undoubtedly achieved that goal. For verification, look no further than his avoidance of home runs. He faced 346 batters this season -- postseason included -- and did not surrender a single homer. One must go back to Aug. 24, 2013, the day his run as a starter ended, to find the last time a ball left the yard under his watch.
Davis' response when asked how he was able to remain homerless all season is insightful, and perfectly in line with his humble, quiet personality.
"I got really lucky."
Having an explosive three-pitch arsenal didn't hurt, either.
Jackson Alexander is an associate reporter for MLB.com. This story was not subject to the approval of Major League Baseball or its clubs.