World Series position-by-position: Giants-Royals
Two Wild Card teams enjoying improbable runs will collide when the World Series begins at Kansas City's Kauffman Stadium on Tuesday (7:30 p.m. ET airtime on FOX, first pitch at 8:07).
The Royals, part of the postseason picture for the first time since winning it all in 1985, have gone on an unprecedented 8-0 run to start the playoffs. A club that came so close to falling to Oakland in the American League Wild Card Game instead has blitzed its way through the last two rounds behind a barrage of catch-everything defense, aggressive baserunning and shutdown relief pitching.
The Giants, looking for their third championship in five years, appear to have recaptured the even-year magic that carried them in 2010 and '12. It hasn't been easy, with nearly every game of an 8-2 run going down to the wire, but San Francisco continues to combine solid pitching and defense with enough clutch hits to get the job done.
Here's a position-by-position look at what is shaping up to be a heart-pounding Fall Classic:
CATCHER
At 24, Salvador Perez already is a two-time All-Star who is strong behind the plate, controls the running game and has pop in his bat. But in a year that now has seen him play 158 games, he's also seemed to wear down. Perez hit .229/.236/.360 in the second half of the regular season and has been a non-factor offensively during the postseason, with the exception of his walk-off hit in the Wild Card Game. Former NL MVP Buster Posey raked in the second half (.354/.403/.575) and while he hasn't flashed any power in the playoffs, he's still 13-for-43 (.302) with three walks. Advantage: Giants
FIRST BASE
Brandon Belt and Eric Hosmer both are young left-handers with loads of talent who endured a frustrating season. Belt played only 61 games around disabled-list stints, while Hosmer also missed some time and saw a dropoff in almost every significant offensive category. Hosmer has enjoyed the bigger postseason rebound, hitting .448 with a 1.314 OPS and eight RBIs. Belt also has performed well in the playoffs -- hitting .286 with a .781 OPS and six RBIs -- and has put up the superior career numbers, but we're saying it's too close to call because of the extra-inning homer by Belt in the NLDS and the ninth-inning triple by Hosmer that rescued the Royals from elimination in the Wild Card Game. Advantage: Even
SECOND BASE
Rookie Joe Panik rescued the Giants from a messy situation at the keystone when he came up from Triple-A in late June and hit .305 with a .343 OBP and played solid defense the rest of the way. The 23-year-old has dropped to only .239 in October but has come up with some big hits, including his two-run blast in the Giants' National League Championship Series-clinching victory on Thursday. The Royals have a veteran with World Series experience and a dependable glove in Omar Infante, but he posted a .553 OPS after the All-Star break and a .501 mark this postseason as he fights through a sore shoulder. Advantage: Giants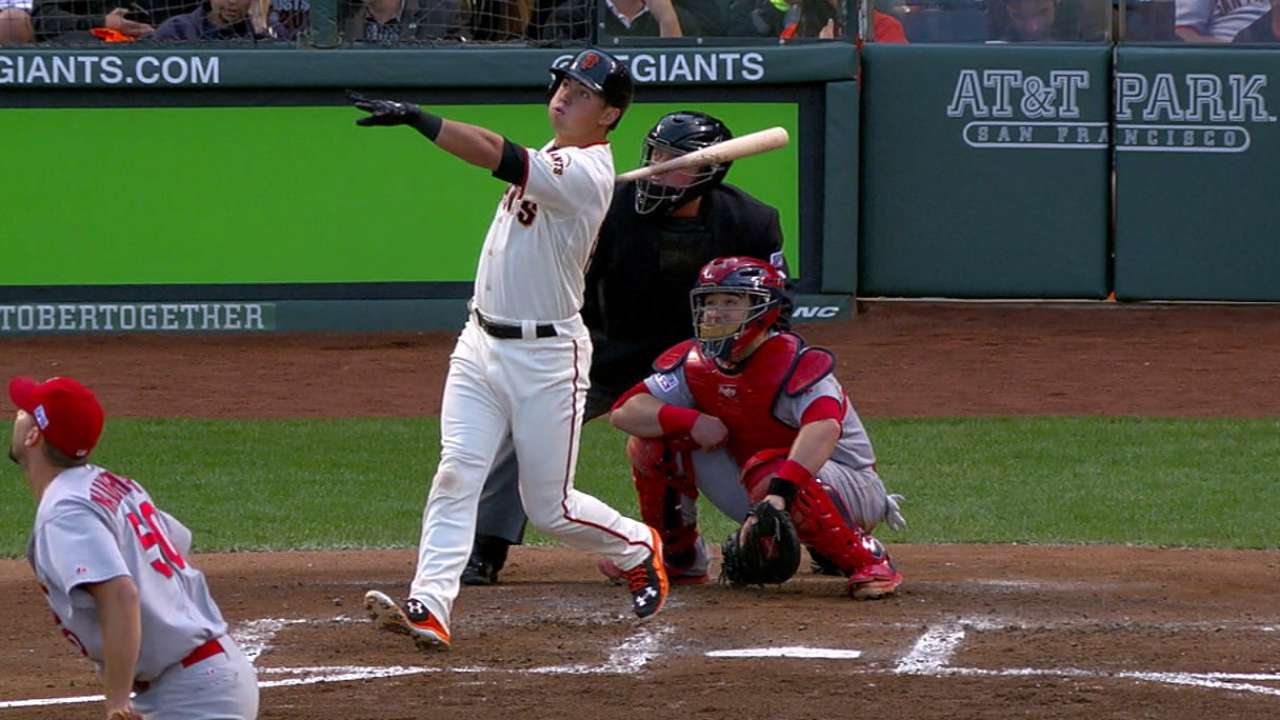 • Video: Panik's two-run homer
THIRD BASE
It's Moose vs. Panda at the hot corner. Mike Moustakas has rebounded from a trying year to author an enviable collection of memorable moments this postseason, with four home runs -- including two in extra innings -- and a web gems package topped by his leaping catch into the seats at Kauffman Stadium in the ALCS. Yet his counterpart, Pablo Sandoval, has been the Giants' best postseason hitter (.326/.396/.419) and owns the superior track record, with a 125 OPS+ since 2011, compared with 82 for Moustakas. Sandoval wins the battle of animal nicknames. Advantage: Giants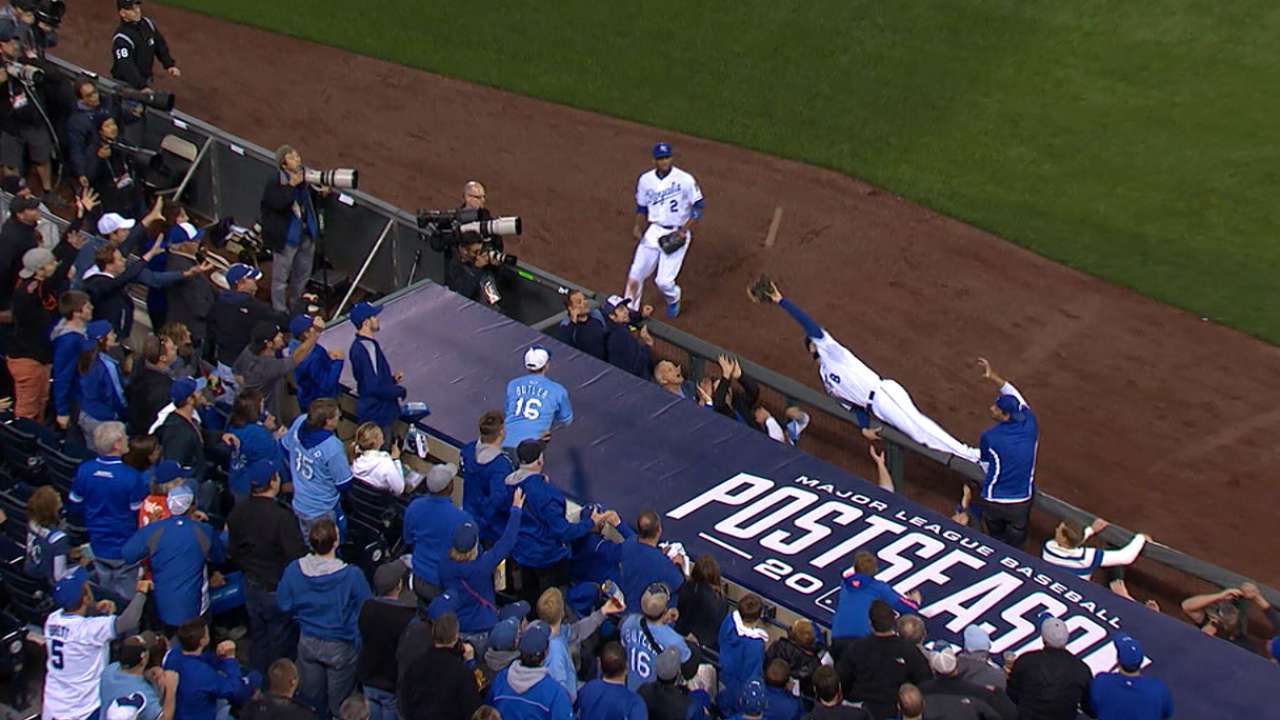 • Video: Panda, Moose go over-the-rail
SHORTSTOP
You can't go wrong with either of the slick-fielding shortstops in this close matchup. Brandon Crawford has been the better hitter over the past couple of years, but Alcides Escobar provides a speed element, with 31 stolen bases. Escobar also has raised his game since moving into the leadoff spot on Sept. 13, batting .340 with a .371 OBP. The Royals have gone 17-7 in that span. Advantage: Royals
LEFT FIELD
Of all the great NLCS storylines, the best might well have been Giants journeyman Travis Ishikawa smacking the walk-off homer to send San Francisco to the World Series. The seven-year veteran, with his sixth organization in the past three seasons, went 5-for-13 with seven RBIs against the Cardinals while playing far from his usual position of first base. Still, Ishikawa is no match for Alex Gordon, a three-time defending AL Gold Glove Award winner who has quietly been one of baseball's best players for the past four years. The former third baseman has racked up a 22.3 WAR over that span, seventh in the Majors. Advantage: Royals
CENTER FIELD
If casual fans didn't know about Lorenzo Cain before, they're learning about him this postseason. The ALCS MVP has hit .353, including 8-for-15 in that series, while anchoring Kansas City's breathtaking outfield defense. Pairing good jumps and routes with top-of-the-line speed, Cain has established himself as one of the game's top defensive center fielders and is backing that up by tracking down everything in sight this October. Gregor Blanco has been a solid two-way player for the Giants, helping make up for the loss of the injured Angel Pagan, but Cain is more dynamic and is on a roll. Advantage: Royals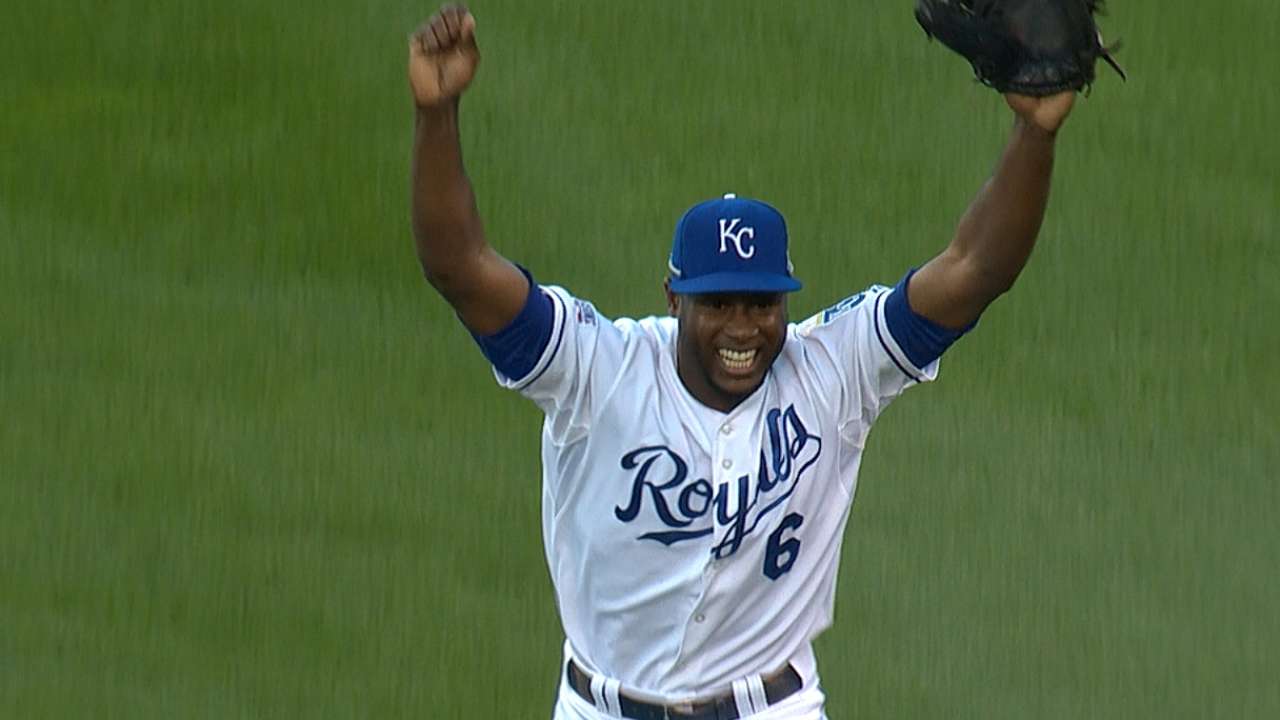 • Video: Cain's stellar ALCS performance
RIGHT FIELD
For entertainment value, it doesn't get much better than Hunter Pence and Nori Aoki, two quirky players who get the job done while rarely making it look easy. Aoki is a catalyst for the Royals in the No. 2 spot in the lineup, with a .377 OBP in the second half and .344 in the postseason. Pence's bat has been fairly quiet for the past couple of months -- he's hit one home run since Sept. 2 -- but he has been one of the Majors' most solid and consistent outfielders over his eight-year career. Pence has posted an above-average OPS+ every season and has been worth at least a 2.7 WAR in all but one. Advantage: Giants
DESIGNATED HITTER
For the games in Kansas City, including the first two of the series, the Giants will get to add a DH to their usual lineup. Michael Morse seems to be the best candidate after he returned from an oblique injury to go 2-for-4 as a pinch-hitter in the NLCS, including his game-tying homer in the eighth inning of Game 5. Morse, however, is a .220 hitter with no homers in a relatively small sample of 132 career plate appearances as a DH. While Billy Butler put together a down year, batting .271/.323/.379 with nine homers, he's also much more accustomed to the role, having filled it nearly full-time since 2011. Advantage: Royals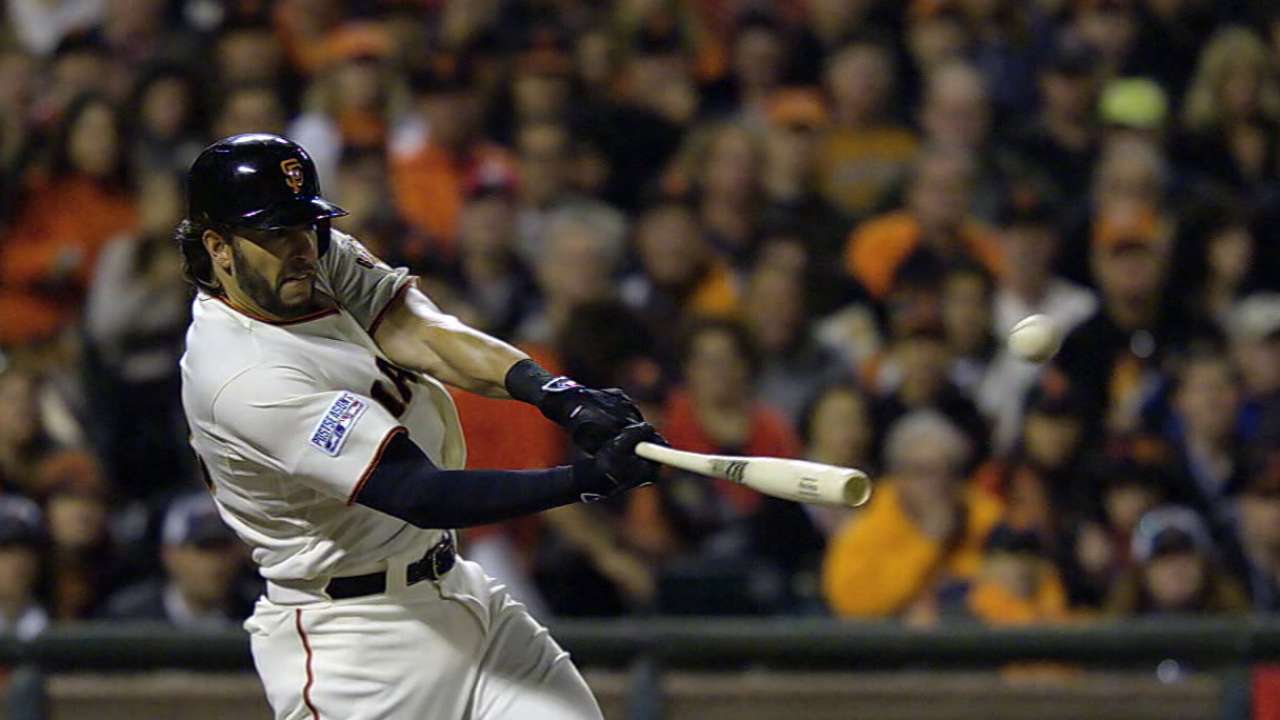 • Video: MLB Tonight on the DH impact
BENCH
Giants pinch-hitters have gone 4-for-15 with one homer and one walk this postseason, though the bench gets thinner if Morse is part of the starting lineup as the DH. The Royals have pinch-hit only three times in the playoffs and are 2-for-3, but the real impact of their bench comes on the bases and in the field. Manager Ned Yost has used the speedy Jarrod Dyson as a late-inning pinch-runner and defensive replacement for Aoki, taking over in center and pushing Cain to right to help protect leads. He also can deploy pinch-running specialist Terrance Gore to bring chaos in big spots. Advantage: Royals
ROTATION
The Royals have the guy with the "Big Game" nickname in James Shields, but the Giants clearly have the best pitcher in the series in Madison Bumgarner. The left-hander owns a 1.42 ERA in four starts this postseason and is lined up to pitch Game 1 on regular rest. Shields, on the other hand, has surrendered 10 earned runs and 21 hits over 16 innings in his three outings. Neither rotation was lights-out in the LCS, but the Giants have more strength at the top and a 2.40 overall postseason ERA, compared with 3.80 for the Royals. Advantage: Giants
BULLPEN
Both of these units were strong during the regular season and have been even better in October. In fact, their playoff stats are nearly identical: a 1.78 ERA and 30 strikeouts in 35 1/3 innings for the Giants, and a 1.80 ERA and 36 strikeouts in 35 innings for the Royals. Kansas City's relief corps has grown even more deadly as Yost has loosened the reins on the late-innings trio of Kelvin Herrera, Wade Davis and Greg Holland (25 2/3 IP, 3 R, 30 K). San Francisco has more diversity in terms of lefties (Jeremy Affeldt and Javier Lopez) and long men (the invaluable Yusmeiro Petit), but it's hard to ignore KC's firepower. Advantage: Royals
CLOSER
Santiago Casilla, who took over the role for the Giants midseason, finally showed a crack in his armor in Game 5 of the NLCS, loading the bases before Affeldt got out of the jam. Before that, Casilla had allowed three baserunners in his last 12 innings, going back to the regular season. Holland, though, has established himself as one of the game's top closers for the past two years, with 93 saves and a 1.32 ERA. He's had a couple of shaky moments in the playoffs but still has gone 6-for-6 in saves while allowing one run over eight innings. Advantage: Royals
DEFENSE
While the Giants were middle of the pack according to the ultimate zone rating (UZR) metric, the Royals ranked No. 1. And they certainly have passed the eye test, making slick plays all over the field throughout the postseason. Their outfield in particular goes above and beyond, with at least two elite gloves in Gordon and Cain, plus Dyson available for the late innings. That's crucial in a series that will be played in a pair of big ballparks. Advantage: Royals
BASERUNNING
The Royals have pumped the brakes a bit since running wild on the A's for seven stolen bases in the AL Wild Card Game, going 6-for-8 in their past seven games. The Major League leaders in steals still remain a much bigger threat than the Giants, who are 3-for-6 in the playoffs and ranked 29th in MLB during the regular season. And even when Kansas City isn't going, the threat of it has the power to affect pitchers and defenses. Advantage: Royals
MANAGER
The much-maligned Yost has pushed all of the right buttons during his club's unstoppable run. Many still find his devotion to the bunt excessive, but the Royals' skipper has made an admirable adjustment in his bullpen usage, going to the Herrera-Davis-Holland trio earlier when necessary and leaning on them heavily. Still, it's hard to pick against Bruce Bochy in the postseason, with his team a combined 30-11 in its last three trips as it sits four wins away from a third championship since 2010. Advantage: Giants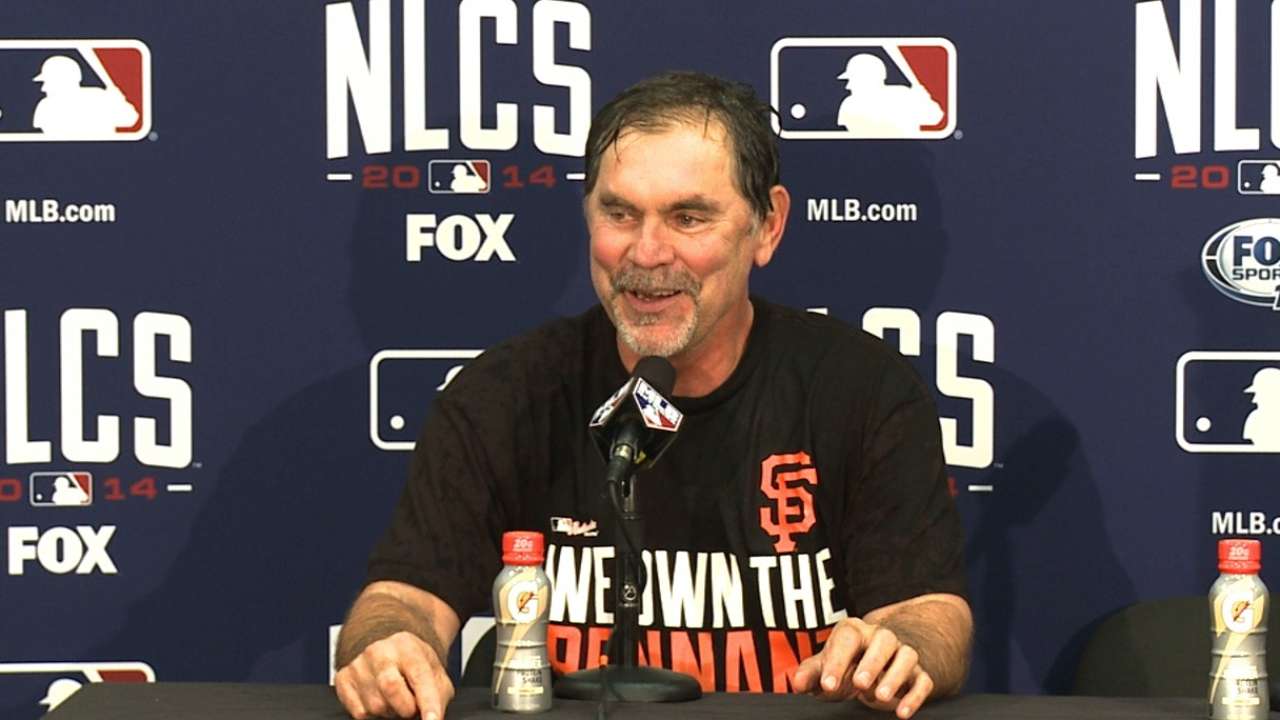 Andrew Simon is a reporter for MLB.com. Follow him on Twitter @AndrewSimonMLB. This story was not subject to the approval of Major League Baseball or its clubs.