Banister meets with Maddux, Magadan, Bogar
First step for Rangers' new manager to put together coaching staff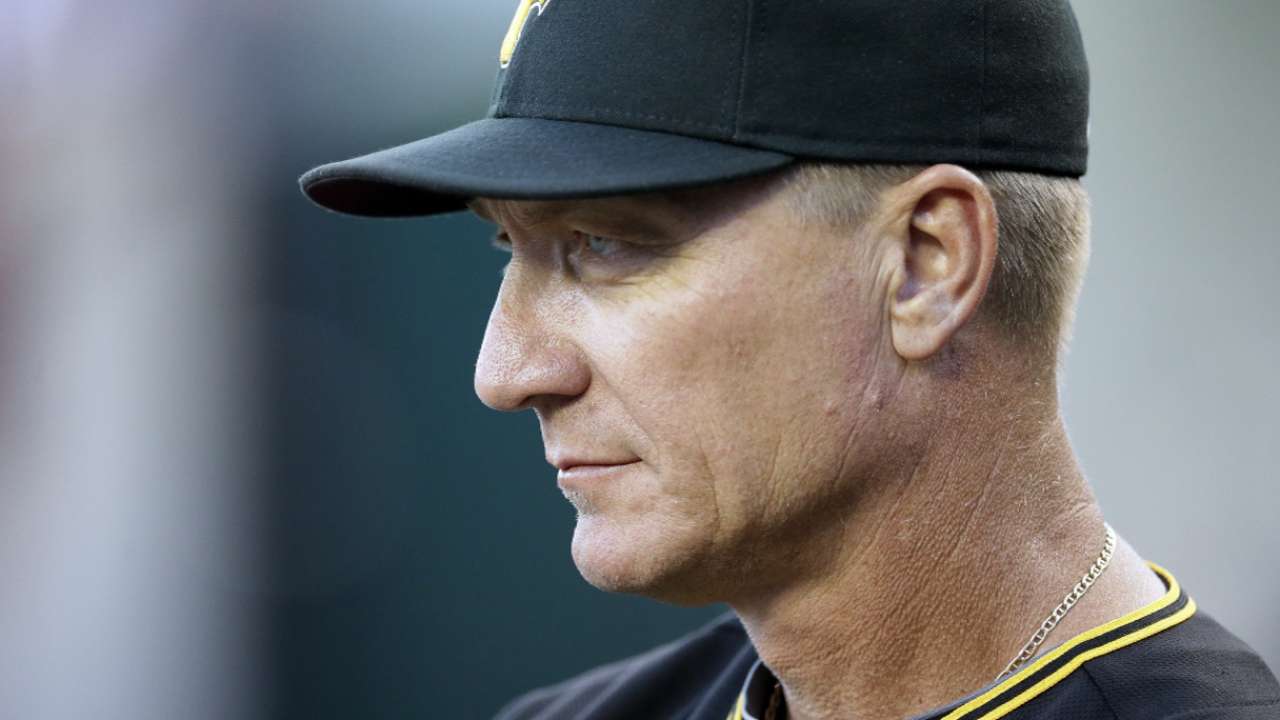 ARLINGTON -- On his first day on the job, Rangers manager Jeff Banister met with pitching coach Mike Maddux and spoke with hitting coach Dave Magadan and bench coach Tim Bogar.
It was the first step toward putting together his coaching staff.
"I'm looking for men who want to have a passion for people, that are difference makers," Banister said. "Love to prepare, love to be at the ballpark, they want to see the success of each individual player. They want to learn. They don't know it all. They are willing to make adjustments when needed but are going to carry the motto that the name on the front of the jersey means more than the name on the back of the jersey."
Banister and general manager Jon Daniels will work together to hire the coaching staff. Daniels said Banister won't be forced to hire anybody he is not comfortable with. Daniels will also have veto over any coaching candidates.
The Rangers have a high regard for Maddux and his ability as a pitching coach. He and bullpen coach Andy Hawkins are the only two on the staff from the teams that went to two World Series in 2010-11. Maddux's brother Greg, who was inducted into the Hall of Fame last summer, is a special assistant in the Rangers' organization.
Friday's meeting was the first step toward getting Maddux under contract for next season.
"I like Jeff," Maddux said. "We chatted for an hour, a little get-to-know each other. I'm really impressed with him, a lot of good attributes, a good family guy, good core values, highly motivated. It was nice to get to know him."
Magadan and Bogar are more up in the air. The Rangers have given Magadan permission to speak with both the Mets and the Yankees about their openings. Bogar was the Rangers interim manager for the final 22 games and led the club to a 14-8 record. But he was passed over for the job in favor of Banister.
There are still three other coaches to consider now that Gary Pettis has taken a job with the Astros. Hawkins is close with Maddux and held in high regard by the pitching staff. Daniels has a high regard for first-base coach Bengie Molina, who did a tremendous job with the catchers this past season,lespecially Robinson Chirinos.
Assistant hitting coach Bobby Jones has been in the organization as a Minor League manager or Major League coach since 1988. He will likely be with the Rangers next season in some capacity. Triple-A manager Steve Buechele could be a candidate for the Major League coaching staff.
Daniels said the Rangers will likely not bring in others from the Pirates' organization, having already taken Banister. The Rangers had a similar agreement with the Padres when A.J. Preller was hired as general manager, although veteran scout Don Welke was allowed to join him.
The Mariners snatched up two potential candidates last season after hiring Lloyd McClendon as their manager. They hired Rich Donnelly as their third-base coach and Trent Jewett as their bench coach. Both worked closely with Banister in Pittsburgh. Jewett is from Texas, having gone to high school at R.L. Turner in Carrollton and the University of North Texas.
The Rangers might try to hire Kevin Cash away from the Indians, where he is the bullpen coach, by giving him a position that is considered a promotion. The Rangers did that last year when they hired Molina away from the Cardinals. Carlos Garcia, a former Pirates infielder who managed in their farm system the past four years, also worked closely with Banister in Pittsburgh.
T.R. Sullivan is a reporter for MLB.com. Read his blog, Postcards from Elysian Fields, and follow him on Twitter @Sullivan_Ranger This story was not subject to the approval of Major League Baseball or its clubs.