Scouting Royals has been an Art form
Longtime scout sees similarities between 2014 and 1985 clubs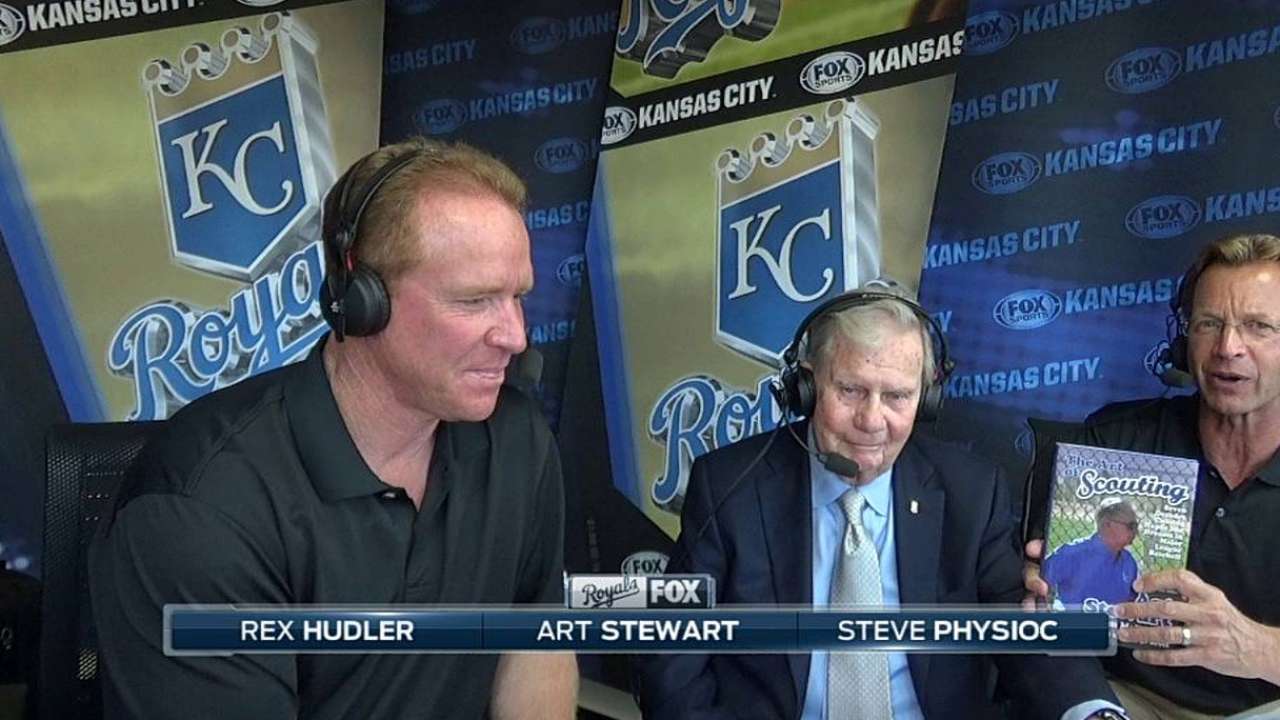 KANSAS CITY -- Legendary scout Art Stewart joined the Royals just after the franchise's first season of 1969, so he's seen it all. That includes Kansas City's only World Series championship team of 1985.
Stewart notes some similarities and some differences with today's club.
"The first thing that comes to mind is the young pitching -- the emergence of Yordano Ventura, Danny Duffy and Kelvin Herrera," Stewart said. "I reflect back and that's the same thing that helped us win that '85 World Series -- the emergence of young [Bret] Saberhagen, Danny Jackson and Mark Gubicza."
Gubicza didn't pitch in that World Series, but he certainly helped the Royals get there.
"We had great defense in '85, although this defense -- I believe without a doubt -- is the best I've seen. What we don't have is a 36-home-run guy like [Steve] Balboni at first base, but we've got a guy who's been doing pretty darn good and he's a Gold Glove first baseman," Stewart said, referring to Eric Hosmer.
The 1985 Royals had some basestealing threats, including Willie Wilson, Lonnie Smith and Frank White.
"I think now the speed is even a little better," Stewart said. "We know what [Jarrod] Dyson is and [Lorenzo] Cain fools a lot of people -- he's four-flat down the line and he runs all the time. Speed on both teams was good, but I think this one has a little plus because we've got the big secret weapon in [Terrance] Gore, who is the fastest guy in baseball right now. Of course, we don't have a George Brett, who was very special."
Footnote on the diminutive Gore, used as a pinch-runner in the postseason: "To give you an idea how fast Gore is, there's only one player I ever saw faster from the right side and that was Bo [Jackson]," Stewart said. "Bo was 3.6 [seconds] and Gore is 3.65 from the right side."
A big difference is 2014's backend of the bullpen in Herrera, Wade Davis and Greg Holland. The 1985 club depended pretty much on one guy, the late Dan Quisenberry.
"I never got Quisenberry on a gun over 83 [mph]. He was 79 to 83, and everything he threw was at the knees and it sunk at the ankles. And that was his trademark, and he had such great movement along with phenomenal command," Stewart said.
"But these guys all throw smoke."
Stewart had a tip for fans at Kauffman Stadium.
"When you look at the scoreboard and you see a 99 [mph], just add one to it, because it's slower. Our gun behind the plate is calculated and the scouts from the other teams get the same thing. So when Herrera is throwing 100, he's throwing 101," Stewart said.
The 87-year-old scout also admires Davis' cut fastball and hard curves and Holland's effective slider and split. Their velocities reach into the high 90s.
"So that's an advantage I see over the '85 club is the seventh, eighth and ninth guys," he said.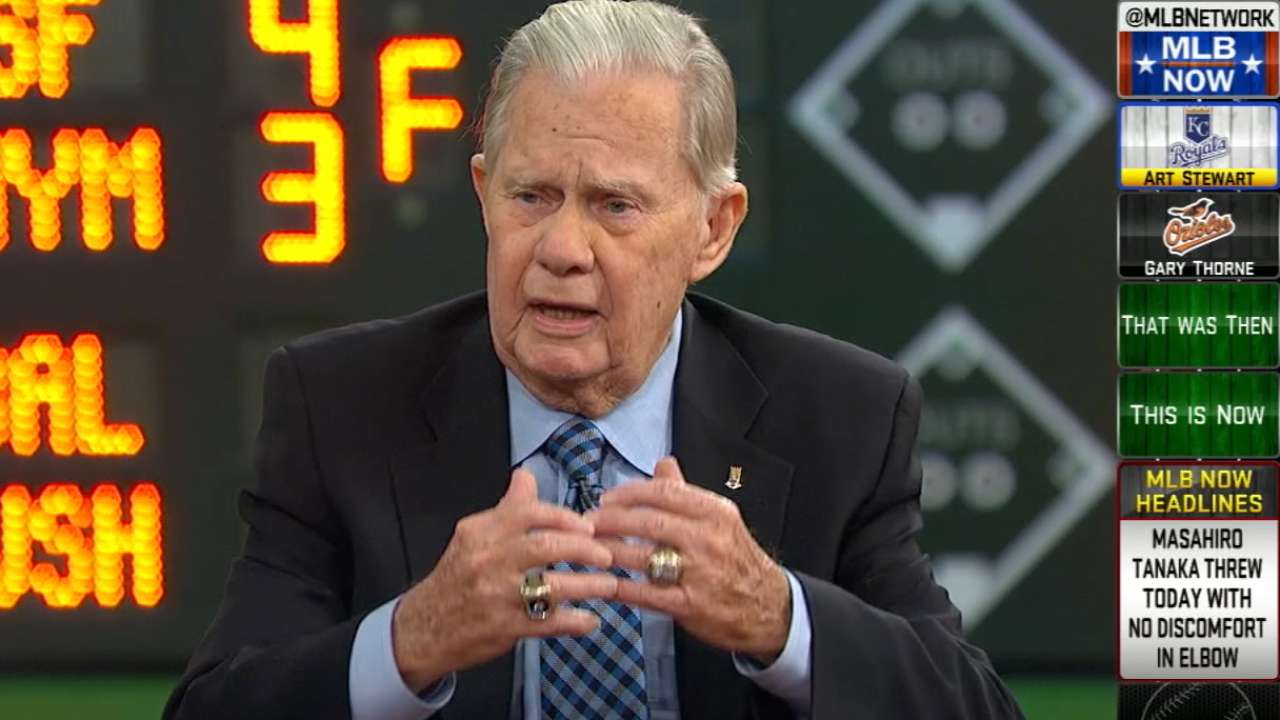 Stewart, now senior advisor to general manager Dayton Moore, feels a special closeness to the 2014 team because he had scouted Hosmer, Mike Moustakas, Billy Butler and Alex Gordon in high school or college and assessed the early pro years of Herrera, Salvador Perez, Holland and others on the club.
Hosmer recalled when Stewart, well-known as a member of the scouts' Hall of Fame, came to his Florida state championship game just before the 2008 First-Year Player Draft.
"When they brought Art out, it was almost like it was a tryout because they don't bring him out for just anybody," Hosmer recalled. "It was kind of like the final dance, because Dayton came and saw me. It was a big stage. It was almost like it was last cuts and I had to do something so Art would give them the OK to give me the pick."
He did and Hosmer became the Royals' No. 1 choice that year.
Stewart, who has authored a new book, "The Art of Scouting," seemed to be destined for a life in baseball as he tells it:
"When I was 8 or 9 and playing ball as a kid, my mother said, 'You know, you're going to be in professional baseball someday.' I said, 'What do you mean, Mom?' And she said, 'Because you were born on Feb. 6, Babe Ruth's birthday in the year, 1927, that he hit 60 home runs.' She was right. Talk about scouting!"
Stewart is still seated behind home plate at Kauffman Stadium, charting every pitch and assessing every player. And he was on the field and in the clubhouse celebrating as the Royals won the American League pennant.
"He's the reason why this is all happening," Hosmer said. "When you see him, you tell him thank you for the opportunity. The hours that he puts in go unnoticed, but everyone in this locker room knows exactly what he does and he's a huge part of all this."
Dick Kaegel is a reporter for MLB.com. This story was not subject to the approval of Major League Baseball or its clubs.