Past, present and Panda: Sandoval key to three Series teams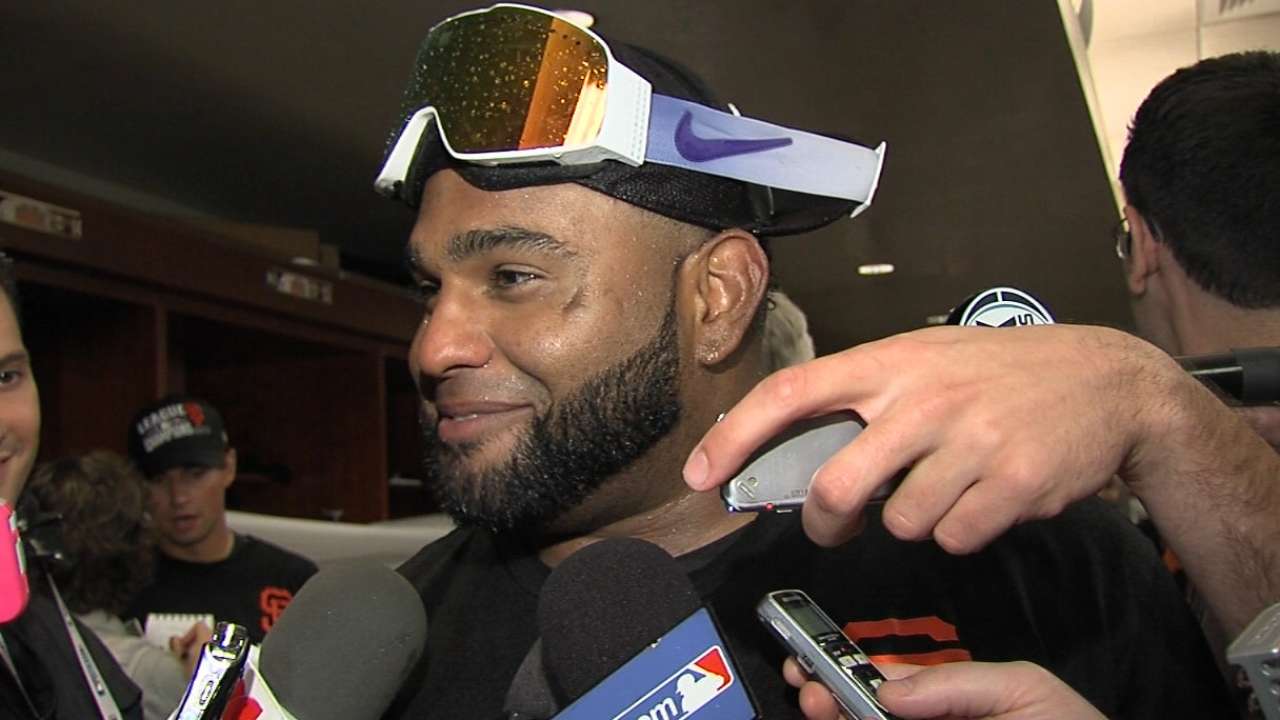 SAN FRANCISCO -- An unlit cigar dangled from Pablo Sandoval's mouth as he greeted well-wishers in the Giants' postgame clubhouse. Sandoval clutched a bottle of champagne in his left hand; two more poked out the back pockets of his uniform pants. He posed for pictures. "Pablo!" someone yelled from a few paces away. Sandoval grinned.
"Man, it's exciting to be in October," he said. "Last year, I was home watching the games on TV."
This year, Sandoval is augmenting the postseason reputation he forged into gold two years ago as World Series MVP. Like teammates Buster Posey, Madison Bumgarner and others, Sandoval has never lost a postseason series in eight attempts. He has personally played a significant role in most of them, batting .325 for his October career with six home runs in 32 games. Sandoval is as much a part of San Francisco's success over the past half-decade as anyone, a more significant part than most.
"Pablo, he's a great player," manager Bruce Bochy said. "He's a gifted player."
Sandoval's role in Thursday's National League Championship Series Game 5 clincher typified both the types of player that he is. In the first inning, the third baseman made a leaping snare of Jhonny Peralta's line drive to start an inning-ending double play. In his second at-bat, Sandoval reached well outside the strike zone to lash an Adam Wainwright pitch into left field for a double. In his final plate appearance, he rapped a leadoff single into right field to spark the Giants' game-winning rally.
"It's exciting," Sandoval said. "You win or you go home. That's what we try to do every single day this time [of year], not get too excited in situations. You want to win games. So I think this is one of those things I've got on my mind right now, get a good pitch on the plate, have fun no matter what the situation is, what the score is, what the type of game you play is. Just have fun out there."
"Just have fun out there" could be the rallying cry of a player who seems to achieve it more often than most. Sandoval's nickname is fun, with or without the Kung Fu prefix. His hitting approach is fun, particularly amongst a sea of contemporaries who prefer to shrink the strike zone with every pitch. Sandoval's fielding style is fun, resulting in play after play that so many don't expect him to make.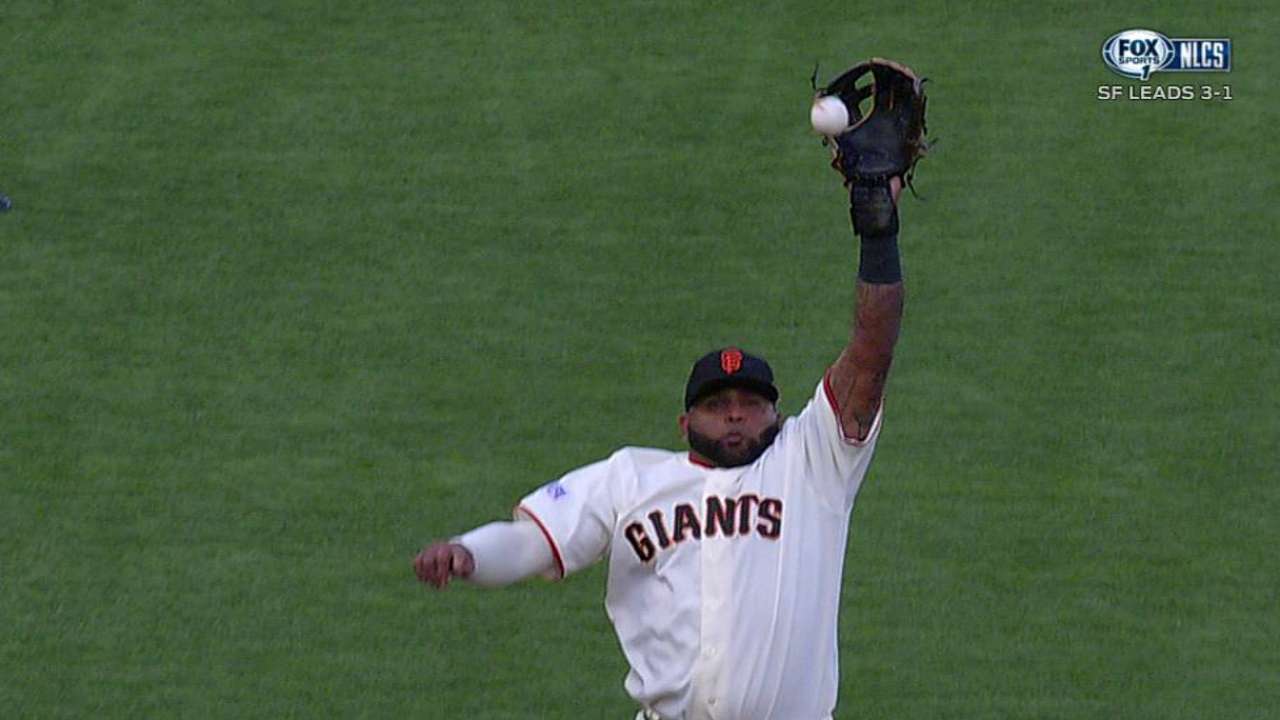 Sandoval's 245 pounds on a 5-foot-11 frame will always make him an easy target of comic relief, but the fact is that the Giants need their Panda. Which makes this October his most interesting to date.
After spending six years in San Francisco, including three lucrative arbitration seasons, Sandoval will become a free agent for the first time this winter. The Giants have a history of rewarding players for less. But Sandoval would require a high level of commitment, perhaps similar to the five-year, $90 million deal general manager Brian Sabean gave Hunter Pence last September.
Because the 28-year-old Sandoval is a unique player, it is difficult to estimate the back end of his career arc. He is coming off a strong defensive season, but he weighs an eighth of a ton, relying on an otherworldly set of reflexes. If those slow, Sandoval could quickly become a liability.
At the plate, Sandoval is widely considered one of the game's best bad-ball hitters. His swing rate on pitches outside the strike zone ranked first in the Majors over the summer, while his contact rate on those pitches was sixth in the NL. If that ability wanes, Sandoval's low walk total and relatively modest home run power would struggle to keep him afloat.
From Sandoval's perspective, there is also the notion of winning. Signed, developed and enjoyed by the Giants, Sandoval has rarely tasted anything but success throughout his career. He is comfortable within a clubhouse and a city that embraces him, amidst a fanbase that worked tirelessly to vote him into the 2012 All-Star Game. Leaving could mean the end of the "refuse to lose" attitude that Sandoval loves to espouse this time of year, complete with cigars and champagne and so many other accoutrements of a World Series berth.
When asked about his future earlier this week, Sandoval simply shook his head.
"We still got more games," he said.
Anthony DiComo is a reporter for MLB.com. Follow him on Twitter @AnthonyDicomo. This story was not subject to the approval of Major League Baseball or its clubs.