Yost contemplating Royals' rotation, bench
Layoff offers manager time to consider NL-style options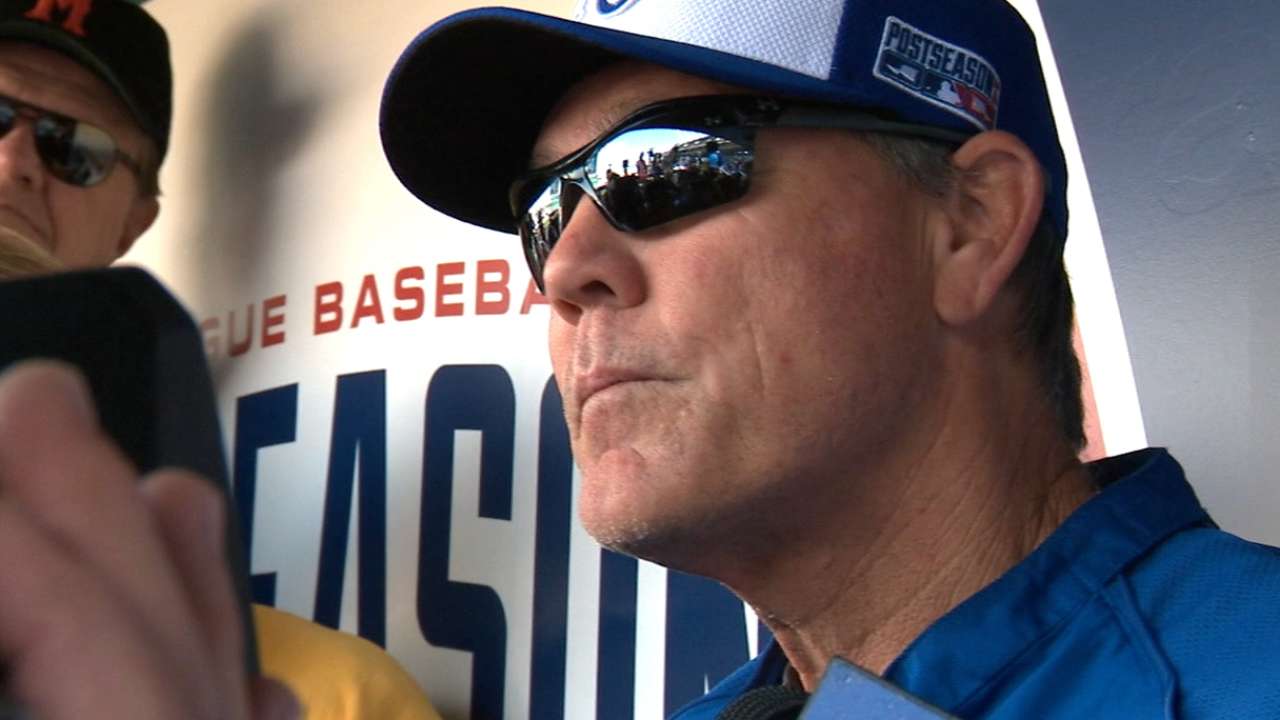 KANSAS CITY -- Will James Shields start World Series Game 1 for the Royals? Manager Ned Yost isn't saying. Who will be on the 25-man roster for the Fall Classic? Yost isn't saying. After all, he does have the luxury of time -- the first pitch isn't until Tuesday night.
The guessing is that he'll start Shields, the staff leader, in the opener. It was Shields who threw a shutout against San Francisco back on Aug. 9 in the midst of a three-game sweep over the Giants in Interleague Play. He held them to four hits, including Joe Panik's double, and walked one, dispensing with them in 109 pitches.
"As soon as I settle it in my mind, I'll let you know," Yost said.
Shields last pitched in Game 1 of the American League Championship Series at Baltimore, working five innings with no decision. He gave up four runs, 10 hits and a walk. That was a week ago, on Oct. 10.
Speculation is also that rookie Yordano Ventura, who started Game 2 against the Orioles, also with a no-decision, is in line for the second game against the Giants. He left the game after 5 2/3 innings (four runs, five hits) with stiffness in his shoulder, which seems to be just fine now. He also had trouble gripping the ball in mid-50s temperatures.
The Royals' roster presumably will have to make allowances for the National League rules in the three games at San Francisco, including the possibility of needing more pinch-hitters because there's no designated hitter and the pitchers will be batting.
"It's a total different game," Yost said. "You pinch-hit probably a lot more, you need a little more versatility, you'll have the ability to double-switch, which will help."
The reserves so far in the postseason have been infielder Christian Colon, outfielders Jarrod Dyson, Josh Willingham and Terrance Gore and catcher Erik Kratz. Presumably, DH Billy Butler would join the bench in the NL games.
But the Royals might want to add a left-handed bat in outfielder Raul Ibanez instead of having the luxury of Gore, on the roster as a pinch-runner and primarily for Butler.
"It could be the same, it could be different. We're discussing some things," Yost said. "The difference now is every series we've played to this point has been an American League series. This is going to be a four-game American League series and a three-game National League series. So we're looking at all our options."
When the Royals swept the Giants earlier this year, the games were at Kauffman Stadium, and San Francisco's AT&T Park will be a different look for the Royals. That will be a project for outfield coach Rusty Kuntz.
"When we have our workout out there, everyone will get a chance," Yost said. "Rusty is really diligent with all the angles and making sure the outfielders understand. It's a beautiful stadium, and a great place to play a baseball game and we're excited."
Dick Kaegel is a reporter for MLB.com. This story was not subject to the approval of Major League Baseball or its clubs.