Rays promote Bloom, Neander to VP, baseball operations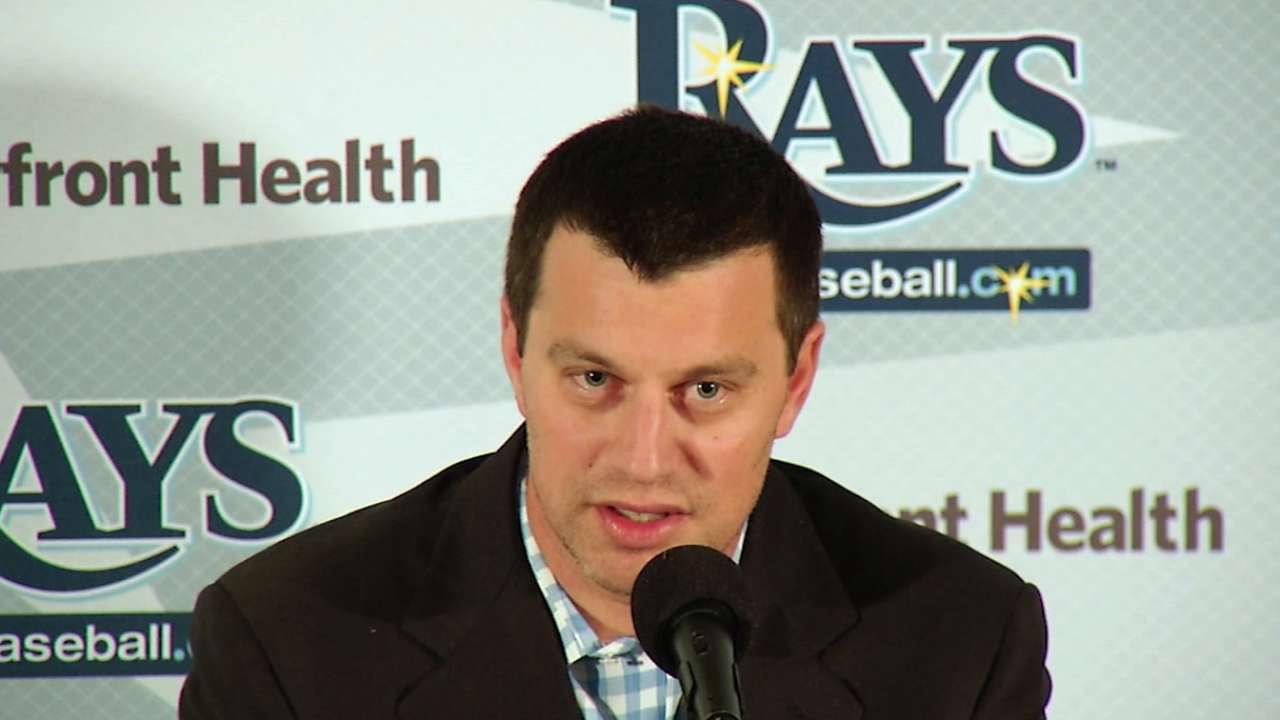 ST. PETERSBURG -- The Rays concluded a busy week of shuffling in upper management on Friday when Chaim Bloom and Erik Neander were each promoted to the position of vice president, baseball operations.
On Tuesday, the announcement came that Andrew Friedman had left the Rays organization to assume a newly created position with the Dodgers as president, baseball operations. The move by the ex-Rays executive vice president of baseball operations triggered a series of executive leadership changes within the organization.
Matt Silverman, who was team president, became president of baseball operations. Brian Auld, who was senior vice president of business operations, became team president.
Bloom and Neander worked closely with Friedman in their roles as directors of baseball operations. So the idea that both would assume greater responsibilities under Silverman was not a stretch, particularly after listening to what Rays manager Joe Maddon had to say about the pair on Tuesday.
"I thought the way Andrew groomed Chaim and Erik and the other guys in the front office, I thought he did a great job with that," Maddon said. "And with that, now the fact that [Friedman is] not going to be there, I know these guys are going to be comfortable in their roles."
In their new roles, Bloom and Neander will assist Silverman in all aspects of the department.
"Erik and Chaim's promotions are well-deserved, as they have been essential contributors to our operation for years," Silverman said. "I look forward to working with them in all facets of baseball operations, and I know they will continue to be great leaders of our deeply talented and dedicated department."
Bloom, 31, joined the Rays in February 2005 and had worked in a variety of roles before becoming director, baseball operations in November 2011. His areas of focus have included player development, international scouting, contract negotiation and management of the Major League roster. The Philadelphia native graduated from Yale University in 2004. He and his wife, Aliza, live in St. Petersburg with their son, Isaiah.
"I'm extremely grateful to Matt and Stu Sternberg for this opportunity," Bloom said. "The Rays are fortunate to have a deep and talented staff -- top-flight people who are committed to success. We are all eager to continue our tireless work in pursuit of a championship."
Neander, 31, joined the baseball operations department in January 2007. He spent the past three seasons as director, baseball operations, assisting in all aspects of the baseball operations department, with an emphasis on player personnel and research and development. The Oneonta, N.Y., native graduated from Virginia Tech. He and his wife, Jessica, reside in Tampa with their son, Penn.
"I'm very thankful to Stu and Matt for believing in me, and I'm excited for the challenges ahead," Neander said. "It's a privilege to work with so many bright, passionate people. We remain committed to building upon our experiences and competing deep into October."
Bill Chastain is a reporter for MLB.com. This story was not subject to the approval of Major League Baseball or its clubs.