Offseason begins as Orioles pack bags
With postseason run over, Baltimore shifts gears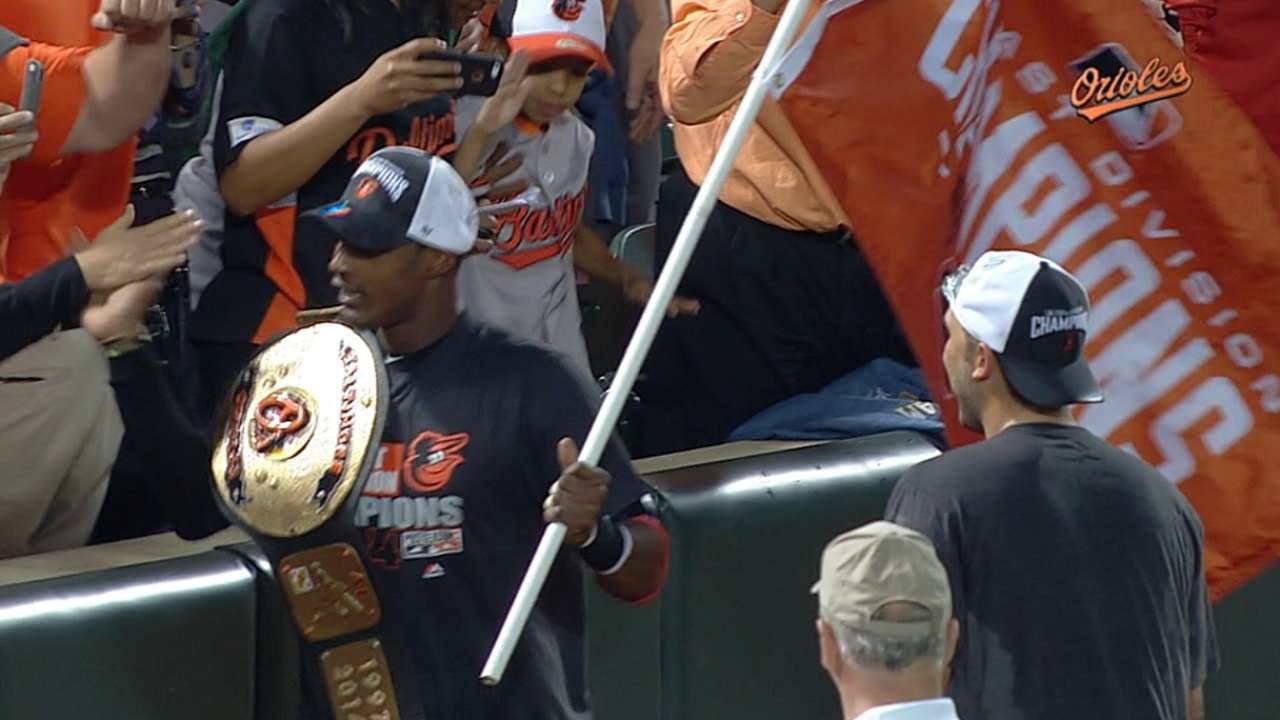 BALTIMORE -- While most of the baseball world watched in disbelief as Travis Ishikawa's walk-off home run on Thursday night sent the Giants to the World Series, Orioles manager Buck Showalter only found out from the sound of his son Nathan yelling in front of the TV.
"Watching it," Showalter said, "makes me ill."
Technically, baseball season still lasts at least another week. For the Orioles, it's over. The boxes and bags that filled the home clubhouse at Oriole Park at Camden Yards on Friday afternoon were only a reminder of that.
For Showalter and the Orioles, the offseason is underway following a four-game sweep at the hands of the Royals in the American League Championship Series. And Showalter is already thinking about which unorthodox tactics he can use to assemble the best roster possible for when pitchers and catchers report in February.
"The good news is we have an extra spot on the 40-man roster," Showalter said.
Chris Davis, who has one game remaining on a 25-game suspension following the use of Adderall, won't count as part of that roster for the entire offseason, meaning the O's can protect an extra player from the Rule 5 Draft.
"That's the only good thing that came from those four games," Showalter said.
It isn't a surprise that Showalter and vice president of baseball operations Dan Duquette already have some creative tactics for the winter in mind. They've earned a reputation for finding loopholes within roster rules during the past few seasons and built an AL East champion through those strategies. But after a successful season, the Oriole identity could be changing.
Suddenly, Baltimore enters a season with a surplus of starting pitching, a wealth of offensive talent and unfamiliar expectations. The Oriole brass typically likes to "out-opportunity" its competition when making pitches to free agents -- that's how Steve Pearce and Miguel Gonzalez became important pieces in 2014. In '15, Baltimore may be able to do more than that.
Duquette says to expect a payroll increase for next season, and the Orioles will have options for where to spend that. Wei-Yin Chen, Nick Markakis and Darren O'Day have team options. Nelson Cruz and Andrew Miller are free agents. Many more are arbitration eligible or due for some sort of raise.
"We're going to put together the strongest team we can put together with the resources we have, but we have really good pieces already in place," Duquette said. "We have the opportunity for a lot of those people to return for next year."
Duquette plans to have player options figured out before the end of the World Series so the O's can dip into the free-agent market as soon as it opens.
Other than that, the biggest question that remains is how the coaching staffs will hold together. Showalter has expressed his desire to keep his Major League group together, but bench coach John Russell is being considered for the Twins' managerial opening and Showalter expects Russell to get a call from them at some point Friday. Duquette isn't sure yet what the future holds for his Minor League managers.
The only players left lingering at Camden Yards on Friday were Matt Wieters and T.J. McFarland. The rest had either packed up their lockers or were going to do that at some point in the near future.
McFarland, who had been left off the playoff roster, served as the players' impromptu spokesman as he prepared to head to Chicago for the offseason.
"Obviously, we wanted to continue, but it wasn't in the cards for us," McFarland said from an otherwise abandoned clubhouse. "Take a couple of weeks and relax a little bit and then 120 days, I think, we're already reporting."
David Wilson is an associate reporter for MLB.com. This story was not subject to the approval of Major League Baseball or its clubs.