Out of left field, this time it's Ishikawa
NLCS hero follows Ross and Scutaro as unexpected Giants postseason stars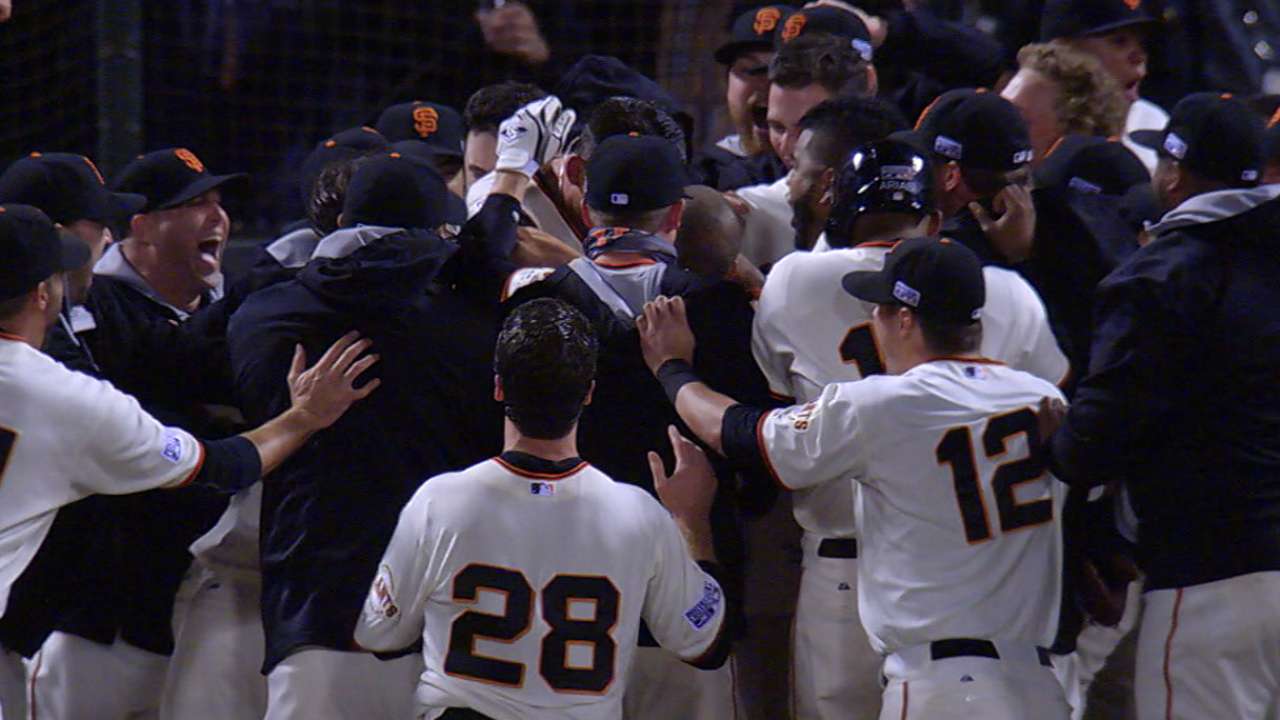 SAN FRANCISCO -- When Cody Ross came to the Giants more than halfway through the 2010 season, he had already struck out 100 times in 120 games. He hadn't posted an on-base percentage above .322 in three years. The Marlins, a fourth-place team, designated Ross for assignment. He hooked on with the Giants and became their National League Championship Series MVP, en route to a World Series title.
When Marco Scutaro arrived in San Francisco in 2012, he was a 36-year-old infielder with a .684 OPS. He seemed cooked, but general manager Brian Sabean took a flyer anyway. All Scutaro did was win an NLCS MVP of his own, batting .500 in that round and earning a ring in the next one.
Before Travis Ishikawa hooked on with the Giants earlier this summer, he spent time mulling retirement. Opening the year in Pittsburgh, Ishikawa became expendable when the Pirates acquired first baseman Ike Davis. He signed a Minor League deal with the Giants, but by midsummer, Ishikawa was coming off the bench at Triple-A Fresno.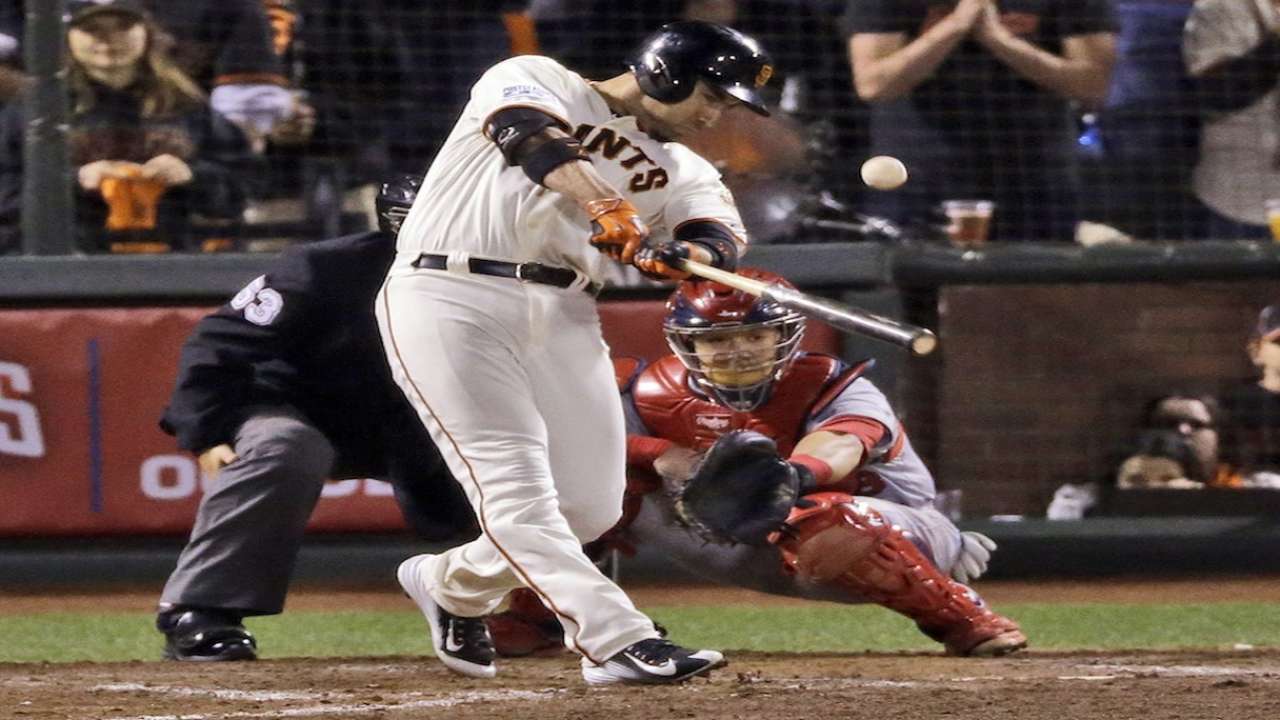 • Video: Ishikawa on almost retiring
Then injuries happened, opportunities opened and Ishikawa became the Giants' latest out-of-thin-air hero. His walk-off homer in NLCS Game 5 carried with it eerie echoes of Ross and Scutaro, confirming Ishikawa's role in what Sabean referred to as "the right tonic" for his club.
"That's the nature of postseasons," Sabean said. "Somebody on somebody's roster rears their head for whatever reason. Someone gains confidence and they end up being that guy."
Time and again, Sabean's front office -- through a combination of scouting prowess, good timing and old-fashioned luck -- has unearthed "that guy" for each of its pennant runs. Here's a closer look at how:
2010: Cody Ross:
A few days after the Giants claimed Ross off waivers in Aug. 2010, the San Francisco Chronicle ran a story entitled: "Wanted or not, Ross happy to be here." The premise was simple; the Giants did not claim Ross because they necessarily wanted him, but because they hoped to block the rival Padres from acquiring his services.
What Sabean couldn't know was that not only would his claim go through, but also that the Marlins would simply release Ross' contract. Just like that, the Giants had a new starting outfielder, who proceeded to go 4-for-his-first-9 in San Francisco. Ross, who hit .265/.316/.405 prior to the waiver claim, slashed .288/.354/.466 the rest of the way as the Giants slipped into the playoffs. He improved that to .294/.390/.686 in the postseason, batting .500 with four home runs and six RBIs over one four-game stretch.
Unwanted by the Marlins, unwanted by the Giants, Ross became the NLCS MVP.
2012: Marco Scutaro:
Prior to NLCS Game 1 last week, Mike Matheny was asked if he was happy to avoid Scutaro this time around. The Cardinals manager laughed.
"He set a tone," Matheny said, reflecting on the 2012 NLCS between the Giants and Cardinals. "He was good in every sense, you know?"
Few could have foreseen it. At 36 years old, Scutaro posted a .324 on-base percentage in 95 games for the Rockies, before the Giants acquired him and $1 million in a trade for Minor Leaguer Charlie Culberson.
More magic followed. Scutaro hit .362 and reached base at a .385 clip over the balance of the regular season, then earned NLCS MVP honors by going 14-for-28 with at least one hit in all seven games. After the Giants mowed down the Tigers to sweep the World Series, Scutaro quipped that "if anybody would've told me in late June that I was going to be in the World Series, or I was going to be a world champ, I would've slapped you in the face."
Scutaro played parts of two more seasons with the Giants, never again approaching those levels of success.
2014: Travis Ishikawa:
Because he was not wearing his glasses, Jake Peavy did not notice that Ishikawa's walk-off homer in NLCS Game 5 flew over the fence. Believing instead that it bounced off the wall, Peavy ran out onto the field as Ishikawa rounded the bases, nearly tackling his teammate between second and third.
Ishikawa had just become the Giants' latest postseason hero, six months after the Pirates told him he was no longer wanted. Had Brandon Belt not suffered an injury midseason, the Giants never would have acquired Ishikawa, who signed a Minor League deal with them partly out of familiarity -- he won a ring alongside Ross on the 2010 team -- and partly out of desperation. Had Michael Morse not missed most of September and early October due to an oblique strain, Ishikawa -- a first baseman by nature -- certainly would not have been starting playoff games in left field for the Giants.
The only difference between Ross, Scutaro and Ishikawa is that the latter's story still has blank pages at the end.
"When I initially signed here, my thought was to get back to the big leagues," Ishikawa said. "Even right before I got called up, I didn't think I was going to be in their plans. It's just a complete 180-degree reversal. Me playing right now is a bonus. I'm just so happy, so excited, so blessed for this opportunity."
Anthony DiComo is a reporter for MLB.com. Follow him on Twitter @AnthonyDicomo. This story was not subject to the approval of Major League Baseball or its clubs.