Banister never gave up on long road to Texas
New Rangers manager defeated bone cancer that threatened the loss of a leg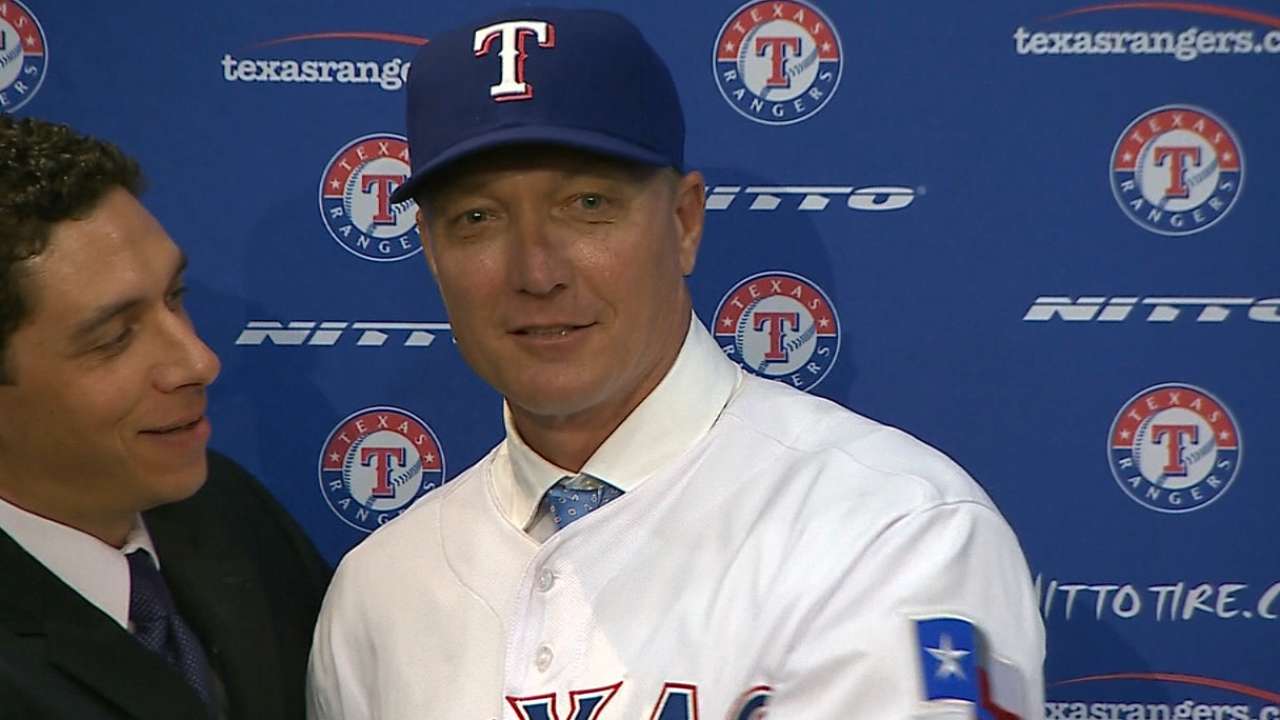 ARLINGTON -- Jeff Banister will be standing in the Rangers' dugout as their manager next season. He is lucky to be standing at all, much less on two good legs.
His extraordinary journey to become the new manager of the Rangers included dealing with bone cancer that threatened the loss of his left leg in high school and three crushed vertebrae in his neck that left him paralyzed in college. The two separate ordeals threatened to crush his hopes and dreams at an early age.
Instead, the reverse happened and the issues only made him even more determined to achieve his quest. Through incredible perseverance, he was able to realize his dream of getting to the Major Leagues for at least one at-bat as well as spend 29 years with the Pirates organization in a variety of roles. Now, he finally gets his chance to manage in the Major Leagues with the Rangers.
"I've never chased a job in my life," Banister said at his introductory press conference on Friday. "I think the best opportunities to come along are the ones you're not looking for. Have I prepared myself for this opportunity? Yeah, from the day that I stopped playing, until now."
Banister, 50, was born in Oklahoma but went to LaMarque (Texas) High School outside of Houston. His father, Bob, was a football coach who died in 1988. His mother, Verda, was a teacher who still keeps a scorebook at all of her son's games. He gives them tremendous credit for helping him get through his early ordeals, and they are who he remembered most when he came to the plate in 1991 for the first and only time as a Major League player.
"I guess my two parents instilled in me that you survive, that you push, that you endure, because the other option is not what I'm looking for," Banister said. "There are a group of people who prop you up and take care of you, try to motivate you on a daily basis when it's tough to be motivated.
"To be able to walk into a Major League game when everybody told you that you couldn't, you shouldn't, you wouldn't -- go pick another occupation, go do something else -- now you get an opportunity to do it. It happens, you're on top of the mountain for one day, one moment in time and you carry those people with you, it's the best thank you that you can give."
Banister was 14 when he injured his ankle in the fall of 1979. The diagnosis was acute arthritis, but on Jan. 15, 1980, his 15th birthday, the ankle became so painful Banister couldn't walk. He needed emergency surgery and the results showed two cysts in the ankle. The diagnosis was osteomyelitis, a bone infection, and bone cancer.
He spent four months in a hospital while being treated with antibiotics and chemotherapy. The treatments failed to stop the spread of the cysts. He required seven operations in all, and at one point he was told that he needed to either lose the leg or his life.
Banister told the doctors that he was going to play Major League baseball. If he couldn't, he didn't want to live.
"As a kid, each one of us, we have dreams, we have fantasies of things we think we are," Banister said. "What we want to be, how we're going to get there, the path by which we are going to get there and sometimes we get derailed, sometimes we adjust. Then there are some things that happen life just throws at you, just have no answer for."
The fifth operation revealed a cyst that was causing the cancer. The cyst was removed, but doctors still didn't believe Banister would play sports again. They were wrong. He needed two more operations but was back on the football field again that fall with a bright career still ahead as a baseball player.
Banister ended up as a catcher playing for Baytown Lee Junior College. In the last game of the fall, 1983 schedule, Lee was playing against Norwood College. Banister wasn't supposed to play that day but a Yankees scout requested he be in the lineup because the club was thinking about drafting him.
There was a play at home plate. A runner was trying to score from third. The throw was up the third-base line and Banister went to his knees to block the ball. He ended up in the path of the runner and there was a collision.
"It wasn't a real violent collision," Rod Soesbe, the Baytown Lee coach told the Augusta Chronicle. "The runner's knee just clipped the top of his hat. He fell back down, and he rolled up to try to get the ball, and he fell back down again, and he never got to his feet."
The collision crushed three vertebrae in his neck, leaving Banister paralyzed. The vertebrae were fused back together, but Banister was paralyzed for 10 days and spent two months in the hospital. Holes were drilled into his head to anchor the neck and help the vertebrae heal.
Despite medical predictions, Banister not only resumed playing baseball within a year but was also back behind the plate as a catcher. It was the only position where he felt comfortable despite the obvious risks.
"I will say why my passion runs so deep for baseball, there were nights laying in a hospital bed knowing I wasn't going to get up and I couldn't leave the room that one thing I could do is I could dream," Banister said. "I could think about it and I could challenge myself that when I got out of the hospital I would continue to play the game of baseball.
"Because it gave me joy in a time when there was no joy. It gave me something to think about, it made me strive in days that I really didn't care to go forward. So that burning desire, that internal fire that burns inside of me to have success to pass on, to push forward was melded a long time ago in a couple of different hospitals."
Banister ended up a junior college All-American and received a scholarship to the University of Houston. In '86, he was taken by the Pirates in the 25th round of First-Year Player Draft. He has been with the Pirates ever since until being hired by the Rangers. His only Major League at-bat came against Dan Petry of the Braves on July 23, 1991.
He hit a ground ball to the left side that shortstop Jeff Blauser fielded in the hole on the outfield grass. A Major League player who was once battling bone cancer, looking at the possibility of leg amputation, and paralyzed from the neck down from a collision at the plate, beat it out for an infield single.
"I carried a whole truckload of people with me down the line," Banister said. "I'm still carrying that. I can't put that down yet."
Much background for this article came from a long story written by Ed Price for the Augusta, (Ga.) Chronicle in '95. Banister managed Augusta that year.
T.R. Sullivan is a reporter for MLB.com. Read his blog, Postcards from Elysian Fields, and follow him on Twitter @Sullivan_Ranger This story was not subject to the approval of Major League Baseball or its clubs.